Tee Mamou Mardi Gras Whip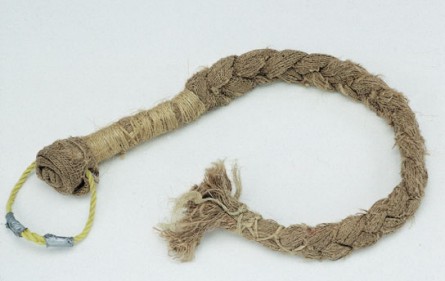 by Claude Durio


The braided burlap whips carried by Cajun Mardi Gras captains in Acadia Parish's Tee Mamou (Little Mamou) are visible symbols of their authority and responsibilities. Don LeJeune, a long-time co-captain, says, "These whips are used to maintain discipline during the courir de Mardi Gras (Mardi Gras run.) They are used by the captain and his subordinates [co-captains] only"—and they are used only on the maskers (called les Mardi Gras.)

Folklorist Barry Ancelet suggests that Mardi Gras whipping was widespread years ago, but today it survives in only a handful of Cajun communities. In some places, captains carried leather riding whips that could inflict real damage. Burlap whips, in contrast, may sting and bruise but don't pose a threat of serious injury. Therefore, whipping can become a form of comic play – part of "making a good show" for onlookers -- as well as discipline. Tee Mamou's Mardi Gras freely "cut up" and misbehave, and captains respond by vigorously swatting them. As many participants comment, you haven't really run Mardi Gras if you haven't been whipped.

Tee Mamou hosts both a women's run (on Saturday) and a men's run (on Tuesday) each year. The same male captain leads both events, usually assisted by six or more co-captains. Co-captain Claude Durio makes all of the whips they use. Although the burlap quoits look simple, making them is an art. A good whip must be sturdy enough to withstand hard use, but flexible enough not to bruise the Mardi Gras. Durio jokes that "If you can whip them all day and they don't complain, it's a pretty good whip." Burlap whips often last only one season, although some are repaired and reused.

To make a whip, a burlap sack is cut in three strips and then tightly plaited. The top of the sack is twisted and wrapped with twine to create a secure handhold. A short length of nylon rope is threaded through the whip and tied, making a wrist loop. The bottom few inches of the sack, left unbraided, form the whipping end.

Other communities also make burlap whips, but theirs "don't look the same," says Claude Durio. Tee Mamou whips are more tightly plaited than most. A well made whip makes a loud pop as it hits its target, making a better "show" for spectators.

-- Carolyn Ware,
Louisiana State University, Baton Rouge

South Louisiana


Braided Burlap
Photo: Thomas A. Wintz, Jr.


Click the artist's name to open a new window with more information about that artist.
---
For this artifact, there are 3 related artifacts.

Click a thumbnail image or a name of a related artifact to open a new window with more information about that related artifact.

Click an artist's name to open a new window with more information about that artist.