Spoons and Fiddle Sticks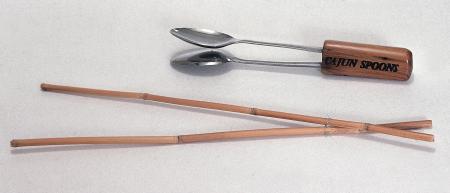 Years ago, inexpensive and homemade instruments often provided the only percussion for traditional music. At Cajun house dances or bals de maison, a player might borrow a pair of metal spoons from the homeowner and hit them rhythmically against his leg, marking rhythm for the dancers. However, in the days before air conditioning, house dances were often hot, and players found it hard to handle their spoons with sweaty fingers. (Larry Miller, who made the spoons shown here, points out, "It's not as easy as it looks to grab a pair of spoons and make a decent sound.") So they improvised, cutting a green branch to create a handle. The spoons were placed, back to back, in two splits in the wood, and held in place with cotton cord. The handle let the musician hold the spoons easily and also let him play louder. At the end of the evening, the makeshift instrument was dismantled. When Cajun dances moved to dance halls, and bands added drums and bass guitar for percussion, musical spoons "had kind of gone out," says Larry Miller. Almost twenty years ago, Miller—a musical instrument maker who was already making accordions and triangles—decided to reintroduce spoons and spoon playing. He says that he couldn't find any of the "old originals" because they were made to last only a night. Instead, he interviewed older people about their memories of musical spoons, and then set about replicating them. He uses cypress lumber to make the handle, because cypress "is an identifiable Louisiana wood," he explains. Silicon holds the spoons in place, allowing them the "bounce" they need to sound good while giving the player a good, firm grip.

"Playing fiddlesticks" was a traditional way of adding percussion to early Anglo-American country music. As one person played the fiddle, another tapped out a rhythm on the strings, using a pair of fiddle sticks or long straws. This method, also called "beating the straws," provided rhythm and variety. Like Cajun spoon playing, beating the straws became rarer over time as the music changed. Curt Blackwell (an old-time fiddler) and his wife Irene, of Bush, Louisiana, were well known for carrying on this tradition. Mrs. Blackwell cut her own "fiddlesticks" from broom straw she grew.

South Louisiana - spoons.

North Louisiana - fiddlesticks.


Spoons: Wood and Metal; Fiddlesticks:
Photo: Thomas A. Wintz, Jr.



---
For this artifact, there are 1 related artifacts.

Click a thumbnail image or a name of a related artifact to open a new window with more information about that related artifact.

Click an artist's name to open a new window with more information about that artist.