Grey Eagles Stringband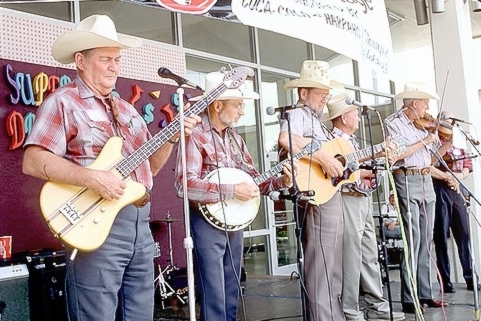 The old time country string band tradition in north Louisiana draws on the Upland South string band tradition, including Texas swing and the mountain music of northern Arkansas and Alabama. Today's north Louisiana string band music also shows the influence of popular country music today as it was played in the heyday of live country music radio, especially on the Louisiana Hayride in the 1940s and 1950s. The Grey Eagles still play the breakdowns and waltzes picked up from their families and communities. When the band members were growing up in the region, string bands were popular entertainment for house parties and square dances. Now the musicians get together to play informally at home, community gatherings, and fiddle contests. In 1995 at the Louisiana Folklife Festival, the band featured Fred Beavers, of Simsboro, on fiddle; Les Tucker, of Simsboro, on guitar and fiddle; Leslie Raborn, of Jonesboro, on mandolin; and Don Belton, of Simboro, on bass.

See The North Louisiana String Band

North Louisiana


Photo: John Cowart


Click the artist's name to open a new window with more information about that artist.