VIRTUAL BOOKS


Gifts From The Hills: North Central Louisiana Folk Traditions

Page 9
Back Cover of Book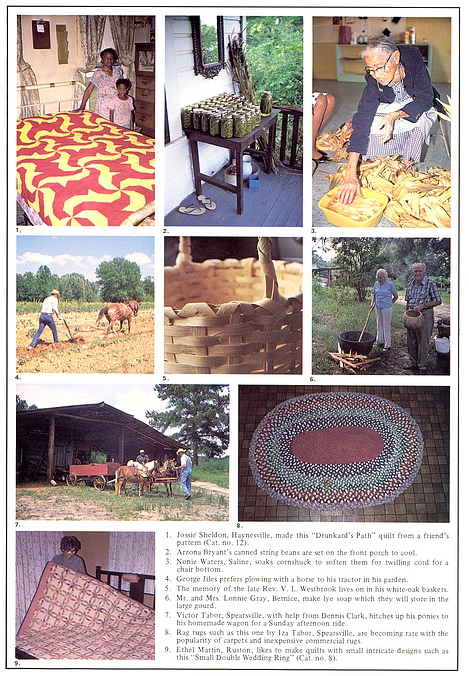 Top Row:
Left: Josie Sheldon, Haynesville, made this "Drunkard's Path" quilt from a friend's pattern (Cat. no. 12).
Middle: Arzona Bryant's canned string beans are set on the front porch to cool
Right: Nonie Waters, Saline, soaks cornshuck to soften them for twilling cord for a chair bottom.
Middle Row:
Left: George Jiles prefers plowing with a horse to his tractor in his garden.
Middle: The memory of the late Rev. V.L. Westbrook lives on in his white-oak baskets.
Right: Mr. and Mrs. Lonnie Gray, Bernice, make lye soap which they will store in the large gourd.
Bottom Row:
Left: Victor Tabor, Spearsville, with help from Dennis Clark, hitches up his ponies to his homemade wagon for a Sunday afternoon ride.
Right: Rag rugs such as this one by Iza Tabor, Spearsville, are becoming rare with the popularity of carpets and inexpensive commercial rugs.
Bottom Left: Ethel Martin, Ruston, likes to make quilts with small intricate designs such as this "Small Double Wedding Ring" (Cat. no. 8).