ARTICLES & ESSAYS



Louisiana Folklife Month 2021
The Louisiana Folklife Month recognizes the rich diversity of Louisiana's living traditions of tradition bearers in order to bring attention to the individuals who sustain them. The initiative showcases an array of tradition bearers in a series of public programs taking place at venues across the state. Folklife Ambassadors from the Louisiana Folklife Commission (LFC) and Louisiana Folklore Society (LFS) have selected the following tradition bearers to be recognized at public presentations.
Video provided by Brian Davis, Folklife Commissioner,
Louisiana Trust for Historic Preservation. Music provided by Steve Judice.
"Candle Way" from the album, "Steve Judice", Square Bales Music, 2020.
Steve Judice, Singer/Songwriter, Lafayette, LA; Vance Vaucresson, Creole Sausage Making, New Orleans, LA; Elvin Shields, Twisted Wire Sculpture, Natchitoches, LA; The Broussard Sisters, Juré Singing, Frilot Cove, St Landry Parish, LA; Stanley Masinter, Bagpipe Major, Baton Rouge, LA; and Terry Lapeyrouse, Shrimp Drying, Chauvin, LA.
Presentations will be moderated by Folklife Ambassadors from the Louisiana Folklife Commission (LFC) and Louisiana Folklore Society (LFS).
Folklife Month is supported in part by funds from the National Endowment for the Arts and the Louisiana Endowment for the Humanities.
Learn about all tradition bearers recognized since 2015 here.
HONORING STEVE JUDICE
SINGER/SONGWRITING
Saturday, October 9, 2021, 8 pm
Chicot State Park, Pavilion 1
Address: 3469 Chicot Park Road, Ville Platte, LA 70586
Ambassador: Tommy Ike Hailey, Louisiana Folklife Commission and Associate Professor of Archaeology and Anthropology, Northwestern State University of Louisiana
Partnering Organization: Chicot State Park, Office of State Parks, Ozone Music Education Foundation, Songwriter Sessions, Troubadours Songwriter Network
Tradition Bearer: Steve Judice is a singer songwriter born and raised in Lafayette, Louisiana. Shortly atter obtaining an undergraduate degree from the local university, he and his bride moved to Texas where they both obtained master's degrees in speech communication. Steve then got a law degree and had a thirty-year career in the courtroom. During that time he catalogued many life's experiences which provide fertile ground for the tales he tells. His music reflects significant influences of the country, folk, Cajun and Americana genres. Having been born and raised in Louisiana but immersed in red dirt and outlaw music, his tunes reflect a fusion of cultures, different in some respects, but strikingly similar in character and texture. in July of 2020, Steve released his fifth full length album of original music. The self-titled work was produced, recorded and engineered here in Louisiana, and has been well received in the music community. The community of singer/songwriters in Louisiana is becoming a well organized and tight knit group who provide mutual support and encouragement to one another. Steve hopes that in some small way, his efforts have contributed to solidifying that network. Ten years ago, he co-founded a songwriter's retreat which brings artists together annually at one of the state's many campgrounds, to relax, write and showcase their work. Over the years the event has grown to over fifty participants.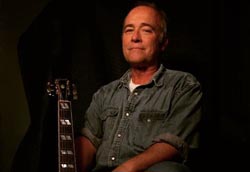 Steve's music is by no means a massive commercial success, but it has afforded him opportunities to meet and mingle with many songwriting legends. He has opened shows for artists including Guy Clark, Billy Joe Shaver, David Olney, Rodney Crowell, James McMurtry, Dave Alvin, Jimmy Dale Gilmore and Jim Lauderdale. In 2016, three of Steve's songs were selected for inclusion on the soundtrack for a full length feature film, "race to win," starring Luke Perry and Danielle Campbell. He has had the opportunity to take his music on tour and has played shows in many places, both in, and outside Louisiana. Steve has played gigs in Texas, Oklahoma, New Mexico, Nevada, Arizona and California. He continues to work on new material and believes that there may be yet another album of new songs in his future—good lord willin'.
The Event: Tommy Ike Hailey will recognize Steve Judice in a ceremony at Chicot State Park on Saturday, October 9. Chicot State Park is the home of the annual Peyton Wilson Memorial Songwriters' Retreat, a weekend where songwriters at all levels of experience are invited to commune with nature, relax, enjoy the company of like-minded folks and share the love of creating music. For the October 9 event, the general public is invited to an entertaining evening of music from Louisiana songwriters gathered in honor of Steve Judice, who will conclude the event by playing a solo set of his original music. Show starts at 5 pm with songwriter rounds at 5, 6, and 7 pm. The award presentation will be at 8 pm, followed by a solo set by Tradition Bearer Steve Judice. The concert is free, but admission fee to park is required.

HONORING VANCE VAUCRESSON
CREOLE SAUSAGE MAKING, NEW ORLEANS
Sunday, October 24, 2021, 2 pm
Vaucresson Sausage Co.
Address: 1800 St. Bernard Avenue at North Roman Street, New Orleans, LA 70116
Ambassadors: Teresa Parker Farris, Independent Folklorist, Chair of the Louisiana Folklife Commission
Partnering Organization: Louisiana Endowment for the Humanities
Tradition Bearer: Creole culture preservationist Vance Vaucresson is a third-generation meat processor and President of Vaucresson Sausage Company. The 120-year-old family business makes chaurice, andouille, and other traditional sausages for grocery stores and restaurants across the region.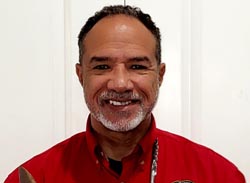 Vaucresson sausage is also a culinary mainstay at major local events such as the New Orleans Jazz & Heritage Festival—where Vance runs the 50-year-old fair's only original food booth—the French Quarter Festival, and the Creole Tomato Festival. In the tradition of his father "Sonny" Vaucresson whose eponymous Bourbon Street café operated for nearly a decade, Vance and his family will soon open a deli and restaurant, steps from where his grandfather Robert Levinsky Vaucresson ran his butcher shop in the city's historic Seventh Ward neighborhood.
The Event: Vance Vaucresson will be honored at his soon-to-be-open market and restaurant on St. Bernard Avenue and North Roman Street. Louisiana Poet Laureate Mona Lisa Saloy will read poetry and speak about the Vaucresson family legacy in the Creole community of New Orleans' historic Seventh Ward. Attendees will have an opportunity to participate in a Q&A. Due to Covid-19, individuals interested in attending must register in advance by emailing tpfarris@tulane.edu.

HONORING ELVIN SHIELDS,
TWISTED WIRE SCULPTURE, NATCHITOCHES, LA
Saturday, October 16, 2021, 2 pm
Louisiana Sports Hall of Fame and Northwest Louisiana History Museum
Address: 800 Front Street, Natchitoches, LA
Ambassador: Shane Rasmussen, Director of the Louisiana Folklife Center and Professor of English, Northwestern State University
Partnering Organizations: Louisiana Sports Hall of Fame and Northwest Louisiana History Museum, Louisiana Folklife Center, and Northwestern State University
Tradition Bearer: Elvin L. Shields is a twisted wire toy maker from the Cane River plantations. As a child of sharecroppers, he started making toys at the age of 5. He left the plantation in 1967 after high school graduation and joined the Army for a 4-year tour of duty. He returned to Natchitoches after retiring as a mechanical engineer with 32 years of experience.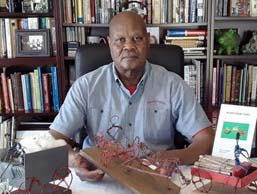 He then became a volunteer for the U.S. Park Service at Oakland Plantation where he teaches young people the art of toy making. He also speaks to Park visitors about growing up as a child of sharecroppers. In 2012 he restored his childhood 1860 slave cabin at Oakland Plantation as a sharecropper's museum. Since 2013 he has participated in the Natchitoches-NSU Folk Festival and the Melrose Arts &Crafts Festival.
The Event: SDr. Shane Rasmussen will interview Mr. Shields about his experiences as a traditional twisted wire toy maker in the Cane River region. The event will include a ceremony in which Mr. Shields will be honored as a Louisiana tradition bearer. Louisiana Sports Hall of Fame and Northwest Louisiana History Museum.

HONORING THE BROUSSARD SISTERS
JURÉ SINGING, FRILOT COVE, ST. LANDRY PARISH
October 2021, Day and Time TBD

Ambassadors: John Sharp, Assistant Director for Research at Center for Louisiana Studies, University of Louisiana-Lafayette; Herman Fuselier, Executive Director, St Landry Parish Tourist Commission
Partnering Organization: University of Louisiana at Lafayette Center for Louisiana Studies; St Landry Parish Tourist Commission
Tradition Bearers: The Broussard Sisters, originally from Frilot Cove in rural St. Landry Parish, perform music in the tradition of juré. The group composed of Sandra Broussard Davis, Virginia Ballard, Tavian Seraile and Vivian Edwards, are sisters and first cousins and were mentored in the tradition by their aunt, Cecilia Broussard. The Broussard family name is widely known regarding traditional Creole music in Louisiana and includes three generations of zydeco royalty with Delton Broussard, his son Jeffery and grandsons Lil Pookie and Guyland Leday. Folklorist Alan Lomax recorded some examples of juré music on his travels in Louisiana in 1934 and proclaimed it "the most African sound I found in America."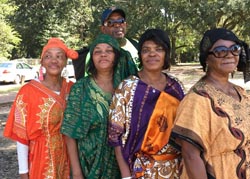 Juré is a style of a capella call-and-response song with rhythmic hand claps and has been credited (along with La-la music) as being a forerunner to zydeco. It was often practiced during Lent, the forty days between Mardi Gras and Easter, when the playing of instruments and dancing was frowned upon, and is related to the ring-shout tradition once found widely in African American communities throughout the Southern United States. Once common in rural Louisiana Creole communities, juré is now thought to be performed by only a few people.
The Event: John "Pudd" Sharp and Herman Fuselier will recognize the Broussard Sisters in a ceremony, day and time to be determined.

HONORING STANLEY MASINTER
PIPE MAJOR, BATON ROUGE, LA
Sunday, October 31, 2021, 10 am
Kirkin' o' the Tartan, First Presbyterian Church of Baton Rouge
Address: 763 North Blvd., Baton Rouge, LA 70802
Ambassador: Jim Hogg CEO Jim Hogg Group LLC Advertising / Public Relations firm Host of "Sunday Morning in Hogg Heaven" radio program
Partnering Organization: Baton Rouge Caledonian Pipes and Drums, First Presbyterian Church of Baton Rouge
Tradition Bearer: Though growing up in New Orleans in a household surrounded by his father's professional jazz music, Stan Masinter was also heavily influenced by the vocal talents of his mother's north Louisiana hill country, gospel and bluegrass roots. These music traditions reach back into time to Ireland and the Highlands of Scotland where his own ancestors and so many of those who settled north Louisiana and the Florida Parishes originated. It was only natural that he would be drawn to the powerfully evocative sound of the Great Highland Bagpipes from which so much of this music evolved.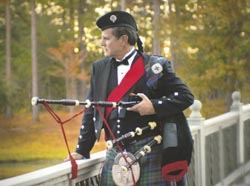 He has been in demand as both a solo piper for thirty years and also as the pipe major for the renowned Baton Rouge Caledonian Pipes and Drums for the last nineteen years. He has tirelessly pursued the preservation of this very special music and cultural tradition through countless performances, competitions and education. With the patronage of the Caledonian Society of Baton Rouge the band is devoted to keep this proud tradition alive and vibrant through its successful teaching program which offers free lessons to anyone who is interested in learning Scottish bagpiping and drumming.
The Event: Stanley Masinter will be honored during the Kirkin' o' the Tartan service at First Presbyterian Church in Baton Rouge with Pastor Dr. Gerrit Dawson officiant. Starting at 10 am with the Mustering of the Clans and pre-service music from the Baton Rouge Caledonian Pipes and Drums, it is followed by a processional at 10:30. The service is free and open to the public.

HONORING TERRY LAPEYROUSE
SHRIMP DRYING, CHAUVIN
October 2021, Day, Time, and Place, TBD

Address: TBD
Ambassadors: Jonathan Foret, Executive Director, South Louisiana Wetlands Discovery Center; Dustin Reuther, Tulane University
Partnering Organizations: South Louisiana Wetlands Discovery Center
Tradition Bearer: Mr. Terry Lapeyrouse is a fourth-generation resident of Chauvin and second-generation owner and operator of Lapeyrouse Seafood, Bar, Grocery and Campground. Out of his establishment Mr. Terry continues to practice the tradition of drying shrimp, which he vendors at his store. Drying shrimp has long been practiced in coastal Louisiana, stretching back at least to its introduction by Chinese immigrants in the mid-1800's. In the past shrimp were sold by fishermen to drying platforms in the marsh, where they were then boiled and sun-dried. Platform workers would "dance the shrimp" to separate the heads and the shells from the meat.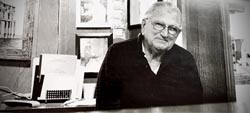 Today, Mr. Terry catches shrimp for drying with a stationary butterfly net in Robinson Canal, which is adjacent to his store and owned by Mr. Terry, while the remainder of the shrimp he uses are purchased locally. The shrimp are weighed, boiled, and put in dryers which need to be turned hourly. Although machinery has significantly cut down on labor, cleaning the shrimp after drying remains a time intensive process. Environmental changes around the store significantly threaten the local shrimp stock, making it increasingly difficult to catch and purchase the shrimp used for drying. Other environmental changes in Mr. Terry's lifetime include the widening of Robinson Canal as well as the loss of trees and land along Little Caillou Bayou. These deteriorating environmental and economic conditions have contributed to the exodus of year-round residents on lower Little Caillou Bayou, of which Mr. Terry remains along with a handful of others, rooted in their multigenerational connection to place and tradition.
The Event: Jonathan Foret and Dustin Reuther will recognize Mr Terry in a ceremony. When details are determined, they will be posted here.