ARTICLES & ESSAYS


Getting to Gemütlichkeit: German History and Culture in Southeast Louisiana
By Laura Westbrook
[ gemütlichkeit: a feeling of belonging and well-being; contentment with one's surroundings; enjoying the fellowship of others; mutual appreciation and understanding ]
Background
Louisiana's German citizens constitute both one of the oldest and one of the newest populations in the state. The earliest recorded German immigrants to Louisiana arrived in 1722, and Germans continue to arrive every year, especially in the New Orleans area. The fact that residents of German descent actually comprise Louisiana's largest cultural group is often overlooked, and it has only been in the last decade that scholarly forays have been made into this history.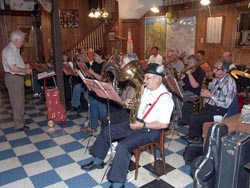 According to Reverend Heinz Neumann, who maintains the Deutsche Seemannsmission (German Seamen's Mission) in New Orleans, "The two world wars contributed to the muting of this culture in Louisiana and America, so that many people are not aware of the German traditions here and the contributions Germans continue to make in Louisiana." Indeed, residents of the New Orleans area commonly expressed surprise on learning that Germany contributed vitally needed pumps and major assistance after Hurricane Katrina because of its acknowledged close ties to the city. These ties are not often recognized or understood by Louisiana's non-German residents.
Recalls Brigitta Malm of Covington:
There has been a lot of help by the German government and other institutions after the hurricane. However, it has been very difficult to get coverage of this support. There was a team of 90 people here from the Deutsches Hilfswerk [German aid organization]; they came with pumps and stayed on a ship in Chalmette and apparently did a great job in pumping out the water from New Orleans. There was also financial help from the German government, and a donation collected by a North German newspaper in Schleswig Holstein was divided and given to City Park, a food mission on the West Bank, and several other organizations. The German Seamen's Mission also received some publicity and funds from the American Club of Hamburg.
The most recent (pre-Katrina) population statistics available from the state of Louisiana report the number of people who are now Louisiana residents but were born in Germany as 4,815. Excluding the 541 in Vernon Parish, largely due to the army base there, the statistics break down in the following order, from the largest German communities to the smallest that have 50 or more members. Orleans Parish: 557; Baton Rouge: 527 Jefferson: 490; St. Tammany: 379; Shreveport: 260; Lake Charles: 176; Lafayette: 173; Bossier: 167; Monroe: 157; Alexandria: 149; Houma: 65; and Lafourche: 59. The German community in our state goes back numerous generations, but continues to be enriched by new immigrants that strengthen the established community's ties to the homeland.
Germans were among the earliest settlers in Louisiana; in fact, they arrived earlier than many of the more dominant cultural groups. Many came from the disputed Alsace-Lorraine region, which helps to explain the easy assimilation of French and German customs, and a small but substantial portion of the earliest German settlers were Jewish. As a consequence of the social and economic success of these early Jewish settlers, attempts to import animosity toward Jews were largely unsuccessful in Louisiana's early days. Louisiana's sparse population and its great need for enterprising citizens allowed individuals to be judged more on merit than religious creed, and records from the St. Louis Cathedral make clear that intermarriage between Jews and Catholics was not uncommon.
The Louisiana to which our earliest Germans emigrated was a state of tremendous opportunity that was nevertheless known as the "grave of young men." According to Wayne Schexnayder of Kenner,
[My family is from] Hahnville in St. Charles Parish; it's part of "Cote des Allemandes." My family has been here since the early 1700s. They were German farmers that were brought here by the French to farm, to start a new colony. I remember some things my grandfather and grandmother told me about [that time]; people worked so hard they didn't live long. They died in their mid-fifties; they worked real hard. The elements-the mosquitoes, the wild animals, the Indians-it was a hard life. But in other ways they lived a good life, you know. They raised fresh vegetables. My family also told me that the German Coast farmers kept New Orleans from starving during one emergency period because they provided fresh produce and the milk and cheeses and that type of thing.
In addition to the advantages a port city like New Orleans offered to budding entrepreneurs of the 18th and 19th centuries, the crime, disease, and lack of sanitation made it a dangerous place that discouraged many who tried to establish themselves there. Nevertheless, many early German immigrants, such as Isaac Delgado, Judah Touro, and Leon Godchaux-and later, Martin Behrman, Edward W. A. Ochsner, Garrett Schwegmann, and Joseph Francis Rummel-rose from a variety of backgrounds to become forces for progress in their new state.
Many German names were legally "Americanized"; in Louisiana this meant that the "new" name appears French, so that the German "Troxler" became "Trosclair," "Zweig" became "Labranche," and so on. The changing of immigrants' names, and the fact that Germans have been discouraged from speaking German or openly practicing their inherited customs for several generations, has had the effect that a good number of Louisiana's younger residents of German heritage do not know about their own cultural backgrounds. This is an issue of great concern to older German-Americans, and came up often in interviews. A tour guide at Ormond Plantation tells of a recent incident in which a group of German tourists to St. James Parish asked a teenage boy for directions to Louisiana's German Coast. He responded that he himself was Cajun and had not heard of the German Coast. When he reported the story to his parents, he learned that his family was among the earliest Germans to arrive on the state's German Coast where their descendents all currently live, including himself! The most inclusive definition of the German Coast region counts it as extending along both sides of the Mississippi River roughly from Gretna to the Bonne Carré Spillway.
Nineteenth-century Louisiana was a place in which immigrants might remake themselves-might alter their social status through their own efforts, change religious affiliations or escape religious or cultural persecution that, though tried in Louisiana, failed to gain popular or institutional support. Romantic and volatile, ripe with possibilities for fortune or disaster, Louisiana was a place where hardy adventurers, with work and luck, might create new lives and leave legacies of lasting impact on future generations of family and on state history.
French colonial prefect Pierre Clement Laussat supported the growth of Louisiana's population by increasing the number of Germans in residence. In 1803 he wrote,
This class of peasants, especially of this nationality, is just the kind we need and the only one that has always done well in this area, which is called the German Coast. It is the most industrious, the most populous, the most prosperous, the most upright, the most valuable population segment of this colony. I deem it essential that the French government adopt the policy of bringing to this area every year 1,000 to 1,200 families from the border states of Switzerland, the Rhine and Bavaria.1
Opportunities in Louisiana were spoken of throughout the poorer areas of Germany and France; at this time Louisiana attracted emigrants from throughout Europe, particularly France and Germany.2 New Orleans' population increased from 29,737 in 1830 to 102,193 in 1840.3 The Civil War effectively closed the port of New Orleans as a substantial point of entry for direct European immigration; later immigrants primarily arrived from other American cities.4 Direct immigration from Germany resumed, especially before and after the World Wars, as families fled Europe and war brides began to arrive in Louisiana.
Early Expressions of German Culture in Louisiana
Germans established benevolent societies that provided services to the community. Like the now well-known "social aid and pleasure clubs" established before the turn of the century in some New Orleans African American communities, these organizations helped members find employment, paid their burial expenses, and supplied life insurance to the families of deceased members. These associations, which also served as social clubs, were called "groves," and by the turn of the century there were over twenty-five such societies. These included the popular United Ancient Order of the Druids. The first grove of Druids in the area, the Magnolia Hain (Magnolia Grove) was founded in 1836.5
Similar to the earlier-formed societies, Germans formed benevolent associations specifically for trades and professions, which also provided for their members in cases of illness, accidents, or emergencies, and provided pensions for widows and children. One notable group that Germans joined in significant numbers is the Independent Order of Odd Fellows ("odd fellows" refers to assorted or "odd" trades not covered by specific professional fraternal lodges), begun in 1831. Present-day visitors to the Odd Fellows Rest at the intersection of Canal Street and Metairie Road can see the tombs of the Germania Lodge Number 29 and of the Teutonia Lodge Number 10 with its inscription, "Freundschaft, Liebe, und Wahrheit" ("Friendship, Love, and Truth").
The Odd Fellows Rest was inaugurated with an extravagant brass band parade following a horse-drawn hearse that carried the remains of 16 members who were transferred from other burial grounds to the new cemetery. Brass band parades, especially those following funeral processions, are now almost forgotten among today's German population. German brass band parades, however, were once common. At least one New Orleans-area music scholar and musician, Jack Stewart, is now conducting research documenting German contributions to the development of New Orleans jazz.
Meanwhile, in Germany, conditions (primarily an ill-fated demand for a unified Germany) led to a mass emigration of artists and intellectuals to the ports of New York and New Orleans. This swelled the numbers of Germans in Louisiana, who quickly merged with those already settled in the region. Recalls Frank Ehret of Gretna, "My great-grandfather, Cassimere Ehret, and his wife, Margaret Goyer, came to Louisiana from Germany in 1848. At that time there was an influx of German immigrants to the United States; they call them 'forty-eighters'." The Deutsche Gesellschaft was organized to assist these new Germans.
Today a group of this name, headquartered on Metairie Road, functions largely as a social club devoted to cultural preservation. Meeting programs are printed in English and German, both American and German national anthems are sung, and all meetings include copious amounts of homemade German foods. One of the more unique aspects of the meetings is the inclusion of short refreshers in the German language, each of which focuses on one aspect of pronunciation, such as "how to pronounce the umlauted 'o' (ö)." Members enjoy singing traditional and popular German songs.
The Deutsches Haus was founded as a place where numerous longstanding German organizations could meet, and today it functions as a social club, a gathering place for various German groups, and a place where people can speak the German language and maintain ties to their culture. Marietta Herr of Harahan, whose family has belonged to the Haus since its inception, describes its origin.
My father belonged to a singing group, the Mäennerchor, before the establishment of the Deutches Haus, and in 1928 Mr. Odenheimer [the first president of Deutsches Haus] brought all these German groups together. They had the Turnverein; that's the exercise people. [The Turnverein was an arts and benevolent society that promoted and presented art, music, and drama, and also offered physical fitness programs for its members.] Then they had the Unterstützungsverein that was like a benevolent association, an insurance group. They had a doctor and so forth. And I don't know what other groups they had. But after World War I these German groups kind of disintegrated. They were strong prior to World War I and afterward they were weakened but still existing. So they were brought together and the Deutsches Haus was established. The building was an old telephone exchange, where it still is today, on South Galvez Street. My father, then part of the singing society, also became a charter member of the Deutsches Haus. If you were a member of the Deutsches Haus you could be buried in the St. Roch Cemetery.
Keith Oldendorf, who is the current president of Deutsches Haus but did not grow up attending its events regularly, describes his impressions of the Haus as he has observed it over time.
When I started coming here, I was in my twenties, and at first it seemed there were mostly older members. Some of their grand kids would come every now and then. But in the last few years, there was a trend for younger people that started coming regularly. Then when it got damaged during Katrina, it gained even more momentum with younger people. When we started to rebuild the place, it was a mixture of ages, but mostly a lot of younger guys showing up. They showed up every weekend and worked really hard putting the place back together.
In addition to the professional and benevolent organizations, Louisiana's earliest Germans participated in a wide range of assistance, social and artistic associations, many of which survive in some form today. The most important of the earliest societies was the Deutsche Gesellschaft (founded in 1851), which provided assistance to new arrivals by welcoming them at the docks and helping them go through customs and get settled in the area, or find their way to transportation if their journey did not end in Louisiana. They also provided food and clothing, supplied transportation costs, and offered shelter and care to those who had fallen ill along the way.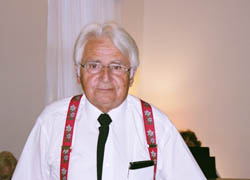 Today the Deutsche Seemannsmission, headed by Pastor Heinz Neumann, meets German ships at the Port of New Orleans and helps sailors purchase needed supplies and, if their work requires a stay in the city, provides hospitality including meals, lodging, recreation, and entertainment, sometimes even German-language concerts during which the sailors are invited to sing along with local Germans who regularly attend activities at the Mission. Says Frieda Arwe, a licensed tour guide who lives in Gretna, "I feel that I am doing my part when I meet the Germans who arrive in the Port of New Orleans. We show them around the city, especially the parts of interest to Germans. Sometimes they are surprised at the abundance of German history we have here, and sometimes they come knowing a great deal about our German history. We have German-language books and films at the Mission, and there they can meet people who are glad to speak German with them." Pastor Neumann not only maintains the Seemannsmission, he also conducts monthly services in the German language at St. Matthew's Church of Christ, offers prayers and leads choirs at events for all of the German organizations in the area, and helps to support the activities of each. He is frequently cited as a mainstay, and highly valued, member of Louisiana's German community.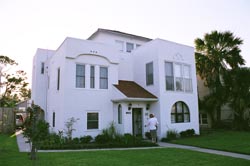 Louisiana's German history is an "open secret." During the years 1848 to 1900, Germans were the largest foreign-language speaking group in Louisiana. By the year 1850 fully one-fifth of Louisiana's population was German-speaking, and there were more than 50 German-language newspapers and journals published in the state. As recently as the mid-20th century, German was taught in Orleans Parish schools, reports Sister Betty Doskey of Orleans Parish, who recalls that at St. Francis of Assisi School (which educated both boys and girls) in the 1930s and 1940s, all the nuns were German and spoke German with their students.
Changing Times
But the nationalism pervasive in the United States during the World Wars and the postwar years took its toll on expressions of cultural pride among Louisiana's Germans. During World War I, the Louisiana state legislature passed Act 114 (specific to German citizens), which made all expressions of German culture and heritage, especially the printed or spoken use of the German language, illegal. Cajun songs such as Hadley Castille's "200 Lines," recount the heartbreak, sense of shame, and cultural erosion that resulted from similar post-World War II policies in Acadiana, but this experience was far from exclusive to Cajun children. (Though the reasons for these language strictures differ, the resultant weakening of cultural solidarity has been reported by all cultures that were affected by them.) During World War II in particular, German Americans report that they feared being collected into camps such as those endured by Japanese Americans. Any German traditions that were maintained during this time were practiced strictly among close friends and family at home. May Day, originally acknowledged and celebrated as the German Maifest, assumed a more generic "old-fashioned" aspect and was celebrated as the beginning of spring with little or no cultural context for non-Germans.
The influx of Germans did not discontinue, though, even during wartime. Güenter Bischof of Terrebonne Parish points out that,
After the surrender of the Africa Corps in May 1943, and in the latter part of World War II, thousands of German prisoners of war were shipped to Louisiana to work in the northern cotton fields and in sugarcane fields in the coastal parishes. The German POWs made up the shortage in agricultural labor after white boys were drafted into the military and African-American sharecroppers moved to industrial jobs at places such as Higgins Boats in the cities. 6
The German POWs worked on the very plantations of the "German Coast" first settled by their countrymen in Louisiana. After the wars, Germans immigrated to Louisiana seeking to escape post-war poverty and hardship. When they arrived here, though America was generally unfriendly toward Germany, they found a well-established community that was able to welcome them and help them assimilate.
Restaurateur Blanca Volion taught herself English by studying the newspaper and grocery signage, and following along with the televised 64,000 Question but, typically for Germans new to Louisiana, mostly through the invaluable German friends she met who had been in Louisiana a little longer than herself. Organizations such as the Deutsche Seemannsmission and the now-defunct German Club played a crucial social and psychological role in immigrants' lives. Mrs. Volion and her friend Marianna Nicholas formed a weekly Kaffeeklatsch at which "We'd make cake and we'd have coffee and talk." She describes the experience of some of the Germans who came to the New Orleans area during this period.
A lot of people [are] coming out now, to say "I'm of German descent." You'd be surprised how many people say, "Oh my grandfather came from there." [If I say] "But you don't [have a] German name," they'll say, "Well, they changed it." With the war, they had to kind of change the name and then they kept it that way. Later, some people changed it back to the German way, but a lot of people didn't. See, they used to hide everything in their attics, so people wouldn't know that they were German, because of the war. You know war can be a darned terrible thing. I had a very hard time when I came over here. You know, for being German, and people didn't forget-their daddy got killed in the war, their brother got killed in the war. And it wasn't my fault; I was just a child. But it doesn't matter; I was still blamed for it. So that's why some people didn't come out. Now people, just the last years, is all coming out, you know. But I mean the tradition is kind of forgotten. That's what good with the German club. They have a nice Christmas party there with the candles and all that stuff. I used to never miss a meeting.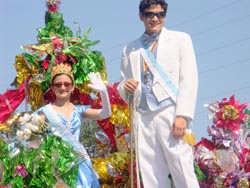 In Louisiana, the cultural revolution of the 1970s most notably saw the resurgence of "Cajun pride," but the state's Germans have also been making forays into more public expressions of culture. Over time the Maifest has been reinstated in several communities, Oktoberfest has become extremely popular with Germans and non-Germans, and today German (and some mostly-German) community and cultural organizations are thriving.
Though German-language events became more public during and after the 1970s, loyalty to the new homeland remained important to American Germans. Sevilla Finley says, "I returned from living in Palo Alto, California, in 1985 and dedicated the last 20 years of my life to the 'movement' with the goal of establishing the German-American Cultural Center." She tells about her community's struggle to integrate and express their dual identities at public events.
In the 1980s, I was president of a local German club when we had our first big Maifest; several hundred people were all assembled at the Red Maple Restaurant [in Gretna]. Ira Milan's Polka Band was about to start the evening and he asked everyone to stand up for the anthem. I went from room to room and, with both hands, urged everyone to rise. Then Ira and his 16-piece band started playing, but it wasn't our American anthem. [They played the German anthem]. I was a little surprised and embarrassed. When it was over everyone sat down and started to eat. An older club member and his grown daughter came over to me. The daughter said, seriously but with a smile, "My father has threatened to break up all the band's instruments if they don't play the American anthem." He said very firmly, "I'm an American first, and they'd better play our anthem or I won't stay." Ira said he didn't think they couldn't play it without the sheet music, but he got the band to play the anthem the best they could from memory. Later I discovered that whenever Ira's band played at the Deutsches Haus, they'd always open with the German anthem, just as the people of French heritage do with La Marseillaise when they're holding a cultural event.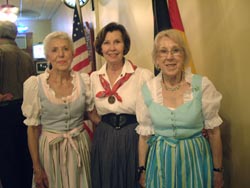 The shift toward public expressions of cultural pride is often described as a grass-roots movement. Ms. Finley explains, "The big cultural movement occurred in 1987 when Gail Perry organized the German Heritage Festival Association and revived the Oktoberfest Parade that used to roll in New Orleans. People joined by the hundreds in this." This movement brought together several existing German heritage groups that had previously been unknown to each other. Ms. Perry adds, "The old volksfest parade rolled before the Civil War, stopping for the 5 years of the war then continuing in 1855. They paraded until the early 20th century. The early history is in the old newspapers, The Star, I believe." Ms. Finley responds, "It wasn't a movement until we all got on the bandwagon to do the parade and create the German American Cultural Center, and Richard Kuntz and Bill Gunn headed the efforts to revive and increase membership at the Deutsches Haus. Down the coast, the German Coast people (particularly the German Coast Historical and Genealogical Society) were doing their thing and we networked."
The German American Cultural Center (GACC) was established in Gretna in 1999 with the support of an active "Friends" group. It is open to the public and offers exhibits, programs and cultural activities that interpret the German immigrant history and the contributions, to Louisiana and the United States, of German Americans. The cultural center resulted from twelve years of cooperative efforts among the above-named groups with "the City of Gretna, Jefferson Parish, our congressional delegates, the Jean Lafitte National Park and Preserve and the Delta Regional Preservation Commission" to lobby for a museum in Gretna, explains Ms. Finley, who took a leading role in the center's development. Today the center features regular lectures and presentations, hosts annual holiday celebrations, and partners with non-German festivals and the local arts market. Membership in the various clubs and societies overlap, so that one may see the same people at meetings and events in Gretna, Metairie, New Orleans, or further out along the German Coast.
In southeast Louisiana, Germans have been known for their fierce work ethic to the point that "It takes a German to do it" was once synonymous with accomplishing the near-impossible; this expression is occasionally repeated, often humorously, today. David Moore, a member of the Deutsches Haus, rediscovered his commitment to that organization after Hurricane Katrina. He observed that it, like the other organizations mentioned in this essay, presents a rare opportunity for many different waves of immigrants to socialize with each other, helping new arrivals to assimilate and invigorating interest in the traditions of the homeland among fourth- and fifth-generation German-Americans. He also noticed similarities among the members who turned out to voluntarily rebuild the storm-damaged Haus. The men reminded him of his own German ancestors.
My grandfather was into everything-he had all kinds of tools. If he was gonna build a plant stand, it would have posts that big [hands about a foot apart]. An elephant could stand on it, much less him. Anything he build was just totally, totally overdone. I guess you could call it eccentric. Well, when I was growing up I thought it was eccentric, just his way. But I guess you could call it the German way. I tell you, when working at Deutsches Haus and watching these younger guys They are pure German, and their whole families were German, and I could see my grandfather in them. Just the way we rebuilt the Deutsches Haus-if something required a floor joist this big [hands six inches apart], they were putting in one this big [hands ten inches apart]. I mean, that sucker was going to be there for the rest of time! The way they engineered that place and built the place, and the way they were going about restoring it, you could just tell it was being done by some [people with] German ancestors. It was never good enough to just do it. It had to be done this way. And it was always overly done. It's a German thing, I guess.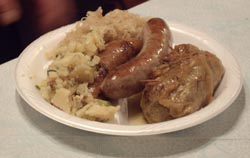 Many of their first enterprises continue in a variety of forms. Germans largely instituted the brewing industry in Louisiana; in its heyday the Jax Brewery, established by Joseph and Lawrence Fabacher in 1890, employed a high percentage of the area's Germans. According to Larry Fabacher, "It was a relatively unusual place to work. It was actually written into the union contracts that a worker would get 'X' number of beers per shift. Each department had its own keg and its own kitchen."7 The present building is only a suggestion of the structure that, for years, dominated the French Quarter riverfront from Jackson Square to the property that is now One Canal Place. Today Germans comprise much of the membership of the Crescent City Home Brewers, and individuals like David Moore of Slidell continue to brew for private consumption at home, and also to can sauerkraut and other dishes, using traditional techniques. German immigrant Henryk Orlik is the founder and Brewmaster of Heiner Brau brewery in Covington, and immigrant Wolfram Koehler is the founder and Brewmaster of the Crescent City Brewhouse, a microbrewery and restaurant in New Orleans' French Quarter. Both mention with pride that they strictly adhere to the German Purity Law of 1516, known as Reinheitsgebot.
In New Orleans, Creole gardens historically utilized white, heavily scented, flowers to mask the smells of the streets. Germans are largely credited for bringing their traditions of riotously colorful gardens. Germans established many of the area's first florist shops, some of which are still operating or remembered today, such as Eble the Florist, Kraak's Florists, Rohm's Floral Designs, and Scheinuk the Florist. Other enterprises to which Germans notably contributed, and in which many still work, include politics, restaurants, agriculture, and dairies.
Tradition and Contemporary Culture
Food and Holidays
Many Germans who were interviewed for this project report that the first question a German will ask, when exploring a new place, is, "Where can one find good bread?" They point out that New Orleans' famed French bread is misleadingly named because the majority of "French bread" bakers in the city have been either Italian or German; often they presided over small corner markets, some of which grew into giant enterprises such as the Schweggmann's supermarkets. Lifetime baker Alfons Kleindienst, who emigrated from Hamburg, explains,
America is a little different than Germany. In Germany, when a young man goes to a bakery, he becomes an apprentice, and he works at this place for 3 years. You got no pay, but you learned the whole bakery from the bottom up, and you learned everything in the bakery. A lot of times in America, a guy will join a bakery and they'll show him how to make pies, and he might make pies all his life, but he doesn't know how to make a loaf of bread, or he can't make a cream roll, or an apple turnover and stuff like that. . . That's why Germans, in most places, are sought after, because they had to go through this tedious way of learning. But when they've learned it, they know it!
Mr. Kleindienst is now retired, but names like Leidenheimer, Reising, Binder, and Haydel continue to dominate New Orleans baking. Smaller boutique bakeries continue to be owned and operated by bakers of German heritage, sometimes under French names.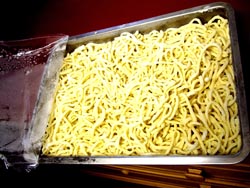 The connection between German baking and local heritage is made humorously, unambiguously clear by artist Bunny Matthews' decorations on the Leidenheimer's bakery trucks, on which locally-beloved cartoon characters Vic and Nat'ly proclaim, ""Sink ya teeth into a piece a New Orleans cultcha, a Leidenheimer po-boy!" The sister and brother team of Katherine and Robert "Sandy" Whann, the fourth generation of the Leidenheimer family to operate the bakery, plan to organize a Po-Boy Preservation Society to encourage the use of locally-made bread in commercial po-boys.
Louisiana historian Earl Higgins, in his book, The Joy of Y'at Catholicism,8 describes the blending and blurring of cultural boundaries where food is concerned this way.
The paradox of y'at reality is illustrated by the following true story, an event that took place several years ago after Sunday morning Mass at St. Agnes Church on Jefferson Highway. Standing across from the church was a small neighborhood bakery that drew a crowd after each Sunday Mass. An elderly lady was poking through the stack of fresh French bread loaves until she found one wrapped in paper showing that it had been baked at Falkenstein's, a local bakery that supplied French bread to retail bakeries. "This is the authentic French bread," she announced with serious emphasis and a vigorous nod. "Mr. Falkenstein brought the recipe with him from Germany." The lady, the neighborhood baker, and Falkenstein's bread are long gone, but New Orleanians' view of "authenticity" remains the same.
Longtime resident Bill Rittenberg, as quoted by the columnist Angus Lind, says, "That's the irony. The French have never made French bread. The Germans made it." (And now, a Vietnamese bakery in his neighborhood makes bread that is very similar.) 9 Doubtless many residents of French descent may have their own stories about their long heritage of bread-baking in Louisiana.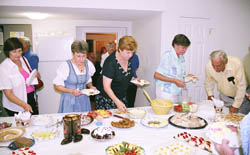 Other German names strongly associated with everyday baked goods, and childhood memories, are Elmer and Hubig. Though devastated by Hurricane Katrina, after which its Bywater bakery in Orleans Parish was forced to close for 16 months, Elmer's Fine Foods has recovered and is still going strong. Today, Alan, Stephen and Paul Elmer are the fifth generation of the family to run the bakery. Their candies are sold at most drugstore checkout counters, and the name of its signature snack, "CheeWees," has become synonymous locally with any bagged chip-type snack. The Simon Hubig Pie Company remains extremely popular as well; in fact, more than one pie fan sports "Savory Simon," the Hubig logo, as a tattoo! The company proudly displays their photos on its website. Their Faubourg Marigny bakery was less affected by the storms, and employees handed out pies to locals and rescue workers from their familiar red and white pie trucks.10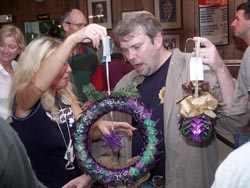 In addition to daily fare, German holiday food traditions remain strong. Holidays, of course, combine special foods with deeper customs that connect us to family, community, and homeland. The Advent season, which begins the first Sunday after November 26th, marks the arrival of Christmas. The Adentskranz (Advent Wreath) and Adventskalender (Advent calendar) decorate German homes during this time. The popularity of the Advent wreath spread throughout Germany after World War I, and remains important there and with Germans in America. The Advent calendar was first documented in 1851, but the custom may be older than that. Mrs. Frieda Arwe makes the wreaths for some of the community holiday events, but notes that anyone can begin with commercially available greenery wreaths and can make a German-style Advent wreath. The Advent wreath is placed on a flat surface and consists of a bough of greenery formed into a circle, around which are placed four candles. A fifth candle, larger than the others and white, is placed in the center. Traditionally, the wreath is decorated with cones of fir and pine, small red mushrooms, and red and/or yellow ribbons. On each Sunday in Advent one of the four candles on the wreath is lit so that on the first Sunday, one candle is lit, on the second Sunday that one plus another is lit, and so on. The first Sunday in Advent, Grüner Sonnag (green Sunday), takes its name from the green Advent wreath. The second Sunday is called Kupferner Sonnag (copper Sunday); the third, Silberer Sonnag (silver Sunday); and the final Sunday is Goldener Sonnag (golden Sunday). On Christmas Day, the large center candle is lit. Decorated but candle-less wreaths are hung in private homes and public places.
The Adventskalender may take the form of a handcrafted box with small doors that open to reveal a small treat and/or a biblical verse each day leading up to Christmas, or it may be a "fancy" version purchased in a store. This is a way for children to mark the days until Christmas. Advent time is also the time for community Christmas parties at the German American Community Center and at the Deutsches Haus. Both feature holiday foods and live music performed by community members in the German language. A highlight of the Deutsches Haus party is the appearance of "a more authentic" version of St. Nicholas rather than the Dutch-American Santa Claus popularized by Clement Moore.
In German tradition, Christmas Eve rather than Christmas Day is the height of the season. This evening is called der Heilige Abend (the Holy Evening), and is the time that the tree may first be brought into the home and decorated. In America, Germans must balance the desire for a traditional Christmas with the demands of American holiday-making. This is a time when German families talk about the importance of this night, commemorating the night the Christ child was born. In German custom the belief is that it is the Christkindl (Christ Child) who delivers gifts as he himself received them on the evening of his birth. The custom of the Christmas tree may have begun in Germany, was certainly prevalent there for centuries, and was popularized in Europe and the United States beginning in 1841 by those who admired illustrations of trees decorated for the children of Queen Victoria and the Saxon Duke Albert, Prince Consort of the United Kingdom, who was from the area now designated as Bavaria.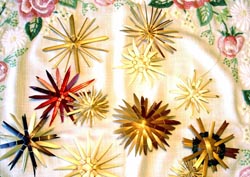 Today's German Christmas trees are decorated with a mixture of store-bought and traditional ornaments-stars woven of straw, decorations of foil or glass, apples, nuts wrapped in gold foil, pastries in the shape of rings and Lebkuchen (spicy ginger biscuits), decorations of candy or marzipan, carved or crocheted angels, cones of fir or pine, candles or electric lights. Louisiana Germans report that, if candles are used, they only are lit on Christmas Eve and afterward the electric lights are used. Presents may be placed under the tree or on a nearby table for the purpose called a Gabentisch. When the adults have the tree decorated and lit, they ring a little bell to let the children know that it is time to see the tree. Often songs are sung before the children receive their presents. The exchange of gifts is called die Bescherung. The tradition of the "Christmas pickle" is becoming popular with some non-Germans as well. This is the custom in which the adults hang a pickle-shaped ornament, usually made of glass, on the tree on Christmas Eve after the young family members have gone to sleep. The child who finds the pickle the next morning trades it in to the adults for a special small prize. There are a few people who still know how to make the straw stars and for several years St. Matthew's Church operated a Christmas bazaar at which these locally handmade items and others were sold.
There is no menu for Heilige Abend or Christmas Day that is common to all Germans in Louisiana. Some prefer carp, herring salad, and Louisiana seafood, possibly carrying on an old Catholic custom of refraining from meat on Christmas. Many others prefer to serve goose as a Christmas main dish whenever they can (with turkey an acceptable substitute if necessary), or pork roast; either main course will likely be accompanied by red or white cabbage, Spätzle (little dumplings) and sauerkraut. Special desserts may be the highlight of the holiday menu. The Christmas Stollen is a dense, aromatic, bread-like fruitcake referred to in its various regional formulations as Dresdner Stollen, Weihnachtsstollen or Christstollen. The shape of the bread is thought to represent the shape of the swaddled baby Jesus, but was thought by miners to resemble the entrance to the mines (literally stollen), and over time the cake was commonly renamed so that the original name, Striezel, is all but forgotten. Several women who are active in South Louisiana's German community make Stollen as a holiday specialty and a prized gift. Other special foods of the season include marzipan cookies, der Lebkuchen; various other cookies and pastries; apples and apple butter; Gluehwein ("glow wine" or "glowing wine"), a spiced mulled wine, usually red; and spicy mulled cider. Each year at New Orleans' Jean Lafitte National Parks facility on Decatur Street, Ingrid Schleh and Frieda Arwe demonstrate techniques for making the marzipan cookies.
The twelfth and last day of the Christmas season is Heilige Drei Könige, or Drei König Tag, the Feast of the Three Kings, elsewhere called Epiphany. This is not a gift-giving day. In Germany, the custom is that, unnamed and unseen, "three kings" visit homes and businesses, leaving a chalk sign that they had been there. In America this is a day for community visiting as opposed to the family emphasis during Heilige Abend and Christmas Day. One family's traditions are described by Adrian Juttner;
My German traditions come from the Banat Schwaben, who were exterminated by the Red Army in 1945. But, I grew up in a German neighborhood [here in America]. At home, we celebrated Dreikönige [drie/three, konig/king] on January 6th. Mom would fry donuts. A quarter went in one, then a dime in another, then a penny in one. Those who picked the money became, [in descending order], the Konig, Kaiser [emperor], Hosenscheiser [rabble]. Of course, a kaiser outranks a konig, but it rhymes better that way. The hosenscheiser is the one who messed his pants-hence the brown penny. Dad usually got that one.

The food Mom would cook would be a melding of German and Hungarian fare: ribs and sauerkraut, sultz [jellied pigs' feet], blutwurst, landjagers [sausages from Cleveland], boiled beef with horseradish, Eszterhazy rosteos [beef], guljas [Hungarian beef and vegetable soup], Chicken Paprikash, eggs with paprika, galuska [tiny dumplings], Hungarian cucumber salad, wiener schnitzel [breaded, pan-fried veal strips], and-worst of all-kidney stew! The smell of it boiling would make me declare, "I know what's cookin' today!" When she died, she left a pot of ribs and sauerkraut behind.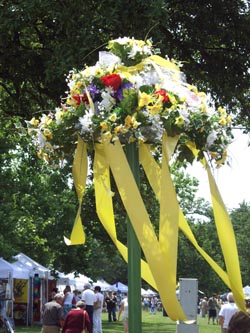 The Christmas season is most often mentioned in interviews and articles about German holiday customs, but other less well-known seasonal customs are also observed in Louisiana. The medieval custom of heralding the beginning of spring, Maifest ("May Day" in other cultures, though Maifest is not always celebrated on May 1st as is May Day), is spreading in popularity across the United States. This custom has its roots in pre-Christian agricultural rites entreating fertility for crops, livestock, and the human population. In Germany this is an occasion for planting, but as respondents point out, in Louisiana May is late for first planting, so this aspect has been dropped or has become merely ceremonial. In Germany, the Maypole or Maibaum artistically documents the various trades that are practiced in each town, and they are prominently displayed as expressions of community pride for the entire month or longer. The Maibaum and the winding, ribbon-braiding dance around it symbolize the rekindled hope and energy of spring. This is also a time to re-connect with neighbors, to dance, sing, and drink outdoors after the cold winter.
Here in south Louisiana, the German American Cultural Community Center in Gretna has an outdoor Maifest with music and food, though the Maibaum is only up during the festivities. Maifest, now also celebrated as Volksfest (the people's festival), has been celebrated in Louisiana for decades, and visitors to the grounds of the German American Cultural Center or the Deutsches Haus can enjoy the camaraderie of the celebrants and partake of the varied sausages, pastries, and beers on offer, as well as the breads, kraut and cabbage, and special large pretzels. Frieda Arwe remembers the Maifests of her childhood in the Frankfurt area:
In Germany, they go for hikes, bike rides, celebrating the springtime. And in cities like the city my husband is from, the city of Bruschal near Heidelberg, that city is known for their Maifest. They have this Maipole, the Maibaum, and it has a huge wreath and bands flowing down. And then they have each trade-let's say you have a plumber, you have a butcher, you have a baker, each organization, and they have a coat of arms and that's carved in the Maipole or that's painted on the Maipole. And they get together-like I said, the baker, the butcher, the candlestick maker-the guilds-and they dance around the Maipole. And they have the youth groups that dance around the Maipole. And in my husband's town, they bake pretzels, they bake huge pretzels, not like the ones here, they bake them from a special dough, and they even have a song about the Maipretzel, and the most famous song they all sing is that (sings in German), translation, "May has arrived; The trees are blooming and sprouting; Everyone is on the go; The ones who don't want to participate, they just have to stay home while the others are celebrating," something like that.
In Louisiana, the decorations on the Maibaum are usually a wreath of spring flowers at the top of the pole, with colorful streamers affixed to the center. In decades past, there have been dances at public events and also in schools; more recent events may feature the May dance but this is not performed with regularity anymore. Several people who participated in interviews expressed the desire to revive the dance and, since it has not had time to fall out of memory or direct experience, this is entirely possible. The traditional Maibaum dance begins with each dancer holding the end of a ribbon, so that they form a circle of dancers around the pole and the ribbons are fairly taut. Usually one dancer is male, the next female, and so on, and there is an even number of dancers. The dancers alternate facing clockwise and counterclockwise. Each dancer moves in the direction he or she faces, passing one person on the right, the next on the left, and so on. The greatest challenge is toward the end of the dance when ribbons shorten; outside dancers must lift their ribbons in order for inside dancers to pass beneath them, then the inside dancers are on the outside and must repeat the action until the ribbons become too short to work with and the music ends. At this point the ribbons form a braid around the Maibaum, decorating it for the day or until another dance. Sometimes the dancers all turn and then unwind the ribbons using the same technique. Today only the Cultural Center has a Maibaum, and its vestigial ribbons are purely ornamental, but this may change.
Gail Perry, now of St. Tammany Parish, recalls Maifests of her New Orleans childhood:
For over a hundred years all of the public and private schools in New Orleans celebrated a May Festival with music, maypoles, performances, etc. This was a given, and probably stems from the German influence. My favorite school Maifest was the one in 1950 when my 8th grade class at Robert E. Lee School on Carrollton Avenue performed a dance to "Buttons and Bows." All of the girls had made their own skirts in Home Economics class at the school. The boys wore matching bowties. There was a raised stage for the performances, and each class had a dance or musical performance.
Foods associated with Maifest are hearty whole-grain breads, ham, cheeses, mustards, pickles, and baked goods. Beverages include Maibock (May beer) and Maiwein, a white wine flavored with Waldmeister (sweet woodruff). Waldmeister grows wild in Germany but the wild American version is not palatable. It can be grown in containers here, though, and the young spring sprigs used to flavor the distinctive special-occasion wine. A group of local cooks, none of whom rely on written recipes for familiar dishes, have reviewed the following recipe (compiled from notes by the author) and agree that it will produce a fine Maiwein.
Place in a bowl or pitcher:

12 sprigs of young woodruff
11/2 cup powdered sugar
1 bottle of Mosel, Saar-Ruwer, or similar German dry white wine
1 cup brandy
Cover the mixture for 30 minutes, but not longer. Remove the sweet woodruff. Stir and pour over a block of ice placed in a large punch bowl.
Add: 3 bottles of Mosel, Saar-Ruwer, or similar German dry white wine
1 quart carbonated water, or German sparkling wine
Decorate the Maiwein, or May Punch, with thinly sliced oranges, sticks of pineapple, and sprigs of sweet woodruff.
Oktoberfest is not, as anthropologists define it, a folk festival since its modern origins are clearly known, and it has its roots in the celebration of an elite event, a wedding among Bavarian royalty. However, among German immigrants to other countries where it is celebrated, Oktoberfest serves to bring together people of German descent who maintain their German celebrations, language, and other customs. The event dates to 1810, when citizens of Munich were invited to celebrate the royal wedding of Bavarian Crown Prince Ludwig and Princess Therese of Saxe-Hildburghausen. The public festival honoring the newlyweds included horse races, games, and foods. The first agricultural show presenting Bavarian food products was added the following year, and in 1819 the city of Munich became the official organizer of the event.
Today in Germany, at noon on September 17, the lord mayor of Munich cracks the first barrel of Oktoberfest beer with a traditional announcement of "O'zapft is!" ("The beer is tapped!"), signifying the opening of the city's Oktoberfest celebration. Over the years, carousels and other midway rides have replaced horse races, but the largest attractions are the foods and the Biergartens (outdoor cafés arranged for visiting).
More than 150 Oktoberfest events are held throughout the United States in cities and towns where German culture, food and beverages are celebrated. This two-week festival is held annually during late September and early October. With some six million people attending the Bavarian event every year, and millions of others celebrating all over the world, it is easily the world's largest fair. Traditionally, the event takes place during the 16 days up to and including the first Sunday in October. In Louisiana, Oktoberfest celebrations open with a ceremonial keg-tapping, modeled after that in Munich, by a person of honor in the German community or by locals enacting ceremonial roles as Ludwig and Therese. A special Oktoberfest beer, slightly darker and stronger, is brewed for the occasion. Visitors also consume large quantities of traditional hearty foods such as sausages of various kinds, Hendl (chicken), Käsespätzle (cheese noodles), cabbage rolls, several recipes of potato salad, sauerkraut, and special large home-made pretzels similar to those served at Maifest.
The German-American Cultural Center sponsors a "German village" at the October Gretna Heritage Festival, and the Deutsches Haus's Oktoberfest lasts five weekends and is so popular that visitors wait in lines around the block to enter, and may have trouble finding room on the crowded dance floor to dance to the live German music played by local musicians. Numerous participants wear Alpine hats, Lederhosen, Bundhosen (leather or cloth breeches), short embroidered Miesbacher jackets, dirndl dresses, and some serve refreshments in peasant garb. The event primarily features a Biergarten where members and visitors can sing together, and enjoy foods, drinks, and gemütlichkeit (a sense of belonging, cheerful acceptance, or peaceful quality time) while listening to the music.
Music
Today's Germans will happily tell anyone, "Where there are Germans, there is music," and this has always been true in Louisiana. Current residents who moved here from Germany report that they learned music from family in their homes and also at school. In fact, schools provided children with books containing traditional folk songs specifically so that there would be a shared repertoire of music that all Germans could sing together. Soldiers were provided with similar books when they were sent out of the country, so that they could retain that familiar connection to their homeland. Sevilla Finley, Marietta Herr, and others proudly display for guests in their homes or at the German American Community Center examples of these patriotic collections of traditional folk songs. Here in Louisiana, in the few schools that offer a music program, German music is not an option. However, with a long history of activity in Louisiana, German music is alive and well in private homes and community gatherings.
German poetry, theatre, and, above all, music have a long history in New Orleans. German children grow up listening to the music that, in America, is dubbed "classical," and generally not considered to be of interest to children, and so today's Germans sing arias along with folk tunes, much as early New Orleanians of all cultures once did. In November of 1866, the German National Theatre was established at the corner of Baronne and Perdido streets, where Mozart's Die Zauberflöte (1868) and Beethoven's Fidelio (1870) were among the first large-scale German-language productions. In 1877 the Varieties Theatre on Canal Street, later known as the Grand Opera House, mounted Italian-language productions of Der Fliegende Holländer, Lohengrin, and Tannhäuser. During the holiday season of 1895, however, the city rhapsodized over Walter Damrosch's staging, in German, of three of Wagner's "Ring" operas (Die Walküre, Siegfried, and Götterdämmerung), as well as Lohengrin, Tannhäuser, Tristan und Isolde, Die Meistersinger, and Beethoven's Fidelio. The two largest early music publishers in the South, with which locals are still familiar, were Gruenwald and Werlein. These families, along with the Turnverein, sponsored numerous musical celebrations that featured both German and popular music.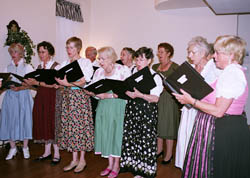 The Mäennerchor (men's choir) and the Damenchor (women's choir) date back to this period and are still very active today. The earliest forms of these clubs were singing societies that perpetuated traditional choral music, as well as both German and German-American culture, while providing gemüetlichkeit for new immigrants. These large groups sing regularly on Friday nights at the Deutsches Haus after meals and visiting. While the choir members go to sing upstairs and some of the other clubs go off to meeting rooms, still more members remain in the main gathering room to hear concerts, eat and drink, and visit. Karlheinz von Bargen, who sings with the Mäennerchor, explains that the music helps to maintain a feeling of connection to Germany and also solidifies ties among Louisiana's residents of German heritage: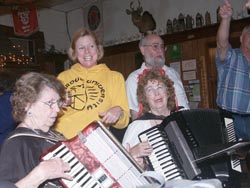 At home, we sing with parents, and also with friends. That goes on even here in New Orleans. People sing, even after the rehearsal of singing! We'll sit down here and sing all the old Volksmusik (folk music). The music that connects one most to Germany is the Volksmusik. Sometimes they like to sing old Schlagers. A Schalger is more of the hit music. When they have parties in Germany they sing all kinds of songs, even jazz if they can. We do that here, too. It is important to keep the language going and also to remember all the songs, you know.
You don't have to be perfect. And nobody here complains about the singing. Everybody sings along. Either it's correct or not correct; it doesn't matter. Once you are in a party and there are sings, it doesn't matter if you can sing or not because everybody sings.
Many who participated in interviews echoed Mr. von Bargen's comments about the importance of enjoying music over striving for technical perfection, and of music's ability to elevate the quality of life through beauty and camaraderie. Damenchor president Gail Perry shares these sentiments and points out that pride in German cultural heritage does not conflict in any way with pride in being an American as well, an important concept stressed by many German Americans.
I became a member of the Damenchor for two reasons: I wanted to practice my German as I was taking German language lessons, and I thought it important to keep German song alive in this country. There is also an indescribable feeling that comes over me when I hear some of the traditional lieder [popular German art songs often performed at home or in intimate settings, which rely heavily on vocal range and power]. Could it be in my genes? I don't really know, except that no other nation's song has the same effect. The German community wants to preserve its history and culture just as every other national group attempts to do the same. We are a melting pot, but we don't have to be totally unrecognizable! Being a citizen of the USA comes first, of course, but we do want to know our roots.
Another musical custom with which all Germans in this area are familiar is the traditional Schnitzelbank. This musical form has been traced by historians to 18th-century Germany and also to Holland, Czechoslovakia, Hungary, and other central European countries. To call it a song, with the implication that its lyrics are unchanging, would be misleading. The Schnitzelbank is a singsong method of teaching basic German words and expressions to children in a humorous way. This is the association most often made among German Americans today, and non-German children, due to Steven Spielberg's televised cartoon series "Animaniacs!," which employs the form to teach its audience basic German, are becoming familiar with the form as well.
However, the history of the Schnitzelbank extends beyond children's rhymes. Historically, the musical form has been used as the basis for social and political satire, much as the themes for some of the more local Mardi Gras krewes parody current events. In Germany today, "secret" Schnitzelbank societies gather for the pre-Lenten Karnival festivities, composing and performing versions of the song that lampoon current events, politicians, and other authority figures. The word Schnitzelbank translates literally as "a cutter's bench," but the musical form takes its name from a play on this word. The slang usage of the word "schnitzel" refers to a joke or to a person who is a "cut-up" or jokester, and "bank" as the bench, podium or stage on which the jokester performs. In today's Germany one can still find professional "Schnitzelbankers" who, for a fee, will write a Schnitzelbank song in the traditional form that addresses the contemporary issues specified by the patron.
When the song is used in the most common way, as a guide to language development, it often accompanies a lesson that is drawn out or even carved on a wooden sign. The Deutsches Haus has one of these carved signs and some members have their own wooden, paper, or canvas versions, and occasionally on special events parents and grandparents will sing the song while pointing out the appropriate carvings and drawings to the children.
Traditions Ripe for Revival
There are several customs that have been maintained until recently; some were halted by Hurricane Katrina and others have slowly ebbed until decisions must be made about whether, and how, to bring them back while they are still part of the direct experience of community members. In this category, people interviewed for this project have mentioned the processions that occasionally precede Maifest; the Maipole dances as a regular annual event; the Weihnachtsmarkt (Christmas bazaar), including the craft workshops that led up to it; and Fasching (Carnival). The Maifest traditions have been described earlier in this essay. Following are some descriptions of the Weihnachtsmarkt and Fasching. Louisiana readers may be surprised to learn about Fasching as it is celebrated in Germany and by some Germans in this country.
Frieda Arwe describes the holiday bazaar:
We used to have these workshops, before Christmas or during the year after people got back from vacation, where we would do Christmas stars and we would paint walnuts for ornaments and we would do all different things. We used to have the Weihnachtsmarkt, the Christmas bazaar, we called it, at the German Seemannsmission and then at St. Matthew's Church of Christ, and it was huge! We had the whole upstairs floor at St. Matthew's where they have now the theater. We had that whole room and we would serve food; we would serve German potato salad, and sauerkraut and sausage; our cakes were a howling success, each year I used to make a dozen cheesecakes.
Ingrid Schleh of Harahan agrees:
The yearly Christmas bazaar was always held on the Saturday before Thanksgiving. I believe it started in the early seventies. (I remember driving home from the bazaar and listening to Nixon's "I am not a crook" speech.) When it was at the Mission, leading up to the bazaar we had weekly workshops making different straw stars and we used also colored aluminum foil.

It was a small beginning; people really went for the cakes and cookies. We also had some German toys and different odds and ends. Everything was provided by the Friends of the German Seamen's Mission, with much help and support from the German Council and its members. The Christmas Bazaar became an annual event. From almost the beginning I was in charge of the cake table, which always made the most money. Most of the cakes and cookies were donated but we also bought some from a couple of German bakeries such as the Bonbonniere. The ladies were dressed in dirndls mostly [a traditional dress style with a fitted bodice, short sleeves, and gathered skirt]; lots of friends, neighbors and even strangers came to eat and buy, and it became very successful.

I think everybody had a good time-surely I did-meeting many different people, eating the food, and gazing at the cakes! I like to say that the members of the choir, with Helga Neumann as director, and the board members were especially active in preparing the affair. Heinz Neumann was the host and tied everything together with his family, his wife Helga, daughter Karen, and sons Gunnar and Guenther. He usually addressed the crowd before the bazaar with a few words, and we all finished with the song "Kein schöner Land" [volksong, "No More Beautiful Land"] which we sang with great enthusiasm after a successful bazaar.
Germans refer to the pre-Lenten Fastnacht or Karneval season as die närrische Saison ("the foolish season") or die fünfte Jahreszeit ("the fifth season"). Depending on the region, the Fasching season begins either January 7 (the day after Dreikönige) or on Elfter im Elften (the 11th day of the 11th month). In Germany organizations called Zünfte (guilds, similar to krewes) are arranged into members and royalty, and hold balls and parades until a big final event on Aschermittwoch (Ash Wednesday), when die Fastenzeit (Lent) begins. Many of Germany's Catholic regions celebrate Karneval, as do some Protestant areas in the northern and eastern parts of the country. The largest and most well known observations are those of Köln (Cologne), Mainz, München (Munich), and Rottweil; specific traditions and even dates vary according to local custom. The Bavarian Fasching culminates on Faschingsdienstag (Shrove Tuesday), as does Mardi Gras.
New Orleanians of German heritage have observed Fasching in years past, along with Mardi Gras, but the future of this dual celebration is unclear for various reasons. Deutsches Haus member Stewart Eastman explains one reason:
At the Deutsches Haus, Fasching has been celebrated in recent years along with Mardi Gras. The Haus was open with food, music, and beer the evening that the Endymion parade passed. This, for years, was only a block from the Haus. Whether the Haus continues [the tradition] if Endymion does not return to the Mid City route remains to be seen.
Another reason that the future of Fasching is in doubt is that the Deutsches Haus itself is in jeopardy. The Deutsches Haus membership of roughly 300 is apprehensive about a planned expansion to the LSU biomedical complex. As of this writing, towers are slated to be built on the spot occupied by the Haus and plans call for call for the closure of Galvez Street. Opinions differ on whether it would be possible to move the 80 year old building. A response issued by the newly-formed organization called "Save the Haus," headed by musician and Haus member Rocky Troxler, stipulates: "It is very important to know that we fully support and welcome the hospitals as a great asset to the city." Members and those who have enjoyed its activities are keeping a close watch on these developments.,
Clearly, Germans found ways to thrive amidst the cultural climate, the people, and the traditions they encountered in Louisiana during the days of earliest settlement and, though there have been tense times since, contemporary Germans arriving in Louisiana continue to find similar customs and an established community eager to help them to assimilate and also to retain their cultural heritage. Louisiana's German and German-American population is working to counter the forces that can erode the continuation of cultural practice-migration within families, demands on time, the challenges of interesting young people in traditional customs and arts, scattered population centers, development, even weather-but are organized enough to work toward this goal and have demonstrated interest in building on the New Populations project by documenting their own culture.
Sources
1. Archives Nationales, Ministere des Colonies, Messidor [June 19-July 18] 6, Col., C 13 A, vol. 52, fol. 199, quoted in Ellen C. Merrill, Germans of Louisiana.
2, Ashkenazi, Elliott. The Business of Jews in Louisiana, 1840-1875. Tuscaloosa: U of Alabama P, 1988. p. 6.
3. Fossier, Albert E. New Orleans: The Glamour Period, 1800-1840, a History of the Conflicts of Nationalities, Languages, Religion, Morals, Cultures, Law. New Orleans: Pelican, 1957. p 20.
4. Berthoff, Rowland T. "Southern Attitudes toward Immigration, 1865-1914." Journal of Southern History 17 (1951): 42-49. p. 328-45.
5. Merrill, Ellen C. Germans of Louisiana. Gretna, LA: Pelican Press. 2005.
6. Bischof, Güenter J. Letter to the Times-Picayune, March 30, 2007.
7. "German New Orleans: Highlighting German Heritage in New Orleans." Greater New Orleans Educational Television Foundation. 2004.
8. Higgins, Earl. The Joy of Y'at Catholicism. Gretna, Louisiana: Pelican Press. 2007.
9. Lind, Angus. "Roamin' Catholics: New book celebrates the pervasiveness of 'Y'at Catholicism.'" In The Times- Picayune, Friday, June 22, 2007.
10. Simon Hubig website. http://www.hubigs.com/portal.aspx?tabid=11