ARTICLES & ESSAYS


The Transformation and Healing Power of the Labyrinth: An Emerging Vernacular Belief Community
By Maida Owens
Introduction
Since the early 1990s, interest in the use of labyrinths as a meditation or prayer practice has spread, creating a labyrinth community among those who feel a divine calling to bring the labyrinth to others. They are motivated by their belief that the labyrinth has a transformative, healing power for those who walk the labyrinth. A diverse group, they come from different religious traditions, bringing different perspectives, skills, and experiences to the labyrinth community. Their commonality, which forms the basis of the community, is their belief in a higher power, that the labyrinth creates a liminal or sacred space in which one can interact with that higher power, and a passion to help others have such experiences. At times their beliefs or faith backgrounds conflict, but individuals generally overlook differences and often collaborate towards the higher calling of spreading awareness of labyrinths as a form of meditation. Part of a worldwide labyrinth revival to raise spiritual consciousness and heal others by providing transformational experiences, they are participating in the latest of several labyrinth revivals in history. Many in the community feel this is especially timely because they believe that the labyrinth reemerges during times of confusion to reorder chaos.
The Labyrinth Society, one of two national labyrinth organizations, defines a labyrinth as "a single path or unicursal tool for personal, psychological and spiritual transformation" (2006). On the surface, walking a labyrinth is quite simple: The walker follows a winding path to the center, turns around, and walks out. But, the labyrinth community believes it to be much more when used as a prayer walk or meditation. The exact path can be one of many patterns. The two most common patterns are seen in Figures 1 and 2. Related to mazes, labyrinths are distinguished from them in that labyrinths have no loops, dead-ends, or forks. This distinction is used by today's American labyrinth movement, but in Europe today, uni-cursal patterns are often referred to as mazes. Beyond the modern American labyrinth movement, the term labyrinth is used to indicate both uni-cursal (labyrinth) and multi-cursal (maze) patterns.
Today in the United States, labyrinths are located in sacred settings, including churches and synagogues, and secular settings such as hospitals, hospices, schools, prisons, and parks. The labyrinth itself can be located indoor or out, permanent or temporary. Installations can feature different patterns to walk and can be simply a path mowed into grass, painted on a portable canvas, or created with pavers or granite.
To examine narratives about the labyrinth, I draw upon interviews of six labyrinth facilitators in Baton Rouge and the Reverend Lauren Artress, and e-mail communications with labyrinth facilitators who participate in the Veriditas Facilitators Network. In addition, I draw upon participant-observation as a member of the community since 2003. I have participated in this community first as a labyrinth enthusiast and activist and more recently as a Veriditas-trained facilitator. Through planning community labyrinth events and attending walks planned by others, I noticed the importance of oral tradition to form the community and the beliefs as expressed through narratives. Despite their varied beliefs, members of the labyrinth community are devoted to an ecumenical spirit. Gradually, they shared with me information about their callings and experiences.
Labyrinth Communities and Belief Systems
Each individual in the labyrinth community creates a personal belief system about the labyrinth, drawing upon diverse sources including books, websites, education, spiritual beliefs, and personal experiences. Additionally, these beliefs are spread through a plethora of labyrinth websites. Since the labyrinth belief system has these popular influences, it is a vernacular health system. Bonnie O'Connor defines vernacular health systems as those encompassing the full range of non-conventional—including folk and popular—healing modalities beyond the conventional Western allopathic, biomedical health system (1995: xv). Labyrinth enthusiasts and facilitators freely adapt these concepts in response to their individual labyrinth experiences and for their spiritual beliefs and community. I examine not what individuals have learned through books or Internet, but rather what they actually do with the labyrinth, their personal beliefs about the labyrinth's healing power, and their emergent oral traditions that are passed down informally within the group.
Members of the labyrinth community participate in many ways, including designing, building, facilitating, and using it as a personal tool. My research focuses on the facilitators who make the labyrinth available to others by providing walks with the intent to heal and transform individuals, organizations, and/or communities. Some focus on ministering to a specific community such as church members, while others have a wider focus of promoting labyrinths to the general public and expanding their use to secular settings. While some facilitators receive formal training and certification, I use the term facilitator to refer to anyone working in this capacity. One of the facilitator's primary responsibilities is to "hold the space" before, during, and after an event. The "space" is created by the presence of a labyrinth and the intent of the facilitator to offer the space to a group. In this liminal space, facilitators believe that walkers can come in contact with the numinous—a term some use to refer to God or the supernatural—when they walk the labyrinth with intention and as a metaphorical pilgrimage. Labyrinth facilitator Margaret Saizan explains that she often refers to the transcendent as the numinous–where people are able to "make contact with a higher [power] . . . . When I say numinous, I'm referring to the shift in time and space and consciousness, . . . into a place where miracles happen, change happens, and healing happens" (2004).
The facilitator accepts responsibility for those in the space during the event, but does not guarantee that a transformational experience will happen. Generally, facilitators feel spiritually called to work with labyrinths by a higher power, but they articulate their call and their beliefs about the labyrinth according to their own faith and beliefs.
To become a member of this community, one must acquire basic knowledge that includes jargon, history, and oral tradition. Jargon includes the parts of a labyrinth, especially circuit (a circle around the center) and labyr (a double-ax symbol formed where two 180-degree turns meet). Other jargon refers to the types of walks (individual and group, open and closed) and at least the two primary patterns, (seven-circuit, Chartres). Some go on to learn about other patterns (Santa Rosa, three-circuit, Chakra Vyuha, Reims, Baltic, Ely, and more) and classifications of patterns (single mouth, double mouth, classical, Roman, Medieval).
Labyrinth Narratives
Examining their narratives reveals how the labyrinth facilitators draw upon their diverse spiritual orientations to create the emerging belief system blending Christian and New Age beliefs with Jungian theory. Usually involving a serendipitous experience, the stories often center on healing relationships. The concept of the labyrinth's power is often not overtly stated. It is not known how labyrinths were used or what people believed about them in different time periods. Labyrinths date from Neolithic Europe with a zenith during Medieval Europe, but whatever knowledge existed in the past has been lost. Some in the labyrinth community are fond of saying that the ancients or Medieval monks didn't leave a user's manual and that they are working to rediscover lost knowledge that can help humanity today. They believe that the labyrinth holds valuable knowledge applicable to today's world. Some study sacred geometry because labyrinths were developed by cathedral master builders using mathematical and geometric principles. Chartres Cathedral is especially revered. One of their attractions to the labyrinth is that they feel it is highly accessible to new people because walking a labyrinth does not require rigorous study and the gentle walking movement does not require one to sit for long periods of time.
Because labyrinths have primarily been located in churches, they are generally presented as a practice for spiritual healing. Progressive, mainstream Christian churches often embrace a labyrinth ministry in an effort to return to mysticism or introduce a contemplative tradition. More recently, they are found in new settings, such as hospitals and parks. In secular contexts, less spiritual language is used, and the labyrinth's power to reduce stress is emphasized along with its role in mind-body healing. In settings such as faith-based hospitals, both spiritual and scientific arguments are used. The Labyrinth Society (2006) says that "labyrinths are thought to enhance right brain activity," meaning that a labyrinth is a tool that accesses the intuitive, creative modes of thinking. Mazes, on the other hand, require linear, logical, rational problem-solving. Many in the labyrinth community allude to accessing the right side of the brain and creating an internal balance generated by the rhythm of the walking and the mental state of no decision making. More recently, some draw on scientific studies of related fields and say that since walking the labyrinth requires focus, it is more appropriate to say that it is a whole brain activity that integrates the left and right brain. Some believe that it is a morphic field which retains a memory of its energy. Regardless of these beliefs, there is only anecdotal evidence such as that presented here. Many in the labyrinth community are so convinced of the labyrinth's transformational powers that they support scientific efforts to link labyrinths to related research about stress reduction and the connection between healing and prayer or meditation. Until that is accomplished, they present the labyrinth as a spiritual practice, meditation, or relaxation tool that slows the heart rate and quiets the mind.
Modern Labyrinth Movement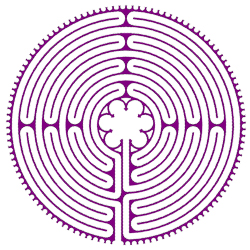 The modern labyrinth movement1 began in the 1990s by the Rev. Lauren Artress, Canon of Grace Episcopal Cathedral in San Francisco and a Transpersonal psychotherapist. She directs another national labyrinth organization: Veriditas: The Voice of the Labyrinth Movement. Even though labyrinths in the United States predate her efforts, she has deeply influenced beliefs about the labyrinth's powers. Her book, Walking the Sacred Path, has been instrumental in the spread of labyrinths since its publication in 1995 and has been read by virtually all in the labyrinth community. I interviewed her about her current ideas of the labyrinth's power because she trained many facilitators working in the United States, especially those based in churches. Her influence on facilitators in Baton Rouge can be seen in their language and motivations. Artress sees walking the labyrinth as an embodied prayer that enables the body to come into consciousness. She emphasizes that walkers should find their own natural pace so that they can find their energy flow. She also encourages walkers to pay attention to sensations, thoughts, and feelings while in the labyrinth and to use what happens in the labyrinth as a metaphor. For this reason she doesn't proscribe activities for walkers since that would interfere with their opportunities for metaphors. Jungian influence is evident in this search for metaphors and the numinous–a Jungian term for an experience with the sacred. Furthermore, Artress states, "The labyrinth experience is cumulative. So when you begin to walk it one time and you come back a second time, the third time more strength and more clarity unfolds from it" (2005a). She continues to interact with the labyrinth, and her thinking about labyrinths continues to evolve. At a retreat in 2005, she presented a more developed belief system about the labyrinth's form and its relationship to brain activity. She has come to believe that how deeply one activates the right side of the brain, making it a whole brain activity, is related to the number of circuits and labyrs in a design and how narrow the path is. The narrower the path, the more concentration it requires. She feels that scientific research will eventually prove the labyrinth's impact on the brain. On a societal level, she says that the great value of the labyrinth is that it joins those focused on contemplative practices with those focused on social justice, thus joining the inner and outer worlds. She is not alone in believing that the labyrinth reemerges during times of confusion and has reemerged at this time in history to order chaos (2005b). Artress emphasizes Medieval labyrinth patterns, primarily the one found in Chartres Cathedral in France [See Figure 1], because it is an archetypal pattern that has been vetted by unknown generations of users and contains lost knowledge that can be rediscovered (2005b). This is one of the most complex labyrinth patterns with eleven circuits and twenty-eight 180-degree turns.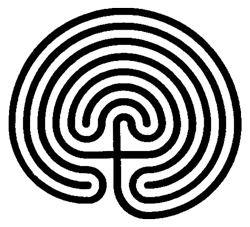 Others in the labyrinth movement have influenced beliefs about the labyrinth. They come together through The Labyrinth Society's annual meeting, in which Artress also participates. More diverse beliefs are heard in the Society with New Agers, Neo-pagans, and dowsers in addition to mainstream Christians, addressing a broader range of issues. Society members also focus on more labyrinth patterns including those that predate Christianity, especially the Seven Circuit Classical [See Figure 2]. Found in European Neolithic rock art, this pattern is the earliest known labyrinth and dates from 2000 BCE Spain (Saward 2003: 49). More recently, the Labyrinth Society and Veriditas collaborated to create the online World Wide Labyrinth Locator, http://labyrinthlocator.com/.
Louisiana's Labyrinth Community
On the local level, labyrinth facilitators are likely to be just as diverse in their spiritual orientation and influences. In south Louisiana in 2006, the labyrinth community, in addition to those who use the labyrinth as a personal tool, is made up of about forty-five facilitators or enthusiasts who include Catholics, Episcopalians, Methodists, Presbyterians, Jews, Unitarians, New Agers, Neo-Pagans, Wiccans, and followers of Unity. Eighteen are Veriditas-trained facilitators. While the majority are middle- or upper-class, white women who are middle-age or older, it is difficult to otherwise generalize about this eclectic group.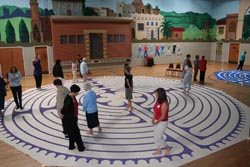 As a group, the Baton Rouge labyrinth facilitators illustrate the spiritual diversity within the larger labyrinth community and the emerging disparate beliefs about the labyrinth. Margaret Saizan and Daria Woodside work with me on the Baton Rouge Labyrinth Project, an initiative to get labyrinths built in public spaces. Michele Fry and John Nagle maintain a turf labyrinth in their front yard as a community service. Cherri Johnson has a labyrinth ministry as spiritual formation director at a mainstream Protestant church. Artist and art therapist Anne Bigger works to introduce a labyrinth at a university and a church. After I interviewed Margaret Saizan, she posed some of my questions to the Veriditas Labyrinth Facilitators Network e-mail list, which prompted a lively discussion. Actually, she has become so intrigued with my research, that she says she is researching the researcher. So this may become a collaborative, reciprocal ethnography (Lawless 1993). All interviewed labyrinth facilitators reviewed the article before publication and provided clarifications and revisions.
Most labyrinth facilitators work in isolation or pairs and don't interact with other labyrinth facilitators except when planning or producing walks. As with any ministry, the facilitators need support and seek to connect with others with similar concerns. As a result, oral tradition plays a significant role in creating community. Personal experience narratives bond, focus, and motivate this disparate group. Relating transcendent experiences that the facilitators have witnessed reinvigorates labyrinth facilitators to continue their ministry. They enjoy sharing how they came to work with labyrinths and why they continue, how they resisted the calling but finally gave in, and what labyrinths mean to them.2
Motivated by a desire to facilitate societal change, Margaret expresses beliefs common in the larger movement and articulates them in ways most often presented to the general public. Other labyrinth facilitators more consistently express Christian or New Age beliefs, but Margaret illustrates how the movement blends these two belief systems:
I work with labyrinths because I see them as powerful tools for effecting systemic changes in the culture. . . . I feel the labyrinth is a tool that can help guide communities, the culture in a number of ways, help people find meaning, connect to spirit, make sense of their lives and work. Through my work with labyrinths I feel that I am participating in the creation of a new myth, and indeed a new society. (2004c)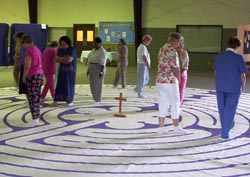 Margaret is committed to bringing labyrinths to the general public and beyond church communities. She agrees with Artress' vision of mainstreaming labyrinths into the broader culture in non-sacred arenas such as hospitals, parks, and prisons. Trained as a Veriditas facilitator in 2001, she initiated the Baton Rouge Labyrinth Project in 2003, when she approached me to help her make it happen. She participates in both the Veriditas Facilitators Network and The Labyrinth Society and has a portable canvas labyrinth with a thirty-six foot, painted Chartres design. She takes it to walks she facilitates at churches or community centers. Margaret's background is a blend of different Protestant traditions along with Catholicism and Judaism. Influenced by New Age spirituality, the divine feminine, and Jungian psychology, she is involved with ecumenical efforts and is comfortable weaving in and out of different religious settings. Particularly self-aware of her calling and the role that it plays in her life, Margaret says she is "always thinking about labyrinths–it's the nature of the call" (2004f). Further, she says, "It is as if a force bigger than me was working in me, through me . . . . When we are focused on our call, what comes through us seems to be bigger than our normal, waking self" (2004g).
Prior to coming to Louisiana, Daria Woodside used labyrinths as a personal tool. Daria experienced a strong calling to seek out labyrinths. "I . . . remember my own call to the labyrinth and how, like the poor people in Close Encounters of the Third Kind, I was obsessed with the design for a while and kept drawing it until I finally HAD to find a labyrinth" (2004b). Like other labyrinth facilitators, she talks about the calling almost being a compulsion. In 2002, Daria used the World Wide Labyrinth Locator to find Michele and John's labyrinth. When Margaret and I announced the Baton Rouge Labyrinth Project a few months later, she became involved. Her spirituality is a blend of Catholicism, Hinduism, and Native American beliefs. She brings a unique set of skills and knowledge to labyrinth work as a Reiki master, Unity chaplain, and former critical care nurse who has many certifications in allopathic and complementary healing modalities. She has also worked as a research assistant in a university center for complementary medicine. As a result, Daria contributes a scientific research perspective as well as her personal experiences to the labyrinth healing belief system. She also draws upon her Hindu studies in Kriya Yoga, sound healing, and Vedanta and applies them to the labyrinth:
I really came to the conclusion in the last year that the labyrinth is a Tantric symbol. Or at least functions like one. When you walk it, you use different parts of the brain. The more you walk it, the more the different parts of the brain are connected. And you can more readily access those parts of the brain. (2005)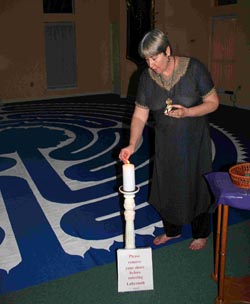 Daria learned to build labyrinths for temporary installations and is particularly fond of the Chakra Vyuha labyrinth from India. She also has a unique, twenty-four foot canvas labyrinth she calls the Blue Lotus because of the lotus petal design incorporated into the perimeter and center. In addition to offering labyrinth retreats to groups, she provides labyrinth walks through the Volunteers of America's Spirit of Louisiana project to help hurricane relief workers in South Louisiana cope with job stress. She also works with a church towards installing a permanent labyrinth.
When Cherri Johnson became spiritual formation director of her United Methodist Church in 2003, she began a labyrinth program for the congregation. Cherri holds labyrinth walks during the seasons of Advent and Lent for "all who want to draw closer to God." This scheduling is the most typical pattern for Christian churches, but some offer more frequent walks. Prior to this position, Cherri had been active in many other ways in the church and in labyrinth programs at other churches. She was trained through the Methodist Church conference center's labyrinth program and has conducted facilitator training for churches in other cities. A "cradle" Methodist, she works in Christian churches, though she has facilitated a walk for a Jewish group. Response from the congregation has been positive and growing, according to Cherri:
Even when I've seen people who have carried much of their grief and pain into the labyrinth and have experienced some of that pain on the labyrinth, they will still say it was a very important experience for them. Whether it's joy or sorrow, the labyrinth seems to bring its own healing language to our lives and to what we are dealing with in the moment. To take our labyrinth experience and place it in the context of God, in the context of Christ walking with us, and finding the Christ within us, we are always moving toward a deeper, inner, divine faith. (2006b)
When asked what her most powerful memorable labyrinth experiences were, Cherri, like many other facilitators, talks about guiding other people to experience the numinous:
The most powerful part for me is becoming a facilitator of God's grace. . . . I have seen some amazing experiences of healing take place on the labyrinth. As prayer draws us closer to God there is a silent and profound connection and communion with Christ. I have seen hope, tears, release, acceptance, forgiveness, reconciliation, and joy all take place during a walk. God is always present to us, but to see God's work of healing love in the moment is truly a cherished treasure. (2006a)
Cherri copes with two common issues concerning scheduling labyrinth walks. First is getting access to space in an active church. For Cherri, space for the labyrinth has to be arranged in advance because of the many programs offered by her church. Second is the size of the labyrinth canvas. The Chartres labyrinth canvas is usually thirty-six feet in diameter. For Cherri, the only space large enough to accommodate it is the heavily programmed gymnasium. Other, smaller labyrinth patterns are available on canvas, but most churches prefer the Chartres design. Many believe it to produce the most intense labyrinth experiences because of the symbolism embedded in it and because it has eleven circuits. But the number of circuits creates the space problem, because eleven circuits can't be made smaller without making the paths so narrow that they are hard to follow.
Michele Fry and John Nagle are labyrinth facilitators and builders who maintain a seventy-foot turf labyrinth in the Chartres design in their front yard that they offer to the public as a community service. This husband and wife team also see themselves as healers, but their ministry is different than the other facilitators because a large portion of their time is focused on tending a physical space. They have labyrinth walks open to the public or as private parties. They built the labyrinth in response to Artress' call for people to be walking labyrinths during the turn of the millennium, December 31, 1999.3 and have maintained it since as a pattern sculpted or cut into the grass. This requires a significant commitment of time and resources because they include the Chartres design's 112 lunations on the perimeter, but they feel that tending the labyrinth is a form of meditation because they are creating a sacred space. Michele describes what tending the labyrinth means to her:
Tending our labyrinth has that quality like you are an altar boy or an altar girl; that you are out there tending a temple. Being out in nature, tending a sacred symbol makes me feel close to Mother Goddess/Father God. I talk to God. I gain understanding. All the things people accomplish when they walk a labyrinth, I also accomplish tending our labyrinth.
John feels similarly:
Whenever I step over the outer edge into it for whatever maintenance I'm doing, I have that feeling of reverence, like I am in another dimension. . . . Tending the labyrinth, which is why we call ourselves The Labyrinth Tenders, and holding events is one of the things that helps bind us together as a couple. (Fry 2006)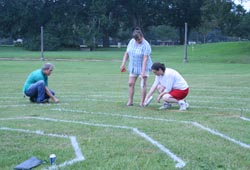 When the Baton Rouge Labyrinth Project began, Michele and John supported the project by teaching others to build labyrinths. Michele has provided the project with its own Web site. Until May 2008, their labyrinth was the only public permanent labyrinth in town and is often the first labyrinth to the community, John says, "Above and beyond what we get out of it ourselves, it's an opportunity to give something back to the community we live in. We view it as our special form of ministry" (Fry 2006). Michele explains her motivation:
I wanted to build the labyrinth to help usher the new millennium into a new paradigm. And that paradigm for me is tolerance, especially tolerance of all religious beliefs, and recognition that God speaks to different people in different ways in different voices and all of God's ways are valid, and who am I to question how God manifests, or doesn't manifest, to any other person.
Michele and John practice an earth-centered spirituality, but they intentionally include no symbols in the labyrinth area so that people can interpret it as they wish. Michele explains her reasoning:
To me, the space springs forth like an energetic, protective bubble when someone enters and collapses when they leave. Everyone gets to input their own meaning, and have their own experience. We intentionally set up our labyrinth as a sacred neutral ground so that it holds no religious point of view. It holds no social perspective. It holds no perspective at all except as a magnifying glass. We want it to be a lens that just assists people to see what they need to see, rather than what we see or want others to see.
Several church and synagogue groups in town walked Michele and John's labyrinth and then decided to work towards building their own. At first, this frustrated Michele until she realized that "the process of building a labyrinth can be as healing as walking a labyrinth." She describes how she resolved this issue within herself:
I used to be like: "Why would you want to go to the trouble to build your own labyrinth when we've done the work for you? You're not going to walk it every day, so if everyone has their own, every labyrinth is going to sit there unused and overgrown and waste a lot of resources, and keep us all separated instead of coming together." But I've learned that the experience of building a labyrinth, the process of thinking through the geometry, raising the money, doing the physical labor, holding the meetings, working with a group towards the goal, is highly medicinal in itself. So now we try to be included by doing consulting and help people as much as they want us to, so they can struggle to build their own as we did with ours. We like to visit other labyrinths and still very much like the idea of everyone supporting each other's efforts. For sure, no two labyrinths are alike!
To date, none of these groups have completed building their own labyrinth, but several continue to work towards it. Meanwhile, Michele and John continue to tend their labyrinth and offer it to the public. In 2005, they held their seventh annual outdoor New Year's Eve celebration in their labyrinth.
Coming from a contemplative Catholic tradition, Anne Bigger, an artist and art therapist, was drawn to the labyrinth after being introduced to it in the early 1990s through the art therapy association. As a result, she and her husband have made pilgrimages to Chartres Cathedral twice with Artress and have participated in several retreats in the region. She uses the labyrinth as a personal tool, including using a wooden finger labyrinth which one uses by tracing a labyrinth with a finger. She became convinced of its value in healing people and has worked to introduce it to her church and the university where she teaches art.
Most labyrinth work is focused on helping the individual by encouraging people to consider the walk as a metaphor of one's life—a tool for introspection. The facilitator is responsible for making each person aware of this before entering. Anne explains her beliefs about the labyrinth:
The labyrinth is a great metaphor for how we lead our lives. And how we interact with other people because of the moving around. Do you step out of the way? Or do they step out of the way? I feel very attached to the idea that it's an exercise you can use any way you want to. You can use it in prayer. You can use it just because it is calming. I see it as something that can bring people together. It is a unifying exercise. And it's beautiful. Getting out and moving in a pattern is a beautiful thing. An organized pattern.
Some people immediately understand this concept. For example, John said that he apologized to one lady who came to walk their labyrinth because there were ant hills in it. Her response was, "No, no, you meet ant hills in your path in life. This is perfectly normal and natural. I've got no problem with it." For others, such realizations are a major life milestone. Michele shares one such experience:
It was at night and the labyrinth was not well tended. A cranky, nervous woman complained "It was a moonless night and I could hardly see the path. I got in there and I got lost." She thought, "These damn people. They're not keeping this labyrinth up. . . . You can't trust anyone. I'm getting ripped off. What a bad experience. I came here for comfort and solace, and now I'm lost and am not getting the healing experience I wanted." Somehow she made it into the middle, then it hit her: "I'm just walking around in someone's front yard. There are no earth-shattering, life-threatening experiences going on here." Suddenly she came face to face with the fact that she was a very negative person, constantly making mountains out of molehills. She realized, "This is how I am–manufacturing problems where there aren't any." And all of a sudden her false expectations just lifted off her shoulders and she felt absolutely joyous. "I knew that I could enjoy the rest of the walk because so what if I get lost, I can just step out of the labyrinth at any time. And this was exactly the lesson I had needed most to learn."
Stories about the transformational power of the labyrinth usually involve a serendipitous experience and more likely concern a spiritual or emotional healing rather than a physical one. The stories often center on healing relationships as in these examples from Margaret Saizan:
A woman came in to walk the labyrinth whose child had been killed the year before in a car accident and she had not stepped foot on the church ground in a year. She came and walked the labyrinth. She was sobbing and hugging people. She had not even walked a labyrinth yet when she made the decision to come. So the labyrinth seemed to be working even before she got there. . . . [At the same walk,] two sisters who had not spoken in about three or four years and a cousin [reconciled and] . . . were hugging and sobbing and then walked the labyrinth together. I thought, "That really is a miracle."(2004g)
None of these people had ever walked a labyrinth before or had attended the orientation that Saizan had provided (Saizan 2005).
Some people have even more powerful experiences in the labyrinth. Since the facilitator's primary responsibility is to hold the space, they feel responsible for caring for them. Generally, a facilitator will not interfere with a walker's experience. As Cherri says, "you honor that as a facilitator," but Cherri shares one time she made an exception. It was still a positive experience for both the walker and facilitator:
There was a woman who had lost a family member. . . . She thought she was fine, but the loss was fresh in her memory. As she walked the labyrinth, she completely broke down and knelt on the path in deep pain. She was unable to move. I let her stay there for a very long time but when her cries became loud, I knew she was stuck. I went over to her and knelt with her and asked if she needed companionship or someone to talk with. She nodded that she would like help. We left the labyrinth and shared some time together. She confirmed in our talk that she had had a healing experience, a deep communion with Christ and reconciliation with her sister. She now could let go and be at peace. (2006a)
Concerning the healing power of the labyrinth, Daria says, "I don't think you will go into the labyrinth and heal your cancer. I don't see it like that. I think what it is going to do is give you a new perspective on the tumor or how to proceed with treatment or deal with family and friends." She elaborates on her beliefs about the labyrinth:
As far as healing goes, there has to be some expectation. I am a great believer in the placebo effect on healing. The labyrinth provides a venue for our mind to provide us the insights or intuition that we need for our healing. . . . The labyrinth provides a framework to step out of everyday reality and enter a field which we may perceive to discover healing. When you step into a labyrinth you step out of commonality. When you stand at the entrance you are in the everyday world. You then step into a space of possibilities because of your expectations. It's like walking into a church. It takes you into a space of reflection, of possibilities. For a moment, you turn your back on the mundane world and enter a space of greater possibilities which allows for healing, because of faith and expectations. Part of the labyrinth's power is from us giving it power as a healing tool. You have to allow the labyrinth to work for you. Because it is a mandala or yantra, it affects different parts of your brain, and can lead to a whole brain experience. Your expectation can enhance the experience, but not if you aren't open to new solutions. . . . If the person has faith in the symbol or the person telling them about the symbol, then they are more likely to be healed. (2006)
When asked whether she is ever concerned about how people will react to these powerful experiences, Margaret said that she didn't need to worry. She just has to create a space where people can feel safe. One way that she does this is by intentionally adapting her language to the group. In a secular space, she doesn't refer to any particular belief system. She just says that it is a walking meditation, prayer, or reflective experience that promotes relaxation and healing. When in a church she frames it as a Christian prayer walk. She says, "If you talk to the people in a language that they can relate to, then they will enter it. And after people enter the labyrinth, I have no fear about it. I know that if I can just get them [there] I know that the numinous will take over from there. And I've done my part" (2004h). She describes herself as Christian, yet does not try to convert others. Her calling is only to help people come in contact with God. So, in a secular setting, she insists that the labyrinth have no symbols or words–so that people meet the numinous on their own terms and not hers. This approach is typical of most walks, especially those open to the public in secular spaces. The notable exception is closed walks restricted to members of a group.
Working in a church, Cherri uses Christian symbols. She is intentional about her language, but for other reasons. She is introducing the labyrinth as a supplement to the contemplative movement within Methodism, which is new to her congregation. In addition, she says, "a few people were worried about it being a pre-Christian symbol and questioned me about its symbolism. Since it has been used for thousands of years in our tradition, it has rich Christian symbolism. I've offered educational workshops to help facilitate understanding" (2006a). This reaction to the labyrinth is not uncommon, and some churches not familiar with contemplative traditions actively oppose the use of labyrinths on the grounds that the devil will have easier access to the person's mind. For this reason, facilitators refer to quieting the mind rather than clearing it. But that is not the issue in Cherri's church, which is an established, large, mainstream, but progressive church. She explains her approach to introducing the labyrinth to her congregation:
Our church is traditionally one of evangelism and service, both to the community and to one another. We also have a wide range of Bible study and Sunday school offerings for our congregation. The contemplative movement of prayer, silence, retreat, and the practice of the classic spiritual disciplines is beginning to take root in our church life. The labyrinth is a supplement, a tool that points us to the contemplative movement of prayer. It is only a symbol that points us to the work of God's grace in our lives. (2006a)
In this situation, Christian symbology helps the cause by assuring congregants that the labyrinth is not pagan or New Age. While Cherri describes her message about the labyrinth as "hinging on the grace of God through Jesus Christ," other Christian labyrinth facilitators do subscribe to a more New Age approach. Many, especially those who work in church settings, refrain from expressing ideas that may not be perceived to be strictly Christian to their congregation. They hope with time they will build a core group of supporters who have had strong personal experiences with the labyrinth so that they can someday reveal all the powers of the labyrinth, or as Cherri said from the Christian perspective, "strong personal experiences of prayer and healing with God via the path of the labyrinth" (2006a).
In secular settings open to the public, walkers often include people with no prior experience of labyrinths and no expectations of a spiritual experience. They often walk with virtually no orientation even though facilitators and information are available. Margaret relates an occasion when a man approached her after walking the labyrinth during such a walk:
He was obviously a mainstream person and had no real idea what . . . this was going to be. . . . And the man said, "Something happened to me in the labyrinth. I really can't explain it, but I feel that my consciousness was altered." He wasn't afraid, but he really got that something of import was happening for him. I feel like he might not have had the language for it, but I think that he was experiencing the numinous. (2004h)
Daria relates an experience facilitating a labyrinth as part of a public festival:
Two little boys. They were about nine or ten and they . . . ran into the labyrinth . . . and then they got to [the] center, . . . one little boy knelt down and started to pray. . . . And when they walked out, they walked out very reverentially, and then one little boy said to his dad, "It was like being in a church." And they asked if they could build one in their yard. . . . Here [are] two kids who have no preconceived notions about what a labyrinth [is]. . . . And the only way that they can filter it is if it were a church experience. (2005)
Stories such as these are seen as proof that the labyrinth has a healing, transformative power.
The labyrinth facilitator's role is to assist this transformative process. The most intense time is during an actual labyrinth walk, but labyrinth facilitators see their role as an ongoing responsibility–a ministry. On a more practical, day-to-day basis, Margaret says that "holding the space sounds like 'not doing a thing.' But holding the space takes up a whole lot of energy, and your ability to do that well comes from years and years of consciousness work and spiritual practice" (2004d).
Active nationally in both Veriditas and The Labyrinth Society, Margaret comments on how the labyrinth facilitators in Louisiana are typical of those in other parts of the country:
I've never met a single person involved at the level we are, who isn't deeply spiritual and/or doing the work for spiritual reasons. Every person I've met from my [Veriditas facilitator] training in Sedona, to the people who went to Chartres, to the people I've met through The Labyrinth Society, to the folks in the Baton Rouge community. . . . They are from many different religious and spiritual backgrounds, [but t]here is a spiritual consciousness among those who work with labyrinths, and I think that the majority of us are aware that we are involved in some kind of work that is healing, consciousness-raising, transformational. (2004a)
Many labyrinth facilitators refer to themselves as healers. Reflecting on her role in this process, Margaret says, "Are we healers? I think we probably are healers, and healing is the core of what we do. . . . We are modern-day shamans. We are leading people into the transcendent" (2004c).
Another facilitator relates how she received her calling during her first labyrinth walk and came to see her role as a healer. Her experience is not unusual:
At that time, I was struggling with bewilderment and confusion concerning my true calling in this life. . . . During the walk, I had the insight: "You are a healer," and I thought what the heck does that mean?! . . . Despite my questioning, I did feel a sense of excitement and joy and reached a point along the path, where I almost felt as if I wanted to run right out of the labyrinth and start this brand new and exciting life of healing! I have wanted to do sacred work for a very long time, but I did not quite know what that meant or, in what direction I should go. Although the seed was not yet sprouting, it had indeed been planted during that first labyrinth walk. . . . I was to become a "keeper of the sacred places of pilgrimage." Stepping out in faith has since opened many doors and I know, without a doubt, that there is Divine guidance happening here. (Lake 2004)
Because the labyrinth is an embodied prayer and a whole brain activity, labyrinth facilitators believe that it helps connect the mind and body and, therefore, healing. Daria is one of many labyrinth facilitators who have training in other complementary healing modalities and apply that knowledge to the labyrinth. At one point, Daria, a level-three Reiki Master, experimented with this in her practice and used a double finger labyrinth with her clients before sessions. She reports on their experience:
I was having people trace the labyrinth before they got on the table, placing the labyrinth under the table, and drawing the symbols over them. And the quality of the work and what happened, the level of energy of the work was a quality I've not repeated. In fact, it was as if someone else, an energy, came in and took over the treatment, and at one point I just sat and watched. And it was like angels or something had come and taken over the treatment and even the person that was on the table said, "You didn't give this treatment, did you?" And [I said], "No."(2005)
Labyrinth facilitators articulate the source of the labyrinth's power differently. Some consistently say that the labyrinth enables one to come in contact with God, but others are just as likely to refer to the power as the Mother, the Goddess, the Divine Feminine, or the Source. Some believe that the energy comes from us, others believe it is from the earth and use dowsing to place the labyrinth, while others believe it is from both but ultimately from one source, God or a Higher Power. But others, at least at times, seem to allude to the labyrinth having a power of its own, separate from God and not simply channeling the earth's energies.
Wherever the power is from, the narratives about transcendent experiences are told as proof that the labyrinth either has a power or enables one to tap into a power, proof that something is actually happening that is not merely coincidence. For some, there are no coincidences in sacred spaces for enlightened, aware people who are awake. Many consider the messages as signs. Signs often play an important role in facilitators' understanding their call. Daria says that, "For me signs are outward indicators of inward intuitions or ideas. I may sense something, and then ask for guidance–[to] give me a sign (2004a). A labyrinth facilitator describes the experience which motivated her to be a facilitator:
As I walked, the music came to a part where there was a sound of mighty rushing wind and I felt the presence of angels as they "whooshed" around the room. . . . I'm not sure I felt any answers coming as to why I was there, but I knew this was something that I wanted to do again. I wondered (and sometimes still do) how this exactly works, but I've learned I don't need to know that . . . I just need to be quiet in God's presence and seek His answers for my life . . . and that happens as I walk the labyrinth. (Norrod 2004)
The walker doesn't have to be seeking a message or even be particularly receptive, as in this next story:
I was in a hurry that day, leaving for vacation, . . . I felt compelled to walk the labyrinth, even though I really needed to go home and pack. . . . I was not expecting anything. I went into the room where the labyrinth was set up and the first thing was [that] my very favorite music was playing - kind of an unusual piece of music. Then as I began walking, I was really struck by the message I received, very clearly. I spent my vacation pondering that message. (Mitchell 2004)
Later when she walked the Chartres Cathedral labyrinth, which dates to circa 1202, for the first time as part of a pilgrimage, she was in a more prayerful mood:
The light coming through the stained glass windows, the ambience, the candles, etc. I was definitely in a receiving mood. I heard Pachelbel's Canon as I walked (which wasn't playing) and I got another profound message, which I spent the next year pondering. And, my foot found a groove in the pavers which matched. It made me think of all the people who had walked the Chartres labyrinth before me. It was a magical, mystical evening. (Mitchell 2004)
At times, the walker may be downright resistant, yet still benefits. Here a labyrinth facilitator tells about a walker's experience that profoundly touched both the walker and the facilitator:
[She] told me . . . that she was very resistant and she had a lot of issues with her birth mother and grandmother, including some sexual abuse issues. With tears she told me how powerful this experience had been for her and she felt reborn. She also told me that [she felt that] I was her birth mother. Now mind you, . . . I never gave physical birth. . . . I had never been anyone's birth mother before. (Bergfalk 2004)
The labyrinth facilitators persist in their calling despite limited resources and support just like others with ministries. Stories such as this illustrate one way in which the labyrinth facilitator is rewarded. But more typically, the reward is in the serving. Margaret describes one labyrinth walk and her response:
I was . . . watching people walk the labyrinth–husband, wives, kids. I was overwhelmed. I kept hearing a still, small voice say, "Feed my sheep." . . . It touched me that all these ordinary folks were having deep spiritual experiences and connections in the labyrinth. People were crying, hugging at the center. One elderly man was really in deep introspection. He would walk and then stop and ponder. He came out of the labyrinth and sat for a long time in deep reflection. I was so moved that God has provided this wonderful tool for helping people experience Divinity, and I realized that in a small way I was helping to feed the sheep by offering up these labyrinth walks. (2004e)
As might be expected, everyone does not have such powerful experiences every time they walk. Since facilitators don't want anyone to have a negative experience, they try not to raise unrealistic expectations and tell people that the labyrinth is simply a tool and that the experience depends on the walkers and their intentions. They also assure people new to labyrinths that they themselves do not always have powerful experiences. But the fact remains that transcendent experiences are not at all uncommon, which reinvigorates the facilitators to continue their ministry. As walkers report transcendent experiences and facilitators experiment with the dynamics of walking labyrinths, beliefs about the labyrinth as a healing tool will continue to evolve within the labyrinth community.
Conclusion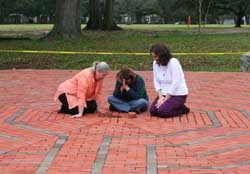 Labyrinth facilitators feel a divine calling to share this tool with others. Generally working in isolation or small groups, they draw upon varied influences from popular sources such as books and the internet, and their own spiritual background, education, and personal experiences to create personal belief systems about the labyrinth. As the number of labyrinth facilitators increases, the influences within the labyrinth community grow as individuals draw upon their varied expertise and knowledge. Together they create a community as they seek out mutual support in their ministries and collaborate to expand awareness of this tool. Their motivation is to provide a way for people to connect with the supernatural with which they believe they can interact. Those working beyond a faith community generally encourage walkers to interpret the experience themselves and do not impose their personal beliefs on others. Their faith in the labyrinth is so strong that most believe that its power will eventually be proven by science and that it will help heal the breach between science and religion. The dominant influences on the belief system are Christianity, New Age spirituality, and Jungian theory. While these are expressed differently by different facilitators, most would agree that the labyrinth offers a way to connect with the spiritual realm that does not require the person to subscribe or even be aware of the belief system. This connection to the supernatural happens as a result of walking in a circuitous pattern that integrates the left and right sides of the brain, providing a whole brain experience.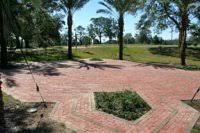 In this state, the person is able to receive insights and messages. Facilitators believe that walking a labyrinth has a cumulative effect: The more people walk, the more they benefit, although every walk is different and not all walks are transformative experiences. Jungian influences include encouraging walkers to use the labyrinth walk as a metaphor of their life, to look for symbolism in images that come during the walk, or to find the meaning of dreams. Many facilitators consider the labyrinth an archetypal symbol that is universally meaningful, making this an appropriate tool for societal healing. They believe that if enough people use the tool for personal healing, the entire world will benefit from this transformative tool. For the individual, most often the healing is spiritual or emotional, but since it is an embodied prayer that facilitates the mind-body connection, physical healings related to body stress and mental states are considered possible. While some labyrinth facilitators focus on ministering to specific communities, many feel called to a more global ministry of peppering the planet with labyrinths in both sacred and secular settings.
The labyrinth facilitators are dedicated to their calling and committed to exploring the full potential of the labyrinth's power. Because their goal is to retrieve lost ancient knowledge while integrating scientific research, they constantly examine their personal experiences and reevaluate their beliefs. As a result, the belief system about the healing power of the labyrinth continues to evolve within this emerging community.
Notes
I would like to acknowledge the contributions of Margaret Saizan, who closely collaborated with me on this research from its inception. Folklorists Carolyn Ware and Susan Roach also provided valuable feedback.
1. Artress' efforts were first labeled "The Labyrinth Movement" by a reporter in a New York Times article on May 12, 1998.
2. Narratives by the labyrinth facilitators about their call to the labyrinth are similar to called-to-preach narratives documented by Elaine Lawless (1988).
3. In some editions of her publication, Walking a Sacred Path, Artress invites people to walk labyrinths and be at the center for the turn of the Millennium at midnight December 31, 1999.
Sources
Artress, Lauren. 1995. Walking the Sacred Path: Rediscovering the Labyrinth As a Spiritual Tool. NY: Riverhead Books.
_____. 2005a. Interview by author, 15 September.
_____. 2005b. Workshop Notes. 16-17 September.
Bergfalk, Joy A. 2004. E-mail message to Margaret Saizan, 6 July.
Bigger, Anne. 30 July 2005. Interview by author.
Fry, Michele. 5 January 2006. E-mail message to author.
Johnson, Cherri. 21 July 2005. Interview by author.
_____. 2006a. E-mail message to author, 4 January.
_____. 2006b. E-mail message to author, 27 January.
Lake, Sekoiaa. 7 July 2004. E-mail message to Margaret Saizan.
Lawless, Elaine. 1988. Handmaidens of the Lord: Pentecostal Women Preachers and Traditional Religion. Philadelphia, PA: University of Pennsylvania Press.
_____. 1993. Holy Women, Wholly Women: Sharing Ministries of Wholeness Through Life Stories and Reciprocal Ethnography. Philadelphia, PA: University of Pennsylvania Press.
Mitchell, Mary Kay. 7 July 2004. E-mail message to Margaret Saizan.
Nagle, John. 5 January 2006. E-mail message from Michele Fry to author.
Norrod, Kathy. 7 July 2004. E-mail message to Margaret Saizan.
O'Connor, Bonnie Blair. 1995. Healing Traditions: Alternative Medicine and the Health Professions. Philadelphia, PA: University of Pennsylvania Press.
Saizan, Margaret. 2004a. E-mail message to author, 3 April.
_____. 2004b. E-mail message to author, 4 April.
_____. 2004c. E-mail message to author, 5 April.
_____. 2004d. E-mail message to author, 7 April.
_____. 2004e. E-mail message to author, 8 April.
_____. 2004f. E-mail message to author, 11 June.
_____. 2004g. E-mail message to author, 29 August.
_____. 2004h. Interview by author, 30 August.
_____. 2005. E-mail message to author, 16 October.
Saward, Jeff. 2003. Labyrinths & Mazes: A Complete Guide to Magical Paths of the World. NC: Lark Books.
The Labyrinth Society's official Web site. "About Labyrinths." http://www.labyrinthsociety.org/html/about_labyrinths.html. (accessed 20 January 2006).
Woodside, Daria.13 February 2006. Personal Communication with author.
_____. Interview by author, 27 August.
_____. 2004a. E-mail communication to author, 19 August.
_____. 2004b. E-mail communication to author, 17 July.