ARTICLES & ESSAYS


An Atchafalaya Childhood: Boyhood Recollections of Musician & Boatbuilder Faren Serrette
As collected by Laura Renée Westbrook
This is a collection of stories, told casually to Laura Westbrook over the course of several years, by boatbuilder and musician Faren Serrette. Dr. Westbrook, recognizing that Mr. Serrette was describing a vanishing way of life among Cajun boys, recorded them and was granted permission to share them here.
Faren Serrette
Faren Serrette was born in Henderson, just a few steps from the western bank of the Atchafalaya Basin, on October 12, 1956, the sixth child of Milton Serrette and Delores Allemand Serrette. He spent most of his childhood barefooted, playing with neighbors and his three brothers and three sisters as well as with the many cousins and other relatives who were frequent visitors. Sometimes relatives stayed for days or months. Among the most frequent visitors were his mother's sisters and brothers. Although holidays were always observed with family gatherings, these celebrations were not limited to special occasions. Music was usually part of these large gatherings, as the men of the Serrette side of the family and the maternal Allemand side all played traditional "French" music. Faren had a particularly close relationship with his uncle Dennison "Danny" Allemand, with whom he spent many days and nights on the waters of the Atchafalaya (sometimes sleeping in his own small pirogue).
Faren's father Milton "Noon" Serrette taught his sons to enjoy the life he had learned from his father and grandfather-fishing, crawfishing and trapping in season, camping in a houseboat or on the water, frogging at night, bass fishing when crawfish season is over, hunting deer, ducks, and squirrel. Over the years, he supplemented his primary income as a fisherman with a series of family-operated businesses. His older boys spent their teen years harvesting the waters as well as working in the family pool hall, where they had many occasions to hear the stories and jokes of community men.
Milton's father Anatole Serrette was renowned in the Henderson area for his distinctive hand-built boats. His techniques were passed on to Milton, and later to Faren. Anatole opened a successful store and popular dance hall near Cow Island in the 1900s, which he operated until around 1940. Anatole encouraged his sons and nephews to become musicians and play in his dance hall, which they were glad to do. The family band played one night at Anatole's, one night at an uncle's dance hall down the river, and back again. Milton's sons Perry, Faren and Tim became musicians as well, alternating playing at family functions and dance halls with working at arduous contracting and oil field jobs or family businesses.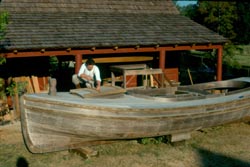 After leaving home, Faren settled in Cecilia, just a few miles from the rest of the family. He became a builder of traditional wooden boats, specializing in pirogues, skiffs, and reproductions of historical boat types. One of his pirogues is on permanent display in the library at Nicholls State University in Thibodaux and the Louisiana oyster lugger, on which he collaborated with several other traditional builders, is displayed by the Center for Traditional Louisiana Boatbuilding. He is currently the master boat builder at VermilionVille Historic and Folklife Park just outside Lafayette. Faren is also a noted musician, playing in such bands as Filé, the Mamou Prairie Band, and the Basin Brothers. He sings and plays the guitar and the fiddle. He performs traditional tunes, many of which he learned from family and from his particular mentor Dennis McGee, and he also writes his own songs in the French language. Faren enjoys opportunities to study with older musicians whenever he can.
Introduction
When Faren Serrette grew up in Henderson, the town was much more rural than it is today. The Serrette property was just across the Basin from the levee, and consisted of a wooden house and shed, and a cow pasture and barn. The family caught, grew or made most of what they needed. Milton and Delores both took a strong and active role with their seven children. Each child in the family had important daily chores, and Milton made sure they were completed. Milking the cows was one of Faren's morning jobs; he had others after school. He remembers that there were always kittens to keep him company at milking-time-how they would simultaneously approach and avoid the milk he would shoot at them from the cow's udders, and how happy they looked as they licked it from their faces. In winter, the milk he carried so carefully back to the house might be steaming.
As soon as school and chores were through, Faren would set out to visit his mother's brother Dennison "Danny" Allemand. Uncle Danny spent most of his time at his camp in the Basin, and he "adopted" young Faren as his special friend and companion. He was the relative with whom Faren most often hunted and fished. When Faren was old enough to handle a pirogue alone, about eight years old, he began to visit by himself. From this time on, Danny came to depend on Faren as much as Faren relied on him. Faren often woke Uncle Danny from an inebriated slumber and cooked for him, talking to him until he felt "himself" again. Though all members of the family are wonderful cooks, Faren particularly admired Danny's concoctions, and it was primarily at the camp that he learned to cook.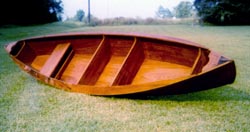 Spending time at the camp with Uncle Danny was like being in a world all their own. At the camp, Danny and Faren spoke French, unlike at home where Delores and Milton spoke French to each other but English to the children. At the camp, Danny and Faren could imagine that they were the only people on Earth. The Basin was devoid of human sounds, but full of the sounds of wildlife, especially at night. This was very different from the scene at home, where there would usually be visitors from the large Serrette and Allemand extended families. This is still true today. After Milton passed away in the spring of 1999, Delores began cooking large Saturday lunches to which all family and friends have standing invitations. During the week, visitors will always be invited to stop in for some strong drip-coffee, and maybe for some couche-couche or some freshly-raised crawfish. In nice weather, chairs will be placed under the carport (never used for cars) and in the yard. Passing of plates or cups may well be accompanied by multiple conversations over impromptu music, with youngsters whizzing by to check out the Basin or the latest batch of kittens. The Serrette children were never wanting for playmates; in fact, Faren would often slip away from the boisterous family scene for some peace and quiet with Uncle Danny.
The Stories
These recollections, shared at home, around the dinner table, or at crawfish boils in the yard, tell of Serrette family childhoods. The stories are word-for-word transcriptions of stories told by Faren. The final section is a transcription of folklorist Laura Westbrook's visit with Milton and Delores Serrette not long before Milton passed away.
The stories do not describe exceptional moments; rather they attempt to share the daily life of a young boy growing up near the swamps among a large and loving family. Faren's memories include boys' clubs, hunting and fishing, spending solitary time in the woods, and learning to cook, build boats and play music from the older men in his family. They also include avoiding his grandmother's stinging "treatments," and counting the time until school would be over so he could get in his boat and visit Uncle Danny.
Uncle Danny and the Camp
When I was little, my mama's sisters would visit a lot. Sometimes they would spend the night, two or three of them at a time. Cousins would sleep all over the floor. My cousins Ronnie and Kibby were like my brothers. They used to come over and we'd go fishing a lot.
Sometimes we'd go visit my mom's brother Dennison Allemand, who was there a lot when he wasn't on a dredge cooking. He used to cook for a living. Uncle Danny was one of the best cooks I knew. He used to bake some of the best homemade bread.
Danny had a drinking problem. Mom would get a call from Mr. Tony Robin, who owned the boat landing right near his camp, saying that he hadn't seen Danny in a few days. He was probably on a drinking spree; somebody ought to check on him. Mama would give me some beans and some salt meat, and I would get a boat from Mr. Tony and paddle across to Danny's camp. When I got to his camp, everything was real quiet, and I would say "Hey," and make all kind of noise. He wouldn't say anything. When I opened the door, he was in his bed. I thought he was dead. Eventually he would groan and moan, and wake up. The place was a mess-beer cans and wine bottles all over the floor. He'd drunk everything he'd had-sold just about everything he had worth selling. He was still alive. I would help him clean the place up. Make some coffee, sober him up. He'd have the shakes a couple of days, and swear he'd never drink again.
Of course, I became his best friend. When he was sober there wasn't a cleaner man on earth. He used to fuss at me for not putting things back from where I took them.
I loved the location of his camp, on the Basin side of the levee. You could only get to it by boat-way in the trees. It was on the old levee that the convicts built. Uncle Danny would say that he could feel the convicts turning over in their graves every once in a while. I must have been seven or eight when I started spending a good deal of my time there. I just couldn't wait to get away from school, and go meet Uncle Danny at the camp, hunt and fish-he taught me all kinds of tricks about hunting and fishing in the Basin.
When I was real young, he would take me frogging at night; then I'd spend the night on the water with him. He wouldn't let me paddle, though. I remember I wanted to paddle something bad, but he wouldn't let me paddle. He just wanted me to stay in the front and stay still. "Don't move, Faren," he would say. "When you fall asleep, don't wake up and go to the bathroom." I still remember how hard it was to stay still. Sometimes I wanted to just scream and jump up, out of the pirogue. But eventually I would get mesmerized by the sights and sounds. I saw some sights, I tell you, and heard some sounds. Uncle Danny would talk to the animals. Certain animals would call certain people's names. Some birds . . . there was one that would call "tee-wee-lee, tee-wee-lee;" another one would call "Bernice, Bernice." He said the nutria would call him: "Allemand, Allemand."
Uncle Danny took it upon himself to teach Faren those skills that would integrate him into Cajun adult male society and bring success and respect in his wetland community.
In the Basin with Uncle Danny
Uncle Danny had a lot of slangs and famous sayings. Whenever he saw somebody doing something clever or smart, he would say, "Who you think you are, anyhow?" Of course, he was a clever one. He was a smart one-to himself he was, anyway. He would say, "Faren, if you ever got lost in the woods, don't panic, don't be scared, don't cry. Just come to the camp, and I'll tell you exactly where to go."
Uncle Danny was a pretty good cook. I must have eaten just about everything that came out of the swamp. Except snakes and possum. I never ate a possum, and don't care to.
Danny called me [pronounced the name] Furren. We became pretty good friends after I built up a tolerance for his sarcasm. Of course, he liked me hanging around. He could always count on me for respect when nobody else would. I had to respect him, because he was my elder, my mama's brother. But he taught me a lot of tricks about hunting and fishing-how to set gill nets and trot lines. He taught me how to turn the headlight to shoot a rifle at night. He taught me how to make a squirrel come on my side of the tree, instead of playing "ring around the rosy" with them all day long. He said, "Faren, you just throw your cap on the other side, and that squirrel's gonna come around." And sure enough, it would work every time.
When I was a little boy Danny taught me how to paddle a pirogue straight, without having to change sides every time, by making a rudder with the paddle every stroke. He taught me how not to wear myself out by trying to paddle too fast. "Taake it easy Furren, don't weaar yourself ouut," he would say. He could paddle all night long. He paddled me around Henderson Swamp all night long.
I used to love to catch frogs. Sometimes we'd catch them with our hands. Most of the time we used a frog grab, in places where you couldn't get as close to them. He taught me how to soup up a frog grab with some inner-tube rubber, so it would hold some of the frogs that we would catch. Some of those frogs were monsters. That was probably some of my favorite eating. Fresh fried frog legs, when you put them in the pot, they jump around in the hot grease. Mmm-mmm.
The men on both the Serrette and Allemand sides of the family were musicians. Being invited to play music with the men was a special thing, signifying acceptance into grown-up male society. This was different from being allowed to go hunting or fishing, which was necessary and, though often exciting for young boys, a requirement. Playing music was purely social. In the Serrette family, a boy is invited to take up his instrument and join in when his skills are developed, and when his company is appreciated.>
My First Instrument
I remember when I was little, when my dad and my uncle and my older brother Perry played music with one of my cousins, Jimmy. I thought it was one of the coolest things in the world, playing music. I would always want them to show me how to play. I wanted them to teach me, but they never had time. Perry was already good; he already had a band. I wanted to play so bad, but he wouldn't let me touch any of his stuff. I was just a little kid.
I remember staying home from school one day when I was sick. I must have been in about the third grade. My Uncle Danny played the harmonica. I remember seeing him play it. He was always so dramatic when he played it, with so much expression. Of course, he would get out of breath sometimes. I thought that was kind of funny, but he played well. I remember laying in bed that day, sick home from school. I remember he walked into my room, saying "Hey," and he stuck out his hand to shake hands with me. When I caught his hand, he had a harmonica in it. He took my hand in both of his and made sure that I knew that harmonica was for me. I still remember how excited I was about having my own harmonica. (That was before I had ever seen him play his harmonica with his nose, or maybe I wouldn't have been so excited.)
The first song I ever learned how to play was "Oh! Suzanna." I remember hearing the tunes in my head, and trying them on the harmonica until I played them. Later on I bought a new harmonica at Simon's Drugstore in Breaux Bridge for three dollars. When I was about eight or nine, my cousins Bobbie (Bä-bee'), and Harry Lee came to visit. She was my cousin, but some of my cousins were so much older, it felt more like they were my aunts and uncles. They asked me to play them a song. I played the "Marine Hymn" for them, and Harry Lee gave me a quarter. I thought that was the greatest thing in the world. I used to carry my harmonica around with me.
When Uncle Danny died, we went to see him at the funeral home. I had my harmonica with me. When I saw him in the coffin, I put my harmonica in his hand, and it fit just like he was waiting to hold it. So he gave me my first harmonica, and I gave him his last one.
Another favorite relative was cousin C.J., who spent time with the children in his family. He shared Faren's feelings about the "sacredness" of nature. One evening, Faren proved that he was growing up by showing no fear of a bobcat on a dark night. He was rewarded with the gift of his first grown-up watch.
C.J. and the Bobcat
I remember when I was about six or seven years old my mom and I had gone to visit my cousin C.J. Serrette, who'd just gotten out of the service. He and his wife were overseas somewhere. He became one of my favorite cousins. I just loved him so much because of some of the things he did. Even though he was older, he treated us kids like we were real people; he talked to us.
That night, I was sitting on the porch steps with him and he asked me if I had ever seen a bobcat. I said no. He got a headlight from the house, and we went down the road to a sugarcane field. We walked in the road on the side of the sugarcane field, and we went over a fence. We walked a ways further. When he shined the light down the road, I saw a bobcat. It was weird because it jumped across the road, but it stopped and looked at us. It was kind of hard to believe what it was. C.J. kind of spooked me a little bit, the way he said "Let's go!" and he started running, you know, playing it up so it would seem kind of spooky out at night with that bobcat. But he waited for me. I remember it was exciting but I wasn't really scared because I just trusted him; there was something about him that I knew he wouldn't let anything happen to me. He ran, but he waited for me. When we got to the fence, he picked me up and put me over the fence. We walked back to the house.
He was always smiling. When we got back to the house, somebody was talking, and they reminded him of something in the house. He came back out with a watch. The band was broken, but I was always good at fixing stuff like that. He gave me my first watch. If I knew how to tell time then, I had just learned not long before. That was a big thing. Some kids at school knew how to tell time; a lot of us didn't.
The Serrette boys, like the majority of their peers, did not play with store-bought toys. They made their own toys from available materials, and engaged in imaginative play. Often their play would take them into the woods, where the nocturnal flying squirrels were a source of curiosity and wonder. Many boys tried to capture the mysterious creatures; some were successful. Capturing a flying squirrel gave a boy undisputed bragging rights. Just as in the larger society, the community of boys (comprising cousins, same-generation uncles and nephews, and neighbors), was a multi-layered one of complex relationships.
Flying Squirrels
As kids we used to catch squirrels and other small animals in traps. We kept them as pets. A boy named Nelson Santigna (sic) kept a squirrel in his pocket, on a little leash. When I saw him pull that little squirrel out of his pocket and feed him a pecan, I wanted to have one myself. Now I know it's not a nice thing to do to a wild animal. I couldn't recommend that anyone do it.
We would make a trap out of boards. It had a trap door that would be held up with a twig. The trap would be hung from the tree, and the little animals could smell the pecan-half inside. You have to set the trap overnight and check it in the morning. Sometimes we would catch little birds, wrens. Sometimes we would catch little field mice. The little mice were pretty, little red mice. Flying squirrels are nocturnal, so they would come out only at night.
I kept a flying squirrel in my room for a time. I let it live loose in my room. At night, it would play in my hair like it was making a nest. I remember the way he smelled. Squirrels have a nice smell by themselves. He would run across my bed, climb the drape, and fly across the room to the dresser. Then it would jump back onto the bed and do it again. Sometimes he would do that all night. I used to turn a flashlight on him and watch him flying across the room. He sure did make a mess of my room. After a while, though, I realized it wasn't humane to keep a wild little creature and I had to let him go.
The Boys' Club
When I was real young, my brother and I were always building camps. With some of the other guys in the neighborhood, we would go fishing, have fish-frys and stuff. Sometimes there were mostly guys that were my brother's age, and they had a club. They decided that some of the younger kids had to be initiated. So when we camped out with them, they would make up the initiation as we would go. Whatever they could think of to do to us little ones was part of the initiation to join the club. The younger ones, we bought it-for awhile. It was worth quite a bit to hang out with the big guys.
Some of the things they used to do to us-I remember one time, a part of the initiation was to take a bite of a green persimmon. I knew that persimmons were good to eat, except I had never eaten a green one. If you've never taken a bite of a green persimmon-it's one of the worst sensation that you can feel in your mouth-I've heard it compared to alum. It makes your mouth pucker up. I didn't know what it was. I thought they had poisoned me. Before I had spit it all out, I had swallowed some of the juice and so I had this sting in my throat. I thought I was poisoned and I was going to die. So I went home to mama and told her what had happened. I guess I was crying. She told me I wouldn't die; she might give me some milk to drink. Eventually it went away.
Much of the boys' play was preparation for the work they would be expected to do as men. Some of the toys the boys made for themselves were forerunners of the real boats and cars they would work on when they got older. Toy boats made by les petits garcons eventually gave way to hand-built pirogues, bateaux, and skiffs. Basic mechanics learned by experimenting on toy planes and bicycles developed into the skills older boys used to build boat and car engines.
Homemade Toys
My brother Johnny and I were close to the same age, so we spent a lot of time together. Of course I was younger, so when he had friends his own age I wasn't so cool. But when we were growing up, we did a lot of the same things together. We would soup up our bicycles. Johnny was a pretty good mechanic; he knew a lot about bicycles and things like that. When we got a little older and started making a little money-I'd work at the boat landing; Johnny would work at the restaurant as a busboy-Johnny would buy these little airplanes with Cox gas engines, .049 horsepower, I believe it was. We started flying these planes, and of course we would crash them all up. Johnny was a good plastic welder. He could weld them up pretty good, but you can only weld them so much. When they would get broken up, we started building boats, some airboats to put the engines on. We had a lot of fun with all that stuff. It was Johnny's first mechanicing of gas engines.
Early Boatbuilding
Growing up in Henderson, right near the Basin, I was always around water, and building boats. My grandfather was a boat-builder. Although I hadn't really seen him build any boats, I was told about them. He used to build boats for everybody around Butte La Rose and the Atchafalaya River. My Uncle A.J. was building steel and aluminum-hulled push-boats, barges, and crew-boats for the oil industry. Some of my uncles would build plywood and cypress bateaux and pirogues. It seemed like, more often, it was cheaper to buy materials and make a new boat out of an old one. I remember doing a lot of that. I always did like to build, though, since I was a kid. My brother Johnny and I were always building some kind of a camp, or toy boats or planes. When it rained a lot, we'd build all kinds of toy boats to pull on a pole. Eventually, we built some little flat boats that we'd pull behind us when we'd go crawfishing in the rice fields. A little bateau would hold all our set nets and the bait, and the crawfish that we would catch. Instead of a cart, we'd have a little bateau. Those got pretty popular; till people started having go-devils [airboats], rice-field crawlers and whatnot.
First Motor Boat
When I was about twelve or thirteen, my dad bought a wooden hull and a "Sea King" 5-horsepower outboard motor from my Uncle Jesse. He kind of bought it for us. Somehow I think Johnny ran it without oiling the gas, and he threw a piston rod. He had ideas of fixing it. He took it all apart and put all the parts in a five-gallon can before he lost interest in it. It seems like it sat in a shed for a couple of years. When I went to high school, in the first year of industrial arts, we had to do a project. So I took this five-gallon can of parts to school and had the shop teacher help me. We figured out that there was a broken connecting rod and we figured the coil was bad. I ordered the parts from Montgomery Ward. Eventually we got it running and, wow, I had my own outboard motor. That was a big thing. The boat had been sitting up for a while in the shed, so I took it out, scraped it, painted it. I got Dad to bring me to the levee. I put the boat in the water, put the motor in the boat, and fired it up. Yeah, I was big-time then! I had my own boat and motor. I used to fish, and I could go visit Uncle Danny whenever I wanted.
Faren's father, grandfathers and uncles were hunters and fishermen. Their ties to the landscape were strong and emotional. The men of the family have intimate knowledge of the wetlands from Henderson to Butte La Rose, and they have carefully passed on their knowledge and skills for generations. As boys they were taken out from a young age to hunt or fish, perhaps being allowed to spend the night with the men at camp. The first solitary trip into the woods or the swamp is a rite of passage for young men.
Trapping and Fishing
I did a lot of fishing and hunting. I did some trapping for furs. That was kind of fun. I had some "Victor Number 2" spring traps. It was a cruel way to trap animals, but I made a few dollars catching coons. They were even buying nutria back then. Every once in a while we'd catch a mink or an otter. That was a good sixteen or twenty bucks apiece.
Yeah, fishing was good back in those days. We used to be able to catch all kinds of fish. Sometimes the brim were biting so good, we almost didn't need bait. You could just jiggle the hook around in the water and catch brim. When the water was running right, we used to catch some good strings of bass.
When the water was low, I used to find some lures that other people had snagged in the bushes. I had some pretty good lures. Of course, when I was fishing a lot, I would get all of mine snagged up, too. So again I'd be looking for lures, and I eventually figured out how to make some of my own. When the bass were running well, and I didn't need a whole lot of fancy bait, I made some lures with guitar strings. I'd make my own treble hooks by wiring some old mustard hooks together. I'd cut some spinners out of a tin can, string them up on a guitar string and I caught quite a few bass like that, too.
Eventually my dad got some crab traps. I brought a dozen crab traps and my boat over the levee, into the canal side to the places where they would peel crawfish. One place was right alongside the Henderson bridge. They would have troughs that they would use to let the crawfish peelings slide down into the water. All kinds of fish would come to feed right there. Of course, the mullets were the most aggressive ones, so there was always a pile of mullets right on the top. But underneath, the ones you couldn't see-of course, the catfish were right on the bottom, and there was all kinds of other stuff. We used to be able to dip some shads with a dip net. We made a few dollars like that.
One year, in the summertime when I was fishing crabs-crawfish was out of season so they were peeling crabs, it was late summer-the water was running right; there were a lot of lilies up against the bridge. I had to fight my way out of the lilies. I kept my boat docked over one of the places that hung out over the water. Those places were built on pilings that were actually on top of the water, so they were good docking places for my boat. Nobody seemed to mind or care. I would tie my boat to the pilings. When these crab peelings would come down and attract all the fish, I would catch my bait for free. I'd tie a treble hook on the end of a piece of nylon twine, at the end of a short cane pole. I could snag all the bait I wanted all day long. Sometimes I'd snag bait for other people. Of course, you could probably catch it a lot faster dipping it with a shad net, but it's a lot more fun to snag them.
Sometimes the mullet were ten, fifteen pounds. They'd put up a good fight. One day, I was snagging for bait, and it seemed like I'd throw a hook in there and, if you wanted shad you wouldn't pull too hard because they were softer fish. If you wanted mullets, you had to drag quick and hard; they had real hard scales. I was snagging for shads, seems like I'd catch one every four or five tries.
One time I jerked up a little shiner. I pulled him completely out of the water, and he flew down, stood on my hook, and before I knew what was happening, a bass picked it up. Before I knew what was happening, I was in a fight with a bass. I thought, "Well, look at this!" So I went home and got my rod and reel, and I dipped a few shiners. I caught some of the prettiest strings of bass that one year-every day for about a week-and then I never had that happen again. The water level was right, and the bass were swimming up. The gates were open enough for them to swim up; there was very seldom bass in the canal. I had a good time that year.
I used to catch some crabs running my dozen traps every day. I'd catch a few dozen crabs every day. Sometimes I would sell them at Amy's [Ah-meé] fish market. Sometimes Mr. Valerie Hebert would buy them from me. Sometimes when I had some small ones, I'd take them over to Uncle Danny's and we'd boil them up and eat them ourselves.
A Big Crab
I used to be barefooted a lot. One day I was in my boat. I forget what I was doing, but I had crabs walking around there in the boat. One day, one of them grabbed me by the toe. I said, "Well, look at this! A crab got me by the toe." It hurt quite a bit, too. But I just stayed still because I noticed that if I didn't move, it wouldn't clamp down and it didn't hurt. But I was in a predicament and I didn't know what to do. So I sat there and watched him for a while. Every time I would reach down to him to try to catch his claw, he clamped down, and he was just about to draw blood. It hurt something bad! I must have sat watching that crab for about a half-hour. Eventually, I bit the bullet. I grabbed my paddle and smashed him. It hurt quite a bit; it ended up cutting my toe a little bit. Thank goodness it wasn't too big a crab.
Easter was another occasion for large family gatherings. After a morning egg hunt, the 7 children were bundled into their new Easter clothes for church. Mass was followed by a communal meal. To this day the men do the outdoor cooking (sauces piquantes, gumbos, étouffées, and smothered meats) and the women do the indoor cooking (cornbread, stewed vegetables, potato salad, desserts of all types). Milton made the café noir with water heated over an outdoor fire or hand-fashioned butane cooker. The meal would be followed by a contest called pâcquer, in which children and some adults strike their eggs together to see whose is the strongest. This contest was always the setting for practical joking; for that reason children would be required to change out of their Easter suits beforehand.
Easter
When I was a kid we always had a big Easter basket every year. We went through a lot of different styles of baskets. I always had a problem with having a basket until I started getting some more "macho" baskets. One year, my mama got us some beach buckets for baskets. I remember that I thought mine was cool. Of course, we dyed eggs. We always used that-PAAS, is it? I never knew how to pronounce that; we would say passé-it was kind of fun to dye the eggs, and make the biggest mess you ever saw in the kitchen.
Usually I would get a new suit of clothes or new shoes for Easter, and the girls would get new dresses. We would wear them to church. We went shopping for the clothes, but the bunny would fill our baskets. We always went to church, and then we had some kind of Easter dinner. Sometimes the local beaches would open on Easter Sunday. I remember a couple of family parties we had at the beach; most of the family would come, including my mama's sisters and their families. Of course, we had Easter egg hunts. There would usually be a golden egg, which usually had some kind of a prize attached to it. Sometimes it was just the pride of finding the prize egg. Afterward everybody would pâcquer. On Easter morning that was the big thing. Everybody had their prize egg. Some people went to great lengths to soup up their eggs. Sometimes they would use duck eggs, Muscovy duck eggs, but you could always tell them by their shape. Some people would use guinea eggs; they were a little more pointed on one end. Some people would put glue on their eggs to keep them from breaking, or they'd dye uncooked eggs. Mr. Freddie Stellie had an "elephant egg"-that's what he called it. He'd take it out when all the champions were gloating. He'd hold it in his hand so we couldn't really see it, and he'd say "You've got to hit this one," and he'd bust all the eggs. To this day, I never learned what it was made of. It seemed to be a little bigger, because it didn't fit into his hand. I don't know where that tradition started, but it was fun.
The traiteur's healing is effected by factors ranging from the power of faith alone to the healing properties of teas and locally-grown medicinal agents. Faren's Grandmother Allemand was a traiteur who treated her family's and neighbors' minor ailments with a combination of prayer, touch, and herbal home remedies. Usually the treatments did not occasion further incident; in this case Faren recalls an especially memorable treatment.
Grandmother's Treatments
I guess I was about ten or eleven-we used to do everything on bicycles. I had this wreck on my bicycle; I must have skinned my knees a little bit. I sprained my thumb; it was my right thumb. A sprain, as you know, can be sore for a long time.
I was sent to my grandmother, who was my mother's stepmother, a traiteur. 'Tit-Mom [pronounced Tee-Mom, short for Petite Mom], we called her. I don't even remember her real name. She was Raymond Robin's mama, but she was pretty old then. I went to her to be treated for the sprain in my thumb. I went over there, and she treated me in the yard. I sat down, and I told her it was my thumb, and she started the treatment. She would rub and touch it, say some prayers. She had this bottle of, alcohol I guess it was, with liniment in it. She would rub that liniment in during her treatment. I guess she must have seen those scratches on my legs, on my knees, so she rubbed some of that liniment on my knees and all over my legs. It made my skin cool; it felt pretty good.
When I was back on my bicycle headed home, it kind of tingled. As long as I was riding in the wind, it was just kind of tingling. By the time I got home, it started burning the sensitive skin on my thighs. It was burning more and more as time went on. I didn't realize what it was because I didn't really remember that she had put that on me, since I was concentrating on my thumb. Well, it started burning a lot, I mean a lot. So I told my mom, and she drew me a hot bath. You can imagine what happened then. That hot water allowed the liniment to really get into those cuts and, well, that was the last time I got treated for quite a while. I used to let Uncle Danny "buy" my warts, though.
Many parents of Delores and Milton's generation didn't speak French to their children, though it was their own first language. The result was that, in some families, there was one language for adults and another for children. Though some parents taught their children only English in order to prepare them for life outside the neighborhood, the lack of French served to distance children from older relatives who spoke only French. Some children who formed close attachments to older adults were able to learn French despite not speaking it at home.
Learning French
When I was growing up in Henderson, my parents taught us English, although they both spoke French before English. They were both punished for speaking French in school, so they taught us English so we wouldn't have those same problems. But they did speak French when they didn't want us to understand what they were saying, between themselves and with some of the other older people. Which is probably the main reason I learned. I just started paying attention to the French, and every time I was with Uncle Danny he would talk French with me a lot. I would get to practice my French with him. But even when I was growing up, it wasn't cool to be Cajun. We weren't too proud to speak French around school or anywhere except with some people who didn't speak English. Then you had to use French. As I got older I started realizing that it's not such a bad thing to know French; in fact, the more languages you can learn, the better off you are. Eventually French and Cajun was a cool thing to be. I'm glad I pursued the language like I did, like the music.
When we were growing up, French music was old people's music. I guess I always did like all kinds of music. When we were growing up, we wanted to hear rock-and-roll and country. As I got older, French music was getting more and more popular. Being interested in the music helped me learn French also. When I was little I did mimic some of the lyrics when I didn't know what they meant, but I was always uncomfortable with that so I would try to figure out what they were saying, what they meant.
The following is a partial transcription of a visit between folklorist Laura Reneé Westbrook and Milton and Delores Serrette, with Faren Serrette also present. The visit took place at Milton and Dolores' home, built for them by their sons to replace the old farmhouse in which they were raised, in Henderson abutting the Atchafalaya Basin.
Milton and Delores: Living on the River
Milton: I was born on that houseboat right there, over above Butte La Rose. Cow Island was surrounded by the Grand River, Little Atchafalaya, and Big Atchafalaya. On the river the water was very smooth. We never worried about the kids in those days, and it was very seldom that anyone drowned. In my lifetime on the river, I only know of four who drowned: the Leblanc fellow, my cousin, little Dupré, and Gill Young's son André. Of course, you got more kids today, but then kids didn't wear life jackets or anything. Little bitty kids would paddle around in the river, and learn how to swim real early.
Delores: When he was a boy, Daddy [Milton] had a little dugout. Sometimes he would swim in the river. Remember that time you had pulled up on a log?
Milton: One time, an old man had a dugout. I'd swim out in the river, you know, and I'd catch a log and float back down the river on it. Sometime I catch a ride back home. One day, in springtime, I was riding down on a log. I laid down on my back and I fell asleep. I was asleep on that log and the old man saw me; he thought I was a drowned person. [laughs] He started paddling towards me. The noise of the pirogue going through the water woke me up. When I slid off of there, he almost jumped clear out of his pirogue. I talked to him awhile back. Just before he died, he remembered that. I wasn't but fourteen years old, or a little younger. Boy, he was really teed off with me that day. He said "You little son-of-a-gun."
Milton's First Band
Milton: I started playing music when I was real young, about thirteen or fourteen, I guess. We were the only musicians on the river, so we were popular-tops! My daddy had a dance hall, and my cousin had a dance hall. My cousin lived maybe five or six miles further down the river, further south, and he had the same set-up as we did. He had a store, he bought fish, and he had a dance hall. So we'd play one Saturday night at his place; the next Saturday night we'd play at our place. We could name our price then! [laughs] At home we didn't get paid. I remember one time we played near where the Butte La Rose exit [from Interstate 10] is now. There was a big icehouse, a fish dealer, a post office, and a dance hall. The Bernards that own the apiary owned the dance hall. We were playing there one night. Uncle Pirue [Milton's brother] was playing the violin. There was a little old short fellow; he had drunk too much. He would take one step forward and two steps back. He liked Uncle Pirue to play "Turkey in the Straw." Every time we played a song, he'd give us a big tip to play it again. After awhile, Uncle Pirue would just play a few notes of it, then he'd quit. I don't imagine he [the man] was really hearing it; he'd give us a dollar just for those few notes.
I learned to play right at home, on the guitar and the violin. I played the songs we heard on the radio. Pop ordered my first fiddle from the Montgomery Ward catalog. I had a box guitar with one of those steel plates in it. It cost twenty-five dollars then. I believe it was called a dobro. He played the accordion with us sometimes, but not very much; he used to play more when he was younger. We had a sound system we had bought from Montgomery Ward. It ran off of a twelve-volt battery.
Delores: In those days, they didn't have bars like they have now. They had a dance hall. Everybody could go, ladies could go, and they didn't have any drinking in the dance hall. When you're young, everything is fun. Saturday nights they had a dance; Sunday afternoon there was another dance where everybody would gather. It was a big place. They had a long bar, and all around the dance hall they had a bench. Families would go. Mothers would go to bring their daughters. Everybody heard the music, and it was fun.
Faren: Did Uncle Danny play the harmonica?
Delores: Oh, yes.
Milton: Oh, yeah, there was some drinking going on in the dance hall. Outside. Sometimes we'd sell it inside.
Delores: The drinks were kept in tubs of ice. That was the best cream soda-you couldn't have too much of that-homemade cream sodas.
Milton: You know Mr. Batmonche Monté, and Ray Daig's daddy. They were always good buddies. Whenever there was a dance at somebody's house, they'd go and sell beer from a tub. They had [a beer-selling] competition one time, and they got to figuring on what they had to do about that competitor. So they went to the outhouse and filled the other fellow's bottles. They pulled some stunts! Batmonche played the accordion. He recorded with Mr. Joswell, who played the violin. The other day, I ran into him at the hardware. He gave me a speech about how we used to play well. Boy, he went on and on!
Delores: He always reminds me that I taught him to dance.
Faren: They made one of those early recordings, the "Nina One-Step." It sounds pretty good; real fast, but he played a good accordion. I remember hearing him play at the racetrack, when he had a racetrack [a bush track in Henderson]. He played with one hand; he had had an arm shot off. It was his pulling arm that got shot off, so he could still play the buttons and pull with his remaining arm.
School in Butte La Rose circa 1930-40
Milton: We had to go to school on a boat. It had a "bus driver," and a Model A engine. Rufus Amy was the driver. He didn't have any kids at that time, and he'd carry the kids. In those days we obeyed, even the school bus driver. One time me and Roy Robertson decided we were going to leave our shirts out of our pants. Mr. Amy saw that and he said "Put them in," and we did-didn't back-talk him, either.
Delores: Everybody took care of other people's children.
Milton: Yeah, you could trust people. The river would be foggy at times in the morning while we waited, but we never had a problem driving because there was very little traffic on the river. We'd pass all the people that were living all along the sides of the river. By the time we got married, there weren't too many people left living there. At one time, when I was in school, we had only one teacher for the whole swamps. We had up to the seventh grade then. There were about thirty-something kids, I believe, all together. In my day, they'd trust the teachers one hundred per cent. If there was a problem, they'd take care of it right there at the school. It was about a quarter-mile below the landing at Butte La Rose. We lived further down, and some kids lived even further out than I did. There was no road at Butte La Rose. To come here [to Henderson] it took two and a half hours by putt-putt.
Homemade Toys and Fiddles
Milton: When we were young, the water would come over the bank and there was a slew. The water would go in there toward the swamp from the river. We'd make some boats from a piece of one-by-four or two-by-four. We'd shape them; take a hatchet and shape them, take an eightpenny nail and a flattened potted-meat can. We'd cut a little piece, and run that eightpenny nail through that and make it loose. A little twist would give it the pitch. We'd copy daddy's boat, Uncle Duluc's boat, and whoever's boat we liked. We could make them sound like whoever's boat we wanted, just by turning that little piece of tin. We would just tie it on a pole and drag it through the water-that would make that propeller turn. That's how you could make it sound the way you wanted it to, give it a little pitch. All the toys we had were homemade toys.
Delores: One of my cousins made fiddles, the one that lives over here, Clovis Allemand. One time he made one for a raffle. But he never did make them for a living.
Pop's Store
Milton: Pop's store was across from Cow Island. The reason we moved from Cow Island was because there was a cut there where the rivers would meet. The way the river went, it made a dump of sand on one side. Every year, we had to raise the house, raise the store, raise all the barns. When a big hill formed on the other side, we decided to move the store to the other side. We had to move everything by hand-the store, the house, and all the barns. We cut some logs, rollers. We had to push them along [the buildings using the rollers as wheels], and each time they would pass over one, we'd push, push, keep putting one in front. When I think of it today, it's almost hard for me to believe that we'd go up the riverbank with such a big house. And the store; the store wasn't all that big, now, but big enough to where it was hard to get up there. We did it with a bunch of men together, and what they did was make a winch; I don't know what it's called in English, but in French it's called a cabestron.
Pop's store was on the bank. Fish buyers would come out there. We'd buy fish for John Talley. We had a dock at the landing. We had a big icebox, a big homemade cooler. We'd bring some ice, about 300 pound blocks that we'd chop into 100 pound blocks. We'd have all the ice we wanted. Not many people had ice for ice water. That way, they'd send a boat to pick up the fish that we had bought, and they'd bring some groceries on that boat. If we needed meat, bread, we could order it a day or two ahead of time. It [the boat] would come just about every day.
Grandmother's Visits
Milton: I remember when the fish boat would come over there on that island [Cow Island]. I guess I'd hear them talking about when grandma was coming [on the boat]. I'd get so excited, I'd run to the store to get some flour, some sugar, and some vanilla extract. I'd grab her by the dress and pull her into the kitchen so she could make me some doughnuts. She never would fuss. That was my mom's mom.
Some Local Characters
Milton: There was an old man with a big mustache. He had a putt-putt, and every time he'd come up the river to the store, Uncle Jesse when he was little, boy he'd take off into the woods. He'd run and hide. He was scared of that old man, I guess because of the mustache. One day Pop [father Anatole Serrette] happened to be at the back door, the kitchen door. When he saw what was going on he grabbed him and held him there. Boy, Jesse scratched Daddy's neck and everything else. [laughs] After that it was all right; he had settled him.
Delores: That's just like when I was little there was this little man. They called him "Little Red." He was red-faced. For some reason, we were afraid of him, and he was harmless. I don't know why. There was always someone like that for the kids to make stories about.
How Milton and Delores Met
Milton: I was working in Texas, and I'd come home. I met her at Guidry's [restaurant].
Delores: I worked at Guidry's. I was waitressing then. I was only fourteen that summer when we met. He was twenty-one. I turned fifteen in September. He went into the army in October, so I was fifteen when he left. It was very romantic.
Milton: She was the most beautiful thing you ever saw. I left for the service, to Panama. Uncle Ames came home on a furlough. When he came back, he told me, "She's the prettiest thing they got over there." He meant it! [laughs, teasing Delores] Of course, they didn't have too many girls around.
Delores: Oh, yeah, Daddy had had a whole bunch of other girls before I came along. He was not exactly a playboy, but . . .
Milton: I was friendly.
Delores: I was just a little innocent girl.
Faren: [Also teasing a little] But you were grown up by the time he got back-a woman now.
Delores: Yes! I was seventeen then.
Milton: We probably wouldn't have waited that long to get married, if I hadn't gone into the service.
Delores: That summer before he left, everybody'd ask, "Are you gonna get married before [he ships out]? Ooh, I didn't want to hear it, because I knew I was too young. No way. It's all right to go out to Catahoula to the dances on Sunday. Everybody wanted in on it. Before the boys left, Mr. Guidry made a big banquet for the boys. Faren: His restaurant is where Pat's used to be, isn't it? Henry Guidry?
Delores: Yes, here's a picture of us there. There's the water right there.
Milton: He gave supper to everybody leaving. She was working, and I didn't like that idea. So I talked Mr. Guidry into letting her off to come and eat with us. Boy, I was proud of that.
Delores: During the war, everybody felt they had to keep merry. They always had parties for whoever was leaving.
Milton: When we came back, it was the same. Every night, somebody had a big supper for us.
Delores: There was a curfew, twelve o'clock, for the boys. Places would close, but relatives and friends would say, "Whenever they close, you come wake us up and we'll cook for y'all." I remember his friend Henry Patin's daddy got up, killed a chicken, and made a gumbo.
Milton: Yeah, he killed the chicken right there, cleaned it, and made a gumbo. He was so proud of us, so glad we were coming back home. Everybody was so nice to us.
First House
Milton: When we got married, my aunt gave me a houseboat that was sunk in the sand. It was covered with sand, so when she gave it to me I dug it out. I cleaned it out, took it apart, and re-built the house on the bank. It stood ten by twenty-one. That was our first house. And then I borrowed a barge from Mr. Herman Dupuy when I decided to move it over here. We pulled it over around Wiltz's landing, somewhere over there. I put it on the barge, and towed it over here. I had about four inches of freeboard on the house. If I tried to do that today, I'd have lost it. They'd have sunk it with all the traffic in the river, people going back and forth. In those days, people would respect when they saw someone coming like that.
Laura: If you had seen someone on the water, you probably would have known them.
Milton: Of course, I never saw anyone that day. If there would have been traffic, I would have known them and they would help out
Neighborliness
Milton: After we got married and we started having kids, we'd go back there [in the Basin] to the camp. I'd raise a net, somebody's net. People back then didn't mind. They'd tell you "Raise a net if you want some fish to eat." I remember one time I raised one net, and it must have been filled with about two hundred pounds of catfish. All pretty blue catfish. I took one, left the rest in there. I tried to find out who that net belonged to; I never could find out. My brothers and daddy had some nets out there as well, and other people did too. Today, they'll steal your nets.
Mother's Surprise Party
Delores: I'd like to tell about when my mother was thirty years old. They made her a surprise birthday party. She had an aunt living in Baton Rouge, a deaf-mute. She came down, and she brought store-bought cookies. We had never seen anything like that, ready-cooked food from a store. My aunt that lived next door made some cakes, so everybody came in and surprised her. She had worked in the field all day, because they farmed. One of her brother-in-laws played the accordion. So they took down the two beds in the living room. He played and they danced. I must have been three or four. It was hard for my aunt, who lived next door, to make the cakes without my mother finding out. We didn't have too many things like that in those days. It was special.