ARTICLES & ESSAYS


Cajun Wedding Traditions
By Jane Vidrine
Cajun Wedding Customs from the Past
What do you think of when you hear the word "wedding?" Maybe you imagine a bejeweled bride in a long white gown and fluffy veil. Maybe you remember a portrait hanging on the wall at home. Maybe you think of walking down the aisle, throwing the bouquet, or cutting the towering cake. Think of the stories your mother has told you about her wedding. Were there mountains of food that friends and relatives lovingly prepared? What are the things that make weddings special?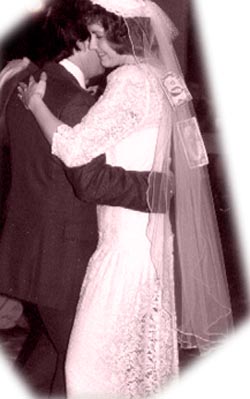 Marriage and weddings are rites of passage, celebrations that are held to mark the time when a person reaches a new and important stage of life. Weddings are found in cultures all over the world. The way that this important life step is celebrated is different from culture to culture, from place to place, and even from person to person.
The Cajun people of Southwest Louisiana have many very old wedding traditions that people still do now.
Allons à Lafayette
Let's go to Lafayette
Allons changer ton nom . . .
Let's go change your name . . .
The words to the first Cajun song ever recorded in 1928 by Joe and Cleoma Falcon speak of going to Lafayette to get married. Until the oil boom of the 1930s, roads and bridges were poor and rural Cajun communities were isolated. Churches and courthouses were few and far between, so couples had to go to the big town of Lafayette to get their marriage license, or wait weeks for a circuit-riding priest to come to them. In the old days, a couple would "jump the broom" held by family and friends to make the marriage legal until the priest was able to come. Older people tell stories of agreements between the parents about property, livestock, and money. People who wanted to get married published news at the church, so that if someone objected, they could speak before the marriage took place. Though some of these customs of the past are not practiced anymore, they are mentioned in an old song that complains about getting married.
Je voudrais bien me marier . . .
I want to get married . . .
L'argent a conté, les bans a publié
There's money to count, notices to publish
Tous ça me gêne ! . . .
All that bothers me ! . . .
Sung by the Magnolia Sisters, collected from Edius Naquin of Eunice, Louisiana.
Today's Cajun Wedding Customs
Cajuns celebrate a wedding with a dance or reception. In French, a wedding dance is called "La Bal de Noce." Before public dancehalls became popular gathering places for Cajuns, the bal de noce was held at home, but now weddings are usually held at public halls. A very beautiful tradition that the Cajuns have is the wedding march. Before the Cajun band begins to play for everyone to dance, the dance floor is cleared. The bride and groom hold hands and walk slowly around the room while the band plays a special song just for this march. Then, the guests get a partner and join in the march until everyone is following the bride and groom. After the march, the bride and groom dance a waltz in the middle while everyone watches. Then they dance with their parents. After that, everybody can dance. To get a dance with the bride or groom, it is traditional to pin money on the bride's veil or on the groom's suit. This is an excellent way to make sure they have some money to start their life together.
Part of the festivities includes singing songs to toast or fête the couple. Very few people sing these songs today, so most of them are lost. One of these songs is "La Fleur de la Jeunesse" (The Flower of Youth). It is a lament or sad song that tells of the sweet sadness of getting married.
J'avais promis dans ma jeunesse
I promised in my youth
Que je m'aurais jamais marier . . .
That I would never marry . . .
C'est aujourd'hui que ma tête est couronnée
But today my head is crowned
Et mon cœur est orné d'un bouquet?
And my heart is adorned with flowers
Adieu la fleur de la jeunesse
Goodbye to the flower of youth
La noble qualité de vie (bis)
The noble quality of life (repeat)
C'est aujourd'hui que je veux la quitter.
Today I want to leave it behind.

Remembered by Mr. Sylvan Aguillard and sung by the Magnolia Sisters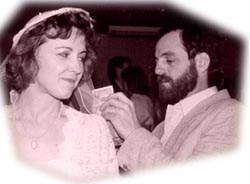 Cajuns know how to have fun with each other, too. It is a custom that if a younger brother or sister marries before the older one, then the older one must dance with a mop or broom while everyone watches. In the little town of Mamou, they even have to dance in a tub of water with the mop. This is a way of poking fun at the older one for still being single. Another bit of fun is called charivari (sha-ree-va-rée). When the bride or groom has been widowed or divorced before, family and friends interrupt the wedding night by banging loud pots and pans outside their window. The company does not stop the noise until they are invited in for something to drink and eat. This is a playful way of honoring the new couple. The food at Cajun weddings is usually homemade, prepared by the bride's family for all the invited guests.
A huge gumbo with fresh chicken and sausage in a spicy brown soup served over rice is traditional, along with sandwiches and other finger foods. There is a white wedding cake cut by the married couple, and a chocolate groom's cake that is cut by the groom's godfather or parrain.
Shared Traditions
You know you are at a Cajun wedding when you see customs such as pinning money on the veil, the wedding march, gumbo, and charivari. But Cajuns share wedding traditions with other cultures, too: believing that the bride should wear "something old, something new, something borrowed, something blue"; the bride being walked down the aisle by her father; the groom not seeing the bride in her wedding gown or the day before the wedding; throwing the bouquet, removing the garter, sharing bites of cake and sips of wine, decorating cars with soap messages and tin can noise makers, throwing rice or bird seed at the couple to wish them a good send off.
Conclusion
All wedding traditions or rituals mark the important step in life that the newly married couple is taking. They may be new or old. They may be unique to one culture or shared by many. But they are all done for a reason. They help to bond people and families together and celebrate this rite of passage.
Note to Teachers:
In the Spring, we are well aware that our environment is in a great period of re-birth. Spring is a time for tulips, pastels, and holidays related to fertility and fecundity. It is a time of year when many cultures celebrate their New Year. Everything is new in the Spring for it is a season of new beginnings—whether we are talking about new lives, new years, or new blooms.
Not so surprising, then, that the biggest season for weddings is also springtime. Both springtime and weddings bring to mind the cycles of life. Year after year, decade after decade, we are well aware that the environment cycles through its seasons—from birth to death and back again. In the same way, our lives cycle through certain culturally prescribed patterns which we follow from generation to generation with relatively little change.
These special, life-marking events are called "rites of passage." In addition to weddings, rites of passage also include birthdays, the loss of a first tooth and other biological events that mark our passage into adulthood, graduations, retirement, and funerals.
What is great about rites of passage from the perspective of education is that all cultures celebrate or mark many of these same events. HOW they are marked differs from culture to culture, but we are all linked by the fact that we take note of many of the same life events. Thus, introducing the concept of rites of passage opens the doors to exploring different cultures from a perspective of familiarity rather than difference. Because no matter how my Jewish friend from New York celebrates her birthday, the fact is that both of our families mark this day as significant in some way.