ARTICLES & ESSAYS


"One Option Out of Many": Strategies for Preserving Louisiana Folk Culture in the Twenty-first Century
By Teresa Parker Farris with Rachel Ornelas
The state's diverse cultural landscape has experienced significant change since the last decades of the 20th-century. Not only have historic man-made and natural disasters threatened traditional communities' ways of life, but many individual tradition bearers have passed away or grown old, often signaling the end of their vernacular art forms. Coupled with the seemingly relentless encroachment of mass media and popular culture, long blamed for the dilution of regionally specific cultural expressions, many of Louisiana's defining folklife traditions thus face endangerment, if not extinction. Despite this bleak assessment, one finds reason for cautious optimism in the early decades of the 21st century. Many individuals have remained committed to their crafts despite intense physical, financial, and demographic challenges and, in turn, have devised diverse strategies for passing them along to the next generation. This essay, based on fieldwork interviews conducted in late 2012 and early 2013, provides an overview of some of the creative means employed by Louisiana's tradition bearers to protect and perpetuate their crafts.
The individuals profiled below represent an array of ethnicities and ages and, with two women and three men, also offer a balance of gender. Moreover, their traditions range from architectural trades and industrial arts to woodcarving and the material culture of ritual practice. The majority of individuals live in the greater New Orleans metropolitan area, due to proximity to the project fieldworkers; however, their strategies for craft continuity transcend urban areas and would find easy application in the most remote areas of the state. Indeed, with widespread Internet access and the growing availability of inexpensive technologies, tradition bearers now have important tools for promoting their work, educating others, and connecting with potential apprentices and customers. Many of the individuals interviewed for this survey have coupled traditional word-of-mouth transmission with such modern means of communications including email, social media, and websites.
Interpersonal interactions, especially between tradition bearers and their apprentices, nonetheless remain critical to the maintenance and perpetuation of the state's myriad vernacular expressions. Increasingly, however, elders have had to look beyond their own families, friends, and even ethnic groups to find individuals interested in and committed to learning their crafts. As one interviewee noted, vernacular art forms have strong competition in the modern era when they are only "one option out of many." Thus, practitioners have often turned to the establishment of trade schools, craft guilds, or even short-term instructional workshops that serve to organize and formalize the transmission of cultural knowledge. Such gatherings allow tradition bearers to go beyond their immediate social network to reach persons of diverse backgrounds who, despite their differences, demonstrate an appreciation of vernacular art forms.
While the internet and television have certainly directed would-be tradition bearers to other often more lucrative or high-profile-activities, such media have also arguably played a role in attracting new practitioners to crafts for which they otherwise would have little knowledge or appreciation. Technologies thus play an important role in helping to connect individuals towards the perpetuation of traditional crafts-especially when apprentices from within a family or related social group remain few in number. Similarly, the transient nature of the modern world has often served to disrupt cultural continuities within traditional communities, yet it also offers individuals, who not long ago would have remained strangers, opportunities to connect in new and important ways.
Plastering
Fifth-generation Creole plasterer Jeff Porée is a traditional craftsman whose career demonstrates such trends. Admitting that he encouraged his own children to attend college and pursue other, less physically taxing, professions, he remarks that "the Creole craftsman tradition is dying. . . . Its time is over." He yet remains hopeful that others will take up the mantle and to this end has intermittently apprenticed area youth, the majority of whom have come from the city's Vietnamese community. Of the 17 apprentices he has trained over the years, only three have remained in the trade.
Jeff Porée, Creole plasterer in Mid-City New Orleans.
He cites students' pecuniary goals, rather than familial responsibilities, as a reason for the high rate of abandonment: "I had to be my father's son and my grandfather's grandson, . . . but when you get someone off the street, it doesn't mean all that to them. . . . They're only motivated by money." But he agrees with his fellow plasterers who believe that "the future lies in the hands of the Latino people" because, like New Orleans Seventh Ward Creoles of the 19th and early 20th centuries, "they're family oriented and hard working." In fact, Porée's shop manager, Edy Ramos, hails from Guatemala and while he struggles with English he has proven himself a reliable and dedicated employee.
Blacksmithing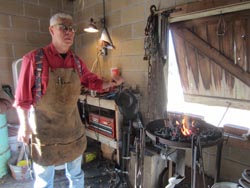 Veteran blacksmith Jim Jenkins found apprentice Russell Forshag much closer to home yet without the family or close personal associations traditionally associated with the transmission of folk culture. Forshag, who describes himself as an "old fashioned kind of guy" explains that he began experimenting with the craft after attending a blacksmith club meeting in Alabama, where he lived at the time. After returning home to Louisiana, he sought out Jenkins, a well-known blacksmith in the small town of Tickfaw who coincidentally knew his father. Shortly after their initial meeting, the elder tradesman invited Forshag to become his student with the support of a Louisiana Division of the Arts Folklife Apprenticeship Grant. He eventually honed his skills to accompany Jenkins to the New Orleans Jazz & Heritage Festival, generally known as Jazz Fest, where each year he demonstrated at a portable forge in the Louisiana Folklife Village. After six years of appearing together, Jenkins relinquished his place at the event to Forshag in 2011. Despite his mentor's retirement, Forshag remains optimistic about the future of the craft: "It's not a dying art; there are more blacksmith clubs in the United States now than there were. . . . The internet is full of stuff on blacksmithing."
Piñata-making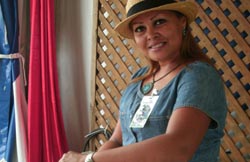 The Internet similarly offers second-generation piñata maker Scarlet Alaniz a resource for supplies and techniques as well as an outlet for selling her creations. A Honduran native, she learned piñata-making from her mother, Rosario Hedman, a schoolteacher who took up the craft in their home country before the family moved to New Orleans in 1980. Using more durable (often synthetic) materials than her mom, Alaniz explains, "I take the piñata to the next level where it's not only to break, . . .now they use piñata for decoration, they use piñata for proposal, . . . they use piñata for many things." She offers as an example an over-sized castle piñata that she spent three weeks making for one customer.
Alaniz's business quickly grew after she mastered the craft, and today she maintains a Facebook page to keep up with orders, although she sells some works at her relatives' Latino grocery store in Kenner. She also uses the social media site to connect with another piñata maker in the area with whom she shares tips and artistic knowledge. The Internet similarly serves as her resource for traditional Mexican candies that cannot be purchased locally. Alaniz reports that she taught herself how to make the sweets but not on the scale required for the number of order she fills in any given month. She hopes someday to open her own storefront where she could sell both piñatas and imported candies.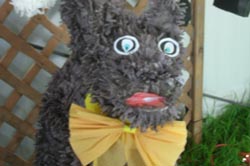 Until then, she will continue her full-time job working for a local cable provider while making piñatas on weekends and evenings. She also devotes her spare time to teaching others, whether at the Jazz Fest Folklife Village or school workshops, so that more people will gain an appreciation for the art. "It's not the same thing when you make a homemade piñata; like you buy at those stores, they're all one shape," she explains. Yet she realizes that with each generation of piñata makers, the tradition will change, often resulting in works that reflect new materials and designs. She cites her own family as an example of such developments: "I used to tell my mom, you put too much. You carry it too much. Make it a little more simple. I know I make them simple, but my son is more simple. . . . Everything is changing now." Notably, her mother now lives in Mexico where, eschewing more traditional forms, she creates her signature cartoon princesses and other cartoon characters, ironically bringing piñata-making back to its homeland-albeit transformed from years of exposure to American popular culture and the aesthetic sensibilities of its Honduran practitioners.
Social Aid and Pleasure Club Crafts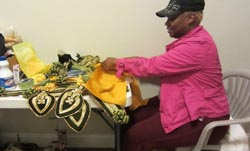 Social aid and pleasure club costume designer Wynoka Boudreaux has similarly reinterpreted a craft learned from a parent, legendary Mardi Gras Indian Joseph Pierre "Monk" Boudreaux, to suit her own tastes and needs. She explains, "I try to keep it in the family because it was always my dad, his dad, my uncles, my cousins." Yet unlike her male relatives who have largely concentrated their efforts on designing the meticulously beaded suits of New Orleans' Mardi Gras Indian tribes, Boudreaux primarily creates suits and accessories for women's parading organizations such as the Ladies of Unity, of which she is a member. Designing the baskets, sashes, fans, and walking canes that distinguish one group from another, she takes particular pride in the colorful, often custom-made shoes that she helps her clients to select. "Everybody who go there go to see your shoes," she observes.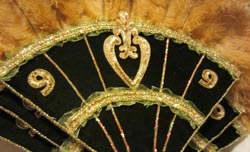 While their male counterparts continue to wear high-priced alligator, snake, and ostrich leathers-even if for only one second-line parade-women's social aid and pleasure clubs have increasingly opted for less expensive brands found via online retailers. She explains, "We're learning the webs, . . . learning to shop online—not that we can't afford it, but it don't make no sense." The Internet, specifically Facebook, also provides Boudreaux a public platform for posting photographs of her fellow social aid & pleasure club members dressed in their matching finery. Despite such outreach, she has yet to find an apprentice for her craft, although her sister and son have shown some interest. She reflects, "They're not ready. . . . In order to keep [it] up, I see that I have to stick around."
Woodcarving and Mixed-Media Art
Like Boudreaux, self-taught woodcarver and painter Charles Gillam has no intention of discontinuing his work any time soon. Instead, he actively seeks ways to market his creations—typically mixed-media depictions of New Orleans' musical personalities—while also helping to organize his fellow artists. A critical first step toward realizing these goals occurred in the 1990s, when he established the Algiers Folk Art Zone and Museum, a modest museum and art environment at his home on Algiers Point. There he has hosted tour groups, workshops for neighborhood kids, and arts markets showcasing local talent. He has also explored opportunities for partnering with community leaders to form a non-profit crafts guild. Citing the organizational infrastructure that assists New Orleans musicians, he seeks to create a similar model.
Charles Gillam and his Algiers Folk Art Zone and Museum in New Orleans features wood carving and mixed media sculptures.
He explains, "I'm trying to develop a folk art foundation, . . . whether it be a social club or whatever, . . . to get people that believe in what I'm doing here." Gillam has not tapped anyone to apprentice with him, and the individualistic nature of his work arguably resists such formalized training. Nonetheless, he does seek to spread the gospel of personal artistic expression and encourages others that "they can do the same thing if they really apply themselves." His ultimate legacy, then, may not only be the formation of a resource center for local self-taught artists but also the fostering of creativity in the next generation. He reflects, "It going take time for that, but in the meantime, the people that's here, people like myself, we can set examples."
Conclusion
In various ways, all of the tradition bearers interviewed as part of the 2012-13 Louisiana Folklife Program Folk Artist Assessment set examples for the state's future practitioners of folk culture. These individuals regularly share their skills in structured apprenticeships, in-school workshops, and festival demonstrations so that others—whether family members or effective strangers—may develop an appreciation for and knowledge of their work. While Louisiana's traditional cultures undoubtedly remain threatened, it is hoped that the strategies discussed herein will serve as guides for better preserving and promoting their expression. From utilizing online technologies to connect with other tradition bearers, online retailers, and the population at large, to establishing crafts guilds and participating in clubs, the state's tradition bearers have devised myriad ways for cultivating and passing on their talents. Moreover, in a world where folk practices are only "one option out of many," Louisianians-especially elected officials and other cultural stakeholders-must work to provide a sound social infrastructure that reminds these individuals that they have, in fact, made the right choice.
Sources
Boudreaux, Wynoka. Interview by Rachel Ornelas. December 14, 2012 in New Orleans.
Alaniz, Scarlett. Interview by Teresa Parker Farris. February 5, 2013 in New Orleans.
Porée, Jeffrey Michael, Sr. Interview by Teresa Parker Farris. January 9, 2013 in New Orleans.
Forshag, Russell. Interview by Rachel Ornelas. December 15, 2012 in Amite.
Gillam, Charles. Interview by Teresa Parker Farris. January 29, 2013 in New Orleans.