ARTICLES & ESSAYS


All-Day Singing and Dinner on the Ground
By Shana Walton
A standing joke in many of Louisiana's small, country churches goes, "Well, there are two things we know how to do around here, worship and eat!". Put the two together and you've got the country church tradition of all-day singing and dinner on the ground.
All-day singing and dinner on the ground, sometimes simply called fellowship, is a chance for a church to come together as a family, to fellowship, to visit, to swap recipes, to sing, to pray, and to eat.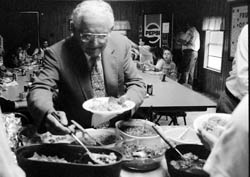 "It has been a tradition among the Pentecostals for years," says the Rev. Dale Hutchinson, pastor of Big Island Pentecostal Church in Deville, Louisiana. Count in the Baptists, the Methodists, the Primitive Baptists, the Church of God, and almost all other fundamentalist, evangelical denominations as well. Both Anglos and African Americans hold dinners on the ground. In earlier times, churches with scattered, rural congregations held dinner on the ground every Sunday. Country people might travel some distance, perhaps 18 or 20 miles, to attend "meeting." By the time church let out, there was no time to get home for lunch. Singing groups entertained the eating congregation until the early evening services.
This tradition, which grew from the necessities forced by horse-and-buggy transportation, has become a symbol of the family atmosphere of rural country churches. People in the Primitive Baptist denomination have continued the tradition of monthly meetings with people traveling to sister churches to worship and eat together. However, at most country churches today these all-day services are not monthly affairs, but may be held to celebrate Homecoming or revivals or other special occasions, such as baby dedications. Homecoming, as its name suggests, is when all members of the church, and their children or grandchildren who have moved away, come home to attend services. Other churches still regularly schedule these services for "fifth Sunday," that is, for Sundays that fall fifth in a month. Three or four dinners on the ground a year is common.
"The dinner on the ground does a lot more for people than just the preaching and the singing," explains Brother Hutchinson. "It's the fellowship that comes. Number one, it teaches unity in a church. It keeps a harmony there. I think it does us a world of good. As a pastor, my personal feeling is that's what keeps a good spirit." The Big Island congregation has all-day services whenever "the spirit moves," Brother Hutchinson says.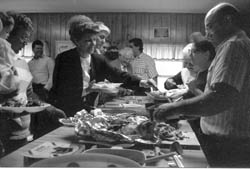 Regular Sunday services are for serious worship, Brother Hutchinson says. "This is the house of the Lord; we're here to worship. It's a serious note. But back here in the fellowship eating dinner, they can cut up, kind of let their hair down, associate, and fellowship with each other. That's why a fellowship is so vital. It brings them [church members] closer, and they get to know one another. That's the whole basis of this fellowship—to become like a family."
The preacher usually announces from the pulpit that the church will hold all-day services, or will simply have a dinner on the ground, about three or four weeks in advance. Invitations may be issued to area churches, which will dismiss services so their members can worship at the host church. On that Sunday, the host church may choose not to have regular worship services, to hold only Sunday School, or to schedule several preachers for short talks. Invited churches may let out services so their members can attend the singing in the host church. Services usually end promptly at noon or even earlier for the ladies of the church to go to the kitchen (if the church has one) and make last-minute preparations. Often, a prayer will be offered for the blessing of the food before service dismisses.
Those who have churches with kitchens usually lay the food out on counters with paper plates, napkins and plastic forks and spoons first. Everybody helps themselves. In Brother Hutchinson's church, each family brings a meat, a vegetable and a dessert. Other churches are not so organized, but there's always plenty of food. "I don't know how it works out, but it always does," says Minnie Cross, a member of the Lakeside Pentecostal Church. She usually brings her famous jambalaya, made with squirrel meat or venison.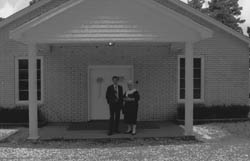 Many church ladies specialize in a dish. Dinner on the ground at Spearsville Baptist Church in Spearsville, Louisiana, wasn't complete without Aunt Ethyl Cherry's chocolate pie or her chicken and dumplings. Another woman always took baked beans. These are three traditional dishes. At one of today's dinner on the ground, one might see fried chicken, spaghetti, chicken spaghetti, chicken and dressing, casseroles, stews, baked hams and roasts, vegetable casseroles, corn pudding, purple-hull, crowder peas and other seasonal garden vegetables; gelatin salads, macaroni and cheese and deviled eggs; green rice; corn bread and home made rolls, banana pudding, lemon meringue pies, apple cakes, and peach cobblers; and lots of iced tea.
Some churches put together a cookbook as a fundraiser, with the ladies of the church often submitting their dinner-on-the-ground specialty. Dinners on the ground are a good place to swap recipes, to impress other members of the congregation with your cooking skill, to introduce new dishes or your innovation on a traditional dish.
With their plates groaning under the weight of the food, people find a spot in the shade and "dig in." Some churches have picnic tables set up. Sometimes families bring sheets or blankets to sit on. In her memoirs, Then and Now, Helen Sims described dinner on the ground at Liberty Baptist Church, Marion, La., at the turn of the century:
"The sermon was long, and services lasted until one o'clock. Babies were bedded down for naps on quilts placed at their mothers' feet.... It was always hot and house flies and horse flies came along to church, too. If I had not been fortified with Grandma's good breakfast and the promise of a bountiful dinner waiting in boxes, tin tubs, splint baskets and trunks on the long tables under the trees, I could not have lasted out the sermon inside the church.

"Finally, and at long last the preacher closed his Bible, a benediction was said, and dinner on the ground was spread. . . . Mounds of fried chicken and country ham, pots of chicken and dumplings and potato salad were set on every table space. Cold biscuits, pickles, preserves and jellies were surrounded by pies and cakes of every flavor. Some women were famous for certain dishes. I always tried to get near Miss Hettie's fried chicken and Cousin Emily's jelly cake—a five layer confection filled with mayhaw jelly and finger-licking good at every bite. Ice was nonexistent so everybody went to the spring under the hill for a drink of water after the meal, and further in the woods behind the graveyard if they had to answer the call of nature."
Today, many churches have built large fellowship halls. One important function of such a building is to allow for an indoor version of dinner on the ground. Church members can then eat in air-conditioning, and rain never cancels a fellowship.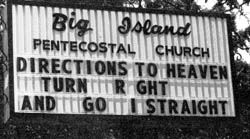 Tradition holds that everybody must eat until they are absolutely stuffed. A lot of teasing goes on, such as "Are you coming back for seconds already?" and "Gluttony is a sin, brother, so I'll save you from sin by eating that last piece of pie for you." The song leader might accuse the preacher of breaking in line to get more food. "Now what kind of way is that for a preacher to act?" The preacher might reply, "Well, the Bible says 'Man shall not live by bread alone,' and so I aim to get me some of Sister Lucille's chicken and dumplings." "It does people a lot of good to be able to laugh, to open up," says Brother Hutchinson.
When everyone's plate is full, the singing will begin. Duos, trios, quartets and quintets are often organized from the church choir. Some churches set up a place for the singers outside. Most churches let the singers stay inside, near the piano and organ. As they finish eating, people go inside the church to hear the singing. They go back out for seconds, thirds, and fourths. Many of the modern fellowships halls have a piano and a stage or an area for the singers. Many of the singers will have prepared and practiced. Sometimes the audience will call out requests to the pianist and singers.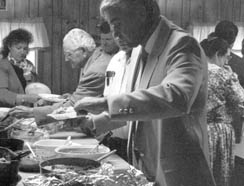 In North Louisiana Anglo American churches, the music is traditionally what is known as "old-time gospel," a type of music which emphasizes harmony. Most of the singers will be accompanied by a pianist. Some churches, especially the Pentecostal and Church of God denominations, will also have guitars, drums, fiddles, and, today, even synthesizers.
"You've got people who wouldn't normally sing in a church service because they're bashful and shy. But you take a fellowship, and they'll get up there, and they'll bless you with that because their talent is so good," Brother Hutchinson says.
Modern-day singings also include contemporary gospel songs, often by teen-age members of the congregation, or country gospel music. The contemporary gospel sound is similar to soft rock music.
Mrs. Cross, her sisters and daughters have played and sung many times for church dinners on the ground. "I play by ear, don't know a note of music," Mrs. Cross said. "But if somebody will start off singing, I'll follow them." Mrs. Cross first learned to play the mandolin as a child in order to accompany church singing. "I could chord in two keys." Mrs. Cross memorizes the songs she sings. She writes the words (without the music) in notebooks or on sheets of paper as reminders. Her daughters have carried on the music tradition; both play piano and sing.
The singing will continue until about three or four in the evening. Evening services will be dismissed. A dinner on the ground breaks up gradually. First the singers stop. Then one family packs up and goes home, and then another. Soon ladies flock to the kitchen or wash area to clean up and pack up.
In some ways the tradition has changed. New foods have been added. Today's "all-day" services usually only last three or four hours. The big outside dinner has been moved indoors for many churches. As people's lives have gotten busier, all-day events are harder to schedule. "People are so busy these days, you can't have all-day services often like you once could," Bro. Hutchinson says. "You have to really plan."
At the turn of the century until after World War II, all-day services served an important social function for people who lived some distances apart. The services also functioned to bind people together as a unit. Distances have been shortened by cars, but dinners on the ground continue to be a binding force that some preachers feel is ever more important as people's lives become more and more involved with the secular world. The dinners remind the members they are part of a specific congregation with a definite tradition. In short, they sit down, eat dinner and sing together as members of a family.