ARTICLES & ESSAYS



Louisiana Boatbuilding: An Unfathomed Fortune
By C. Ray Brassieur
Most traditional boatbuilding in Louisiana takes place in small, relatively isolated villages located within the watery frontier of South Louisiana. These villages are seldom visited by outsiders who could hardly pronounce their place names. The great majority of the boatbuilders interviewed for this article claim some form of French as a mother tongue. Most are Cajun, although many claim affinities to two or more ethnic groups. Their boatbuilding skills were developed in a varied, polyethnic, polyglot cultural setting which had few formal educational opportunities, places historically cut off from many elements of civilization and as far from "mainstream America" as anywhere in this country. Perhaps somewhere in these facts lies a clue as to why the fascinating maritime heritage of Louisiana is often misunderstood, taken for granted at home, and frequently ignored by the outside world.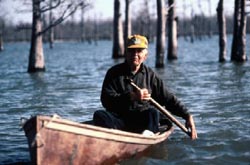 When Europeans arrived in Louisiana, they found a viable boatbuilding tradition already in place. Early French travelers, nearly always waterborne and most often guided by Indians, reported a practical, quickly constructed cane raft, a cajeu, capable of traversing the largest river. More often they mentioned dugouts shaped from cypress tree trunks similar to those built by natives throughout the Caribbean area. These pirogues, fashioned through the clever use of fire and shell or stone scrapers, were often 30 feet or more in length and could transport tons of supplies and dozens of passengers. With sharpened steel-edged tools and elements of European boat design, colonial boatbuilders refined the aboriginal craft for their uses. Colonial pirogues became lighter, more stable, often rigged for sail, yet they retained the carrying capacity of the native prototype.
During the 19thcentury, as other vessels were developed to handle heavy transport on inland waterways, the dugout became the tool of the lone swamper. The classic dugout pirogue of the turn of the 20thcentury was only 14 feet long and light enough to be carried by a single individual. The availability of materials rapidly changed during the 20thcentury, as logs large enough for dugouts became scarce, and new materials were introduced. Boatbuilders began building pirogues of cypress planks, marine plywood, fiberglass, and finally sheet aluminum. The basic form, however, has altered relatively little from the original Native American model through the centuries.
The pirogue remains the boat form most commonly associated with French Louisiana, and most of Louisiana's traditional boatbuilders are capable of producing very fine pirogues in their own styles. Willie Badeaux of Des Allemands is one of the few Louisiana craftsmen to continue making traditional dugout pirogues. Others sometime make pirogues adapted to special needs and environments. Valcour Rodrigue of Lockport, for instance, specializes in large, inboard motorized pirogues designed for the marsh.
Video Player
Excerpt, Mosquitoes and High Water (El Mosco y el Agua Alta). The Isleno culture of Louisiana came from the Canary Islands. This clip presents two of their traditions decimas, a traditional improvised ten line sung poetry, and boat building. This interesting culture sings of their immigration from the Canary Islands in their remarkable decimas. In the video there are several people who speak about the tradition of the decimas and the construction of an Isleno boat. View online at http://folkstreams.net/. Produced and directed by Louis Alvarez and Andrew Kolker, 1983.
European designs, techniques, and methods have had a great influence on Louisiana boatbuilding traditions. Early records describe ocean-going vessels such as barks, brigs, brigantines, and felouques, which were vessels deriving their identity by the sails they set. Galleys, frigates, corsairs, and corvettes, also described in early records, were identified by their armament or battle function. Early chronicles also describe difficulties that developed as deep-draft vessels encountered sand bars, mud flats, and generally shallow coast of Louisiana.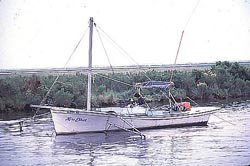 In solving the problems of traveling ship-to-shore, along the coast, and inland by water, the French colonists employed smaller auxiliary watercraft: the ship's boat, longboat, launch, chaloupe, gig, pinnace, and skiff. In most cases, the impact of these smaller craft on the future of Louisiana boatbuilding traditions far outlasted the influence of the larger vessels.
The general French term for a ship's auxiliary craft is canot (with the final "t" pronounced). During the 18thcanots typically had rounded hulls, an hour-glass transom, and a shallow keel. They were rowed but were also fitted with a four-cornered, fore-and-aft sail called a lug sail. During the 19th century, lug-rigged canots were adapted to a wide range of fishing and commercial transportation needs.
Immigrant Croatian oystermen in Louisiana altered the internal furnishings of these boats to suit their trade. With these modifications but with the basic, 18th century hull design and rig still intact, the canot sailed into the 20th century as the famous New Orleans oyster lugger.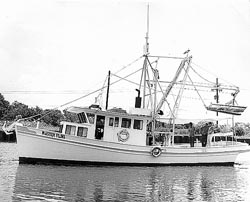 After 1912, as the era of gasoline engines replaced that of sails, the motorized oyster boats retained the name "lugger." This is still the term used in English to describe a motorized fishing boat with a hull design similar to the ancient canots, but the term "canot" also remains in local French usage to refer to the same boat.
A sailing lugger is presently being built in Thibodaux, under the auspices of the Center for Traditional Louisiana Boatbuilding at Nicholls State University.* The purpose of the project is to insure that details of design, construction, operation, and maintenance of such a craft will be available to future generations of boatbuilders. Many of Louisiana's master boatbuilders have participated as boatbuilders or advisors on this project.
European colonists introduced another small craft occasionally used to tend seafaring ships but better known to local merchants and fishermen—the esquif or skiff. The Creole skiff, for instance, is an ancient form historically descended from boatbuilding traditions in southern France. The skiff, once popular throughout south-central Louisiana, is very rare today. Featuring a joug (yoke) which elevated the oars high above the gunnels, this skiff became the only boat in North America rowed by a standing oarsman facing the bow. Raymond Sedotal and Alex Giroir of Pierre Part are masters builders of this style of skiff.
Tempered by tradition yet motivated by peculiarities of environment, changing need, and technological innovation, the skiff evolved into a myriad of variations. Some forms became recognized geographically: the Manchac skiff, Barataria skiff, Mississippi River skiff, Atchafalaya Basin skiff, and so forth. A good example of regional variety, the classic Pontchartrain Lake rowing skiff, was built at the 1984 Louisiana World Exposition by Tom Colvin of Mandeville.
Some forms were modified for specific use in the various fisheries: the oyster skiff, crab skiff, haul-seine skiff, crawfish skiff, etc. With the advent of gasoline and diesel motors, the skiff evolved dramatically as oars were discarded. In general, marine plywood and, more recently, sheet aluminum, have replaced the once common cypress planks as building materials.
Two types of wooden skiffs are particularly important in the Louisiana shrimp industry today. The first of these, the Lafitte skiff, was actually inspired by the construction of World War II P.T. boats in Louisiana. During the early 1940s, Louisiana boatbuilders first encountered the light-weight, sturdy qualities of marine plywood as they learned from the design of high-powered P.T. boats. Incorporating the semi-V hull design, great sheer and flare in the bow section, and powerful inboard engine of the P.T. boat, Louisiana boatbuilders added a fantail transom, culling board, ice hold, and outrigger to produce a very useful shrimp trawler in the 18' to 35' class. The now deceased Emile Dufrene of Lafitte was instrumental in the development of this innovative design, which has become popular throughout the Gulf Coast, and other boatbuilders such as Lawrence Billiot of Dulac and Nolly Naquin of Des Allemands continue to build fine cypress plank and plywood Lafitte skiffs.
Perhaps the most popular large trawler in the shrimp industry today is also a skiff. Large trawling skiffs, still built of cypress or Spanish cedar planks, are 40' to 55' in length. These boats also have a semi-V hull design and great sheer in the bow section. Motored by powerful gas or diesel engines, these trawlers are built for serious commercial shrimpers. Melvin Kiff, Rodney Cheramie, the Guidry brothers, Lawrence and Joseph Billiot, Robert Mobley, and Jack Fillinich are among the masters of this variety of skiff.
The flat boat and related types are also very popular in Louisiana. Boats with a flat bottom and a blunt bow and stern have been around since the earliest colonial days. Chaland is the local French term for a simple flat boat or barge; the English speakers refer to them as punts or scows.
During the 18th and 19thcenturies flat boats varied greatly in size and function; they were used as ferries, down-stream river transports, village utility vessels, floating house foundations, and much more. Early during the 20thcentury a specialized version of the chaland fitted with a tall derrick was used to gather Spanish moss. Drawing from their personal swamp memories, Raymond Sedotal and Alex Giroir have recently reproduced one of these crafts during a series of public demonstrations.
A variety of popular motorized applications of the flatboat form have occurred in this century. One of the first was the Atchafalaya basin bateau. It was powered by a 2*, 4, 6, or 8 horsepower, two-cycle, inboard "putt-putt" engine. The bateau was often over 20 feet in length, four to five feet in beam, with considerable rake and sheer to the bow. The bateau was as popular and common to swamp dwellers as the Model T was to dry landers of that era. Faren and Milton Serrette reproduced one of these a t the 1984 Louisiana World Exposition, and the late Albert Latiolais built one at the 1985 Festival of American Folklife in Washington, D.C. Since the day of the bateau putt-putt, large inboard motors have been applied to a variety of flat boats. Many of these are used in the marsh as "mud boats" capable of churning through very shallow marsh trails or trainasses. Willie Badeaux has designed a very practical, maneuverable, quick marsh boat powered by a 200 horsepower, air-cooled inboard.
Louisiana boatbuilders found the flat boat to be particularly compatible with outboard motors as well. They broadened the transom and reduced the length to produce a boat that would plane on the water with considerable stability. These flat boats are ubiquitous throughout Louisiana (and the entire Mississippi Valley, for that matter) where they are also known as john boats or joe boats. Albert Latiolais was the acknowledged master of this type on the western edge of the Atchafalaya Swamp.
American developments in boatbuilding have always had considerable influence on Louisiana traditions. For instance, a considerable number of schooners, the two- or three-masted vessels with fore-and-aft sails developed in Massachusetts during the early 18th century, were built in Louisiana. During the 19thand into the twentieth century, specialized shallow draft center-board versions were common. There were specialized lumber, brick, charcoal, fishing, oyster, and produce schooners built by Louisiana boatbuilders. French speakers called them goelette, a term that yet exists in folk memory if not in common use. Like the lugger, the schooner survived into the motorized era and is still built for use in the oyster industry.
A more recent American introduction, the south Atlantic trawler, was brought in by Florida fishermen in 1937 after shrimp were discovered in deep water off the coast of Louisiana. These large boats, often 50 feet or longer, with deep hull and forward cabin, are now commonly built of steel or wood along the Louisiana coast. French speakers call this type floridiane, referring to their point of origin.
The history of traditional Louisiana watercraft is complex and fascinating. Boatbuilding in Louisiana is founded on solid historical tradition, but more importantly, the tradition today remains alive, viable, and adaptive, as it moves into the future. Richard Hayes of Monroe, for example, is producing boats which combine traditional form with the most contemporary building technique. Eddy Greig of St. Martinville is combining useful features of the traditional pirogue and skiff to produce a mutation that may become a future tradition.
Some elements of traditional design, techniques and materials used in making boats are changing as boatbuilders adapt to changing needs and problems. But the tremendous tenacity of tradition is very evident, as forms developed many years ago still prove useful in the environment for which they were created. Vietnamese boatbuilders, for example, made vessels very different from traditional Louisiana boat forms when they first immigrated to the state. However, as they became more familiar with the demands of the region's waterways, their boats became increasingly similar to those which had been used for generations in Louisiana.
Throughout Louisiana traditional skills are being applied to a world of new materials, techniques, problems, and solutions. Louisiana indeed has cause to be proud of this unfathomed fortune.
For more information about Louisiana's boatbuilding traditions, see Ray Brassieur's essays in the Louisiana Folklife Photo Gallery. Select Material Culture | Boats and Boatbuilding.
*The lugger is now on display with sailing rigging at Laurel Valley Plantation in Thibodaux, Louisiana.