ARTICLES & ESSAYS


Louisiana Folklife Month 2016
Lt Governor Billy Nungesser has proclaimed October 2016 as Louisiana Folklife Month to recognize the rich diversity of Louisiana's living traditions and bring attention to the individuals who sustain them. An extension of last year's Folklife Month and Folklife Day in 2014, the initiative showcases an array of tradition bearers in a series of public programs taking place at venues across the state. Presentations will be introduced by Folklife Ambassadors from the Louisiana Folklife Commission (LFC) and Louisiana Folklore Society (LFS).
The presentations include the following tradition bearers: Tereza Tesvich, a Croatian-American from Plaquemines Parish known for her needlework and cooking skills; Fred Beavers, award-winning old-timer fiddler, from Lincoln Parish; Walter Mouton, accordionist and "King of the Cajun Dance Hall," from Lafayette Parish; Jeff Porée, a "Master of Plaster," from New Orleans Parish; Ed Huey, native of Caddo Parish and retired music educator and documenter of Mississippi bluesmen; and quilter Judith Braggs.
Presentations will be moderated by Folklife Ambassadors from the Louisiana Folklife Commission (LFC) and Louisiana Folklore Society (LFS).
Folklife Month is supported in part by funds from the National Endowment for the Arts.
To learn about all tradition bearers recognized since 2015, click here
STITCHING MEMORIES AT SUNDAY IN THE PARK
with Judith Braggs
October 2, 2016, 2 pm, Sunday in the Park, Baton Rouge
Address: Riverfront Plaza Levee Stage on River Road, Baton Rouge, LA
Ambassador: Maida Owens, Louisiana Folklife Program
Partnering Organizations: Arts Council of Greater Baton Rouge
Tradition Bearer: Judith Braggs draws upon her childhood at Cherie Quarters in Pointe Coupee Parish, Port Allen, and Baton Rouge to create quilted wall hangings that depict fond memories. Her imagery includes the cabin she grew up in, family members and familiar activities such as making crackin's and children fixing their hair. Her first quilts were baby quilts, but after searching for Black Art for her home, she decided to make her own. Her friends encouraged her to make more and it became Judith's Folk Art Quilts, both a passion and a business. In 2012, Judith self-published Judith's Folk Art Quilts, a publication of color photos of around thirty of her quilts, along with the stories of each piece. Judith was documented as part of the Baton Rouge Traditions Folklife Project. She will display her work as part of the Sunday in the Park concert featuring zydeco musician Chubby Carrier.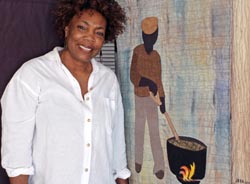 A CELEBRATION OF CROATIAN-AMERICAN FOLKLIFE
with Tereza Tesvich
October 8, 2016, 5:45pm, Italian Village, Gretna Fest
Address: Huey P. Long Avenue between 2nd and 3rd Streets, Downtown Gretna
Ambassador: Carolyn Ware (LFS) Associate Professor of Folklore at Louisiana State University, Baton Rouge
Partnering Organization: Louisiana Croatian American Society
Tradition Bearer: Tereza Tesvich was born in 1932 in Sucuraj, Dalmatia and moved to Louisiana after marrying Ante Tesvich, a Croatian-born oyster grower. As a girl, she learned to knit, embroider, cross stich, and do fine handwork, and she continues to use these skills to make altar cloths for her church, tablecloths, embroidered pillows, and other items. At this event, Mrs. Tesvich's needlework will be on display at the Croatian American Society's oyster booth at Gretna Fest, as well as historical photographs of Croatians in Louisiana. The presentation will be at the Italian Village stage. Mrs. Tesvich is known for her cooking skills, including making the traditional pastries known as krostula (fried thin dough knots). Mrs. Tesvich's work has been displayed at the New Orleans Jazz and Heritage Festival.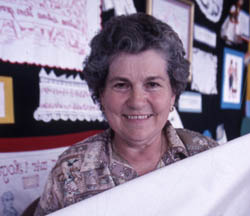 OLD TIME FIDDLER
with Fred Beavers
October 8, 2016, 1:45-2:30 PM, Bienville Depot Museum
Address: 2440 Hazel St, Arcadia, LA 71001
The Arcadia Railroad Depot is located in downtown Arcadia (a mile south of I-20, Exit 69) at the corner of Hwy. 151 (Hazel Street) and Railroad Street, in walking distance from downtown Arcadia and its antique stores.
Ambassador: Susan Roach (LFC), folklorist and director of the School of Literature and Language, Louisiana Tech University
Partnering Organizations: Bienville Depot Museum and Second Saturday Bluegrass Gathering
Tradition bearer: Fred Beavers was born in Homer, Louisiana. He learned to play traditional old-time fiddle around age 13 by listening to other fiddlers, playing by ear instead of reading music. The old-time country string band tradition in north Louisiana draws on the upland south string band tradition including Texas swing and the mountain music of northern Arkansas and Alabama. His fiddling was also influenced by live country music radio, especially as it was played at the Louisiana Hayride in the 1940s and 1950s. Beavers' fiddling features the breakdowns and waltzes familiar to Louisiana families and communities.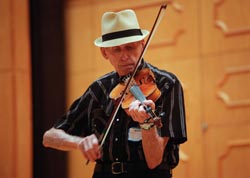 He worked as a management technician for Arkla Energy Resources in Ruston, Louisiana, until his retirement to the country outside of Simsboro. He has played fiddle with various bands throughout his fiddling career. His venues include the Louisiana Folklife Festival, the Dixie Jamboree in Ruston, and in several local dance clubs, the Claiborne Parish Fine Arts Festival, and the New Orleans Jazz and Heritage Festival. In the late 1980s and early 1990s, Beavers was the fiddler for the Grey Eagles String Band. When band member Les Tucker left the group, Fred organized the Old Time Fiddle band. An avid competition fiddler, he won the coveted Grand Championship of the Louisiana State Fiddlers' contest in 1991 and 2003 and placed in divisions numerous times. He also learned to build and repair fiddles. He has also been a mentor, passing on his expertise in building and playing fiddles to various fiddlers, including his apprentice, Ben Robinson, who also learned many tunes from Beavers's amazing repertoire and won the state fiddling championship in 2005 and 2009.

CAJUN AND CREOLE DANCE HALLS OF LOUISIANA
with Walter Mouton
October 13, 2016, all day, Vermilionville
Address: 300 Fisher Rd, Lafayette, LA 70508.
Ambassador: John Sharp (LFS) Assistant Director for Research at Center for Louisiana Studies, University of Louisiana-Lafayette
Partnering Organizations: Vermilionville Living History and Folklife Park; Symposium on the Cajun and Creole Dance Halls of Louisiana
Tradition Bearer: Walter Mouton, "King of the Cajun Dance Halls," was born in Louisiana in 1938. He has played the accordion ever since he was thirteen years old. This event will be part of a Symposium on the Cajun and Creole Dance Halls of Louisiana: A daylong event focused on the cultural and artistic elements of Cajun and Creole dance halls. The event will feature Walter Mouton, an overview of a survey of Louisiana dance halls by Center for Louisiana Studies researcher John "Pudd" Sharp, a talk on the upcoming book on dance halls, "Ghosts of the Good Times" (UL Press) by photographer Philip Gould and writer Herman Fuselier, a presentation on Creole culture and dance halls by author Elista Istre, and a roundtable discussion, led by folklorist Barry Ancelet, of 1970s era dance halls.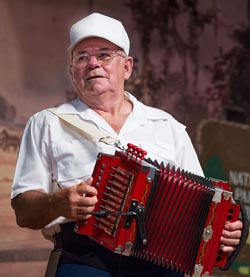 MASTERS OF PLASTER
with Jeff Porée
October 15, 2016, 1 pm to 3 pm, Corpus Christi Epiphany Community Resource Center
Address: 2022 St Bernard Ave, New Orleans, LA 70116
Ambassador: Teresa Parker Farris (LFC) Deputy Director, Newcomb Art Museum of Tulane University & Adjust Professor, New Orleans
Partnering Organization: New Orleans Master Crafts Guild and Corpus Christi Epiphany Community Resource Center
Tradition Bearer: Jeff Porée is a fifth-generation tradesman in New Orleans, Louisiana, and a founding member of the Master Crafts Guild. This public event will bring together the remaining "masters of plaster" in the city by recognizing Mr. Porée. The Porée family has long been known for their skills in ornamental exterior and interior plaster, artistic molds and specialty finishes, including old world Venetian. Mr. Porée is the plasterer of record for many of the region's most important restorations of historic sites, including the historic New Orleans Collection Williams Research Center in the French Quarter and the Peristyle in City Park. Following the ceremony recognizing Mr. Porée, a discussion will take place between Jeff and the other veteran plasterers upon whose shoulders he stands. The event will be held at the Corpus Christi community center due to the church's historical role as the center of the Creole master craftsmen community.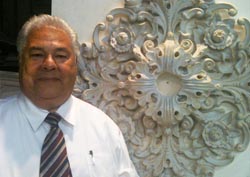 TALKING THE BLUES: A MUSICAL INFORMANCE
with Ed Huey
October 22, 2016, 2:00 pm, Louisiana Sports Hall of Fame and Northwest Louisiana History Museum
Address: 800 Front Street, Natchitoches, LA 71457
Ambassador: Dr. Shane Rasmussen (LFC), Director of the Louisiana Folklife Center and Associate Professor of English, Northwestern State University
Partnering Organizations: The Louisiana Sports Hall of Fame and Northwest Louisiana History Museum, the Louisiana Folklife Center, and Northwestern State University
Tradition Bearer: Ed Huey is a retired music educator, former instructor at the Folk School of Chattanooga, and has been twice honored by the Tennessee Governor's School for the Arts as an Outstanding Music Educator. A 1982 Lyndhurst Foundation Grant recipient, Ed gathered field recordings of Mississippi bluesmen. Ed performs and teaches American roots music, specializing in early blues guitar and harmonica styles. His highly interactive sets and workshops include work songs, field hollers, hambone, Piedmont blues, Delta blues, jug band, hokum, and railroad songs.