ARTICLES & ESSAYS


Louisiana Folklife Month 2017
Lt Governor Billy Nungesser has proclaimed October 2017 as Louisiana Folklife Month to recognize the rich diversity of Louisiana's living traditions and bring attention to the individuals who sustain them. The initiative showcases an array of tradition bearers in a series of public programs taking place at venues across the state. Presentations will be introduced by Folklife Ambassadors from the Louisiana Folklife Commission (LFC) and Louisiana Folklore Society (LFS).
The presentations include the following tradition bearers: Hil Lytle, a violin builder from Monroe; Kevin Dunn, second line ribbon worker and beader from New Orleans; Randy Falcon, accordion builder from Duson; Jim Oertling, rockabilly musician from Robert, Louisiana; and Hardrick Rivers, bluesman from Natchitoches.
Presentations will be moderated by Folklife Ambassadors from the Louisiana Folklife Commission (LFC) and Louisiana Folklore Society (LFS).
Folklife Month is supported in part by funds from the National Endowment for the Arts and the Louisiana Endowment for the Humanities.
To learn about all tradition bearers recognized since 2015, click here
HONORING HIL LYTLE, MUSICAL INSTRUMENT BUILDER AND PERFORMER
An Interview with Hil Lytle
Thursday, October 5, 2017, 6-7 pm, The Palace, Monroe, LA
Address: 220 Desiard Street, Monroe, LA
Ambassador: Susan Roach, Folklorist and Director of the School of Literature and Language, Louisiana Tech University
Co-ambassador: Brian Davis, Executive Director, Louisiana Trust for Historic Preservation
Partnering Organizations: Downtown Gallery Crawl
Tradition Bearer: A respected instrument builder, Hilton "Hil" Lytle grew up in Jena, where he learned the names of all the area trees. This knowledge of wood led to his crafting toys and musical instruments, including guitars, Dobroes, mandolins, banjos, violas, cellos, and his specialty, the violin. After World War II, he majored in industrial education at Texas A & M and completed a master's degree, and pursued his doctorate. Working as a vocational counselor, his last position was with the vocational technical school for over 20 years in Monroe, Louisiana, where he retired and focused on building instruments.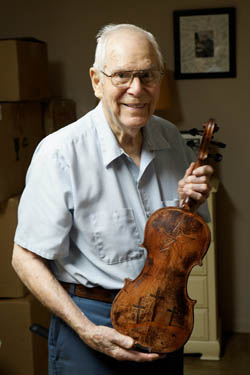 As a boy, he built his first cigar box fiddle with strings from a screen door, and in 1970 he built his first violin with help from Foxfire books. He learned more instrument-building techniques from Doc Savage, of Monroe. Having completed over 900 instruments now, Lytle has passed on his skills to many, including Britton Curry, T-Bow Lairsey, and Rick Felkel, and most recently Jack Walker who has built 14 fiddles. A featured artist at the Ozark Folk Center in Mountain View, Arkansas, he demonstrated instrument building and taught apprentices, including Dan Thomas, who worked with Lytle to establish the Music Roots Program, where he has donated over 400 instruments. Lytle also loves to perform his "Geriatric Blues" with his harmonica and wash tub bass.
Lytle's exquisite-sounding violins are sought by musicians in symphony orchestras in Dallas and country stars in Nashville, and are treasured by young fiddlers who have received "scholarship" fiddles he has given to them. His interest in wood and physics helped him develop violins with superior sound. With help from his late wife Nancy, he figured out how to tune the front and back plates of the violin to get a beautiful tone. Before the plates are put together, he shapes and measures each, called "graduating," so that each side can be "tap-tuned" to give it a bell-like quality.
The Event: Susan Roach will interview Mr. Lytle about his work. Following the interview will be a ceremony honoring him.

CELEBRATING BLACK CREOLE CULTURE AT DILLARD UNIVERSITY
with Kevin Dunn
2:00-5:00 p.m, Wednesday, October 11th, Georges Auditorium, Dillard University
Address: 2601 Gentilly Blvd, New Orleans, LA 70122
Ambassador: Mona Lisa Saloy, Author, Folklorist, Conrad N. Hilton Endowed Chair, Coordinator & Professor of English, Dillard University
Partnering Organization: Dillard University
Tradition Bearer: Mr. Kevin Dunn has been with Dillard University, in Facilities Maintenance for the last four years. When not at work, he is a celebrated Folk Artist, a Tradition Bearer, who creates elaborate sashes and fans of gathered ribboning and sewing for Social & Pleasure Clubs, a historic and essential element to the neighborhood parading traditions that hail from the African Mother/Fatherland. These Social & Pleasure Clubs are Benevolent Societies who party with purposes to benefit their members.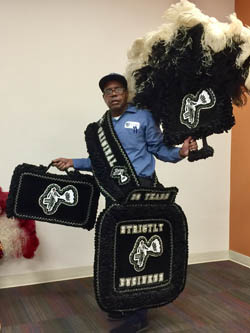 Kevin Dunn is a master of second line club ribbon work and sewing. Co-founder of the Original Four Second Line Social & Pleasure Club, he has paraded with them for thirty-five years. He demonstrated this tradition at the New Orleans Jazz & Heritage Festival for five years. In addition to sewing for his club, Mr. Dunn makes elaborate sashes and fans for other parading Social & Pleasure organizations who Second Line, even the Divine Ladies Social & Pleasure Club, one of the largest women's social aid and pleasure clubs in New Orleans. Today, he still sews for some Black Indians as well.
Kevin Dunn is a celebrated Tradition Bearer, carving unique creations for the joy and beauty of Social & Pleasure Clubs, some Black Indians, and the neighborhood, a true Folk Artist, renowned for his originality.
The Event: Dunn will be honored as part of the project, "Defining, Documenting, and Teaching Black Creole Culture at Dillard University," a three-year project about the wealth of culture in the Gentilly neighborhood of New Orleans and how Dillard University has impacted it. The project, funded by the National Endowment for the Humanities, culminates with the premiere of the documentary, Bleu Orleans at 2 pm, followed by a discussion. Kevin Dunn will be honored in a ceremony at 4 pm. After the ceremony, Dunn will demonstrate his work in the Atrium of the Professional Science Building.

HOMEMADE AND HANDBUILT: SOUTH LOUISIANA INSTRUMENT BUILDING
with Randy Falcon, Accordion Builder
Thursday, October 12, 2017, at Noon, Vermilionville, Lafayette
Address:: 300 Fisher Road, Lafayette, LA 70508
Ambassador: John "Pudd" Sharp, Assistant Director of Research, Center for Louisiana Studies, University of Louisiana, Lafayette
Partnering Organization: Center for Louisiana Studies at UL Lafayette, Festivals Acadiens et Créoles, Vermilionville Living History Museum
Tradition Bearer: Randy Falcon, from Duson, Louisiana, is a master diatonic or button accordion builder who has honed his craft over four decades. Falcon learned to make instruments by apprenticing with legendary accordion maker Shine Mouton. He in turn, has trained several others as well. Not only has Falcon become one of the preeminent builders of this traditional instrument, he has also made advances in the field—building the first accordion that can play in two different keys.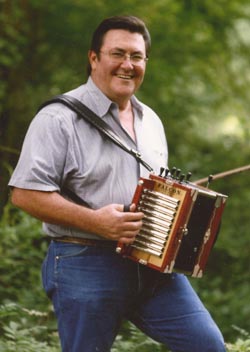 The Event: "Homemade and Handbuilt: South Louisiana Instrument Building" is a day-long symposium at Vermilionville honoring the tradition of folk instrument making. The ceremony honoring Mr. Falcon will take place at noon.

TROUBADOURS SONGWRITER NIGHT
with Jim Oertling
Thursday, October 19, 2017, 6:30-9:00 PM, Covington Brewhouse, Covington, LA
Address: 226 E. Lockwood Street, Covington, LA
Ambassador: Tommy Ike Hailey, Assistant Professor of Anthropology, Northwestern State University
Partnering Organization: Covington Brewhouse, Northshore Songwriters Circle
Tradition Bearer: Jim Oertling was born in New Orleans, but having family in both Louisiana and Texas, he spent much of his life ranging the backroads and byways in between, except for a foray into Korea during the time he served in the military. He has worked as a cowboy, a banker, a ranch foreman, and a combat infantry officer. While attending LSU in the 1960s, Jim formed a band and began playing in honkytonks and bars from Slidell to San Antonio. It was during this time that he wrote and recorded the rockabilly classics Old Mossback, Louisiana Gambler, and Back Forty Blues, among others. The fame he garnered from those early hits resulted in his being inducted into the Rockabilly Hall of Fame in the 1990s, but the countless other songs he has written and that he still performs reflect the much broader scope of his life, with Cajun, country, rock and roll, and Tejano influences.
As Jim states in the liner notes to his most recent CD release, Old Mossback Revisited (2013), "I started writing music when I was 17 years old. I was inducted into the Rockabilly Hall of Fame in 1997. Over the years, be it rockabilly, country, ballads or rock, it all comes from life experiences along the way. This album is a sampling of things that happened or I have observed." With more than five decades of performing his music under his belt, you might think that Jim would have set his guitar down to lead a quiet life at home, but that wouldn't be Jim Oertling's way. He still takes every opportunity he can to perform his songs in front of appreciative audiences large or small. His passion, humor, and humility shine through during his performances, and, as he has since the 1960s, he always leaves his fans wanting more. Oertling has been recognized by the Ponderosa Stomp Foundation, with the mission of "celebrating the legacy, revitalizing the careers of, and preserving the history of American music and musicians." Read more about Jim Oertlng on the Ponderosa Stomp page here and here.
The Event: Troubadours Songwriter Night is a monthly event presented by the Northshore Songwriters Circle featuring local and regional songwriters followed by a songwriters open mic. It is great night of original music on the third Thursday of every month at the Covington Brewhouse, in historic downtown Covington. You can find Troubadours Songwriter Night on Facebook. The program for October 19 will include performances by Tommy Ike Hailey and Buzz Jackson from 6:30 to 7 pm. The ceremony honoring Jim Oertling will begin at 7 pm followed by a performance by Oertling. The music will continue with music from other songwriters and a reception.

CELEBRATING LOUISIANA BLUES AND JAZZ WITH MUSICIAN HARDRICK RIVERS
Saturday, October 21, 2 pm, Louisiana Sports Hall of Fame and Northwest Louisiana History Museum
Address: 800 Front Street, Natchitoches, LA 71457
Ambassador: Shane Rasmussen, Director of the Louisiana Folklife Center and Associate Professor of English, Northwestern State University
Partnering Organization: The Louisiana Sports Hall of Fame and Northwest Louisiana History Museum, the Louisiana Folklife Center, and Northwestern State Universityy
Tradition Bearer: : Hardrick Rivers began playing music early in his life. At age 13, Mr. Rivers began to study under and play with one of the masters of Louisiana music, Overton Owens, sometimes called Dr. Drip Drop. Rivers quickly joined Overton Owens and the Mustangs, which was formed during the late 1960s. Rivers worked hard in those early years to find his unique sound on the saxophone, and he clearly succeeded.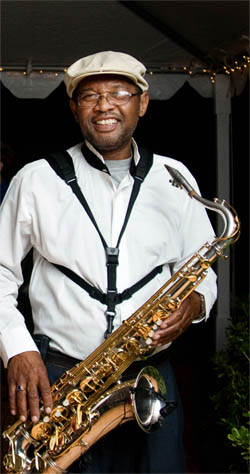 Eventually Rivers formed his own group, the Lighthouse Crew, which he left in 1992. In 1994, he formed a new group, the Rivers Revue Band. In 1996, a group of musicians decided to have a monthly jam session at Roque's Grocery in Natchitoches; Overton Owens joined many of these sessions. From these jam sessions, grew the Roque's Blues Band. Presently, Rivers plays with the Rivers Revue Band and Cane Mutiny. Hardrick Rivers was inducted into the Louisiana Folklife Center's Hall of Master Folk Artists in 2001.
The Event: Shane Rasmussen will interview Mr. Rivers about his life and work as a blues and jazz musician, accompanied by music played live by Mr. Rivers. This event will include a ceremony in which Mr. Rivers will be honored as a Louisiana tradition bearer.