ARTICLES & ESSAYS


Louisiana Folklife Month 2022
The Louisiana Folklife Month recognizes the rich diversity of Louisiana's living traditions of tradition bearers in order to bring attention to the individuals who sustain them. The initiative showcases an array of tradition bearers in a series of public programs taking place at venues across the state. Folklife Ambassadors from the Louisiana Folklife Commission (LFC) and Louisiana Folklore Society (LFS) have selected the following tradition bearers to be recognized at public presentations.
Mary Alice Vanderwaters, Singer/Songwriter, Rapides Parish, LA; Chef Andrew Miller, Banana Foster Bread Pudding, New Orleans, LA; Alton Armstrong, Mardi Gras Costumes, Lafayette, LA; Lonnie "Butch" Cooksey, Jr., Musician/Producer/Promoter, Independence, LA; Nelson Harris, Drumming, Houma, LA; and Rhonda Remedies Gauthier, Mestiza foodways, gardening, sewing, healing, and midwifery, Natchitoches, LA.
Presentations will be moderated by Folklife Ambassadors from the Louisiana Folklife Commission (LFC) and Louisiana Folklore Society (LFS).
Folklife Month is supported in part by funds from the National Endowment for the Arts and the Louisiana Endowment for the Humanities.
Learn about all tradition bearers recognized since 2015 here.
HONORING MARY ALICE VANDERWATERS
SONGWRITER/MUSICIAN, RAPIDES PARISH
Wednesday, October 19, 2022 6:30 pm
Troubadours Songwriter Night, Fighting Hand Brewing Company, Pineville
Address: 1600 Military Hwy, Pineville, LA 71360
Ambassador: Tommy Ike Hailey, Louisiana Folklife Commission and Professor of Archaeology and Anthropology, Northwestern State University of Louisiana
Partnering Organization: CenLa Songwriters Circle, Fighting Hand Brewing Company
Tradition Bearer: Mary Alice Vanderwaters is a singer, songwriter born and raised in Pineville, Louisiana. She is from a small town but a very large family, being the youngest child of 13 children. Her mother played the harmonica and her big brother Max played the guitar. At age 7, she would beg Max to let her play his guitar, but he didn't take her seriously until she made her own guitar out of a piece of board and some rubber-bands stretched around it with a small stick for a bridge, upon seeing the little makeshift guitar he saw her determination and taught her to play a song by The Carter Family entitled, "The Wild Wood Flower." Years later Mary Alice wrote a song entitled "Board and The Rubberband Song" as tribute to Max that always seems to be a crowd favorite. As a teenager Mary Alice joined her first Bluegrass band, playing festivals on the weekends. Those experiences taught her a wealth of knowledge that carries over into all aspects of writing and performing today.
Mary Alice began writing after becoming a fan of Dolly Parton and learning to play her songs. Mary Alice said she spent years learning the craft through books, such as The Craft Of Lyric Writing by Shelia Davis, live critiques from hit songwriters such as Tommy Polk, Tia Sillers, Mark D. Sanders, and Odie Blackmon, and also through the critique services at the Nashville Songwriters Association. Mary Alice said that song construction is like weaving a basket, you follow a basic pattern but in songs you have to find a fresh way of conveying the idea and also to quote John Mellencamp, "Keeping It Simple" is key.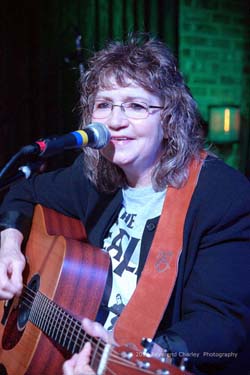 Mary Alice says that when the idea for a song comes to mind, she has learned to pay attention to how the idea affects her emotionally and with that feeling she knows how it will affect the listeners, and also she discovered that the idea dictates her melodies.
Mary Alice has released a full-length album of original songs entitled "A Sunday Drive" featuring the song that was inspired by true story of love and loss entitled "It's Just So Beautiful Here". She currently performs in songwriting rounds, churches, restaurants, festivals and private parties while continuing to hone the skill of songwriting. Mary Alice is a long-time member of the Nashville Songwriting Association where her songwriting has continued to develop over the years through the many services they offer their members, and several of her songs have received (One to Watch) accreditation through their evaluation service.
The Event: Tommy Ike Hailey will recognize Mary Alice Vanderwaters in a ceremony during Troubadours Songwriter Night at Fighting Hand Brewing Company in Pineville.

HONORING CHEF ANDREW MILLER
BANANAS FOSTER BREAD PUDDING, NEW ORLEANS
Wednesday, October 26, 2022, 3 pm
Dillard University, Georges Auditorium
Address: 2601 Gentilly Blvd, New Orleans, LA 70122
Ambassadors: Mona Lisa Saloy, Conrad Hilton Endowed Chair, Professor of English, Dillard University, Poet Laureate
Partnering Organization: Dillard University
Tradition Bearer: Chef Andrew L. Miller, Jr., affectionately known as "Chef Drew," is the chef and owner of Miller Thyme Catering. For over 25 years, Chef Drew has provided food from the heart and soul for corporate parties, wedding receptions, stage plays, sporting events, local festivals, and intimate dinner parties - just to name a few!
Born in New Orleans and raised in "The Cutoff" section of Algiers, Chef Drew attended O. Perry Walker High School where he dabbled in football and the band. At home, Chef Drew learned how to create food with lots of love from the best chef he knew: his late mother, Eleanor B. Miller. Acting on his passion for cooking, Chef Drew studied the art of cuisine at Sclafani's Cooking School and soon began working in the field. He worked as an Offshore Chef, preparing meals for offshore crew members and on-site staff, as well as a Sous Chef for the Hilton Garden Inn hotel. Throughout his career, Chef Drew's cooking skills have opened doors and put him in places he never imagined.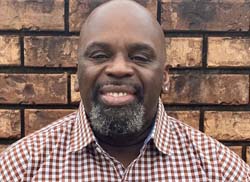 In 2000, Chef Drew started his own business, Miller Thyme Catering. Two years into the business, Chef Drew wanted to add something sweet to the menu and immediately thought of the popular Louisiana dessert, bread pudding. After experimenting with the recipe and adding his own flair, Chef Drew's mouth-watering, one-of-a-kind Bananas Foster Bread Pudding was born. It quickly became a signature menu item and one of his most sought-after dishes.
Chef Drew has pleased the palettes of New Orleans' own "Creole Queen," the late Leah Chase, the former NBA team New Orleans Hornets, the 2021 cast of RENT on Broadway, and more notable names. In the neighborhood, we say he can cook. A Chef, Andrew Miller, whose food I've enjoyed and tasted his food at so many community events, from weddings, to baptisms, to backyard parties, to anniversaries, to holiday bashes, and social and pleasure club events.
The Event: Mona Lisa Saloy will interview Chef Andrew Miller about his family tradition of making Bananas Foster Bread Pudding. The event will include a ceremony in which Chef Miller will be honored as a Louisiana tradition bearer. Following the ceremony, everyone will move to the Atrium for dessert. In addition, Vance Vaucresson's sausage will be shared. Vaucresson was recognized in 2021, but due to Covid, he did not receive the attention he is due.

HONORING ALTON ARMSTRONG,
MARDI GRAS COSTUMES, LAFAYETTE, LA
Saturday, October 15, 2022, 11:30 - 12:30
Festivals Acadiens et Créoles; Atelier Tent
Address: 500 Girard Park Drive, Lafayette, LA 70503
Ambassadors: John Sharp, Assistant Director for Research at Center for Louisiana Studies, University of Louisiana-Lafayette; Herman Fuselier, Executive Director, St Landry Parish Tourist Commission
Partnering Organization: University of Louisiana at Lafayette Center for Louisiana Studies; St Landry Parish Tourist Commission
Tradition Bearer: Alton "Lil' Tiger" Armstrong, originally from the McComb-Veazey neighborhood in Lafayette has been participating in Creole Mardi Gras 'box hat and screen mask' tradition since 1969. Lafayette's oldest Creole Mardi Gras masking and performance tradition is distinct in that their vibrantly colored costumes usually feature a painted wire mask as face covering, square mortarboard style hat made of cardboard which is turned like a diamond, and feature strands of crepe paper streamers as part of the decoration. These incredible costumes often feature shiny satin fabric, colorful feathers, intricate bead work or embroidery, noise making elements such as bells or clappers, and at one time commonly featured written messages or group names. Each costume takes hundreds of hours, as well as hundreds of dollars, to complete and are typically only worn for one year before being retired or repurposed for a new costume.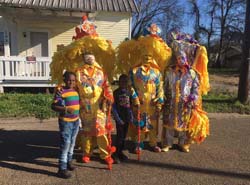 Mr. Armstrong is one of the few remaining participants in this tradition, which he is attempting to pass along to new generations, including his grandsons. "I'd love to see twenty guys in a group, parading the neighborhood like they to, all in box hats and screen masks," Armstrong says. "I'm trying to revive this tradition. Let's bring it back in a beautiful way!"
The Event: Alton 'Lil' Tiger' Armstrong will receive his award and participate in an interview session at the Festivals Acadiens et Créoles in Lafayette on October 15, 2022.

HONORING LONNIE "BUTCH" COOKSEY
MUSICIAN/PRODUCER/PROMOTER, INDEPENDENCE, LA.
Sunday, October 16, 2022, 11 am
Faith Apostoic Church
Address: 26660 James Capel Road N, Holden, LA 70744
Ambassador: Jim Hogg, CEO Jim Hogg Group LLC Advertising / Public Relations firm Host of "Sunday Morning in Hogg Heaven" radio program
Partnering Organization: Faith Apostolic Church
Tradition Bearers: Tradition bearer Lonnie "Butch" Cooksey Jr. lives in Independence, Louisiana. At the age of 8 he played guitar in his family band, The Cooksey Family. His mother being a Pentecostal preacher opened doors for them to sing in many churches and travel for many years.
Even though "Butch" has played with many artists like Bill Monroe, Ralph Stanley, Mac Wiseman and recordings with other well-known artist, he chose to remain with his family band instead of a traveling band. Throughout his 63-year career, he has become not just an inspiration but a sustaining resource to young people in Louisiana gravitating to this traditional form of "string" music, i.e., banjo, mandolin, guitar, fiddle, dobro. His humble and joyful personality makes him a pleasure to learn traditional music from. He is a much sought-after upright bass player, winning the 2015 Bass Player of the Year at SPIGMA in Nashville and for the last 12 years winning Bass Player of the Year at the Magnolia State Bluegrass Association.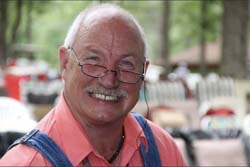 Butch understands the challenges of getting the right sound and acoustics in live shows, and is considered one of the best sound men around doing bluegrass festivals, churches, and venues from Louisiana, Oklahoma, Arkansas, Texas and surrounding areas. He has dedicated his life in keeping this traditional music form alive whether being a mentor to young folks, performing, producing sound, promoting gospel, bluegrass or country music. Lonnie "Butch" Cooksey Jr., is thankful for his roots in Gospel music. Today he gives God all the glory for where he's been, what he has accomplished and all he had become in his life. These reasons and more make Butch an excellent example of what a Louisiana Folklife Tradition Bearer is.
The Event: Jim Hogg will recognize Butch Cooksey in a ceremony during the church service.

HONORING NELSON HARRIS
DRUMMING, HOUMA, LA
Sunday, October 23, 3 pm
Rougarou Fest, Main Stage
Address: 132 Library Drive, Houma LA 70360
Ambassadors: Jonathan Foret, Executive Director, South Louisiana Wetlands Discovery Center
Partnering Organizations: South Louisiana Wetlands Discovery Center
Tradition Bearer: Mr. Nelson Harris was first introduced to percussion instruments in the third-grade rhythm band in the community of Smithridge in Terrebonne Parish. As he explored the different instruments, he remembers his teacher complimenting his ability to create various rhythms. Years later when he was in his twenties, he came across Mr. Melvin Williams drumming in a park. Williams invited Harris to try his hand at drumming on congos. From that point on, Williams became Harris's teacher. It took Harris about three years to become confident in his musical ability before he started playing in bands around town.
Harris has become well known in Terrebonne Parish for playing bongo and congo drums in both Traditional and African styles. He recalls playing on cowhide heads before synthetic heads were readily available. Because of the force needed to play on cowhide, his hands would often crack and bleed after a session of playing.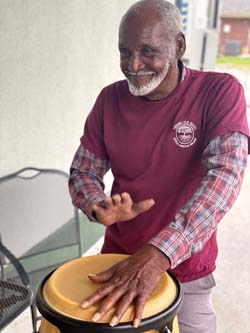 When asked about how drumming makes him feel, Harris said, "It's really not a feeling at first when you start playing. It's something that comes into you that you really can't describe, but as it comes into you, then you can notice that certain positive things start coming from different directions. When I'm playing drums, I can actually hear it coming off the walls. I can hear it coming off the floors. I can hear the ringing in it. I can play so many different ways, that a lot of times, I try to capture that in one sound, and it'll lose me, so I chase it."
At 72 years old, Harris has turned his passion for drumming into a way to give back to his community. He often volunteers to play at charitable events and spends many hours sharing his love for music through educational workshops for children at the Finding our Roots African American Museum in Houma, Louisiana.
The Event: Jonathan Foret will recognize Nelson Harris in a ceremony during the Rougarou Fest.

HONORING RHONDA REMEDIES GAUTHIER
MESTIZA FOODWAYS, GARDENING, SEWING, HEALING, AND MIDWIFERY, NATCHITOCHES, LA
Saturday, October 8, 2022 at 2 pm,
Louisiana Sports Hall of Fame and Northwest Louisiana History Museum
Address: 800 Front Street, Natchitoches, LA
Ambassador: Shane Rasmussen, Director of the Louisiana Folklife Center and Professor of English, Northwestern State University
Partnering Organizations: Louisiana Sports Hall of Fame and Northwest Louisiana History Museum, Louisiana Folklife Center, and Northwestern State University
Tradition Bearer: An Adeasonos and member of the Choctaw-Apache Tribe of Ebarb, Louisiana, and President of the Ho Minti Society, Inc., Rhonda Gauthier grew up outside of Zwolle. As a young girl she began learning from the women in her immediate and extended families traditional arts such as crochet, embroidery, hand sewing, quilting, cooking, baking, and animal tending. Her grandmother taught her midwifery, the use of natural herbs to treat common ailments, and herb gardening. Everything she learned as a young girl followed her through to adulthood. After earning a BA in Anthropology and History from Northwestern State University, she worked in the fields of research, genealogy, and history, first part-time as a cultural interpreter at Fort St. Jean Baptiste, and later as a full-time interpretive ranger at Nuestra Senora de Pilar de Los Adaes and Fort Jesup State Historic Site. Since 2000 she has worked in the Louisiana Regional Folklife program as an assistant to Dr. Dayna Lee, as an assistant to historical archaeologist Dr. George Avery in the Los Adaes Program, and as Community Coordinator for the Creole Heritage Center. She served as the liaison for the Creole Center to the St. Augustine Historical Society, the Cane River Creole community, and Creole communities across Louisiana. Her work during these years included grant writing, research, Creole genealogy, coordinating conferences, and maintaining the Badin-Roque Historic structure on Cane River Lake.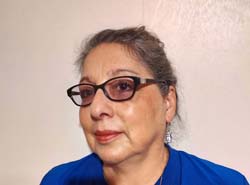 In 2005, she produced the film Maize to Masa, which documents the Choctaw-Apache process of nixtamalization, a traditional maize preparation process in which dried kernels are cooked and steeped in an alkaline solution, usually water and food-grade lime, to make hominy. The Choctaw-Apache community still uses this process to make tamale dough. In 2008, Gauthier returned to Louisiana State Parks as an Interpretive Ranger until retiring in 2018. In 2021, Gauthier worked with the Sabine Parish Tourist Commission and Zwolle Depot Museum Board doing research and volunteer work to ready the Depot Museum. Research, genealogy, and cultural studies have been never-ending passions. Since 1994, she has worked closely with the Choctaw-Apache Tribe of Ebarb, consulting, researching genealogy, grant writing, working with the Rising Sun Youth, and serving on powwow and tribal recognition committees.
The Event: Dr. Shane Rasmussen will interview Ms Gauthier about her traditions and her work. The event will include a ceremony in which Ms. Gauthier will be honored as a Louisiana tradition bearer at the Louisiana Sports Hall of Fame and Northwest Louisiana History Museum.