ARTICLES & ESSAYS


"The Boys of Summer": African Americans and Baseball in Plaquemines Parish
By Cheryl Hogan
Since the late nineteenth century, baseball has been an important pastime in the African-American communities of Plaquemines Parish. Almost all of the African-American communities had a baseball team. It was and still is a community event-played on Sunday afternoons in ballparks-people come to watch, visit, have picnic lunches, and buy food from concession stands. The season usually starts on, or shortly after, Easter and ends on Labor Day. It is a time of family get-togethers, seeing old friends, and meeting new ones.
Baseball in the Past
Years ago baseball was more than just a game; it was a social and cultural event for local African Americans. The games were full of excitement and music. Music scholar Karl Koenig has suggested that baseball played a part in the development of jazz in the early twentieth century. Brass bands were often linked to particular baseball teams and played at dances held after the games. According to Koenig, a town needed a band for all its social functions; the baseball team, which represented the pride of a town, was no exception (1999:1-2).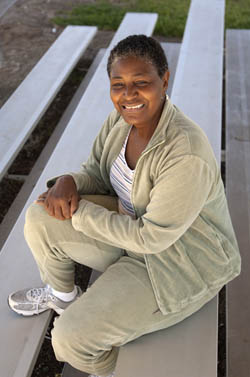 In his book Fallen Heroes, Richard Knowles states that during the last decades of the eighteenth century and the first of the twentieth century, virtually every community throughout the United States, as well as every medicine show, circus, or group of travelling entertainers, had its own brass band. At the turn of the twentieth century, Plaquemines Parish, like other rural parishes along the Mississippi River, had a number of African-American brass bands based in sugar plantations along the east and west sides of the river. Many were taught by "Professor" James Humphrey, who regularly traveled from New Orleans to teach music to these workers (Jackson 2003, Koenig 2009).
The partnership between baseball and brass bands, therefore, was a natural progression. According to the Plaquemines Protector, the parish newspaper, "For a town to be successful it should have: a band, a baseball team and girls" (Koenig n.p.). This was evident in both the white and black communities of the parish, although the newspaper was far less likely to print accounts of African-American baseball games.
Train excursions from New Orleans to Plaquemines Parish, popular from the 1870s to the early 1940s, also played a role in the social importance of baseball games. The train dropped passengers at different locations along the west side of the river, where they spent the day visiting relatives or attending local baseball games. Since there were few recreational events for African Americans in Plaquemines at the time, baseball became an important outlet for young and old. Baseball has always been a time of socializing with friends and families, enjoying the game, cheering for your favorite team. For young girls, it was a chance to meet boys, much to the chagrin of their parents.
The Players
There was no shortage of great local baseball players. Teams such as the Davant Ramblers and the Ironton Hawks were known locally for talented athletes such as brothers Arthur and O'Neal Domingue, Walter, Kermit and August Griffin, Victor Cornin, Mathew "Lulu" Wallace, and countless others. In my interviews with several former baseball players, what came up consistently was: their love of the game, the fun they had playing, and how much they miss being a part of the team now. Edwin "Peewee" Riley recalls the days when the Davant Ramblers were a force to be reckoned with. However, the Ramblers were not the only team from Davant, a small community on Plaquemines' east bank. A rival team called the Davant Sports was also very popular in the 1940s and early 1950s. Although Davant was a small place, there was no shortage of good baseball players. African-American males young and old played the game. On many occasions these teams often traded players between the leagues and some players played for more than one team. The Davant Sports, managed by the late Hobson Riley, my uncle, competed against other African-American teams from Vacherie to Amite, and countless other small communities. Uncle Hobson, a truck farmer, would broker the games with other team managers during his frequent trips to the French Market, where he sold his produce. The French Market was the meeting place for many African-American managers and team owners.
According to Edward Riley, the Ramblers and the Sports were the best teams and consisted of players from both the east and west banks of Plaquemines Parish. For example, Matthew Wallace not only played with the east bank Davant Sports, but the west bank Ironton Hawks as well. Arthur and O 'Neal Domingue, Victor Cornin, and August Griffin were among the premier players whose skills and abilities could rival any player in the major leagues. No one knew of their athletic abilities and skill except the people of Plaquemines Parish, particularly the fans and the players of this favorite African-American pastime. Although community baseball players were not paid, Joseph Ganier, manager for the Davant Ramblers, used to reward his players with twenty-five dollars for each home run they hit. Free cases of beer for the winners and the losers were an added bonus.
According to Edwin Riley, local business owners or former players often managed community baseball teams. Prior to World War I, Joseph Ganier, who owned a store in Davant also managed the Ramblers. After the war, O'Neal Domingue, a former player, became their manager. Later, in the 1960s, my uncle Leroy Riley was the team's manager. In those days, games had a picnic-like atmosphere, according to Edwin's wife, Gloria Riley. After the game, winning and losing teams and their fans would celebrate at the local bars and taverns, where the music and dancing would go on until the wee hours of the morning.
Umpires, of course, played an important part in community baseball games and folklore. Their antics and officiating were legendary. One memorable figure was my grandfather Clifford Riley, whom we grandchildren affectionately called J.C., who was said to have been extremely animated in his officiating. When I followed up on this story with my mother and aunt, they could hardly compose themselves, laughing and telling the stories of his calls. His style of calling balls and strikes was almost as good as the games. (It's unfortunate that none of this was caught on film.) If a team did not agree with a call J.C. made, an argument would ensue, since he was convinced that he had the final say as umpire. This could delay the game indefinitely or start a fight. My grandfather told wonderful stories, and I remember how lively he was as a storyteller. I laughed along with my mother and aunt, as if I had been there to see him officiate a game firsthand.
Baseball games were special occasions not just for players and managers, but for spectators as well. For generations, games and the dances that followed have offered unmarried girls a chance to meet and socialize with eligible boys. Although my aunt has early-stage Alzheimer's and has difficulty remembering current events, she remembers all of the good details of going to baseball games, meeting boys, and going to post-game dances wherever her home team, the Davant Ramblers, played. She tells how she, my mother, and their friends dressed up in their favorite dresses, high heels and all, wearing the brightest red lipstick, to attend games and, of course, to meet people. One had to be ready at all times. It is important to note that my mom and my aunt both married local baseball players.
In Davant, dances were normally held on Saturday night. If Davant residents attended a game across the river in Port Sulphur or Sunrise, however, there was always a post-game dance at a local bar or club. The Ballerina Club and Club Good Rockin' were favorite venues. Although brass bands no longer provided music as they had at the turn of the century, there was usually live entertainment, often by local musicians. On many occasions, clubs hired well known musicians and singers from New Orleans, such as Fats Domino, Ernie K-Doe and many others.
My mother, who grew up in Davant before moving across the river to Ironton, used to take us children to baseball games after church on Sunday. Many of the games took place in Davant, which gave her an opportunity to visit her relatives there. In an interview a few years ago, she said:
And then when we'd come from church, I'd have rushed and cooked and had the food there. And then we gathered all the little girls Cheryl's age, little girls around there, maybe about five or six of them. . . . And then we'd leave and go to the ballgame. I went to the ballgame because they wanted to go out to something, so I had to do something for them. So we went out to the ballgame. And the ballgame, most of the time, was over in Davant. So I went up to my mother, and [the children] were at the ballgame. . . . My father used to be the umpire (Williams 2008).
From our perspective, these trips held several benefits. We got to visit our grandparents, watch our uncles play for the Davant Ramblers, and once we got older, we got to meet local boys. As teenagers in the 1960s, my friends and I went to games for two reasons: love of the sport, and boys. As was the tradition, we dressed in our best spring or summer outfits (Bermuda shorts), and wore the brightest shade of red lipstick. (Who were we to break with tradition?) You had to look good because you never knew who might show up at the game.
Many friendships and romances were formed at these games. Since there were no cell phones, giving out your home phone number was important, but not as important as giving out your home address. Long distance calls were expensive, but stamps were cheap. Receiving letters and making plans to meet at the next game was part of the excitement. Sometimes my friends and I would go to two or three games in one day, just to see which team was playing and who was at the game. The latter was extremely important to us teenagers.
In my family, baseball has always been a tradition, from the time my father and uncles played to the present. My father played baseball for the Ironton Hawks, a team that recruited players from all over the west bank of Plaquemines Parish and from Algiers, in the 1940s and 1950s. Alfred Gibson, a former baseball player, was a young boy back then, but he remembers going to see the Ironton Hawks play. According to Gibson, my father was one of the best third basemen he had seen, but his batting was uneventful. The Hawks stayed together until the late 1950s. Gibson states that he got a chance to see many of the players who had an impact on his decision to play baseball in high school and college.
Dolores Black fondly recalls how she and her sister looked forward to the games. Of course they dressed up (she remembers wearing her favorite shorts) because one never knew who was going to be at the games. Delores recalls my dad's baseball days and his skill as a player, and how good many members of the Ironton Hawks were. She would bring along her camera and take pictures of all the players, from Carl Sanders, "Lulu" Wallace, and Jimmy Steward (my uncle) to Percy Baker and "Buster" Hill. (Unfortunately, all of her baseball pictures were destroyed after an argument with a friend. This is still a sore spot for her today.) All of the young men played baseball and had nicknames. Baseball was one of their few enjoyments, and it was a family event. By the time I came along, most of these men were beyond baseball age and the torch had been passed to the younger players.
In the early 1960s, Herman Gibson asked the Plaquemines Parish Council to provide uniforms and equipment for an Ironton baseball team. The council approved his request, and the team was renamed the Louisiana Citrus after its sponsor, Louisiana Citrus Company. The team flourished. Ironton's Louisiana Citrus and their rival, the Davant Ramblers, were two of the best teams in the parish in the 1960s. Their games were always very competitive, drawing crowds from throughout and outside of the parish. I was a teenager at the time and fondly remember going to many of the games. In particular, I recall one memorable game between the Ramblers and the Louisiana Citrus, held in Davant. Herman Gibson, the catcher for Ironton, hit the longest home run anyone could recall; the ball traveled across the highway and landed in the Mississippi River. Everyone cheered for Herman, who was not a particularly fast base runner but had a powerful swing. His homerun record still stands today, forty years later. His younger brothers, Alfred and Anthony Gibson, and their friend Glen Miller, followed in Herman's footsteps and were members of the Ironton Citrus in the 1960s and 70's. (Glen Miller was the pitcher, Anthony Gibson played third base and Alfred played short stop.) While none of them made it to the major leagues, it was fun seeing them play.
It is important to note that at that point, there were no structured baseball programs in the parish's segregated African-American schools. There were, however, intramural basketball programs, and both baseball and basketball were important to us. Glen Miller and the young Gibson brothers excelled in both sports, and their love of baseball followed them through their college years. They played baseball for Grambling State University from 1966 to 1970 as "walk-on" players at Grambling; that is, they had to try out for their positions. They all made the team their first year at Grambling: Miller as pitcher, Anthony as catcher and third baseman, and Alfred as short stop. At that time, they were the first African Americans from Plaquemines Parish to play college baseball. In 1967, Grambling won its conference's national championship in college baseball, and the Gibson twins and Miller were members of that championship team. It was not until the parish's schools were integrated in the late 1960s that African Americans played baseball in school athletic programs.
By the 1980s, the Louisiana Citrus name was changed to the Ironton Rookies, after a well- known bar became the new team's sponsor. Women softball teams also played regularly. Eventually, though, football replaced baseball in popularity. It was not until the early 1990s that community ball teams were resurrected as softball teams, to limit the number of injuries to the players. (People still refer to the games as baseball games however.) During this period, my brother and several other local men formed a new Ironton team called the Heat. They play regularly against teams inside and outside of the parish. Baseball was back, and still the important community event it was when my mother was a child.
A Baseball Game in Ironton
Hurricane Katrina devastated most of Plaquemines Parish in 2005. However, within months, the baseball park in Ironton was restored. Although many residents were living in FEMA trailers or with relatives, baseball once again became an important outlet. Every Sunday, diehard players suited up and played as if they were in the major leagues. From noon to dusk, cars and trucks lined the streets of Ironton, and sometimes spilled onto the shoulder of Highway 23.
One Sunday afternoon in 2010, I travel from my home in the Ninth Ward to Ironton, where my mother and aunt still live, to attend a game. As we approach the park, cars are everywhere, just like old times. We never tire of our baseball, although now it is softball. The enthusiasm and love of the game are still there.

The crowds at the park are excited, and I'm prepared for a long day, as the last game usually ends by 7:00 pm. The first game, played by women's teams, starts at noon, followed by two or three games among the men. It is good to see friends and family here. Some friends I have not seen since I was a teenager, and time has not been very good to them. I wonder if they are saying the same thing about me. So much for growing old, as I work the crowd trying to remember the person's name to whom I just spoke.

It is fun to see my 43-year-old brother still playing ball; while he can no longer run the bases the way he did when he was younger, his love of the game is still there. My sisters and I still cheer him on as we sit in the grandstand, partly watching the game and reconnecting with some relatives and old friends. There is the same enthusiasm and the same picnic-like atmosphere. And yes, the younger girls still dress up in their best summer outfits, and the tradition of meeting boys at the games goes on. I laugh as I see my niece, who checks to make sure that her outfit is impeccable and not a hair out of place. She is wearing her favorite shade of lip gloss, not the red lipstick my friends and I once wore. It doesn't matter, though; some things just change with time.
Baseball and music still go hand and hand. It was important to our parents and grand- parents, and is still relevant today. There are no brass bands or live music, only a DJ who plays many of the favorite rap and rhythm-and-blues songs. We all dance to the music, although some of us are seated in the grandstand. The teams still celebrate at the local bar, where there is dancing and celebrating, win or lose. We all love this game.
There have been changes over the years. Now there are several female leagues, in addition to men's teams. My niece has joined the tradition, and she is a member of the Saintsation team. My brother, who still plays with the Ironton Heat, is overjoyed that his daughter has followed in his footsteps. As a former softball player myself, I know how it feels to play the game. The women's softball teams are back, as I recall some of teams of the 1970s and 80's. The Rookies and the Roadrunners have been replaced by the Saintsations, Coyote Ugly and other women's teams. So now I'm cheering for my niece who is known to hit a homerun at almost every game. I laugh to myself as I remember my playing days from my youth to adulthood. I fondly remember college softball days at the University of New Orleans, playing for my sorority, where my nickname was "Racker." I batted cleanup and played first base, and would hit a few homeruns.
So the tradition continued, as I take a seat in my folding chair that I brought along to see the game and maybe have a snoball (snow cone) or two. It's hot and I am ready; let the games begin. The women's team usually plays five innings, so that the men can play before dark. The men's team, the "Heat," still has Bruce Wallace pitching. Bruce, who is now 63, is still a good pitcher. Unlike his brothers, he has followed in his father's footsteps in baseball. While Matthew "Lulu" Wallace is remembered by my mom's generation as a great player; his son Bruce is our baseball great.
In 2011, several new teams and baseball parks joined the league, and the season began late. Most of the games shifted to new parks in Diamond and Davant, as Ironton's park was slated for repairs. The new teams include both black and white players, and the crowd of spectators who come to enjoy the games is similarly mixed. Many of the players have gone to school together, and baseball is their connection to keep their friendships alive. This is the case for all of the players, whether they are black or white. It is a sport that continues to unite the younger generations from all walks of life. It is a community event, not as in prior generations, where segregation was the norm.
Baseball is part of the fabric that holds people in the parish together. It is a tradition that continues to be passed on from one generation to the next. Katrina taught us all the importance of friends and family, and rekindled that sense of community. Post-Katrina, this community event is now a parish event, a celebration of life and resiliency. Baseball is back, or should I say softball is back -- anyhow, we still love the game.
Sources
Black, Delores. June 2011. Interview by the author.
Gibson, Alfred. March 2009. Interview by the author.
Jackson, Joyce. 2003. The Rural Roots of Jazz in South Louisiana. Multimedia CW-ROM. National Endowment for the Arts, National Academy of the Recording Arts Series, and the Louisiana Division of the Arts.
Koenig, Karl. 2009. Baseball and New Orleans Jazz. California: Basin Street Press.
Knowles, Richard H. 1996. Fallen Heroes: The Story of New Orleans Bass Bands. New Orleans: Jazzology Press.
Riley, Edward. March 2009. Interview by the author.
Williams, Clara. March 28,2008. Interview by the author and Carolyn Ware.
Williams, Clara. April 2008. Interview by the author.