ARTICLES & ESSAYS


Bunny Matthews' Worldview: Race, Art, and Love for New Orleans
By Aaron Duplantier
"I don't think New Orleans is a very American city. It doesn't have the same puritanical drive towards money being the god of all things . . . People live for pleasure in New Orleans."

-Bunny Matthews
New Orleanian cartoonist Bunny Matthews made a name for himself in the early '80s with the creation of his two iconic characters, husband and wife Vic and Nat'ly Broussard, a satire duo who own and operate a bar and poor-boy emporium in the Ninth Ward. Their commentary on the local scene, on the city's cultural and social issues, served as the basis for much humor and controversy in the nineteen years they appeared in The Times-Picayune. The two can still be seen throughout New Orleans, despite no longer being printed in the city's most popular newspaper, brandished proudly by local companies like Harkins, The Florist and Leidenheimer Baking. Though Matthews' mass popularity in New Orleans has fluctuated in the years following Vic and Nat'ly's prevalence, and has since shifted into more of an underground status with local hipsters, his significance as a disparate/critical voice in a city all too willing to revel in its unique patina has not waned. Yet his criticism comes from a loving place. Indeed, the content of his cartooning reveals the depth of influence of New Orleanian (and its surrounding areas) lore and cultural cues; nary a Matthews cartoon panel exists without reference to Hubig's pies, George Rodrigue's Blue Dog, Boudin and Cracklins, or Morgus the Magnificent. This article explores Matthews' relation to Louisiana lore based on two extended interviews I recorded in October 2011, as well as other interviews Matthews' has given in the past. Additionally, this piece will draw on his cartoons, which disseminate a vernacular ideology only Matthews could convey, one, I believe, uniquely tied to Louisiana. What Bunny Matthews, born Will Bunn Matthews III in 1951, considers his "real" education did not occur until he was 18 years old, after Louisiana's academic institutions had irrevocably failed him. At the time, he was employed by a New Orleans record shop, Jim Russell Records, and held a close relationship with its proprietor and namesake, whose deep love for "race music," as rhythm and blues was referred to then, was reflected in Matthews. Being a white kid from Metairie, an affluent, mostly white suburb on the rim of New Orleans, Matthews had little exposure to raw black culture, and his boyhood neighbors kept that oh-so-close aspect of their region at bay. Matthews drove the streets of the Upper and Lower Ninth Ward, dropping off bundles of records at small African- American-owned shops in and around the area, where he was not always received kindly. When queried about the experience, Matthews admitted to Stephen Faure of Inside Northside magazine, "Why I never got shot, I don't know . . . going to [the] Ninth Ward was really hard-core New Orleans" (2011:12). Working in the Ninth Ward, was, as Matthews remembers, "my education in African-American culture in New Orleans" (Sottek and Button 2010).
These are the kinds of themes that Matthews conveys in his visual art, the same themes that have led his audience to ascribe titles like "provocateur" and "rebel." Matthews is not a fan of a sanitized New Orleans, preferring its non-tourist variation, where racial tension and cultural difference are commonplace. And as popular media tend to fixate on these tensions almost exclusively when portraying New Orleans, they do persist, but never to the same degree as when Matthews was growing up during the Civil Rights movement; whites were on the defensive then, and trying to hold onto a dying institution of inequality, which they succeeded in doing with little opposition from a cheerily racist Louisiana body politic. Matthews admitted to me that "integration didn't really happen in the '60s in New Orleans; it happened in the '80s. It still is happening" (2011). Some surrounding parishes in Louisiana, as late as 2009, had yet to even integrate schooling, so race is still an ongoing concern in Louisiana and the city of New Orleans, even if local residents are weary of CNN reports that might harp on that distinction. Race is a concern for Matthews, too, but not just race—ethnicity, locality, origin: genes, where you came from, who your parents were, who theirs were, and so on. In New Orleans, locals overtly bear their heritage, according to Matthews, whether proud or not, and identify each other by those terms, emphasizing, in behavior and sentiment, whatever their origin may be (Figure 1).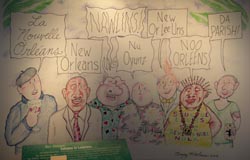 To some of his fans, it is curious that Matthews chose an Italian/Sicilian ethnicity for his most famous cartoon creations, Vic and Nat'ly, New Orleans being a place synonymous with French whites and Creoles; after all, French is the language New Orleanians like to throw around when trying to impress tourists and each other, the same that Vic and Nat'ly are heard saying at their fictional Ninth Ward bar. Vic and Nat'ly's last name is Broussard, a Cajun French last name common to the region, "the Jones or Smith of Louisiana," claims Matthews (Cheney 2011). He told me that "the misconception is there's all these French people [in N.O.], but I knew lots of Italians, grew up around lots of Italians" (2011). Indeed, it would seem that a uniquely erroneous perspective is one that propagates New Orleans as home to a largely French population, a perspective that New Orleanians themselves do not feel the need to rebuke. Matthews' response to Vic and Nat'ly's last name being "Broussard," despite their Italian heritage, is initially puzzling: "It was just . . . at the time [of their inception], it came to me" (Cheney 2011). However, even if unable to articulate it, Matthews' creative impulse here is in the vernacular tradition of performed Frenchness propagated by New Orleanians, a means by which locals identify themselves for outsiders and for themselves, even if they are not "truly" French. A representative case is what Matthews refers to as the "liberation" of the fleur-de-lis after Hurricane Katrina, when locals, many not of French descent, plastered the icon popularly associated with French monarchy on their homes, cars, t-shirts and elsewhere in order to show their support for the city. Vic and Nat'ly Broussard are not French, but operate its cues as a means of belonging to their region and providing significance to their local audience. Curious still is why Vic and Nat'ly live somewhere in the Ninth Ward, known today for its famously ripe African- American culture—music, food, and customs. In Matthews' youth, there remained a contingent of older people of Italian decent in the Ninth Ward, who, as he told documentarian Lily Keber (2010), "didn't desert the city for the suburbs, y'know, moving to St. Bernard or Metairie. They were the die-hard New Orleanians." But Matthews thinks people like Vic and Nat'ly might not be so easy to find in the present-day Ninth Ward. He thought about it for a second, then told me, "I'd be really interested to see if you could find Vic and Nat'ly and their cohorts in the Ninth Ward these days." Matthews thought Vic and Nat'ly would be living in St. Tammany Parish, near his home in Abita Springs. "I moved here 22 years ago, but even then I met old people from Lacombe and stuff, they'd always be from the Ninth Ward" (Matthews 2011). What Matthews is referring to is "white flight" out of New Orleans, a large percentage of which occurred, he figures, during the '50s and '60s, as African-American populations began to encroach beyond New Orleans city limits. So, essentially, Vic and Nat'ly are pieces of nostalgia, harkening back to a whiteness that lived happily with its black and multiracial neighbors. Indeed, in many of Matthews' cartoon strips, Vic and Nat'ly are joyfully carrying on with one or another black patron at their Ninth Ward bar (Figure 2). Matthews remembers a Ninth Ward that older natives today are not so familiar with, but are happy to relive in his cartoons, free of tension. "Ninth Ward [was] always a very integrated area," Matthews told me, "but all of a sudden, I guess, when integration came, they [white people] all left" (2011). After the various waves of "white flight" in the twentieth century, white populations have since returned and made the Ninth Ward their home, in areas like the Bywater, a bustling and hip neighborhood in the Upper Ninth.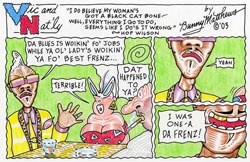 To situate Vic and Nat'ly somewhere in the Ninth Ward when Matthews first designed them for a magazine supplement of The Times-Picayune called Dixie in 1982 was more than just a matter of nostalgia for the artist. Staying true to his authenticity seeking impetus, he chose the Ninth Ward as their home because, as Matthews put it, "the Ninth Ward was this desolate, crime ridden place . . . it was the most pure part of New Orleans . . . It wouldn't be a cliché of New Orleans" (Keber 2010). Of course, today, given all the post-Katrina representation that focuses on the Ninth Ward, like HBO's Treme, proposing the Ninth Ward is not a cliché of the city feels like a bit of a misnomer. But Matthews was right in assuming it was different from the tourist variant of New Orleans; if anything, the tourist does well to avoid that section of town. There are no drunk Texans with cheap beads around their necks like in the French Quarter; it is often quiet in the Ninth Ward, as residents insist, and second lines and other street music performances are regulated. But visitors to the city trying to survey the damage from Katrina, still evident today throughout the Lower Ninth Ward, can be seen languidly driving their vehicles alongside the levee, hoping to catch a glimpse at the ghosts of disaster.
When we spoke, Matthews used the term "obnoxious" frequently when describing New Orleanians. Vic and Nat'ly Broussard are no different, and do, in Matthews' imagination, personify what he remembers as the whites who used to live in the Ninth Ward and throughout the city. He describes Vic as "this typical New Orleans asshole, doesn't care what anybody thinks about him; that's the key to his psyche, I would guess" (Keber 2010). And in many strips, Vic is shown being just that, an asshole but also decidedly uncultured and flippant. Nat'ly is his wife, who serves to pester more than anything, and stems from Matthews' perception of how wives are supposed to operate in the gender dynamism of conventional marriage. "Nat'ly is really here to torment him because that's what wives do . . . knock men off their pedestals," Matthews told Lily Keber (2010). As a consequence, many strips contain Vic and Nat'ly bickering and going after each other in one or another form, at varying degrees of anger. And, yes, they are quite obnoxious. To make matters worse, Vic and Nat'ly are two very grotesque looking figures, though Matthews prefers the term "funky," and they also speak in the "Yat" dialect, a distinctive vocal variation for New Orleans whites supposedly derived from a Brooklyn accent, one of the reasons Matthews insists on a strong Italian influence in New Orleans—Yat's print depiction was and still is considered offensive by some locals, ironic considering how proudly conveyed it is in Louisiana's State Museum at Baton Rouge (Figure 3).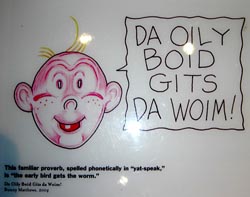 Vic and Nat'ly's stark representation resulted in a decidedly mixed reaction from Matthews' Times-Picayune audience, which he recalls was around at least one million readers by the '80s. So the people Matthews was lampooning could have easily consumed his cartoon depictions, and did so, sometimes even confronting him in public to let him know how they felt; he was living in New Orleans proper when the couple first began appearing in print. Jeanette Hardy (1983), a Picayune editor who wrote the introduction to Matthews' first published Vic and Nat'ly collection, remarks, "We have some readers who don't always share our enthusiasm for Vic and Nat'ly. They write occasionally to say that the cartoon is a mean joke on New Orleans and some of its people" (2). Despite some local criticism, Vic and Nat'ly became Matthews' cartooning mainstay, appearing on countless merchandise, in the contents of two books, and in many a stray corner of New Orleans and Louisiana. Those able to laugh at themselves get the joke: Vic and Nat'ly are high satire. Though Matthews' local prestige is palpable, his status outside the region is less so. One major reason for this is because most of his cartooning is steeped in New Orleans lore—it is, in a word, esoteric. And those outside the region are clueless as to what it is all meant to imply. An example of this is Matthews' first published cartoon collection, 1978's F'Sure, which is structured by custom and locality within the city ("Uptown," "Neutral Spirits," "Go to the Mardi Gras"), and the contents of each section are associated with the people and vernacular customs ascribed to that particular heading. To get the punch lines, one must unquestionably retain some regional knowledge. Who else would understand what "Da Parish" is or "Oshna" or some other specific cultural cue? To be fair, though, he was writing for a New Orleans audience, and doing a proficient job, but, reading over his material and appreciating his talent and potential, one wonders what Matthews might have achieved if he broke free of this New Orleans frame. Even in his contemporary artistic expression, pieces from his Black and White show held in 2010 at Arthur Roger Gallery in the French Quarter, none of which appear in published form, he is still upholding the cultural values of the city, entirely unprovoked. Indeed, New Orleans is the key to Matthews' psyche, even to his detriment, though he does not see it that way.
Cartoons are not the only venue in which Matthews has thrived; his deep passion for music led him to a number of positions as a music journalist. Actually, he was the first ever full-time music writer for the Times-Picayune, and this was the 1980s, a fact he finds amusing because the irony of not yet having a full-time music writer in a radically musical city like New Orleans was deafening. "In the '80s, I was the only writer talking about music in New Orleans," he told me (2011). He has written about music in any number of New Orleans publications, including Gambit and Offbeat, at which he served as editor. In his written work, he brings the same acerbic flare as in his visual art—shocking some, flat out pissing off others. After writing a scathing review of a local The Who concert in the '70s, one of the producers associated with the show wrote to now-defunct Figaro magazine, where Matthews was employed at the time, and said, "A review is indeed one man's opinion only. Thank God there is only one Bunny Matthews" (Jordan 2002). By Matthews' own admission, he does not shy away from rabid critique, whomever it may offend. This confrontational approach to his creative work, however, has not always ended in Matthews' favor. In the '80s, while working for Gambit, Matthews tried to publish a cartoon in which the subject was a recent murder in the city—it was social criticism, maybe a little more morbid than his usual subject matter. Gambit declined to run the cartoon, so Matthews chose to stop composing cartoons for them, though he eventually relented; into the 2000s, Gambit has run his material. But the 1980s were Matthews' conceivable commercial heyday, so he had some idealistic wiggle room then. Additionally, Matthews wrote an article in 1986 for Wavelength magazine, a now-defunct New Orleans music periodical, in which he made the following claim: "Making a living from music or any other form of art usually strangles its purity . . . " (Jordan 2002). The reaction from local musicians was scorching, and it is a claim that smacks of hypocrisy anyway; Matthews was using his cartoons for his survival at that point, never mind local musician's attempts to do so with their art. In his defense, though, Matthews' argument was more nuanced—he was just letting young musicians know they should not quit their day job unless they want to sell-out, but, apparently, it did not come off that way in the New Orleans music community. More recently, in 2000, Matthews drew a cartoon for Offbeat magazine featuring Vic in the throes of a dream sequence taking place at the New Orleans Jazz & Heritage Festival, the city's most celebrated annual music fest. But Vic's dream state festival was actually a concentration camp, and the dream ends with Matthews' character being gassed (Figure 4). The cartoon was meant to satirize what Matthews saw as the overcrowded, overpriced, and unpleasant conditions of Jazz Fest. A local chapter of the Anti-Defamation League was brought in, and Jazz Fest officials were incensed; the satire might have been a little too thick and a little too mean for some. But Matthews is unrepentant. In reference to that cartoon, he told Scott Jordan (2002) of Gambit, "I think you should be able to joke about anything. I don't think I'm ever allowed to go far enough. . . [Jazz Fest is] the thing nobody ever attacks, because everybody wants to go and wants favors and stuff. Sacred cows are meant to be butchered." Matthews' high ideals regarding art are undeniable, and his definition of visual art is fairly rigid. When speaking with him on the subject, he gave me very specific terms by which visual art can effectively exist: "See, I think an artist is somebody who can take a stick and draw some representative thing in the dirt, and that's an artist. I think people who use video and photography and found stuff aren't artists." This statement might be met with some resistance by young aspiring artists who favor technological implements in their expression, but any visual artist, as Matthews affirms, ". . . should be able to draw first" (2011). He believes in a purity to visual art, which, given today's postmodern-hyper minimal-artistic inanity, might seem laughable, yet this is the same nostalgia present in his Vic and Nat'ly characters. Matthews may be provocateur, but he is so in order to preserve some intangibly pure thing, like other New Orleanian cultural preservationists grasping at archaic but beautiful traditions, whose crotchety personalities are amplified when defending their city. His identification with visual art as a childish pursuit is telling: "Picasso's big thing was to become a child. I think the same way. You have to think like a child when you're drawing and creating art. You have to be open to everything. You can't be so literal." Matthews followed this statement with an anecdote about an old woman at the Audubon Zoo in New Orleans who said in response to seeing him draw a mural, "That's something, a grown man doing that." When he relayed this to me, Matthews seemed to take her obviously negative judgment as encouraging.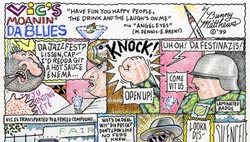 Matthews' relationship with writing, however, is more functional, and he does not see the same artistic value in writing as he does in visual art. "Most of my life I've been a writer and an artist; those are two different things," he told me. "Whatever the space fills. Because I had two little kids" (2011). His written work is utilitarian for him, though some of his most infamous and memorable stories are associated with his time as a music journalist; this includes a visit to Jamaica in December 1976 where Matthews interviewed Bob Marley, one of his ideological heroes. That same trip, while Matthews was at his hotel, Marley was shot and killed, and the island burst into hysterics. Matthews is well known locally for his past musician interviews, like James Brown, Elvis Costello, and Al Green, among others. As a result of his ties with the New Orleans music community, Matthews also sparked a relationship with one of the city's most interesting and tragic rhythm and blues performers, James Booker, who Matthews held close ties with until his death in 1983 and for whom he also wrote album liner notes, something he has done for a number of New Orleans musicians past and present.
Matthews' distinctions here, between what is and is not art, and his high ideals are met by inherent contradiction to his claims and a problematic dichotomy. On the one hand, he enforces the idea of removing monetary gain from the artistic equation; as he says, money "strangles" art's purity. He reiterated this sentiment to me and essentially expanded on it by saying, " . . . I've never thought about making money," concretizing his own artistic purity (2011). This, on the other hand, came after he told me about Vic and Nat'ly's inception, which was one where explicit monetary considerations were made; those two characters were meant to be his money-makers because he could merchandise them—they are, as he says, his "Mickey Mouse." Vic and Nat'ly have appeared on shirts, mugs, calendars. A local French bread company, Leidenheimer Baking, use the characters for the sides of their trucks, and Matthews has received a lifetime supply of bread from them (Figure 5). "Anytime I want I can fill my car up with bread," he told me (2011). There was even a short-lived restaurant called Vic and Nat'ly's, similar to the fictional Ninth Ward po-boy shop from his cartoons, that opened in downtown Covington, Louisiana, which featured the characters and paid Matthews royalties. His signature over the years has changed to accommodate his popularity. When his cartooning gained prominence in New Orleans, Bunny shifted his scribbly signature into something clearer, more identifiable. ". . . it's the Bunny Matthews name I'm selling," he told me. "So I really consciously did that, make my signature clearer" (2011). This all seems to imply that Matthews is actually the sell-out he warns musicians they will become, the one he rebukes in saying he has never thought about making money. However, this is not an articulation of lax self-awareness; often, he seems to happily embrace his hypocrisy. That is, after all, the trouble with being a critic—it opens the door for contradiction..
The crux of the matter is not, as it may seem, Matthews' hypocrisy, but rather why he warns other artists against a life of making money off their art. In our first interview, he opened our recording with an anecdote about a job he was recently commissioned for to design a poster for the Lakeview Civic Association, a group affiliated with Lakeview, a fairly affluent section of New Orleans. "I mean, Lakeview is kind of a yuppie neighborhood, with people trying to be more cosmopolitan than they might be," he admitted (2011). The poster featured Vic and Nat'ly in front of Lake Ponchartrain, performing their usual shtick. The Civic Association did not enjoy the product, and wanted Matthews to "dress up" his famous characters, put Vic in a tuxedo, which Matthews thought was "stupid." He told me, "You shouldn't even use Vic and Nat'ly if you're embarrassed by Vic and Nat'ly, really" (2011). Matthews did not concede to any modifications, but the Civic Association accepted the product anyway. And therein lay the impetus behind Matthews' warnings: art is about a deep, personal connection with the created product, and when he chose to sell his material, it meant having to deal with "all these people speaking their minds, giving their opinions. I don't like people's opinions" (Matthews 2011). While he may suffer from ideological inaccuracies, a person willing to warn others of the hardships he himself has faced is one who knows the measure of his contradictions.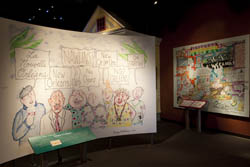 Alan Dundes, a renowned folklorist, devised a method for understanding worldview in 1971 at Berkeley. He took a structuralist approach to the activity, saying that worldview is comprised of smaller elements, called folk ideas, the "building blocks" of worldview, in his words, and that these folk ideas are the "unstated premises which underlie the thought and action of a given group of people" (1971:95-96). As example, he uses the folk idea of "any thing or any person can be 'bought'" as integral to the American worldview, a stark contrast to other cultures who do not share, as he calls it, "such a materialistic, capitalistic view of the world" (95). These folk ideas are, at their core, a means to an end, used for deconstruction purposes. In 1992, Frank de Caro, a prominent Louisiana folklorist, used this folk idea concept to interrogate the work of Bunny Matthews, still the only scholarly reflection on his art. Yet de Caro problematizes Dundes' claims, saying that perception of a region/place differs from that region or place's perception of itself—a thoughtful criticism, and for New Orleans and Louisiana, decidedly apt. The people of Louisiana do not see themselves as those on the outside do, and this is an idea Matthews perpetuates and makes light of in his art, work, and beliefs. But de Caro further challenges Dundes by superimposing his own term over the "folk idea," calling it instead "lore of place," which he admits is purposely more "amorphous" to accommodate "less than formal knowledge," an arbitrary distinction (1992:77). We can assume all folk data are informal and non-institutional, be it "folk" or "lore." Both authors are valid in saying there is an unspoken stratum of knowledge that rules the people of a region, but not all who live there ascribe to this implicit knowledge, nor is this implicit knowledge similar from person-to-person, and to categorize these ideas—well, there's a reason why Dundes' term is nary heard in twenty-first century Social Sciences and Humanities. Indeed, the implicit Garden District view of New Orleans will differ drastically from that of a Ninth Ward one, and none of the people living in either place will agree beyond refute with one another; class plays a role, gender, race, religion, any and all manner of ideological variation. It is reductionist to presume one can classify a group of people's worldview, and this is not a revolutionary claim, only the most obvious. My solution is to use Bunny Matthews as a sounding board, a device by which the unspoken worldview these authors are supposing can be outlined, but that Bunny Matthews' worldview is not that of all New Orleanians or Louisianians, that his particular positioning is idiosyncratic, as is everyone's who lives in the city and state.
I posit that Bunny Matthews is a highly concentrated folk personality because his ideological sway is far removed from formal, institutional idea dissemination; his worldview, I can safely say, is unabashedly vernacular. There is proof of this in his past, and not just that he considers working for Jim Russell Records his "real" education. For one thing, as an artist, he has received no formal training. He holds no degree in visual art, finished no conventional art program, which makes his activity of teaching children art in the '90s seem unbearably ironic, though irony is a matter-of-fact presence in many Louisianians' lives. In fact, according to his online biographers, Mark Sottek and Graham Button (2010), with whom Matthews is close friends, his only attempt at formal art training was as a child with "an Indonesian immigrant woman," but he stopped lessons with her "after developing an allergic reaction to the aerosol fixative she used to set pastels." Matthews continued making art purely of his own volition. His foray into higher learning was just as doomed. He attended the University of New Orleans for a few semesters, but was booted from campus after failing transitional math three times. Upon his admission, his reason for attempting college was more an act of bucking the system rather than perpetuating it; he only went to UNO in the first place because it was "a popular destination for hipster longhairs," and there was no ROTC crew cut requirement (Sottek and Button 2010). Indeed, since Matthews' childhood fascination with the Beatles in the '60s, many of his life choices had rested on whether he would be required to cut his hair. This was why, after leaving UNO, he took up work as a janitor in New Orleans—janitors could have any length hair they desired. Ever-present in Matthews' visual style and artistic intention is his vernacular positioning. Sparked by my suggestion that Matthews drew "cartoons," he clarified for me how he sees his art: "I always think people don't realize how much time I spend on my drawings, y'know, they're so meticulous and so perfect really . . . that, uh, I just want people to appreciate that sometimes" (2011). To gather from this statement is his conflicted relationship with how others consume his creative product. Cartooning is practically a pejorative in the "serious" art world, and when people like myself use that terminology, it reduces the legitimacy of his work, though I have no qualms calling cartoons serious and seriously beautiful art. And Matthews' clarification brings to light the specifics of his stylistic approach; his art does, in fact, fall in a tenuous space, not conventional cartoon, not really classical art—it bears the trappings of both, and thus cannot be easily categorized or made "official." Close inspection of his work reveals the use of "stippling," a process which exponentially lengthens Matthews' creation time. Essentially, stipling is the placing of many small dots to create a delineation and contrast in represented figures and objects, and it permeates all Matthews' cartoons, in which he uses stipling to create hair, shadow, background, fabric designs, etc. As he told me, the other detailing option for cartoonists are "sheets of plastic with these little dots," called Ben-Day dots, "and you cut them out with razor blades and match them up to your drawings" (2011). But his reason for not using Ben-Day is that of purism, which challenges his straightforward status as commercial cartoonist. "A lot of cartoonists use that stuff," he contends. "I never liked it because it looks manufactured, see, I wanted to do my stipling because then all those little dots are unique and it looks like a human being did it; I don't like the machine—I don't like it to be too clean" (Matthews 2011). This is more a classical sentiment on his part, not one of a "funny pages" cartoonist, someone like Chris Browne of Hägar the Horrible.
Matthews' artistic influences also help in fleshing out his vernacular style. When I questioned him in this regard, he first told me Picasso was his major influence, and that he borrowed more from classical artists. However, Matthews quickly followed Picasso with an actual cartoonist, Ed "Big Daddy" Roth, the creator of "Rat Fink," a grotesque caricature meant to embody the anti-Mickey Mouse prominently featured in hot rod art. The detail and exaggeration in Roth's drawings are reminiscent of Vic and Nat'ly. Matthews also told me Robert Crumb, famed underground cartoonist of Zap Comix from the '60s, is one of his "gods." Crumb, like Roth, also employs the grotesque heavily in his art, but Matthews was somewhat resistant of the term when we spoke, which is when he offered the term "funky" in its place. And, taking Matthews' definition at face value, as a New Orleans artist, funky is more apt. He told me "funk means the same thing as half-assed, I would say. And, uh, one of the beautiful things about New Orleans is that a lot of it is falling apart, covered with mildew and mold and decaying plaster; that gives it this patina which is beautiful. It's not sterile like the suburbs. So that's part of the 'funky' ethos" (2011). Here, Matthews is reinforcing two notions; one, that he is artistically dependant on the city of New Orleans, and, two, that formal inscription, terms and ideas tossed around by the institution— we relish the word "grotesque" in the English department—are unacceptable for his worldview.
While New Orleans might be the geography by which Matthews' imagination functions, his insider/outsider status is problematic; he explicitly admitted to me it was "complicated." As previously established, Matthews did grow up in Metairie, not New Orleans proper, but he also saw a distinct ethnic and cultural disparity between himself and what he now perceives as the traditional white New Orleanian. "I knew they were different from me," referencing his youthful encounters with white city locals. "I was Presbyterian and they were Catholic. Y'know, go to my house and there was artwork on the walls; go to their houses and there were pictures of the Virgin Mary. So it was all mysterious" (Matthews 2011). And, indeed, a short car trip with his family to the city enforced difference for Matthews— he experienced it firsthand during Mardi Gras: "My mother was from North Louisiana and was always hearing people in New Orleans talk and saying, 'Did you hear what they said?' So as a little child, going to parades and things, she would always push this into my head, that people in New Orleans talk this unusual way . . . it was driven into me that this was a weird, funny way of talking" (Faure 2011:12). This unusual way of talking is, of course, the Yat dialect. But someone so well-informed by and indebted to New Orleans lore existing outside its cultural barriers seems faulty as well; he is an icon for the city, a 2011 French travel magazine, I Heart, even audaciously titled him the city's "ambassadeur non conformiste." It does not seem fair to fully ascribe insider or outsider to Matthews; he exists somewhere between the two, but easily more toward insider. The ambiguity regarding his insider/outsider status does raise questions as to his artistic rights as New Orleans satirist, or at least what some of Matthews' disgruntled audience might consider his rights, especially in reference to Yat. To clarify, the Yat dialect is more than just an inflected speech pattern but a "state of mind," as Tim Lyman (1978), who wrote the introduction for F'Sure, claims (3). If you are a Yat, then you are not from Uptown New Orleans (i.e. the hegemony), you are insusceptible to modernity, and you are probably obese, but only because the food is so damn good; skinny people live in "Gatorland," which, according to Lyman, is Yat for Uptowners, who all wear Lacoste brand clothing which imbues its product with gator iconography (4). The period Lyman is referring to is late 1970s, so styles and sentiments have since changed. And to align the dialect outside a Louisiana frame, Lyman describes Yat as "all of Brooklyn on Quaaludes," and that it differs from Ward to Ward, "each neighborhood has its own input to the living language" (5). Matthews detailed to Stephen Faure (2011) the nuances of Yat's articulation, saying the dialect comprises "dem, dat, dese, dose. It's virtually identical to the way people talk in Brooklyn, which is demographically identical to New Orleans" (12). Given how frequent Yat dialect appears in Matthews' cartoons, and his ambiguous insider/outsider position, it is surprising how he really feels about the term's conveyance. "I've always refrained—I don't think I've ever used it once—the word 'Yat' in any of my cartoons. I don't feel that anyone you would consider a Yat would say the word 'Yat' and then brag about it. I thought you were putting people down if you called them Yat" (Faure 2011:12-13). Matthews even thinks Yat is equatable, in casual usage, to racial slurs about African-Americans. And where he believes the term Yat originated is humorous if not telling: "I've always really thought it was probably invented by Tulane students who came to New Orleans, and they're making fun of people they encountered in the city" (Faure 2011:13). In contemporary New Orleans colloquial speech, the term has softened, as Matthews admits, though when he explained to me how Yat seemed "cooler" nowadays, his wariness of its apparent reappropration was evident.
While Matthews' "right" to employ Yat speech may be debatable, the liminal artistic space he inhabits does give him referential advantage. New Orleanians speaking in Yat do not have the benefit of distance in their individual approximations of the dialect; if anything, they are acutely unaware of their usage, according to Matthews. On his sharp and effective conjuring of Yat in his cartooning, he told Stephen Faure (2011), "I probably couldn't do what I did if I was from an old New Orleans family. I would just think that was how peopled talked" (12). And the dialectical speech of Vic and Nat'ly is a fundamental part of their uncanny charm; it is why Bunny Matthews' characters struck a chord with such a large regional audience in the first place. Indeed, his individual F'Sure cartoons, which appeared in the now-defunct Figaro magazine prior to the collection's publication in '78, were not only his first attempt at serialized cartooning, but an accurate map of the linguistic variances of the city, practically a scholarly endeavor. Unrelenting detractors and critics are naturally occurring, but to fault the artist for reproducing what he heard is akin to faulting earnest anthropological representation of Other cultures—the lens is always already dirty.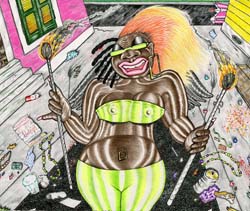 But there are other avenues in which Matthews' artistic inclination might not be so easily forgiven. One of those is his representation of race. His black and multiracial cartoon characters are highly racialized, meaning they rely on stereotypical indicators in order to communicate racial identity. Of the many pieces to be considered, Matthews' "13th Ward Majorette" stands out; it was created in 2009 and appeared in his Black and White show the following year (Figure 6). The African- American woman featured has all the markings of archaic black representation—the accentuated nose and lips and hypersexualization. She appears around the filth of Mardi Gras day, brazen, her hair literally on fire due to her ignited flambeau. Her representation, in a sense, is no less polarizing than eighteenth-century depictions of race demonized in contemporary Art History courses. "13 Ward Majorette" is actually a recreation of a woman Matthews encountered on Mardi Gras day, on the corner of Napoleon and Magazine in New Orleans, who was wearing green spandex and twirling batons just like his cartooned subject, though there was no fire involved. He thought to himself, "Only in New Orleans would some woman in green spandex with batons be walking up the street" (Faure 2011:7). Matthews' heightened awareness of race is reflective of larger Southern sensibilities, especially for someone who grew up in Civil Rights era Louisiana. Though, as it usually turns out with Matthews, the issue is more complicated than that. Another piece taken from his Black and White show, "Sailor," appears with a partially nude African American woman configured within similarly racialized terms. However, the woman is defiant in facial expression, while flipping her middle finger at any potential audience, who, at Arthur Roger Gallery during White Linen Night in 2010, were primarily white and suffering from one or another pretension. This "flipping the bird" detail does seem to contradict argumentation ascribing racialism to his work, depending on how that action is construed. But also related is Matthews' large African-American fan base. Matthews claims some of his most "ardent" admirers are, in fact, African-American. He believes their admiration is because he makes "the white people look kind of foolish and silly. And then they can relate that these are their neighbors and people who had dominated them in the past" (Sottek and Button 2010). Indeed, Matthews sees their respect drawn in revolutionary terms, and that his Yat lampoons are critique justly served.
Assuming that he is playing within the boundaries of African-American approval is not clear justification for his racialism. I argue that Matthews' polarizing representation stems from his deep ideological need to combat political correctness, which he agreed was a "war." He says, "I just think correctness can be overdone" (Bookhardt 2002). His depiction of African-Americans is manifestation of his psyche, which he refuses to temper in light of any social more. And in his art, he seems to even amplify his psychic contents to assert his role as "creator." When interviewed by Lily Keber (2010), Matthews explained to her why, over a period of ten years, he gradually modified the appearance of Nat'ly from an ugly, overweight grotesque into a buxom blonde; he told her, "Because it's my cartoon and I am god." A similar brashness could be seen at his Art for Heterosexuals show at Space Gallery in 2002. There, he displayed cartoons explicitly appealing to hetero-men, albeit in a toungue-in-cheek way, and hired topless servers to distribute hors d'oeuvres shaped like vaginas and penises. He admitted to me that Art for Heterosexuals was a play on the conventional art aficionado, many of whom are homosexual, though he amended this sentiment by saying, ". . . gay people get art. So I don't have to make art for them. This is for all the straight people and it's kind of making fun of the heterosexuals that I have to do this for heterosexuals" (2011). The show was a multivalent critique, operating to attack the larger art world paradigm, while diluting its own critical potency. And all for a laugh, really. Matthews' racialism is of a related construction. He at once perpetuates outmoded and negative representational values, but also manages to bring to light their fragility and potential to subvert, thus his "Sailor" flipping the bird.
To Matthews, there is sanctity to cultural disparity between races, and this is an articulation of his sympathies, though maybe counter-intuitively. In our first interview, he offered Norman Mailer's term "White Negro" for many of the cultural vultures taking residence in New Orleans. Referring to beat-era hipsters, Mailer (1957) claims that in the "wedding of the white and the black it was the Negro who brought the cultural dowry." Matthews cited second lining as example of black tradition whites have appropriated and mimic in a manner not keeping with its spiritual origins. "Even in the fifties," Matthews said, "you can see pictures of second lines and jazz parades where there's a lot of white people there, always with cameras, always trying to document everything." And through this documentation, whites now perform and have performed for the second lines beyond the boundaries of New Orleans' African-American neighborhoods, where, if Matthews had his say, they would never be seen. Many white New Orleans weddings, in fact, second line as part of their reception, which whites claim is "tradition." Yet Matthews insists second lines are a "black thing that's really seeped into white culture, really." Their popularity has also grown after Katrina, with television shows like Treme presenting the second line as tourist friendly, in the same vein as Mardi Gras, which it was never meant to be. Another New Orleans tradition Matthews sees suffering a similar fate are the Mardi Gras Indians. He told me about some wealthy white friends of his who dress as Indians for Mardi Gras, and he was emphatic in his condemnation: "I don't think white people should be Mardi Gras Indians." But Matthews (2011) went a step further, saying, "I don't think Mardi Gras Indians should ever appear in public except on Mardi Gras and St. Joseph's Day. Now they do commercials. Commercials for lawyers, and get paid. They were never meant to be entertainers." This commercialization and appropriation by whites is example of Matthews' underlying hypothesis of Western cultural dynamics: "The way I think American culture works is, and this is very simplified, black people invent things, gay people catch on to it, and then straight hetero white people catch on to it and it's not cool anymore. But everything starts with black people, y'know?" (2011).
In conversations on New Orleans, outsiders rarely hesitate to mention Hurricane Katrina. Arguably, the storm brought more attention to New Orleans than any event prior, a sad fact for a city so culturally rich and soulful. But a general malaise regarding Katrina has fallen onto the city's people. For years after the storm, many locals began conversations with estranged friends and relatives with their Katrina anecdote: the amount of damage they accrued, their rebuilding status, where they were when it all happened—it was a ritual I, too, dabbled in. But now, there is fatigue. Locals want to move on, and many have, but others have not, which is maddening over half a decade later. Matthews is fatigued, too. He told me he was "sick" of hearing about Katrina; like many, he does not want to be defined by a natural disaster, and this is also why he hates HBO's Treme—it rubs Katrina fresh into the minds of its audience and propagates a vision of the city made famous by controversy-seeking media outlets hoping to capture New Orleans as the despairing "chocolate city" mayor Ray Nagin had hysterically espoused it to be during the height of the storm's flooding. Matthews thinks Treme "makes New Orleans look like Haiti," but that "everything about Katrina made New Orleans look that way." Despite his disgust with the storm, Matthews did provide to me his idiosyncratic view on the subject. He sees Katrina as "the best thing to ever happen to New Orleans" for all the monetary and cultural attention it has brought the city, and he is not disheartened that it took a disaster for this to occur, considering the city derelict prior to Katrina. "It's kind of like that Bob Marley saying," he told me, "'Total destruction is the only solution'" (2011). And the influx of "new, smart kids" into the city after Katrina, of whom he thinks highly, just so happen to be some of those trying to keep Bunny Matthews' cartooning on the local artistic radar.
Matthews is unwavering in his love for New Orleans, even amidst acknowledgement of its lingering problems, crime and corruption. "That's the price you pay to live in [New Orleans'] colorful culture; it seems like in America either you can live in urban areas and deal with crime and different races and people of different economic backgrounds, or you can live in predominantly white suburbs and not have crime but then you have this dull life" (Matthews 2011). And Matthews' dedication to the city, to the state of Louisiana is conveyed through his xenophobic proclivities, the same he criticizes in other New Orleanians who he thinks "hate outsiders." If you did not "grow up in New Orleans," then you don't really exist to Bunny Matthews. "That is kind of the way I think. I only really care about people from Louisiana. And everybody else, I think that they're temporary" (Matthews 2011). While seemingly narrow-minded, this belief, I think, is Matthews' most earnest conveyance of respect for the city and region. To be so absurdly preferential toward a place is to express deep love for it, one might even argue perversely so. New Orleans is its own stain on the American metropolitan landscape, an aberration. Just like Matthews.
Sources
Bookhardt, D. Eric. 2002. The Sight and Sound of Music. Gambit.com, http://www.bestofneworleans.com/gambit/ the- sight-and-sound-of-music/. Retrieved October 1, 2011.
Cheney, Justen. 2011. Bunny Matthews Interview-Nint'Wardica. Taped Interview, http://soundcloud.com/justencheney/ bunny-matthews-interview-nint. Retrieved October 3, 2011.
de Caro, Frank. 1992. New Orleans, Folk Ideas, and the Lore of Place. Louisiana Folklore Miscellany 7 (1991): 68-80.
Dundes, Alan. 1971. Folk Ideas as Units of Worldview. The Journal of American Folklore 84.331 (January-March 1971): 93- 103.
Faure, Stephen. 2011. Interview Transcripts for Inside Northside Magazine (March/April 2011): 1-13.
Hardy, Jeanette. 1983. Introduction. Vic and Nat'ly Volume 1, Bunny Matthews. New Orleans: Jumawid Press.
Jordan, Scott. 2002. The Bunny Pages. Gambit.com, http://www.bestofneworleans.com/gambit/the-bunnypages/. Retrieved October 3, 2011.
Keber, Lily. 2010. Vic and Nat'ly. Vimeo.com, http://vimeo.com/13870862. Retrieved 3 October 2011.
Lyman, Tim. 1978. Introduction. F'Sure, Bunny Matthews. New Orleans: Neetof Press.
Mailer, Norman. 1957. The White Negro. Dissent (Fall 1957) Archived at Dissentmagazine.org, http://www. dissentmagazine.org/online.php?id=26. Retrieved 12 October 2011.
Matthews, Bunny. 2011. Interview(s) with author. October 4 and 25.
Sottek, Mark, and Graham Button. 2010. Online Biography, http://bunnymatthews.com. Retrieved October 1, 2011.