ARTICLES & ESSAYS


St. Expedito's Role in South Louisiana Catholicism, in New Orleans and in the Italian-American Community near Independence, Louisiana
By Karen Williams
As the supplicants of Our Lady of Guadalupe Church in New Orleans eagerly opened the package containing the new statue that was to grace the sacristy, a beautiful image of Our Lady, they were surprised to note that a second package of similar size had come to the same address. Puzzled, they read the bold letters EXPEDITE printed clearly on the outside. Opening the wrappings, they found a Roman soldier in resolute pose, both helmet- and sword- less, holding a palm branch in his left hand and raising high in his right hand a cross stating "hodie." Quickly-the saint's name allowed no hesitation-the soldier's image was ensconced in the right hand corner, near the church's entrance. In New Orleans, the saint's popularity rose quickly, a patron for those needing help right away; concerns both sublime and ridiculous fell under Expedite's providence. Those praying for the end of warfare, those seeking a speedy redress in legal and personal disputes, those seeking immediate employment, those striving to break habits of procrastination-all wondered how they had done without St. Expedite.
This may be an interesting anecdote, but its authenticity is far from certain, although many New Orleanians who believe in Expedite's power claim it to be true. In looking for St. Expedite's origins, one finds a rich morass of history and culture. New Orleans claims the saint as its own-both Catholic and voodoo followers-and remains unperturbed by its possible nascence in New Orleans. However, it is definitely not true that New Orleans has the only statue in the world as some sources claim or even the only statue in America. In fact, a number of churches in the United States as well as in Spain, France, Italy, Germany, and other countries contain the noted foot soldier, often titled Expedito; and opinion is varied as far as the authenticity of the saint.1 In Louisiana studies, St. Expedite is an important figure that illuminates how a particular culture may claim a saint for its own. In New Orleans, St. Expedite's unofficial and questionable status came to be a part of its appeal as voodoo embraced the figure. In contrast, the Italian community in rural southeastern Louisiana celebrated St. Expedito with public demonstrations and feasting.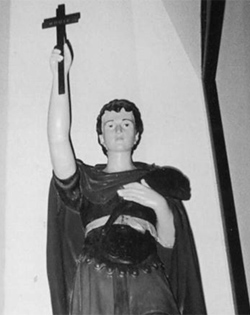 My first interaction with the saint, however, was in New Orleans at Our Lady of Guadalupe on Rampart Street, the oldest church building in the city, whose façade was completed in 1827. A burial chapel during yellow fever epidemics, Our Lady of Guadalupe was closed several times after yellow fever declined in the 1850s. In 1918 the Oblates of Mary Immaculate, an order of men dedicated to preaching to the poor, were invited to administer the mortuary chapel. After 1918, an interesting gallery of saints was installed, including St. Expedite, St. Michael, St. Raymond, and St. Anthony. St. Jude-the saint of the last resort-gathered much attention with only a small statue in a side niche. In 1995 a 17-foot image of the saint, the largest in the world, was placed in the chapel's rose garden (Supernaturally New Orleans, n.d.). Our Lady of Guadalupe also hosts an outdoor grotto dedicated to Mary Immaculate in which hundreds of bricks state "thank you" for answered prayers. And one cannot leave the church proper without facing two compelling figures. As one prepares to leave, St. Michael rises on the right, with his spear piercing a fallen Satan. On the left, Expedite stands firm, palm branch in hand, ordering the immediate end of strife.
As one leaves Our Lady of Guadalupe, he or she may walk behind the church, across the street to St. Louis Cemetery Number 1, reportedly the final resting place of voodoo queen Marie Laveau. Accustomed to making a lingering impression, Expedite managed to work his way into Laveau's hybrid religion, which incorporated the important trappings of Roman Catholicism-statues of saints, prayers, incense, and holy water-into voodoo, making New Orleans Catholicism itself akin to certain African religious practices. For example, both African deities and voodoo spirits transform into Catholic saints, and in rare instances an opportune spirit will manifest itself for the first time (Williams 1992:49). Rather than a sinister Satan, Alegba appears. Worshiped at the opening of the voodoo dance, Alegba is the guardian of the entrance way (Herskovits 1964:180). As gatekeeper, Alegba is also identified with St. Peter (Haskins 1978:52). Logically, Damballa, the dreaded serpent god, becomes none other than St. Patrick in this melding of African and European traditions (Herskovits 1964:315). St. Expedite himself is associated with Mercury, the messenger god of the Romans and with the "African and Afro-Caribbean entities Elegua, Legba, Baron Samedi, Bonsu," which are messengers and tricksters ("Saint Expedite," http://www.luckymojo.com). St. Expedite, as you might guess, became a revered voodoo saint who, in keeping with voodoo custom-one must feed the gods-asked to be given pound cake for granting favors. A New Orleans tradition claims Sara Lee the dessert most preferred.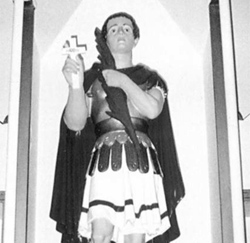 My questions at the church and its adjacent gift shop went largely unanswered. The woman working at the gift shop claimed to know nothing of St. Expedite, although prayer cards, small statues, and medals all bore the image of the saint, and offered more information about St. Jude, to whom the shrine is officially dedicated. She not only refused to verify St. Expedite's authenticity but declined to speak about the saint at all.
My Louisiana quest for the saint seemed to be at a dead end. However, driving on the back roads one day near Independence, Louisiana, home to a significant population of Sicilian and Italian descent, I came upon a small chapel marked by the title St. Expedito. Could this be the same figure? Unable to enter the locked door, I carefully pushed ajar a heavy window and peered into the quaint chapel. Near the altar, Expedito stands tall, crow underfoot and cross in hand, with all the standard features. A young Roman centurion, as mentioned earlier, has taken off his helmet and sword and instead holds aloft the cross stating "Hodie," today, in Latin. One recurrent interpretation is that Expedito wanted an immediate end to war, thus helmet and sword are laid aside, replaced by the palm branch. The figure appears stoic, calm, and immobile; but his stance is belied by a second banner emblazoned with "Cras, Cras," emanating from the throat of a crow being stomped under the saint's foot. Why must the otherwise peaceable saint torment this prostate crow? Here Expedito shows his love of wordplay beyond his apt appellation. In Latin and Sicilian, the crow says "cras, cras" which means tomorrow; thus the crow is always croaking about the future. Stomping the crow, Expedite destroys the tendency to procrastinate ("St. Expedite," http://www.armeniapedia.org).
There was no mistaking this figure-so remarkably like his New Orleans' brother. Perhaps I would find a willing supplicant here in the largely Catholic community, especially since the whole chapel was proudly marked as St. Expedito's. Although the pavilion beside the building seemed somewhat in disrepair, the chapel remained intact, my limited view inside yielding a neat, well organized room. I drove to the main Catholic Church office in Independence to see if I could get any information. An elderly man stopped me before I entered, sensing I needed help, and told me the name of the family who maintained the chapel-and little else. The church office had no more information for me about the chapel but did inform me that a young man had just chosen (this was 2005) St. Expedito as his patron saint.
Driving back toward the chapel, I noticed a well-kept wood frame house across the street. I knocked on the door, to be greeted by Mrs. Carmella Marciano, a vibrant woman in her seventies, who happily acknowledged my interest in St. Expedito. Mrs. Marciano, whose father built the chapel in the late 1940s because of St. Expedito's help in a personal circumstance, told me of the celebrations that used to be held every second Sunday in June in honor of the saint (Marciano 2005). Food, beer, and bands converged with friends to offer homage. In the '50s and '60s the pavilion was packed with people eating and drinking. Differing from New Orleans' custom of feeding the saint, the Italians made sure to feast with him, not limiting the food to one simple cake to leave for the saint's benefit, but feasting on hotdogs garnished with a local specialty, Hi Ho barbeque sauce, made in the community, along with soft drinks and beer, while the festivities included dancing and music by local bands like the Rhythm Kings. By the late 1980's, as membership in the St. Expedito society declined, celebrating the feast day eventually fell by the way, although the chapel was used for special occasions or for special intercessions. The chapel remains intact to this day. On November 17, 2009, Mrs. Marciano and family members were gracious enough to open the chapel, which her grandson, Johnny Lee, had recently come into possession of. The statue is in excellent condition as well as other artifacts I will describe later. Mrs. Rosemary Lee talked of the St. Expedito Society, of which she was secretary for a number of years, describing the raffles and rock and roll dances that were held. Mrs. Janet Perise explained that a novena was recited in the chapel on the feast day; prior to that, the members would say the rosary for a week, ending with a mass Sunday at Mater Dolorosa Church in Independence. There would be bingo during the day and fireworks at night. On the feast day itself the Independence Brass Band would lead a procession to the chapel and pavilion. Mrs. Marciano remembered that the musicians were especially rewarded with Italian sausage and homemade bread with olives and oil (Marciano et al. 2009). The society was quite active, celebrating the feast day for eighty years. Dr. Francesco Fiumaro, professor of Italian and Spanish studies at Southeastern Louisiana University, remarked that in his research of The Independent, a newspaper that served the Independence area, there was an article about the St. Expedito Society sending money for flood relief to Italy (see Fiumaro 2009).
This enthusiastic reminiscence from the family most responsible for the veneration of St. Expedito in this area brought much of the society's activities to light and suggests a more thorough history should be pursued. But let me go back to my first encounter with Independence's version of St. Expedito. Back in 2005, when I first asked Mrs. Marciano about the saint's story, she quickly told me that Expedito was a German soldier-she didn't know what war he fought in-but that he wanted an end to the war. "Today-stop the war today," she slapped her hands in the air emphatically. She then laughed at the story of the "postal" Expedite and had no doubts that he had been an actual solider. The name Expeditus is mentioned in the "Hieronymianum" (an early Catholic document of Church martyrs) in two groups of martyrs, one group assigned to Rome, one to Armenia. But there is no tradition verifying either reference ("Catholic Online Saints," http://www.catholic.org), and even the postal story has existed for centuries. One story claims that a saint's body was sent to a community of nuns in Paris in 1781. The corpse's case was marked "expedite" for "obvious reasons" ("St. Expedite," http://www.armeniapedia. org). The nuns mistakenly believed Expedite to be the name of a martyr, and his cult became widely popular in France and other Catholic countries as news of the saint who quickly granted miracles spread. One problem with this story is that before this date St. Expeditus was established as patron saint of a town in Sicily in the seventeenth century ("Expedite," http://www.angelfire.com)
The origins of the saint remain hopelessly blurred while the visual renderings of the saint are remarkably consistent.2 In her interview in August of 2005, Mrs. Marciano explained that before the chapel was built, a special room of the house was dedicated to the saint; her grandmother had promised that if St. Expedito granted her a favor, she would get a special print of the saint. A second portrait was ordered by her father who later had a statue made in Germany, which he placed in the chapel when it was completed in 1947. When I asked Mrs. Marciano if I could accompany her to the chapel, she obligingly allowed me entrance to the sun-filled, orderly room with its immaculate white walls. After viewing the St. Expedito paintings and the by now familiar statue at the center of the chancel area, I concentrated my gaze back toward the side walls. Mrs. Marciano noticed my focus and asked if I wanted to see the eyes, hand, and two legs the saint had healed. "Yes," I said. Hanging near the back wall were plaster appendages, models of the limbs the saint had saved from diabetes and gangrene, while a model hand sat on the altar next to Expedito's feet. There was no embarrassment or hidden ritual involved in this community's veneration of the saint. Unlike the exclusivity or privacy of New Orleans' celebration of the saint, the feast days in Independence were public celebrations; and the praying to the saint for favors was a common, accepted practice.
A month later on September 16, 2005, I interviewed by phone Mike Correnti (an adult who had put off his confirmation) as he was driving up north moving goods to people after Hurricane Katrina. (Correnti 2005). He said he simply chose the saint as his patron because he liked what he stood for-which he couldn't really remember-and that he identified with the saint, who was known for his "expeditiousness" and his "good behavior"-qualities which Mr. Correnti certainly exhibited as he ventured forth from the little community of Independence, "expeditiously" driving through the night, hastening to deliver goods to those ravaged by Hurricane Katrina. He also said his priest was at first hesitant for him to choose this saint, but that the uncertain origins "piqued" his curiosity. He informed me that he had found the saint by looking at a list on the internet. (Incidentally, one interesting phenomenon is that computer programmers, including hackers, have claimed the saint as their patron as well.)
In all the various stories there is one certainty-the use of wordplay arising from the saint's name. In all its various spellings--Expedite, Expeditus, Expedito, Spedito-those praying to the saint want immediate results and according to supplicants, that is the saint's driving force-the immediate answer to life's difficulties. Here follows a common prayer:
Saint Expedite,
Noble Roman youth, martyr,
You who quickly bring things to pass,
You who never delay,
I come to you in need-
Do this for me, Saint Expedite,
And when it is accomplished,
I will as rapidly reply for my part
With an offering to you.
Be quick, Saint Expedite!
Grant my wish before your candle burns out,
And I will magnify your name ("Saint Expedite," http://www.luckymojo.com)
"A prayer answered and a promise kept" is the motto to commemorate the St. Expedito Feast. In the Italian community of Independence, St. Expedito functioned not as a new saint who appeared when circumstance demanded, but as a continuance of an established tradition of seeking help and expecting and finding solace in community ritual. On November 17, 2009, as I revisited the shrine and listened to Mrs. Marciano's family recount their celebrations of the saint, I saw family traditions and values preserved remarkably well. As Mrs. Marciano stated, "St. Expedito is a true miracle saint. He's a good saint." In the society's donations to Italian flood relief, in Mr. Correnti's transport of materials to hurricane victims, in the strong and enduring traditions of family and faith, St. Expedito delivered time and again, finding a true home in this Italian-American community.
Notes
1. All research of St. Expedite or Expedito involves obvious wordplay with the name, and sources, both written and oral, will inevitably make a disclaimer about the absolute validity of the saint's origin.
2. Note that while the legend of the crated statue marked "Expedite" is told most frequently in relation to New Orleans (those receiving the statue mistakenly gave an unknown foot soldier a name) it is told in association with the Paris post as well as with the Independence post, although this rendition is fairly new to the Italian community in Independence. My research in the Independence community suggests this modern proliferation of the "postal" legend in Independence is due to influence from the more widespread New Orleans legend.
Sources
"Catholic Online Saints," http://www.catholic.org. Accessed August 12, 2005.
Correnti, Mike. 2005. Telephone interview by the author, September 16.
"Expedite," http://www.angelfire.com. Accessed August 1, 2005.
Fiumaro, Francesco. 2009. The Sicilian-American Life: What the Local Newspaper Might Tell Us about Daily Life in Independence during the 1950s. Paper delivered at the 42nd Annual Conference of the American Italian Historical Association, October 30. Baton Rouge, LA.
Haskins, Jim. 1978. Voodoo & Hoodoo. New York: Stein and Day.
Herskovits, Melville J. 1964. Life in a Haitian Valley. New York: Octagon Books.
Marciano, Carmella, Johnny Lee, Rosemary Lee, and Janet Perise. 2009. Interviews by the author and Dr. Francesco Fiumaro, November 17.
Marciano, Carmello. 2005. Interview by the author, August 20.
" Saint Expedite," http://www.luckymojo.com. Accessed August 1, 2005.
"St. Expedite," http://www.armeniapedia.org. Accessed August 1, 2005.
"Super Naturally New Orleans." N.d. Pamphlet provided by Our Lady of Guadalupe Chapel, International Shrine of St. Jude, New Orleans, LA.
Williams, Karen Luanne Williams. 1992. Images of Uneasy Hybrids: Carnival and New Orleans. Unpublished Dissertation. Emory University: UMI.