ARTICLES & ESSAYS



Making Piñatas: Celebration Mexican-Style in North Louisiana
By Barbara Chumley and Susan Roach
Introduction
Gaily decorated hollow containers stuffed with treats and toys, piñatas serve as a contemporary symbol of parties and happy surprises. They may be made with a large clay pot, balloon, or box as a base, which is covered with papier-mâché wrapped with colorful tissue. The piñata has a controversial origin.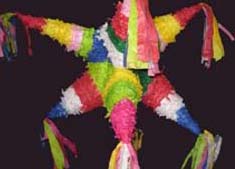 Some believe it was introduced to Latin America by Spanish colonists who made seven-pointed star-shaped piñatas to symbolize the seven deadly sins and to introduce their religion to the indigenous people, who had a similar tradition celebrating the birthday of the Aztec god of war, Huitzilopochtli. Others believe that Marco Polo brought it to Italy from China, where it was used in the New Year's celebration. While little evidence supports these claims, the tradition remains strong in Mexico, where the homemade folk art of making piñatas for celebrations was common. In 2008 some Mexican immigrants to Louisiana, including Maria Lopez and Teresa Turrubiartes of Bernice, still carry on the tradition of making piñatas.
Piñatas are so popular in the United States now, especially for children's birthday parties, that they are commercially available at supermarkets. Piñatas can be made in various shapes, ranging from the traditional star to popular culture heroes.
At the parties where they are used primarily for children, they are suspended on a rope either indoors from the ceiling or outdoors from a tree. Often an adult will hold one end of the rope and pull it as if it were on a pulley, raising and lowering the piñata and swinging it from side to side to tease the children.
Each child, in succession, swings at the piñata until it is completely broken open and all of the candy and/or fruit falls to the floor/ground. Since traditional piñatas are rather strong, various parts of it may break off before the whole vessel is emptied.
Audio Player
Children singing the traditional piñata song
Typically, at the Mexican parties, a version of the traditional piñata song is sung in Spanish as each child takes a turn at the piñata. For example, in Junction City, Arkansas, Martha Herandez sings the following:
Dale, dale, dale [Hit it, hit it, hit it,]
No pierdas el tino. [Don't lose your good aim.]
Mida la distancia [Measure up the distance]
Que hay en el camino. [That there is in the path].


Dale, Dale, Dale, [Hit it, hit it, hit it,]
Y no le dio [And don't give it up,]
Quíten la cabeza [Take off the head,]
Porque sigo yo [because it is my turn!]
(Perla Hernandez, 16 February 2008; translated by Rachel Winchel)
When the song ends, the child stops to give the next one a turn. The song is repeated and the children take turns until the piñata finally collapses.
The Bernice Mexican Community
Since the 1980s, the Mexican population in north central Louisiana has grown immensely, just as it has in other Southern states. In addition to moving into urban areas such as Monroe and Shreveport, these new immigrants have settled into small communities where they are maintaining a number of traditions from their home country. One such community is Bernice, a small rural town about 25 miles south of the Arkansas border, where Mexican men, primarily from the rural Mexican state of San Luis Potosi in south central Mexico settled. They came to the area to work in agriculture or in the chicken processing plant in Farmerville, a larger town, located 11 miles to the east. The parish seat of Union Parish, Farmerville also provides the Catholic church–Our Lady of Perpetual Help–that serves the Mexican community.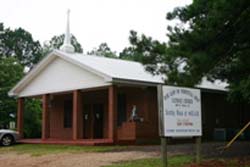 The first Mexicans who came to Bernice did not have an easy time. They worked 12 hours a day for minimum wage and lived crowded together in dilapidated trailers and houses. Their lives in Mexico had been even harsher: there they had lived in poor villages without electricity or adequate sanitation. Women had to walk to a river to wash their families' clothes by hand. Because of the strong work ethic learned in their home country, the former residents of San Luis Potosi who live in Bernice can now send money home to care for other family members and aging parents still in Mexico, and also have enough money left to acquire the accoutrements of American working class life, such as automobiles, home entertainment centers, computers, and even their own homes.
Within a decade, the men's wives and small children, who had remained behind in their small Mexican villages, came to join their husbands and fathers and set up homes. Many of the families who came to Bernice came at the urging of siblings and extended family members who already made their homes there. The very first families there liked Bernice because jobs were available, the residents were accepting, and the town possessed a quiet ambiance that was similar in some ways to the tiny villages where they were raised. In 1996, eight to ten Mexican families lived in Bernice. In 2008, 12 years later, at least 40 to 45 Mexican families–mostly from San Luis Potosi–live there.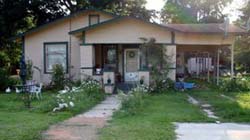 Most Mexican adults and children live contented lives in Bernice. The community is close knit; they celebrate each others' joys and help each other through adversities. For example, the community recently gathered money so the parents of a Mexican child diagnosed with brain cancer could go to Baton Rouge to be with their sick child. Thanks to their hard work and their commitment to both to their families and their Catholic faith, in the last eight to ten years Mexican families have been able to live the American dream and yet maintain important cultural traditions.
Maintaining Traditions
In Bernice, one woman plays a key role in maintaining Mexican traditions, especially those centered on women's domestic crafts, rituals, and fiestas: Maria Lopez. One of her favorite crafts–piñata making–is an important part of many celebrations in her community. Maria Lopez, a 38-year-old wife and mother, came from San Luis Potosi to join her husband with their young son in the mid-1990s. Mrs. Lopez is now the main community organizer in Mexican Bernice. When not organizing to help others, she organizes and decorates for an array of Mexican Catholic community celebrations from birthday parties, including quinceañeras, to the Posadas.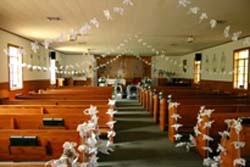 Before coming to Bernice, she was very active in the local Catholic church in her native village in San Luis Potosi. She sang in the choir, taught catechism to village children, and organized worship and celebrations of her Catholic tradition.
When Mrs. Lopez first arrived in Bernice, she had difficulty continuing the traditions that were so important to her because the number of Mexican families was too small to have the big community celebrations required by some of the most important days in the Mexican Catholic church calendar. During her first couple of years in Bernice, the only community celebration that was observed was La Natividad, December 24, a preparatory celebration of the birth of Jesus, which culminates just after midnight on December 25, when Christ's birth is celebrated. When she first arrived, the celebrations were very small with only a couple of families, but the piñata was a core tradition, even with these early celebrations: "When I got here I wanted to go back. There wasn't very many people . . . We didn't have the baby Jesus. We didn't have anything. We didn't do anything. Only we had a piñata for Christmas, and dinner, and that was it." Later, as more people began to arrive, the celebrations, especially at Christmas, became more plentiful. Mrs. Lopez describes the change: "I began to bring piñatas, and all the people stayed here, and made piñatas for the baby of Teresa. And we lived here. All the time [during Las Posadas] there are piñatas for the Baby Jesus. Christmas is just like it was in the ranch where I used to live. It was where the tradition came from, to have the Posadas, with piñatas and the Baby Jesus with piñatas."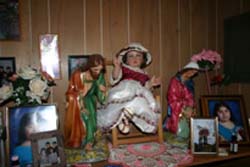 The Bernice community, led by Mrs. Lopez, celebrates all important Catholic feast days, such as the feast day of the Virgin of Guadalupe, the processions of Las Posadas, and special saint's days including El Niño de Atoche.
Typically, these celebrations include both community prayer and fiestas (parties). These fiestas usually include singing, eating traditional foods, and breaking a piñata.
These days, Mrs. Lopez works as a part-time cook at Sonic Drive-in to increase her family's income, so she has less time to engage in her favorite traditional crafts, such as crocheting, dressmaking, and creating original decorations for church celebrations, birthday parties, and special church masses–all activities that bring her joy. However, one traditional craft that Mrs. Lopez almost always makes time for is making piñatas, a primary form of decoration and fun at many community gatherings and celebrations, especially birthdays.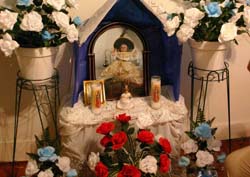 Soon after she arrived in Bernice, Maria Lopez continued her family tradition of making piñatas: "From the following year that I arrived here, they didn't have piñatas here and my son was having a birthday, so we made the piñatas . . . And now, they sell them but we aren't going to buy them." As her daughter explains further, "It is so much cheaper to make them because you already have the leftovers from the last piñatas, so you get about, make about three piñatas for the price of one." Piñata-making, like numerous other traditional crafts, involves recycling and adaptive re-use of materials such as the cardboard from cereal boxes. Mrs. Lopez makes about 15 piñatas a year, some for children's birthdays and others for the fiestas that follow church celebrations. Occasionally she is paid a minimal price for her efforts, but it does not begin to cover her time.
Mrs. Lopez learned piñata-making as a young child by watching and assisting her mother and grandparents in the process. She says, "And during Las Posadas for us my grandparents would have Posada the 20th of December, and each family went, and we made a piñata." When she was growing up, she said that in Mexico, "Everyone made them. They didn't buy them." Mrs. Turrubiartes, on the other hand, grew up in a family in San Luis Potosi that rarely had piñatas or parties since they could not afford them, so she did not really learn to make them: "It's because we didn't have birthday parties there and here we do. . . . There we almost never had parties. One time we had a party, and some people gave me a piñata as a gift." However, when Teresa Turrubiartes moved to Bernice she learned how to make piñatas from her neighbor, Maria, and now frequently joins her, in making many of her piñatas. Usually, Mrs. Lopez sculpts the piñata shape and Mrs. Turrubiartes prepares the fringed tissue paper strips, which Mrs. Lopez then glues in place on the piñata surface.
The type of piñatas that both women were familiar with as children in San Luis Potosi were star-shaped and made with clay pots as bases. Successive layers of flour paste and paper created the points of the stars. Since the women say that the piñata represents the star that led worshipers to the Baby Jesus, the most common time that piñatas were made in Mexico was during the days leading up to Christmas. Although she still makes the traditional star shape for Las Posadas celebrations, she also makes popular culture shapes of cartoon, TV, and movie characters on request for birthdays and other secular celebrations. Her children get to pick out what characters they want for their birthday piñatas. In the past she has made piñatas representing popular children's toys and literary characters and for Easter, a "bunny, or a basket with eggs." Mrs. Lopez's personal favorite piñata shape is the snowman, especially for winter months.
Normally, Mrs. Lopez spends part of several days making a piñata. Since successive layers of paper and flour/paste or glue need to dry before applying the next, the amount of sunshine is a determining factor in how many days are needed to make a piñata. In Bernice Mrs. Lopez does not have access to the clay pots or the Mexican fruits traditionally used to fill them. Instead, she creates a round pot shape by applying paper and a flour/water mixture around inflated balloons, which she later pops; this common piñata base is used throughout the Mexican community in this area.
When Mrs. Lopez is pressed for time or does not have balloons, she uses a small box instead of a balloon for the base and uses tape instead of glue or homemade paste. The use of balloons with flour paste is more common and has been documented in nearby Junction City, Arkansas.
Mrs. Lopez explains her reasons for the change: "Today it is really modern and we use tape, but when we make the paste with flour then it becomes a glue, because in the time that I learned [in Mexico] we didn't have any transportation and we had to use flour and water to make glue."
Making the Piñata: The Process
To make the points for a traditional seven-point star piñata, she cuts the cardboard from cereal boxes in such a way as to be able to pull them together into a funnel shape. After securing the funnel (cone) shape with transparent packaging tape, she cuts notches at the base of the funnel and attaches the notches to the box base, also with tape. She wraps twine around all sides of the box and then ties it all together at the top of the box, directly above the hole. Not only does this twine add strength to the piñata, but as Maria Lopez explains, it provides a secure way to attach the rope that suspends the piñata in the air: "You have to keep it secure, or else it will move, and you don't want it to fall."
After she has the shape of the piñata formed, she applies a layer of glued paper. Along with the twine, this paper adds strength to the piñata. Adding strength is important because the stronger the piñata, the more candy it can hold. Mrs. Lopez prefers to fill the piñata with chewy candy rather than hard candy since hard candy breaks easily when children hit the piñata with a stick.
While Maria makes the form, Teresa makes fringe from lightweight tissue in assorted bright colors–red, white, blue, yellow, green, pink. This involves cutting strips of various colors of tissue paper about one-inch wide. Then she makes deep cuts into each strip to form a fringe. Finally, she curls the fringe by gently scraping the sharp edge of scissor blade along one side of the fringed strip.
Next, Mrs. Lopez applies commercial craft glue to the structure and begins wrapping the fringed, curled strips of colored tissue paper to the surface of the piñata in bands two to three inches wide. When making a star-shaped piñata, she begins at the tip of each star point. She varies the bands of colors in such a way as to place a strong color, such as red or green, next to a weak color, such as pink or light blue. Her color design for a star-shaped piñata includes making opposite points of the star mirror images of each other and incorporating the same group of colors on all of the star points. She creates variety by placing different colors next to each other on pairs of star points. When asked how she puts colors together, Mrs. Lopez responds, "Sometimes I put red near white. . . Like this blue, it also can go near the yellow because it is strong."
Once she has covered all of the star points with fringed tissue paper, she begins to cover the box base. Finally the piñata is ready for the colored tissue paper tassels, which hang from each star point. She attaches these tassels with package tape. She will not fill the piñata until it is time for the fiesta.
When asked how she appraises a piñata, Mrs. Lopez commented that the best piñatas have a string wrapped around the base for strength and have an outer surface entirely covered with tissue paper. She also likes for the points on the star to be evenly placed so that the form is symmetrical. When the structure does not meet these strict aesthetic requirements, she is disappointed in it even though the piñata is destined for destruction. When these criteria are met, her final assessment is "how pretty it is." No matter how plentiful piñatas are and how cheap, Mrs. Lopez will probably never give up this craft or the others in which she participates; she gets so much pleasure from them. Besides, she says her piñatas are sturdier and prettier than most store-bought ones. "Because I like to make them. . . And it's cheaper too." Without doubt, this frugality has helped the community thrive.
Sharing the Tradition
Mrs. Lopez loves the tradition of making piñatas, and she is proud of her ability to make them. Every year, she visits a class at the Bernice school and demonstrates this traditional Mexican craft. Her reason for doing so is two-fold. First, she wants non-Mexican members of Bernice to be exposed to Mexican traditions; and second, she wants others, such as her young daughters, to carry on the piñata-making tradition. Mrs. Lopez is aware that piñata-making is a dying craft. Though she makes piñatas to save money, she realizes many Mexicans no longer have the time to make them; most buy piñatas today, even in Mexico. Mexican residents of Louisiana can find piñatas in small Mexican stores that are springing up, and in many Louisiana and Texas towns and cities, piñatas are available in grocery stores or even Wal-Mart.
Because of the joy she takes in continuing the traditional crafts of her childhood and her interest in continuing the Mexican Catholic traditions she grew up with, she has been instrumental in creating an ambience in Bernice that reminds former residents of San Luis Potosi of all that is good about their native villages in Mexico. The Mexican Catholic families who live in Bernice are proud of their community and do not want to live anywhere else. Now that there is a strong Mexican community surrounding her in Bernice, Maria Lopez finds it much easier to celebrate her Mexican traditions, and she means to continue them by teaching her children and others: "At least to me, this represents something beautiful. We don't want to end it. I want my children to follow the traditions."
Sources
Cantú, Norma Elia. "La Quiñceanara: Towards an Ethnographic Analysis of a Life-Cycle Ritual." Louisiana Folklife Program.
_____ and Olga Najera Ramírez, eds.. Changing Chicana Traditions. Chicago: University of Illinois Press. 2001.
Hernandez, Martha. Interview with Perla Hernandez. 11 February 2008.
Hernandez, Perla. Videotape of piñata at party in Junction City, Arkansas.
"Learning About Hispanic Cultures through the Study of Mexican Holidays, Celebrations and Traditions." Michigan State University.
Lopez, Maria and Teresa Turrubiartes. Interview with Susan Roach, Martha Brown, and Barbara Chumley. 31 May 2007.
MacGregor-Villarreal, Mary. "Celebrating Las Posadas in Los Angeles, Western Folklore, 39 (Apr., 1980), 71-105.
Glossary
El Niño de Atoche: This child saint is thought to be the boy Jesus. Though originally a Spanish saint, he has a Mexican shrine located in Plateros, Zacatecas. El Niño de Atoche is the most revered saint in Mexico after the Virgin of Guadalupe. Different Mexican saints are thought to be special protectors of specific groups of people. El Niño de Atoche is the saint for people in all kinds of difficulties, such as those serving time in prison or having difficulty with the US Immigration and Naturalization Service.
Las Posadas: This ritual celebrates Mary and Joseph's search for lodging and begins December 16 and ends on December 24. On each of these days in the evening, a procession of people carrying statues of Mary and Joseph stop in front of the door to the home of a family who is sponsoring that night's celebration. Members in the procession stand outside the front door of each home singing specific songs until the host family opens the door to receive Mary and Joseph. Typically, these celebrations include both community prayer and fiestas (parties). These fiestas usually include singing, eating traditional foods, and breaking a piñata. On the last night of Las Posadas, Christmas Eve, the celebration centers around the "Baby Jesus," a special doll-like statuary, which in Spanish is called El Niño Jesus or El Niño de Dios. Not only in the host home, but in most Mexican Catholics' homes, "Baby Jesus" is laid in a home altar on Christmas Eve and raised on January 6th, the Catholic feast of Epiphany. In Bernice, most Mexican Catholic families have a "Baby Jesus," which they brought with them from Mexico. Each year "Baby Jesus" wears a new dress, many of which are crocheted by family or community members such as Mrs. Lopez. After the Baby Jesus is raised from the manger scene altar on January 6, He is often seated in a specially designed chair that fits his statuary-type body and then placed between a statue of Mary and Joseph. He remains in the chair until the next celebration of La Natividad.
Quinceañeara: An elaborate coming-of-age birthday party for 15-year-old girls, akin to the American Sweet Sixteen party. The formal celebration typically includes a mass and party with gifts, cake, dancing, and other rituals, where the young woman is treated like a princess, to signify that she is no longer a child.
Virgin of Guadalupe: One of the most important celebrations is December 12, the feast day of the Virgin of Guadalupe. The Virgin of Guadalupe is the most revered saint in Mexico and has a special place in the life of the Mexican people. She appeared in Mexico in the 16th century to Juan Diego, a poor Mexican peasant, and left him a bouquet of roses and an image of herself on his mantle as proof of her appearance. Her image is found everywhere-including in all of the homes of the Catholic Mexican residents of Bernice. Many Mexicans love and venerate the Virgin of Guadalupe as the mother of the Mexican people. Since she is the only verified apparition of Mary, the mother of Jesus, in the Americas, she is a source of pride and encouragement for most Mexicans wherever they live. Home altars to the Virgin are common.