ARTICLES & ESSAYS


Cultural Tourism in Cajun Country: Shotgun Wedding or Marriage in Heaven?
By Barry Jean Ancelet
Tourism is based on a simple fact: people leave home because they don't want to be there. Vacationers like to be constantly reminded that they are away from home. They do this by seeking out people and places that are unfamiliar. This is usually accomplished by a change of landscape: people from the mountains go to the beach; people from the coast go to the mountains. Country folks go to town; city folks go to the country. People from the Sun Belt go skiing; people from the snowy north go water skiing.
Cultural tourism is based on the notion that people can feel away from home by visiting another, different culture. Many of today's "tourists" are fast becoming highly sophisticated visitors interested in a more authentic and enriching cultural experience than a theme park can afford them. These visitors have realized that America is a wonderfully diverse place which can afford them out-of-culture experiences without a passport, in his "Appeal for Cultural Equity," Alan Lomax warned, "A grey-out is in process which, if it goes unchecked, will fill our human skies with the smog of the phony. . . . A mismanaged, over-centralized electronic communication system imposing a few standardized, mass-produced and cheapened cultures everywhere" (Lomax 1977). Today, thoughtful visitors are discovering that the grey-out has not yet reached everywhere, that there still are interesting people and cultures out there that aren't anything like what they're used to. But one should be careful what one wishes, because those wishes just may be granted.
Tourists have been pouring into Louisiana for many years. New Orleans and the plantation belt afford the kind of exotic out-of-culture experience that many seek in this region "south of the South" (Gutierrez 1983). Yet Cajun country just next door has only recently begun to gear up its tourism potential. To be sure, a substantial number of adventurous souls have long found their way into the bayous of south Louisiana to visit the land of Evangeline and moss-draped oaks. But despite the best efforts of local tourist bureaus, the highly organized conduits into the area necessary to handle a full-blown tourist trade are only recently being developed. In fact, if anything, Cajun country has long had the reputation of being a part of "lost America" (Hallowell 1979). This in itself has attracted a good number of hardy souls, but the casual visitor requires a certain amount of convenience and critical mass. There has to be enough to do in an area to attract the kind of travelers who come from hundreds or thousands of miles and who stay for several days or a week, the minimum amount of time required to leave money in the area.
Eighteenth- and nineteenth-century travelers' accounts often described Cajun country in less than glowing terms. It was, after all, a flat, hot and humid, mosquito- and snake-infested place where the houses that weren't immediately eaten by termites rotted away (le Page du Pratz 1758; Raynal 1794; du Poisson 1959). The people who lived in this dank and dangerous place were often described as strange and backward, even xenophobic and violent (Sealsfield 1986). Many of these perceptions have been reinforced chronically since then, most recently by journalists (e.g. Bradley 1984; Jaynes 1985; Greene 1986) and the movies (Southern Comfort [1981]); No Mercy [1986]); The Big Easy [1987]). And frankly, Louisiana is still flat, hot and humid, though we have discovered insect repellent, rubber boots and treated lumber.
On the other hand, the Cajuns have been undergoing the Americanization process in earnest since the turn of the century. Fueled by the discovery of oil near Jennings in 1901, the Cajuns worked hard to enter the mainstream. Salaried jobs gave them the money to buy radios and record players, and the area began to sound like part of America. Huey Long's bridges and highways opened south Louisiana to the rest of the country, and it began to look like part of America. Electrical lines stretched across the landscape. Billboards lined the highways. Boomtown growth overran zoning ordinances, creating bizarre juxtapositions of old and new in the best cases, and eliminating the old altogether in others. Waterways became polluted with chemical waste. Automobile exhaust even began to kill the Spanish moss. South Louisiana, like many other "quaint" or "lost" places, began to look generic, with fast food rows, shopping centers and malls.
The oil industry supported the economy almost exclusively throughout most of this century. There was no need to pursue other interests. Farmers continued to produce a few major cash crops such as sugar cane and rice, but industry had only a single base. Then in the 1980s, the oil industry experienced one of its periodic busts. The bottom had fallen out of the market before, but this time the exclusive dependence on black gold was felt throughout the society. Community leaders began desperately to look around for other areas to develop and diversification became the buzz word of the decade.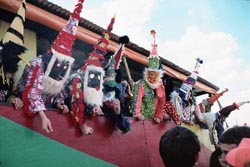 One of the first things people saw when they looked around was the participants. Mamou recently adopted rules requiring the participants join the rider's association no later than two weeks before Mardi Gras day. In Iota, participation is limited by cultural factors: all participants must be appropriately masked and costumed and all must know the local version of the traditional Mardi Gras chant in French.
Communities interested in hosting tourists have developed ingenious ways of keeping them out of the way of what is going on. Mardi Gras runs leave town early in the morning and weave their way through the countryside until mid-afternoon. To keep tourists off the roads and in town, associations have been programming little festivals with music, food and Mardi Gras-related activities such as masking contests and chicken chases. Later in the afternoon, when the Mardi Gras rides back into town, visitors get a parade made up of the real thing, with riders dismounting and engaging them in dancing and general Mardi Gras play. The communal gumbo at the end of the day, once reserved for riders and contributing homeowners, is now made available to visitors. For a nominal price, visitors can sit with the riders and enjoy the fruits of their labors, and help supplement the costs of the celebration at the same time. In the case of Tee Mamou Mardi Gras, based near but not in Iota, organizers have cleverly arranged for the town to be the ride's last stop. Participants, pile out of their wagon to perform their ceremonial begging ritual. In effect, they hit up tourists who have been celebrating in town all day waiting for the arrival of the Mardi Gras, collecting lots of money while giving the tourists a very real and direct Mardi Gras experience.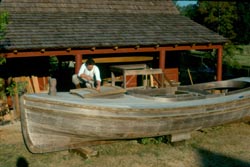 While festivals and other annual events can be useful in cultural tourism, they don't have the lasting value of events that occur daily or even weekly. Several communities have begun to develop careful, long-range plans for ongoing contact points which will serve the visitors' needs without ruining the cultural landscape for natives. In Lafayette, local government joined forces with private industry to develop the Bayou Vermilion project which seeks to keep the bayou clean and, at the same time, develop its potential for recreation and tourism. The ecological importance of preserving the bayou is admirable enough, but the project has also developed a historical folklife museum called Vermilionville, based on years of research and inspired by such models as Massachusetts's Sturbridge Village or New Brunswick's Village Acadien. Vermilionville's commercial side has produced some interesting ad hype as its "Food, Fun and Folklife" jingles. Ironically, a limited budget has worked in Vermilonville's favor. Instead of importing everything and everyone they needed, staff members have been forced to make ingenious use of local resources, including people and artifacts, giving the community a real stake in the project. Also, the project has had a few unexpected results. Master native craftpersons demonstrating there have discovered a new market, not only for their products, but also for the performance of their skills. They have also acquired apprentices who have discovered a new demand for traditional skills such as boat building, saddle making, and carpentry. Storytellers and musicians who perform in the oldest styles have found a new demand, as well as a regular forum for their performances.
Another exciting development in cultural tourism recently has come oddly enough from the federal government. Through its Jean LaFitte National Historical Park, the National Park Service is exploring new directions in preserving and presenting cultural as well as natural resources on a large scale. This has brought new factors like people and performance to the daily operation of an institution more used to mountains and monuments. Over the years, the Park Service has developed a staff with a wide range of expertise from forestry and wildlife management to history and theatrical presentation. Yet cultural preservation and presentation are brand new notions which have stretched existing personnel beyond its competency. Just as botanists, biologists and geologists are necessary to the development and maintenance of the physical landscape, so folklorists and cultural anthropologists are now necessary to the development and maintenance of the cultural landscape.
A Park administrator commented once at a meeting that there are at least twenty-two discrete culture groups within the Park's boundaries. It is not clear how just discrete these twenty-two groups remain in reality, but even by that estimation, what should be clear is that the cultural landscape of this Park is extremely complex. Add to that the fact that counting discrete cultures in such a region is naive at best. Cultures are not fixed or even fixable items. They cannot be counted like so many species of trees or birds. Living culture is, of course, a process, constantly changing, moving, blending, re-defining itself according to a constantly changing environment. To isolate the Acadian element, for example, in south Louisiana culture may be an interesting and important exercise in tracing historical or genealogical origins. But any study of the Cajuns which fails to take into consideration the complexity of its very life is necessarily doomed to fail. What does one do, for example, with Cajuns named McGee, Romero, or Shexnayder? What about the Cajun dish par excellence, gumbo, whose culinary and linguistic origins are in western Africa? What does one do with the accordion, a mainstay of contemporary Cajun music which originally came to south Louisiana by way of German Jewish merchants? Cajun culture is a typically American blend of native American, European and African influences. That is what is exciting about it. That is also what is difficult about it. A multidisciplinary, multicultural approach is indispensable to understanding the Cajuns. The same is true of most people. Expertise in folklore and/or cultural anthropology along with a fluency in French are necessary to understanding and successfully interpreting and presenting the park's dominant culture group.
The original focus of the Jean LaFitte National Historical Park, the Mississippi River delta, has been broadly defined to include not only the present crowfoot delta, but also the river's huge spillway, reaching westward as far as the levees which contain the Atchafalaya Basin, the historical delta, extending to the westernmost escarpments near Opelousas and Lafayette, and the delta's immediate boundaries, including the edge, of the southwest Louisiana prairies. One of the first major outreach programs of the Park, the development of the three Acadian Culture Centers in Lafayette, Eunice, and Thibodaux, provides a case study for the Park's foray into cultural affairs. The Lafayette site is destined to be a general introduction to the Cajuns, with a multimedia presentation including films, photographs and artifacts. The Thibodaux site is to cover wetlands Cajun culture, such as weaving, trapping, and boat building. The Eunice site is to cover prairie Cajun culture, focusing primarily on performance, such as music, storytelling, and traditional celebrations. In preparation for these centers, a team of experts was contracted to produce an extended report on the history and culture of the Cajuns, with recommendations for the three sites.
In Eunice, city officials and cultural activists have explored together the issues of cultural tourism and are developing a complex and carefully structured cooperative effort of local and outside resources. The town already had several cultural events designed to highlight local culture, including a crawfish cooking contest and a Mardi Gras celebration. But it has supplemented its local economy most importantly through its relationship with the National Park Service. Like many other small cities, Eunice was ailing with the oil industry slow down and depressed farm prices, so Mayor Curtis Joubert aggressively courted the Park Service when it announced its intention to develop three Acadian culture interpretive centers within its newly inaugurated Jean Lafitte Historical Park. Eunice earned what was to become the prairie Cajun interpretive site, but the mayor and his staff didn't wait for things to happen. Through a cooperative agreement, the city bought and restored an abandoned downtown theater, the Liberty, and began programming cultural events there. Interpretive programs on wedding traditions, the Mardi Gras, and old-time Cajun music produced by Ann Savoy demonstrated the capability of local resources. Eventually the Liberty became the host of a weekly live radio show in French featuring Cajun and zydeco music, storytelling and cuisine. The show has attracted national media attention and a capacity crowd weekly which is roughly 80 percent from the general area and 20 percent from the outside, reminding many how much fun live radio can be.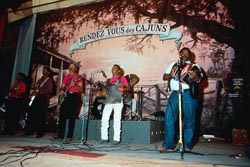 When the show was launched in July 1987, many issues remained to be resolved. As Joe Wilson of the National Council for Traditional Arts put it, we were "inventing a bicycle while riding one." This caused a certain amount of tension among those responsible for defining the show, but in the long run this tension proved useful in helping to clearly define the show's goals. For example, when the show started, organizers were divided on what language should be used. Some felt it should be in English to reach visitors. Others felt this would be a nail in the coffin of the culture we were supposedly trying to preserve and present. Discussions on this thorny issue continued right up to the beginning of the first show. Ultimately it was done in French because I was the host and I did what I wanted to do once the microphone was turned on. It might not have worked, but it did.
In the early going, crowds were overwhelmingly, if not exclusively local. They were delighted at having such a cultural event presented on their own terms, and they said so. Local organizers were convinced, but park officials were concerned that the French commentary would leave visitors out of any interpretation. Tempers flared whenever the issue was raised. At a meeting held specifically to address this question, one Park official commented that the program's federal funding required that it communicate to Americans. Cajun musician and cultural spokesman Dewey Balfa retorted, "But we are Americans. In fact, this two-hour show every Saturday night is one of the only indications I have that the money I turn over to Uncle Sam every April 15th is coming back to me in anything but interstate highways." Eventually the southwest regional supervisor came to see the show, ostensibly to say that the Park Service could not fund the French language presentation. Instead he came backstage after the show and stated flatly that, in his opinion, this was the most important programming anywhere in the Park Service. He went on to explain that he was a Cherokee Indian and that if the people had had access to this kind of resource, they might have preserved much of what had been lost.
In the long run, instead of being a problem, the language has been wonderful opportunity, in ways that we can't claim to have foreseen. Visitors say it makes them feel they are at a real cultural event. They are sitting alongside Cajuns and Creoles from the area who are laughing and responding appropriately to the presentation, so the visitors ask what's so funny and what's going on, creating a conversation that may never have taken place otherwise. The Cajuns and Creoles are happy to have such a prestigious cultural event, supported by the federal government, in their own terms. The music, the humor, the content, the language are all their own. They learn about their own culture. The whole family can attend, so children learn about it too. And their own knowledge of the language and culture is validated when visitors turn to them for translations and explanations. Everyone wins. The Park Service now holds up the Liberty show as a model for cultural presentation within a linguistic context, a model that adapts itself to the constantly changing cultural scene, as per the recommendation of the more than two-thousand page report to the National Park Service on Jean Lafitte's Acadian cultural centers (Ancelet et al 1987).
The complexity and newness of the cultural tourism experiment presents research and production problems, as well as exciting opportunities for all concerned. For the experiment to succeed, elements crucial to the relationship between preservation and presentation, including such issues as the use of native languages and the development of natural performance contexts, must be explored carefully and sensitively. There are important issues to be considered, such as cultural ecology and the interaction between visitors and the community, specifically how to draw from the community without competing with it, and how to lead visitors through the cultural landscape without inadvertently trampling it. There are inherent problems, such as self-consciousness and misinformation. On a recent fishing trip with a friend, I found myself sitting in a Cajun brand boat, using Cajun-brand crickets and grabbing a Cajun-brand beer from a Cajun-brand ice chest filled with Cajun-brand ice. Many restaurants in south Louisiana now identify and advertise themselves as Cajun restaurants. Some of the chains have also jumped onto the fad-driven bandwagon. Recently, Burger King featured something called a Cajun whaler (its usual fish patty dipped in crab boil), and Pizza Hut offered a New Orleans-style Cajun pizza (whatever that is). Cajun musician Marc Savoy was asked recently if he regretted that the Cajuns had been discovered. He answered, "What's worse is that the Cajuns have discovered themselves." On the other hand, it is unreasonable to expect the Cajuns to remain lost somewhere in the nineteenth century, if we are going to open ourselves to the outside, we should at least try to do it well and in our own terms.
The opportunities and dangers inherent in this sort of experiment have been eloquently described by sensitive contemporary scholars such as Archie Green (1988) and David Whisnant (1983; 1988), and we should certainly be ever vigilant to avoid doing more harm than good. Nevertheless, cultural tourism is going to happen, with or without our involvement and folklorists could be well-equipped to help guide this development in the best possible directions. And there are some interesting byproducts. For example, local people get a long-overdue chance to learn about themselves, in a process I have come to call guerrilla academics. Until recently, the textbook used to teach Louisiana history had two paragraphs on the Cajuns; one on Evangeline and the other on Justin Wilson, neither of whom is native to the area. Cajuns who go places like Vermilionville and Jean Lafitte learn about their history and culture alongside visitors from the outside, which at its best could be just the kind of empowerment at the grassroots level that folklorists interested in cultural equity seem to hope for.
Sources
Ancelet, Barry Jean, et al. 1987. The Cajuns: Their History and Culture. Report to Jean Lafitte National Park. Opelousas: Hamilton and Associates.
Bradley, John D. 1984. Cajun Mardi Gras: The Native Returns For Raucous Rites. Washington Post 17 March.
Camp, Charles and Timothy Lloyd. 1980. Six Reasons Not to Produce Folklife Festivals. Kentucky Folklore Record 26:67-74.
Feintuch, Burt, ed. 1988. The Conservation of Culture: Folklorists and the Public Sector. Lexington: University Press of Kentucky.
Green, Archie. 1988. A Keynote: Stitching Patchwork in Public. In The Conservation of Culture: Folklorists and the Public Sector, ed. Burt Feintuch, 17-32.
_____. 1988 P. L. 94-201: A Report to the American Folklore Society. In The Conservation of Culture, ed. Burt Feintuch. 269-79.
Greene, Johnny 1986. Why John Voltz Couldn't Nail Edwin Edwards. Southern Magazine 1:49-80.
Gutierrez, C. Page. 1983. Foodways and Cajun Identity, Ph.D. dissertation. University of North Carolina, Chapel Hill.
Hallowell, Christopher. 1979. People of the Bayous: Cajun Life in Lost America. New York: E. P. Dutton.
Hirsch, Jerrold. 1988. Cultural Pluralism and Applied folklore: The New Deal Precedent. In The Conservation of Culture ed. Burt Feintuch, 46-67.
Jaynes, Gregory. 3485. In Louisiana: A Mad, Mad Mardi Gras. Time 125:14-15.
Lomax. Alan. 1977. Appeal for Cultural Equity. Journal of Communication 27:125-38.
le Page du Pratz, Antoine Simon. [1758] 1975. The History of Louisiana. Baton Rouge: Louisiana State University Press.
du Poisson, Père. 1959. Lettre du père du Poisson, missionaire aux Arkansas, aux père Patouillet. In The Jesuit Relations and Allied Documents. Travels and Explorations of the Jesuit Missionaries in New France. 1610-1791, Vol. 67, ed. Reuben Gold Thwaites, ed. 72 vols. New York: Pageant Book Company.
Raynal, Guillaume-Thomas. 1794. L'Histoire philosophique et politique des établissements et du commerce des Européens dans les deux Indes . 10 vols. Paris: Berry.
Sealsfield, Charles. 1986. Frontier Life: or, Tales of the South-western Border, ed. Francis Hardman. Philadelphia. Porter & Coates.
Spitzer. Nicholas R. 1985. Louisiana Folklife: A Guide to the State. Baton Rouge: Louisiana Folklife Program / Division of the Arts.
Staub, Shalom. 1988. Folklore and Authenticity: A Myopic Marriage in Public Sector Programs. In The Conservation of Culture, ed. Burt Feintuch, 166-79.
Whisnant, David E. 1983. All That Is Native And Fine: The Politics Of Culture in an American Region. Chapel Hill: The University of North Carolina Press.
_____. 1988 Public Sector Folklore as Intervention: Lessons from the Past. Prospects for the Future. In The Conservation of Culture, ed. Burt Feintuch, 233-47.
Notes
1. This article is dedicated to the memory of Dewey Balfa, whose vision and inspiration saved a culture.