PAST AND CURRENT FOLKLIFE PROJECTS
Open Doors Mentoring Program
Launched in 2009, the Open Doors Mentoring Program grew out of New Populations research. Over two years, nine immigrant organizations participated as a cohort in customized workshops on arts resources, organizational capacity building, marketing, and fundraising. They received a grant of $3000 and participated in four mentoring workshops along with the Community Development Coordinators in Baton Rouge, Lafayette, and New Orleans and Louisiana Division of the Arts staff. They also received Open Doors grant funds to build organizational capacity. Folklorists Laura Marcus Green and Amy Skillman consulted on the development and assessment of the Open Doors program's pilot year.
Three organizations participated in 2010.

Adelante, Inc, New Orleans (Nicaraguan)
Asociación Cultural Latino-Acadiana (ACLA), Lafayette (Latino)
Yang Guang (Sunshine) Dance Troupe, Baton Rouge (Chinese)
Six organizations participated in 2011.
Akashleena Literary Cultural Organization, Prairieville (Bengali)
Baton Rouge Bengali Association
Baton Rouge Chinese Culture Club
Indian Arts Circle of New Orleans
Vietnamese American Youth of Louisiana, New Orleans
Wat Thammarattanaram, Broussard (Laotian)
The Open Doors Mentoring Program: A Report
In 2010 and 2011, newcomers, arts administrators, and social service representatives gathered in Baton Rouge at the State Library of Louisiana to mentor each other. Consultants Amy Skillman and Laura Marcus Green with the Institute of Cultural Partnerships in Harrisburg, PA, led us through an exciting day of learning and teaching. Everyone shared and everyone learned. The Open Doors / New Populations Project was funded by the National Endowment for the Arts.
Slideshow: Open Doors Workshops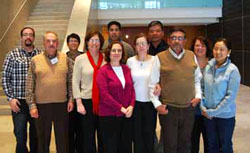 In 2010, three community groups in Baton Rouge, New Orleans and Lafayette participated. In 2011, an additional 6 groups participated. The goal was to prepare them to be ready to participate in the Decentralized Arts Funding Program (DAF) and other funding options. As part of this pilot, they received a grant with the grant guidelines based on DAF. They participated in a series of mentoring workshops and met individually with Kelly Pepper, Maida Owens, and their Community Development Coordinator (CDC), Karen Kern (New Orleans), Laura Larkin (Baton Rouge), and Gwen Richard (Lafayette), about grantwriting. The workshops addressed arts resources, building organizational capacity, marketing, and fundraising. In addition to the CDCs, also participating were Steve Thibodeaux with Louisiana Refugee Services Collaborative in New Orleans and the LDOA program staff.