FOLKLORE SOCIETY
Louisiana Folklore Society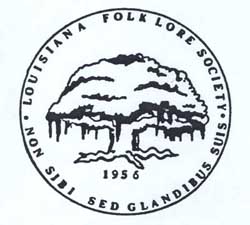 The Louisiana Folklore Society was founded in 1956 to encourage the study, documentation, and accurate representation of the traditional cultures of Louisiana. Members include university professors, professional folklorists in the public sector, secondary school teachers, museum workers, graduate students, and other individuals interested in Louisiana's traditions and cultural groups.
The Society annually publishes the Louisiana Folklore Miscellany and holds an annual meeting in the Spring which features an invited address by a keynote speaker and presentations by members and guests of the society.
In collaboration with the Society, the Folklife Program posts online selected past articles and an index of articles from the Louisiana Folklore Miscellany. See Louisiana Folklore Miscellany Index: Contents from Previous Journals.
Visit the Society website here for information about the next annual meeting, upcoming events, member spotlights, how to submit to the Miscellany, and more.
Join the Louisiana Folklore Society's Facebook group to stay connected with Louisiana's folklore network.