VIRTUAL BOOKS




Singing To the Glory: Church-based Choirs and Ensembles in Baton Rouge
By Liz Williams

Concerts, Showcases, and Radio Ministry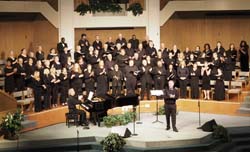 Sacred music concerts are a very old tradition practiced in Baton Rouge. One of the earliest concerts of European sacred music occurred 171 years ago, the first concert of the Baton Rouge Sacred Music Society held at the Presbyterian Church in March of 1845 (Baton Rouge Sacred Music Society 1845). There are so many sacred music concerts in Baton Rouge that it is not be possible to list them all. Several of these musical gatherings are described in the profiles above, but more research on the networks of sacred music practitioners in Baton Rouge would provide a fascinating look at an invisible but palpable and dynamic web that envelops the city, even non-believers. This essay does not even scratch the surface of the sacred music events that occur in Baton Rouge. They literally occur all the time. One notable concert is the Sounds of CommUnity concert by the Interfaith Federation of Baton Rouge. Begun 26 years ago in 1989, it is one way that the Federation meets its mission to cultivate unity, justice and peace through ecumenical sharing. The concert is held at different churches throughout the community and features dialogue as well as sacred music. Many of the people profiled here have participated in this concert.
Letrece Griffin
Marketing Manager, Belle of Baton Rouge Casino
Letrece Griffin is the Marketing Manager at the Belle of Baton Rouge Casino. In 2016, the Belle began advertising a Gospel Concert series. It seemed unusual to have Gospel concerts at a casino, especially after some of the reactions to this research regarding the boundary between worship and entertainment. Ms. Griffin, however, has a unique perspective that reflects the comfortable comingling of traditions in contemporary Baton Rouge. She is from a Baptist family and she attended Baton Rouge Catholic schools from first grade through high school. She appreciated the Catholic education approach and opted to attend a Catholic college in New Orleans. Throughout her childhood, she went to Catholic Mass every week at school and was a member of Friendship Chapel Baptist Church, founded by her uncle, Pastor Louis Griffin III, now deceased. Her parents were deacon and deaconess in the church and the congregation included a large number of her extended family. She said that church is "where I grew up, there is a huge sense of family there. It definitely is home for me." She sings in the choir at Friendship Chapel and also works with the youth ministry.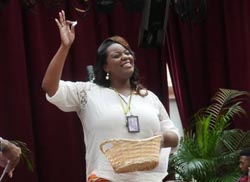 She found the differences between denominations intriguing and noticed the various ways that people express themselves in services, especially in regard to call and response, "Catholics have call and response, Baptists have call and response, too, but they are completely different: one is spontaneous, one is scripted." While practicing as a Baptist but attending Catholic school as a child, critical questions arose in her mind and she brought these concerns to her Pastor-uncle. She said he was very patient with her and explained, "It is all the same God, but we worship differently. The way you express yourself is different, but that doesn't mean it is wrong because it is different." She also participated in choir as a teen and said that it was not unusual for her to see the differences between Baptists, Catholics, Methodists, and Church of God in Christ in one week.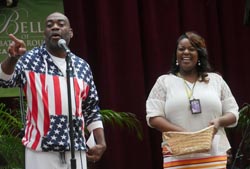 She said she loved her time, pre-high school, as a member of Louisiana Interdenominational Mass Choir which had over three hundred members. She lamented the decline in choir participation and said that as recently as the 1990s, Baton Rouge had several choirs but over time, they got smaller and smaller. Once she began high school she did not have the time to dedicate to the choir and had to leave it. However, she frequently runs into people in Baton Rouge who were also in the choir and recently realized that one of her colleagues at the Belle had been in choir with her. She said, "We were very excited about that, . . . That element, that root, that connection is really awesome—seeing choir members that you grew up with whom you share that love for choir, that love for music, is really cool."
She came up with the idea for the Gospel Concert series at the Belle because she sees a strong interest in Gospel music in Baton Rouge. In 2015, Belle management agreed to hold a "test concert" and said if 100 people attended, the Gospel concerts would become a regular event; over 200 people attended.
Ms. Griffin acknowledged that some people might hesitate about the location, but has learned that once they find out the concerts are in the atrium, a separate building from the casino, they are eager to attend. She is very specific about the location of the concert when concert invitations are sent to churches. For her, music is not just in one part of her life, it is all encompassing:
I am from Baton Rouge, born and raised, so Southern tradition and Gospel is something that is really close to my heart. It is something I've grown up with all my life. I come from a family of musicians, singers, pastors, all of that—it is just entrenched in my DNA. Everywhere I go and interact, music is always a part of the conversation.
She has received support for the concerts from her clerical family and from other pastors. Her relatives in the ministry see this as a way to fulfill the mission of taking the Gospel everywhere. Other pastors are showing their support by taking an active role in the concerts in an effort to delineate the boundary that the music is ministry and not just entertainment or art. For Ms. Griffin, this boundary is one that she can clearly understand because of her family background, but she also sees it as "a tightrope." She can see Gospel music as an art form just as much as it is a ministry and explained her unique perspective:
I think because I come from that background, I understand it. I respect that line and I can toggle in between it. You have to come with an element of understanding and respect for the ministry part. If you try to ignore it, that is where people are standoffish, but if you address it and respect it and try to find a way for those things to work together, they don't have to conflict.
In order to acknowledge and enact the boundary between ministry and entertainment, the Gospel concerts at the Belle are set up differently from regular concerts. The Gospel concerts begin with an invited Pastor opening up the program with a welcome, sermonette, and an opening prayer. The church of the Pastor who opens the concert receives a special invitation to the concert. During a secular concert, the band knows in advance that the microphones will be turned off at a specific time. Because the Gospel concert is a ministry, the Belle allows the event to flow and does not cut off the microphones until the musical ministering is ended by the ministers.
The concerts are a blend of national and local talent. Usually a local group opens the show and is followed by a nationally known performer or group. The type of music ranges from contemporary to traditional and from Praise and Worship groups to traditional Gospel quartets. The concerts are community gatherings. The pastor that opened the April 2016 concert, Reverend Perry Wright of Promise Land Baptist Church, was referred to by Minister Britten as the "Dean" of Gospel music in Baton Rouge. And Ms. Griffin said that after the first concert, many people asked her, "Are you going to have Minister Britten?" There are many young local musicians who play music for a variety of churches and choirs. Some of these musicians have played for the national performers that have come to perform at the Belle. One of these young men is Minister Britten's son, who, like his father, plays the keyboard.
Ms. Griffin has a definite idea of the type of singers and musicians she wants to participate in the Gospel concert series. She requests video, not just audio, because she needs to see if they can connect with and engage the audience:
Audio Player
Letrece Griffin explains what she looks for when booking gospel groups. Field recording by Liz Williams.
It is not even about whose voice sounds great or whose vocal range is the highest. It is about when they are up singing. You can see their passion, you can see their heart, and you can see how serious they are. I have seen performers who just put it all out there and they are received so well because people know they are serious about what they are doing. They mean what they are singing about. I'd love to book someone like that as opposed to someone who technically has the pitch-perfect voice but seems uninterested. That is not what Gospel is about. Gospel is about a feeling. Sometimes you can't pinpoint what that feeling is. . . . You just feel it and you can see it.
Michael Peeler
Music Minister, Florida Boulevard Baptist Church
Reverend Michael Peeler is the music minister at Florida Boulevard Baptist Church (FBBC). He is Southern Baptist, grew up in Mississippi, is the son of a band director, and is a graduate of Mississippi State University. In addition to Louisiana and Mississippi, Reverend Peeler has ministered throughout the south in Alabama, Georgia, Arkansas, and Texas. When he talks about sacred music traditions in Baton Rouge and Louisiana, he frequently uses the word "lagniappe." This word refers to a little something extra and he referred to the Good News Gospel Showcase as "just part of the lagniappe of what Louisiana offers in a musical context."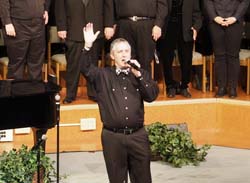 The Good News Gospel Showcase is the sequel to the Louisiana Gospel Tradition Concert. The Gospel Tradition concert was a 2013 collaboration between the Baton Rouge Symphony Orchestra and Baton Rouge Symphony Chorus, several church choirs, ensemble groups and other sacred music practitioners. Most participants in the 2013 concert found it to be a gratifying celebration that should be repeated. The choir directors and music ministers met and discussed their willingness but funding for a location was a hurdle. That is where Reverend Peeler stepped in. He was able to offer the use of his church, Florida Boulevard Baptist Church, for the event. The FBBC is a spacious church with enviable acoustics and a mission for inclusiveness, diversity, and ecumenical sharing. For Reverend Peeler, hosting the Gospel concert at FBBC was and is a way to swing open the doors of the church:
To invite anyone and everyone [to the concert] is a great blessing. It allows people to see our church and, not to make them members, but to hear the good news, the Gospel music that we enjoy and that we have put together. [We] wanted to emphasize Gospel because that is the music that we are primarily doing but it is also the message that we are conveying. (Peeler 2016)
The Louisiana Gospel Traditions Concert was a community gathering envisioned as a celebration and unification of the diverse Gospel traditions practiced in Baton Rouge. The concert celebrated the traditions, Reverend Peeler said, by acknowledging the various sacred musical expressions that contributed to the emergence of Gospel music as a diverse genre. The concert unified some of the many Gospel practitioners in Baton Rouge by bringing them together for the concert. Framed as a journey through musical history, the concert began with Heritage performing Negro spirituals and an exploration of the early role of shape note singing. The journey continued through the Gospel quartet era of the mid-20th century to traditional and contemporary Gospel and included the latest Gospel style, Praise and Worship (Westerman 2013, Brasted 2013).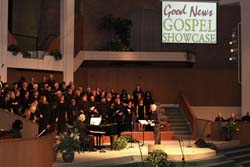 This concert was a precedent setting event on many levels. As Baton Rouge Symphony Orchestra Director Muffitt noted, Baton Rouge has many talented musicians and singers who perform all of these types and styles of Gospel on a daily basis. The act of getting them all together and coordinating with the orchestra was a "challenge," but did not require creation of new groups to perform specific genres of Gospel. There was no need for someone to research and re-enact historic forms of music because they continue to be practiced by Baton Rouge singers and musicians who keep "traditional" forms of music alive through continued reinterpretation in terms of the present (Westerman 2013).
It is no secret that there has been a racial divide in Baton Rouge and the concert brought people, black and white, from all sides of town, together for a unified purpose. And although this happens in other aspects of Baton Rouge life, a Gospel concert is significant because historically and today, black Gospel and white Gospel have at times represented racial division (Hahn 2013). The concert brought people of multiple faiths and secular people together. Historically, Baton Rouge has had a history of religious tension. In the past, the tides of Catholicism from the Latin South and Protestantism from the Anglo North have clashed. In describing the variety among the musicians who performed at the concert, Reverend Peeler observed:
It became a multi-ecumenical hodge podge. It really was a lagniappe of musicians. We had Baptists, and, you know, in Baptist circles things are a little different especially here in the South. We had Southern Baptists who are white, Shiloh Baptist Church [African-American], many people from the Baton Rouge Symphony [who include] Methodists, Unitarians, and several Catholics. (Peeler 2016)
When he said, "things are done a little differently here in the South," Reverend Peeler referred to the racial divide that he has experienced in his work as a music minister across the South. He said he has found racial division more of an issue in Alabama, Louisiana, and his home state of Mississippi than in the other southern states where he has lived and worked. He acknowledged the history of the Southern Baptist Convention, of which he is a member. The Southern Baptist Convention is a division of the Baptist church which was founded in the mid-19th century when northern and Southern Baptists disagreed about the right to own slaves. This segment of the Baptist Church has been seen by some as emblematic of Southern racism (Green 2015).
In 1995, however, on the 150th anniversary of the founding of the Southern Baptist Convention, the organization passed a Resolution on Racial Reconciliation. In the resolution, the SBC "repudiated" support for the institution of slavery and all other forms of racial discrimination and apologized to the African-American community and asked for their forgiveness (Southern Baptist Convention 1995). The effects of this resolution continue to reverberate as recently as June 2016 when the SBC passed a resolution discouraging its members from using Confederate flags (Koski 2016). Reverend Peeler discussed racial reconciliation in the Southern Baptist Church:
Audio Player
Peeler talks about racial reconciliation. Field recording by Liz Williams.
For decades, even in context of our congregation and other churches here, there have been times that racial reconciliation has been a struggle, generational up bringing—so many factors. We have come to an understanding that in order to have racial reconciliation, in order for races to come together and worship together and to even have more communication with one another about very sensitive issues, social, and economic issues, we have to understand God is the one who created each and every one of us. In Galatians 3:28, it is clear that the Bible makes no distinction between Jew and Greek, the same could be said here. There is going to be no Baptist, Catholic, black or white in heaven, every tribe, tongue, nation unified. The church and society can be a picture of that if we can come together and listen and understand. (Peeler 2016)
The changes in the Southern Baptist Convention at the national level have been felt very closely in Baton Rouge and at FBBC. After Hurricane Katrina, the FBBC offered what was at first a temporary home to the congregation of Franklin Avenue Baptist Church of New Orleans. The pastor of this church, Fred Luter, became the first African-American President of the Southern Baptist Convention in 2012 (Green 2015). Reverend Peeler said, "Dr. Luter traveled to get [the] message out about races coming together and racial reconciliation definitely a message the South has needed to hear." Baptist pastors in Baton Rouge, black and white, have been working together to "break down" racial, denominational, and gender boundaries throughout the area (Hunter 2015).
Reverend Peeler explained that for him, "Music is a tool and we can cross many lines with it." The Good News Gospel Showcase is a clear example of the people of Baton Rouge singing together to break down boundaries and to cross lines. Reverend Peeler said that since FBBC began hosting the concert, participation from the FBBC congregation has risen every year. He said he loves the concert because it is wonderful to see the church filled with people singing together, the support the different choirs display for each other, the concert it is a gift to the community from the singers and that the whole night is never about "one group, it is the overall message, the Good News. That was what we were sharing, that is where the focus should have been and that is where it was."
Like many of the other music ministers interviewed for this project, Reverend Peeler discussed the balance of modern trends and traditional hymns, the fine line between performance and worship, and the perennial question: Is the congregation involved or just sitting there? He acknowledged the music minister's role of making it possible for the congregation to engage in the service through music that speaks to them. He said he is blessed that music allows him to worship by playing instruments and singing. Music provides him an outlet for his mood and there are songs he relies on to get him through the dark times that all people have. He cited the Thomas Chisholm song, "Great Is Thy Faithfulness," as a piece that moves, comforts, and reminds him of God's unchanging nature. "Strength for today and bright hope for tomorrow..." as the hymn writer penned, underscores the message Reverend Peeler wants to see conveyed through music each week:
Because as people come from all walks of life, they come from different generations, different ethnic and socioeconomic backgrounds, they are all coming together and the only hope we can offer is what God offers through Jesus Christ and that is what I want people pointed to . . . hope." (Peeler 2016)
David Shaler
Worship Leader/Music Director, Broadmoor United Methodist Church
Chorus Master, Baton Rouge Symphony Chorus
David Shaler has been the Worship Leader and Music Director at Broadmoor Methodist Church since 2001. In 2010, he became the Chorus Master of the Baton Rouge Symphony Chorus. He is one of the coordinators of an annual Gospel traditions concert, he leads a men's Gospel quartet, he coordinates with Louisiana State University (LSU) voice faculty to incorporate professional musicians into church music programs, he is a judge for the talented music program in the EBR parish school system, he sings in the Neoteric Chorale, and he plays the piano and trumpet. Several members of the church choirs he directs said that Baton Rouge is "the perfect place for him, he gets the church and the symphony!"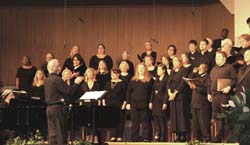 Originally from Saginaw, Michigan, Mr. Shaler grew up in the Baptist tradition and said the church choir had a strong influence on him. The choir director at the church he attended as a child encouraged him to learn to play the piano and the trumpet at a young age. As a young man, he studied music education at universities in Georgia and South Carolina and discovered the joy of Southern Gospel. He feels fortunate to have a full time job as a church music director because, he noted, these jobs are increasingly scarce and increasingly compartmentalized. Much like the contemporary work force in general, he said, many church music jobs are now part-time and are focused on one dimension of church music such as organist or contemporary choir director. He said that Broadmoor Methodist has a great tradition:
I've stayed on here because people appreciate music, I hear comments from week to week. They appreciate a variety of music. I come from an eclectic background, I move within different styles of music: instrumental and vocal, sacred, secular, so I feel pretty comfortable in a wide variety of styles and I hear appreciation for that here. I'm a person of faith so, it makes very much sense for me. I always knew I would be involved in a church program. Growing up I was always a volunteer and shared whatever talents I had in church services. (Shaler 2015)
Mr. Shaler and most of the people interviewed for this project spoke of the balance necessary for a successful church music program. During his time at Broadmoor Methodist he has had to retire some music programs and institute new ones. Changes are made due to demographic shifts in the age of the congregation and dynamic trends and tastes in music. Broadmoor Methodist realized the need for a contemporary service:
Many young families with children and youth go to that service. It speaks to them. So we embrace that. Getting youth up for 8am on Sunday to sing traditional anthems, that's just not what is happening anymore! You have to adapt to the times. They like the casual service; they are playing drums and guitars and singing their contemporary music. You have to be aware of what their needs are, their desires, and adapt something for that. (Shaler 2015)
As of 2016, Broadmoor Methodist has five adult choirs, two children's choirs, and two instrumental ensembles. Mr. Shaler said he "inherited" a wonderful program built by dedicated people such as the "iconic" musical Manes family and Dr. Dona Lusted, who has worked with the children's choirs for over 30 years, and is also the church organist. David's family is also involved with the church. His wife leads a youth group and sings in the choir, his oldest daughter has led children's choirs.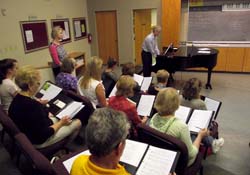 While church music directors must adapt to change and contemporary tastes, Mr. Shaler noted that it is important to maintain tradition and to be "indigenous" in regard to music selections because each church has a unique "cultural history." Broadmoor Methodist is a very open and inclusive church and for this reason he said that musically, "I try to be all over the place" and this keeps the congregation and Mr. Shaler excited, engaged and "fed" both aesthetically and spiritually. Involvement in music and the church is important for the entire range of the congregation from children to elders:
The church, through history and tradition, has had an educational role to it, preparing not only the mind, but preparing the spirit as well; the two are so vitally interconnected. With youth, you want to start at a young age and get them involved and engaged in these activities. It is something that can last a lifetime: expressing themselves, expressing their love for God, their love for others. That is a lifelong endeavor; that is our mission here. (Shaler 2015)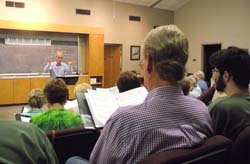 Choir participation is declining nationally, he said, which makes it critically important for people to make an effort to gather and sing together. In contrast to national trends, Mr. Shaler said Baton Rouge has a thriving choir community: "We have a great treasure of music in our churches. I think a lot of the treasures that we have cross denominational lines, cross racial lines, and religious affiliation." He lamented that they don't often get to hear each other singing because they are involved in their own Sunday morning services. Mr. Shaler and others have worked to counter this situation. In September of 2015, choirs from Broadmoor Methodist and Hope Community United Methodist (HCUME) met and shared Gospel music, sang hymns, and had a dessert fellowship afterward. Several years ago, Mr. Shaler directed a multi-choir performance of Joseph Haydn's "Creation" which was sung by the neighborhood church choirs of Broadmoor Methodist, Broadmoor Baptist, and St. Thomas More Catholic Church. Broadmoor-area churches also gather for an annual community Thanksgiving service. The Broadmoor Methodist choirs also sing at retirement centers, care facilities, and Charlie's Place, an Alzheimer's respite center. He says, "We do music from their era; patriotic, the 30s and the 40s, classics, . . . recognizable songs both sacred and secular."
One of the most nimble choirs Mr. Shaler has added to Broadmoor Methodist is the men's quartet. He loves Southern Gospel and the "old tradition going back to the touring quartets." It is a small group that travels easily and usually only needs a piano to accompany it. It has been well received by the older members of the Broadmoor Methodist congregation. He said many people miss the old style of music and "we've got a lot of the older generation present and when they really like a style of music, you hear about it. You know what is really ministering to them." The Men's Quartet has been frequently requested as a guest choir by rural churches near Baton Rouge. The popularity of this group highlights the love for Gospel Music here. He said, "It's so ingrained, it's such a Southern thing, a lot of churches miss that. It takes them back."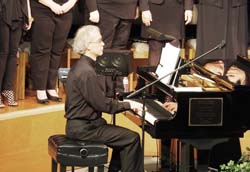 Once Mr. Shaler became the chorus master with the Baton Rouge Symphony, many more worlds of musical opportunity presented themselves. The symphony chorus includes a wide swath of the Baton Rouge community including religious and non-religious singers whose unifying element is the love of music. Many members of the symphony chorus sing with many other groups, a large number sing with or direct their church choirs, secular choirs, and small ensembles. With the symphony, they sing great masterworks, seasonal programs, sacred classics. In 2013, the Baton Rouge Symphony initiated the Gospel Traditions concert. This concert included the core group from the symphony chorus, LSU Gospel Choir, Southern University Chorale, Heritage, adult community choirs, and many Baton Rouge churches—some predominantly African-American, some predominantly European-American. Mr. Shaler said the concert is focused on Gospel music, "but there are a lot of varieties within the Gospel music tradition. From old-timey traditional style up to the very progressive funk rock-and-roll sort of Gospel so we feel like we are also representing the various traditions even within the Gospel genre." The first concert in 2013 was in the River Center, but from 2014-2016, it has been held at Florida Boulevard Baptist Church. Because they come from so many different backgrounds, in addition to creating and sharing powerful, sacred, Gospel music, this concert was and is a platform for Catholics, Southern Baptists, African-Americans, European-Americans, traditionalists, and modernists to cross lines, to come together on one stage and celebrate their love for God, music, and each other.
When Mr. Shaler described the congregation at his church, he described his goal and the "nature" of people:
Audio Player
David Shaler describes how he is blessed with his music ministry. Field recording by Liz Williams.
I think choir people tend to be some of the most loving and caring, giving people that you want to associate with. They appreciate diversity of musical styles, of people and of talent. It's just a great group of people and I think choral music does that. You confront these texts, and of course it is my job to hopefully pick texts that are spiritual and have a message to them that are all based on scriptures or are closely aligned with scriptural teaching. I think people are longing for deeper moments of spiritual truth . . . not only to read it but then to sing it and to sing it over and over again. It gets inside you and then it transforms [you as] you sing it. Hopefully, that transforms others and there's a wonderful process there that it goes through. I'm blessed to be a part of that. (Shaler 2015)
J'Michael Francois
Program Director, WXOK Radio
J'Michael Francois is the program director for WXOK, an African-American Gospel radio station that was founded in 1953. It started as a multi-genre station that played blues, rhythm and blues, and Gospel but switched to a strictly Gospel format in 2000. It is one of two African-American Gospel stations headquartered in Baton Rouge. Mr. Francois grew up in New Orleans' 9th Ward and at age 12, became interested in radio while listening to WYLD, an AM Gospel station there. He began work at a Lafayette Gospel station when he was 18 years old and became the program manager. In 2006, he became the Program Director of WXOK and has lived in Baton Rouge for 10 years (WXOK 2016). He has his finger on the pulse of Black Gospel in Baton Rouge and across the country. Mr. Francois' radio career spans 18 years. He described his time at WXOK as the highlight of his career because he loves, "celebrating local artists, paying homage to their work and sacrifices; it is a blessing." Music is critical he said, because, "before some people will hear a sermon, they will hear a song. It prepares your heart for worship."
Audio Player
J'Michael Francois talks about the importance of a choir in a church. Field recording by Liz Williams.
Although his business and vocation depend on listening, observation plays a huge role in Mr. Francois' musical programming process. In order to learn which choirs and what types of music "move" a congregation, he worships at many different churches across Baton Rouge. He compares his local observations with "national sounds" in order to find the balance that works for Baton Rouge. In some locales, he said, Gospel rap is popular but noted, "Baton Rouge is a traditional city" and that would not work here.
It can be difficult to articulate exactly what makes a song, an arrangement, a choir, or music affect a congregation, but Mr. Francois knows it has happened when a "connection" occurs, a multi-dimensional connection:
Music can speak to a lot of things, but when you feel it; it unites us. Sometimes in church or when you are having a hard time, sometimes the song will meet you right where you are. The sermon might not, but the music will. This is why we turn to music when our heart is saying something, but we don't understand what [it is saying] . . . Music sometimes shows us. (Francois 2015)
Music can connect us to ourselves, to each other and to God. A radio station playing sacred music can create the feeling of being connected, even to those who are alone. In order to achieve that connection, WXOK plays different types of music "to make sure we are a smorgasbord, a buffet, so that everybody can eat and enjoy, can experience." In a sense, he said, the radio station has an audience of faithful that is bigger "than any one church in the entire city, it literally brings the whole city together." There are many expressions and types of Gospel music and it is important for WXOK to be inclusive which isn't difficult Mr. Francois said, because "they all come together at Jesus."
In addition to going to church, Mr. Francois and the other WXOK deejays often emcee church community events including musicals, Gospel festivals, and special occasions such as church and pastor anniversaries. Participating in these events is another way that WXOK stays in touch with the community it serves:
It is an opportunity to connect with our listeners, to meet them right where they are. . . . Every little community has its own niche, has its own stars, has its own church that is doing well. You get to really fellowship with them and see exactly what moves them, what excites them, and where their heart is. It helps you to know who your listeners are and to understand where they are so you can connect with them. (Francois 2015)
As noted earlier, Mr. Francois grew up in New Orleans and has lived and worked in Lafayette and Baton Rouge. When asked to compare Gospel music in these three places he said that there is not as much Gospel in Lafayette compared to Baton Rouge because Lafayette is mostly Catholic whereas there are more Baptists and Pentecostals in Baton Rouge. He said he appreciates knowing Baton Rouge and New Orleans so well because even though they are just 60 miles apart, the two cities are completely different and each have a distinct flavor. He discussed Baton Rouge's Gospel sound:
Baton Rouge, when I say eclectic, I really do mean eclectic. The sound is distinct. Even the tapestry of how we connect our songs to other songs we hear, the tapestry of originally made songs, you can tell the difference. There is just a little something different about Baton Rouge than other cities that I have lived in and had a chance to work in. I think that is what sets us apart and I think that is what garners us a Grammy nomination. That says a lot, it puts us in a place to determine what Gospel sounds like in the region. (Francois 2015)
The Grammy nomination he referred to is the one received by Baton Rouge Gospel artists, Minister Britten and The Shabach Praise Company in 2005. Mr. Francois described a medley of other Baton Rouge Gospel artists who have become nationally known such as Juanita Quincy and Kenneth Mitchell and the Voices of Praise. He stressed the important contributions of the many multi-generational family Gospel groups that have created and represent the Baton Rouge Gospel sound such as the Lighthouse Singers and The Fisher Cavaliers, both family quartets. He said that Minister Britten and Kenneth Mitchell have ushered contemporary Gospel into Baton Rouge and that this movement is an outgrowth of many Baton Rouge Gospel traditions. He cited Mt. Zion Baptist Church, one of the oldest churches in Baton Rouge which has long been known for its music and the ensemble Heritage, conducted by Clarence Jones, which "has been in the city forever," who perform Negro spirituals and hymns. He talked about singing pastors like Pastor Johnny Montgomery of Greater King David Baptist Church who has made recordings and former Southern University Interdenominational Choir director, Reginald Collins who led the student choir in performances all over the country. (Francois 2015)
Quartet singing is a big part of Gospel heritage and there are many long-time quartets in Baton Rouge. Mr. Francois said he has attended some quartet performances that lasted seven hours. Some young people today, Mr. Francois said, consider quartet singing to be "old fashioned." He said, however, that the appeal of the quartet has not diminished because of the way a quartet can connect:
You don't have to have a lot of instruments, you don't really have a whole lot of words. It is taking that chorus and looping it over and over and over again. The lead singer is taking you on a journey and is speaking to you right where you are. They are making things up as they go, but it is a part of who they are. It is a part of their life experience. It is a part of their experience with God. It is personal, but it connects with you because you have been there. I think that is what makes it beautiful, you never know what to expect, you never know what you are going to get, but you know you are going to be blessed. (Francois 2015)
The Fisher Cavaliers and The Lighthouse Singers, Mr. Francois said, are examples of the families that simultaneously maintain tradition and innovate Gospel music in Baton Rouge. The Fisher Cavaliers celebrated their 35th anniversary in 2016. Another Baton Rouge Gospel group, The Williams Singers are the cousins of the Fishers and recently recorded their first cd. Mr. Francois said, "It is just wonderful to see how a journey of 35 years can influence not only those in the community, but your family. And you see the family continue that legacy of greatness."
The Lighthouse Singers, Mr. Francois said, are the oldest quartet in Baton Rouge. The leader of the group is Reverend Perry Wright of Promise Land Baptist Church. According to Mr. Francois, Reverend Wright is the Dean of Gospel music in Baton Rouge; "if it is Gospel, he knows about it, he is a part of it . . . and if you put his hands on it, it is blessed. One of the things I love about him is that he embraces, and encourages, and nurtures Gospel artists and helps them along their way so they can be great." His sons and nephews are continuing the tradition of their fathers and uncles and reinterpreting traditional Gospel music in terms of the present through their own group, The Lighthouse Juniors. Mr. Francois said that they perform some of the same songs as The Lighthouse Singers but "jazz them up a little:"
It is exciting to see the passion, the labor of love, the hope. I'm excited to see that it is not dying, it is growing. I think that is the journey of any type of music, just to see the natural progression of that particular genre of music, but to see that Baton Rouge has cultivated its own style and is preserving its own style. And you are seeing it through these families, this family of churches, this family of people, these families called communities. They are holding on to what has been uniquely ours and we are giving it to the world now, but we've kept it to ourselves for many years. Now the world is experiencing it as many of these groups travel from city to city to expose what is naturally ours. (Francois 2015)
Sixty-three years ago, when WXOK was founded, many groups would bring their instruments into the station and would "minister live on the air" Mr. Francois said. They ministered to those who could not go to church because they were ill, elderly, working, in jail, or had no way to get to church. The idea was to bring church to those who could not get to church. In 2016, a part of the WXOK line-up reflects this tradition. During most days, WXOK plays an eclectic mix that includes Gospel and contemporary Christian music performed by nationally known artists and local artists. However, every Sunday morning at 7:15 am, the station broadcasts the pre-recorded music of four Baton Rouge quartets: Brother Blake and the Soul Searchers, Ms. Mary T. Roberson and the Universal Gospel Express, The Fisher Cavaliers, and The Lighthouse Singers. Now, these groups can minister in song on the radio at the same time that they direct their church choirs and visit prisons and nursing homes to perform and minister in person.
This simultaneous connecting makes Mr. Francois' job as Program Director at WXOK very satisfying:
The best thing I experience as a program director is to get to know that so many people are worshipping God together at one time, throughout the whole city, it really unites the city, it is one God, one Church, one Gospel, one Faith, and it is right there on the radio. We don't know who is listening, we don't know where they are or what church they go to. We know that they turned on the radio on and that they were blessed and that is all we need. (Francois 2015)
Conclusion
All over Baton Rouge, people are singing together. Some are singing loud, others are quietly chanting and still others sing in multi-layered harmonies. Some are singing ancient songs, some sing traditional hymns, some sing re-arranged spirituals, and some sing contemporary Gospel. Some sing a cappella. Some sing to the music of drums, keyboards, and tambourine. Some sing to the chords of a subdued organ. Some are standing when they sing, some are sitting, some dance and move while others don't move at all. Some of them are singing the same song in a manner so different from the other that unless you listen carefully, you might not notice it is the same song. In their songs, they are all ministering to each other, worshipping and praising God, giving thanks and forging the bonds of community. All over Baton Rouge, people are singing different songs, in different ways but for the same reason. Baton Rouge is not perfect, but when its citizens join together and sing, it sounds really good.
Sources
Association of Religion Data Archives. 2016. U.S. Religion Census: Religious Congregations & Membership Study. Collected by the Association of Statisticians of American Religious Bodies (ASARB) and distributed by (www.theARDA.com).
Baton Rouge Area Chamber. 2009. Baton Rouge's Great Divide on Racial Lines. BRAC.org http://www.brac.org/brac/news_detail.asp?article=1040 Accessed January 5, 2016.
Baton Rouge Sacred Music Society. 1845. Baton Rouge Sacred Music Society Program. Hill Memorial Library, Louisiana State University, Baton Rouge. Ephemera Collections, Subgroup 5, Louisiana and Lower Mississippi Valley Collections.
Brasted, Chelsea. 2013. BRSO's Louisiana Gospel Tradition Weaves Together Orchestral, Gospel Music. NOLA.com-The Times Picayune. http://www.nola.com/music/baton-rouge/index.ssf/2013/09/brsos_louisiana_gospel_traditi.html, Accessed April 17, 2016.
Britten, Timothy. 2015. Interview by author. November 20.
Bush, John. 2015. Rev. James Moore. allmusic.com http://www.allmusic.com/artist/rev-james-moore-mn0000460450 Accessed November 1, 2015.
Couvillon, Janelle. 2016. Interview by author. April 6.
Fisher, Marcy. 2016a. Interview by author. March 17.
Fisher, Marcy. 2016b. Personal communication. October 28.
Fisk Jubilee Singers. 2015. FiskJubileeSingers.org, http://www.fiskjubileesingers.org/our_history.html Accessed February 3, 2016.
Francois, J'Michael. 2015. Interview by author. November 2.
Gernhauser, Sarah J. 2005. Sounds of Glory: Grammy-Nominated Music Minister Timothy Britten. LSUNow.com http://www.lsunow.com/sounds-of-glory/article_f8eecd81-bef3-5603-a19d-f8dd6ae351cc.html Accessed November 15, 2015.
Green, Emma. 2015. Southern Baptists and the Sin of Racism. The Atlantic.com http://www.theatlantic.com/politics/archive/2015/04/southern-baptists-wrestle-with-the-sin-of-racism/389808/ Accessed June 25, 2016.
Griffin, Letrece. 2016. Interview by author. January 18.
Gurie, Randy. 2016. Interview by author. February 9.
Hahn, Roger. 2013. White Gospel Music. KnowLa: Encyclopedia of Louisiana. http://www.knowla.org/entry/694/ Accessed May 20, 2016.
Hunter, Mark H. 2015. Baton Rouge Baptist Pastors from Black, White Congregations Hold Preaching Conference: Conquering the Divide. TheAdvocate.com. http://www.theadvocate.com/baton_rouge/
entertainment_life/faith/article_bbf0249d-279b-5e72-bde5-412a88908e48.html Accessed June 12, 2016.
Heritage. 2016. Heritage. jheritage30.com, http://jheritage30.com/index.html. Accessed December 17, 2015.
Jones, Clarence. 2016. Interview by author. January 31.
Koski, Lauren. 2016. Southern Baptist Convention Calls for Removal of Confederate Flags. Amarillo Globe News. June 17. http://amarillo.com/news/local-news/2016-06-17/southern-baptist-convention-calls-removal-confederate-flags#. Accessed June 19, 2016.
Landry, Carla. 2016. Interview by author. February 24.
McCormack, David. 2013. A Tale of Two Cities. 2013. Daily Mail.com. December 3. http://www.dailymail.co.uk/news/article-2517616/A-tale-cities-Wealthy-white-residents-Baton-Rouge-launch-campaign-split-poorer-black-areas-form-breakaway-city.html. Accessed April 5, 2016.
Melton, Christina. 2013. Baton Rouge Bus Boycott. KnowLa: Encyclopedia of Louisiana. http://www.knowla.org/entry/1035/&view=article Accessed December 20, 2015.
Meyers, Rose. 1976. A History of Baton Rouge 1699-1812. Louisiana State University Press.
Nathaniel Dett. 2016. NathanielDett.org, http://nathanieldett.org/ Accessed February 3, 2016.
National Congregations Study. 2007. National Congregations Survey Wave 2 2006-07. http://www.soc.duke.edu/natcong/wave_2.html. Accessed July 7, 2016.
Pershey, Monica Gordon. 2000. African American Spiritual Music: A Historical Perspective. The Dragon Lode, Vol. 18, No.2, Spring. http://www.clrsig.org/pdfs/DLVol182Sp2000_24_29.pdf Accessed April 3, 2016.
Peeler, Michael. 2016. Interview by author. March 15.
Robinson, Terry. 2016. Group Keeps Negro Spirituals Alive. The Advocate. February 6.
Robinson, Terry. 2015. Faith Matters: Fisher Ministers Despite Life's Trials. The Advocate. April 10. http://www.theadvocate.com/baton_rouge/entertainment_life/terry_robinson/
article_57ce0235-4201-54a9-a08e-200c1851dc8a.html Accessed March 10, 2016.
Ruff, Anthony. 2013. After Vatican II: Are We All Protestants Now? Or Are We All Catholics Now? Hymn: A Journal of Congregational Song. Winter, Vol. 64 Issue 1.
Shaler, David. 2015. Interview by author. September 22.
Southern Baptist Convention. 1995. Resolution on Racial Reconciliation on the 150th Anniversary of the Southern Baptist Convention. www.sbc.net, http://www.sbc.net/resolutions/899/resolution-on-racial-reconciliation-on-the-150th-anniversary-of-the-southern-baptist-convention Accessed June 25, 2016.
Sweet Chariot: The Story of the Spirituals. 2004. spiritualsproject.org, http://www.spiritualsproject.org/sweetchariot/History/ Accessed February 3, 2016.
Westerman, Ashley. 2013. The Louisiana Gospel Tradition. WWNO, http://wwno.org/post/louisiana-gospel-tradition, Accessed May 18, 2016.
Wikipedia. 2016. Map of Republic of West Florida in 1810. 2016. Wikipedia. https://en.wikipedia.org/wiki/Republic_of_West_Florida#
/media/File:Map_of_Florida_Parishes.png Accessed April 8, 2016.
Business Report. 2014. Why Don't We Talk About Race? BusinessReport.com. https://www.businessreport.com/article/why-dont-we-talk-about-race Accessed January 5, 2016.
WXOK. 2016. J'Michael Francois. http://www.heaven1460.com/2012/12/10/jmichael-francois/ Accessed February 7, 2016.
Yee, Ally. 2015. The Most Racially Segregated Cities in the South. 2015. FacingSouth.org. https://www.facingsouth.org/2015/05/the-most-racially-segregated-cities-in-the-south.html Accessed April 5, 2016.