ARTICLES & ESSAYS


Louisiana Folklife Month 2023
The Louisiana Folklife Month recognizes the rich diversity of Louisiana's living traditions of tradition bearers in order to bring attention to the individuals who sustain them. The initiative showcases an array of tradition bearers in a series of public programs taking place at venues across the state. Folklife Ambassadors from the Louisiana Folklife Commission (LFC) and Louisiana Folklore Society (LFS) have selected the following tradition bearers to be recognized at public presentations.
Barry Chauvin, Singer/Songwriter, Houma, LA; Darryl Montana, Black Masking Indian, New Orleans, LA; Jan Collet Webre and Jill Collet Zimmerman, Crawfish Bisque, Breaux Bridge, LA; Laymon Godwin, Pedal Steel/Dobro Musician, West Monroe, LA; Brunella Luke, Cornhusk Crafts, Chauvin, LA; and Nicol and FJ Delphin, Creole traditions, Cane River, LA.
Presentations will be moderated by Folklife Ambassadors from the Louisiana Folklife Commission (LFC) and Louisiana Folklore Society (LFS).
Folklife Month is supported in part by funds from the National Endowment for the Arts and the Louisiana Endowment for the Humanities.
Learn about all tradition bearers recognized since 2015 here.
HONORING BARRY CHAUVIN
SONGWRITER/MUSICIAN, HOUMA, LA
Saturday, October 28, 12 noon
Bayou Arts Fest, Voice of the Wetlands Stage, Courthouse Square
Address: 7856 W. Main Street, Houma, LA 70360
Ambassador: Tommy Ike Hailey, Louisiana Folklife Commission and Professor of Archaeology and Anthropology, Northwestern State University of Louisiana
Partnering Organization: Bayou Regional Arts Council/Bayou Arts Fest
Tradition Bearer: Barry Chauvin is a singer/songwriter and storyteller born and raised in Edgard, Louisiana about 30 miles upriver from New Orleans. Growing up in a family of 9 children he listened to the stories of friends and family under the oak tree in their front yard every Sunday. Inevitably someone would breakout a guitar and the music would begin. Barry bought his first guitar at age 14 and would sit regularly on his front porch picking out tunes. His lifelong passion for songwriting started slowly along the banks of the Mississippi River and has gained momentum over the years. Barry has been a regular host and featured artist at numerous songwriter festivals such as the Mississippi Songwriter Festival, the Ozone Songwriter Festival and the Overbrook Songwriter Festival. He coproduces and cohosts "Songwriter Sessions" a songwriter support project which includes songwriter performances at local venues, a songwriter interview series on YouTube and a songwriter workshop series that teaches songwriting to support and encourage new songwriters.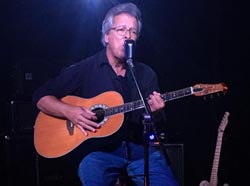 Barry's approach to songwriting is to observe the sights and sounds of the people, places and things that surround us all and try to capture their moments in lyric and melody. He released his first CD in 2022 entitled "My Songs Are My Friends". Of course, the cover artwork is a sketch of his family home and the front porch where it all started. Barry's focus in the future is to create songwriting events that provide a "listening room" environment so the artist and the fans of original music can connect over the message in the song. He is working closely with the Bayou Arts Council to establish an annual songwriter festival for Terrebonne Parish.
The Event: Tommy Ike Hailey will recognize Barry Chauvin as a Louisiana Tradition Bearer in a ceremony at the Bayou Arts Fest in Houma..

HONORING DARRYL MONTANA
BLACK MASKING INDIAN, NEW ORLEANS
WEdnesday, October 11, 2023 AT 2 P.M.
Presbytere
Address: 751 Chartres Street, New Orleans, LA 70116
Ambassador: Mona Lisa Saloy, Conrad Hilton Endowed Chair, Professor of English, Dillard University, Poet Laureate
Partnering Organization: Louisiana State Museum
Tradition Bearer: Big Chief Darryl Montana celebrated his fiftieth year masking as a Black-masking Indian at Mardi Gras 2023. His Seventh Ward Creole family has masked for several generations, beginning in the late 1800s with his great-great uncle "Becate" Baptiste Eugene of the first known tribe, the Creole Wild West. Darryl's father, Big Chief Allison "Tootie" Montana (1922-2005), known as the "Chief of Chiefs," was a legend within the Black masking Indian community. As leader of the Yellow Pocahontas, Big Chief Tootie changed the tradition by dismantling the violence within the cultural practice and deploying his craftsmanship as a latherer into the wearable three-dimensional art of downtown Black masking Indians for more than fifty years. His mantra was "Who's the prettiest?"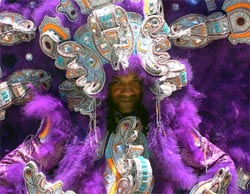 Darryl Montana's intricate designs and superb beading work have earned him widespread recognition. He received the Joan Mitchell Foundation Painters and Sculptors Grant in 2012 and a United States Artist Fellowship in 2015. He has exhibited around the world, including at the SITE Santa Fe's Fourth International Biennial, Beau Monde: Toward a Redeemed Cosmopolitanism, and at Reg Vardy Gallery at the University of Sunderland in England. Recently, the Musée du Quai Branly-Jacques Chirac in Paris, France, acquired Montana's 2015 suit for its collection and featured it in the acclaimed exhibition Black Indians de la Nouvelle-Orléans (October 7, 2022-January 15, 2023).
Montana passes along the tradition of Black-masking Indians and his artistry through various classes. He has taught children in workshops and summer programs through Xavier University of Louisiana's Community Arts Program; and since 2019, he has conducted a series of older-adult beading classes at the Louisiana State Museum.
The Event: Mona Lisa Saloy will recognize Darryl Montana as a Louisiana Tradition Bearer in a ceremony at the Presbytere, a State Museum site.

HONORING JAN COLLET WEBRE AND JILL COLLET ZIMMERMANN,
CRAWFISH BISQUE, BREAUX BRIDGE, LA
Saturday, October 14, 2023 12:45 p.m.
Festivals Acadiens et Créoles; Food Tent
Address: 500 Girard Park Drive, Lafayette, LA 70503
Ambassadors: Conni Castille, University of Louisiana-Lafayette; John Sharp, Assistant Director for Research at Center for Louisiana Studies, University of Louisiana-Lafayette; Herman Fuselier, Executive Director, St Landry Parish Tourist Commission
Partnering Organization: University of Louisiana at Lafayette Center for Louisiana Studies; St Landry Parish Tourist Commission
Tradition Bearer: Twin sisters Jan Collet Webre and Jill Collet Zimmerman grew up with eight siblings in a small community called Nina, just outside Henderson, Louisiana, a small fishing town in St. Martin Parish bordered on one side by a levee system built to restrain the waters of the Atchafalaya Basin. Jan and Jill are no strangers to seafood, nor to the endless ways to cook it. Their father, Louis Collet, came from a fishing family. His brother and a few nephews were fishermen by trade, and one nephew owned and operated a seafood restaurant, a natural business for anyone living next door to America's largest river swamp.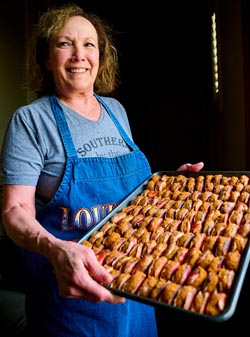 For twenty -three years now, Jan and Jill gather with family and friends once a year to make crawfish bisque. It started accidentally, when Jill made this elaborate dish to impress out-of-town guests visiting for the Crawfish Festival in Breaux Bridge. Jan and Jill, and Cajuns in general, are known for their hospitality, and the Crawfish Festival is when lots of company come to town.
Hospitality stories I've heard date back to the days when the festival was held downtown. One of my favorites includes the story about my friend's grandmother driving to Sunday mass during festival weekend to find a couple sleeping in the backseat of her car. She parks at Church, goes into mass, comes out an hour later, and drives back home. The whole time, the sleeping couple undisturbed and unaware of their little road trip. Another is from a Carencro man who, as a teenager, is getting dressed to go out when his parents asks where he is going. When he says he's going to the Crawfish Festival, they're relieved, saying 'okay, we know the people of Breaux Bridge will take care of you.' But, to feed someone is still one of the proudest ways to share one's culture. And, to nurture them with crawfish bisque! Well, it's haute cuisine that makes even the crawfish proud.
Although Jill was disappointed when her guests canceled their visit, her family and friends were not. With bellies full, and palates searching for more, it was decided that the two-to-three-day bisque-making process would become their family's tradition. On the day of stuffing the heads and making the bisque, everyone pitches in. Some chop onions, some do the stirring, some do the stuffing, some wash dishes, almost everyone drinks. Depending on the size of the crawfish heads, some 500-1,200 make their way to the pot each year, to be savored by family and friends during the annual Breaux Bridge Crawfish Festival.
Crawfish bisque is a rare dish these days, in homes and in restaurants. Jan's favorite part about the whole experience is, "hearing stories from our friends over the years as the tastes reminds them of their family's tradition of making crawfish bisque with their parents and grandparents." For me, eating the bisque takes me right back to my grandmother's dining room table, where I'm scraping the stuffing into my mouth, lining my bowl with the now empty heads, then placing one head on each finger to chase my sisters and cousins around her house.
The Event: Jan Collet Webre and Jill Collet Zimmermann will be recognized as a Louisiana Tradition Bearer in a ceremony and will demonstrate at the 2023 Festivals Acadiens et Créoles Food Stage in Lafayette. Recipe for small or large batch available.

HONORING LAYMON GODWIN
PEDAL STEEL/DOBRO MUSICIAN, WEST MONROE, LA.
Thursday, October 5, 2023, 6-7 p.m.
The Palace
Address: 220 Desiard Street, Monroe, LA 71201
Ambassador: Susan Roach, Folklorist & Professor of English, Emerita, Louisiana Tech University
Partnering Organization: Downtown Gallery Crawl
Tradition Bearers: Born in 1932 in rural Ouachita Parish near Calhoun, Laymon Godwin grew up in Monroe in a family where music played a significant role with his father serving as a church choir director. In the 1940s, his family often spent Saturday nights listening to radio broadcasts of the Grand Ole Opry in Nashville on WSM, where he became intrigued with the steel guitar. As he lay awake later on Saturday nights listening to another radio program hosted by Webley Edwards from the Royal Hawaiian Hotel on Waikiki Beach, he "fell in love" with Hawaiian music. When he was about ten, his parents bought his first steel guitar, and he had a few lessons on it from a Monroe musician, Luke Morris. He continued to learn by listening to other steel players he met and to the radio and records. By the time he was in high school, he was playing in country bands around Monroe; in fact, his music gigs helped him pay his way through college, where he earned a general studies degree. Talented enough to play music fulltime, Godwin instead chose a career in law enforcement, continuing to play pedal steel and Dobro (resophonic slide guitar) in country shows and bluegrass bands, most notably Grassfire, across North Louisiana.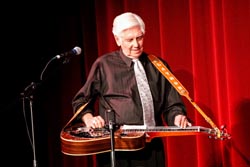 Godwin sees the pedal steel as a complex instrument because it requires coordination to pick the strings with the finger, slide the bar with the other hand, move the knee pedals with the knees, push the volume pedal with one foot, and push the other pedal with the other foot. In his later years when he was playing with bands for gospel performances, he decided to learn to play Dobro to give the music an extra sound. Simpler to play, the Dobro was also easier to transport.
After serving as Ouachita Parish Sheriff for 17 years, he retired in 1996 and devoted more time to his music, playing two to three times per week with different bands, ranging from country to bluegrass. He also enjoyed passing along his music with two state apprenticeships and informal lessons with other musicians. He served as a staff musician with several regional country music shows for over 30 years. For example, he played pedal steel with the Ouachita Valley Jamboree, the Twin City Jamboree, Verlie Carr's Ward 5 Jamboree in Columbia, Wildwood Express country music show and later the Dixie Jamboree in Ruston at the Dixie Theater. He has played for over 50 years with Rich Bailey, Ouachita Parish tax assessor, in a country band they named People's Choice, since they were "reluctant" elected officials from the region. Other venues included playing with various groups at festivals, dances, jams, restaurants, nursing homes, and bluegrass shows. Today he still loves to play solo at home and jam with visiting friends.
The Event: Dr. Susan Roach will interview Laymon Godwin about his pedal steel and Dobro music in the context of his career and retirement. He will be recognized as a Louisiana Tradition Bearer in a ceremony at The Palace during the October Downtown Art Crawl. Afterwards, the Grassfire Band will join him to play a short set. The Palace will also feature Ruston artist Dianne Springer, a former art educator with an MFA from Louisiana Tech, now working full time in fiber arts and painting. She will be exhibiting quilts and selling painted flower pots and decorated jean jackets, among other quilt-related items.

HONORING BRUNELLA LUKE
CORNHUSK CRAFTS, CHAUVIN, LA
Saturday, October 21, 2023 AT 3 PM
Rougarou Fest, Atchafalaya Narrative Stage
Address: 132 Library Drive, Houma LA 70360
Ambassadors: Jonathan Foret, Executive Director, South Louisiana Wetlands Discovery Center
Partnering Organizations: South Louisiana Wetlands Discovery Center
Tradition Bearer: Mrs. Brunella Luke learned how to make corn shuck dolls from Mrs. Thelma Duplantis in the 1970s. These collectible dolls were first sold at Lagniappe on the Bayou, an annual three-day festival held by St. Joseph's Catholic Church in Chauvin, LA. This volunteer-produced festival ran from 1969-1994 and brought thousands of people from around the world to Chauvin.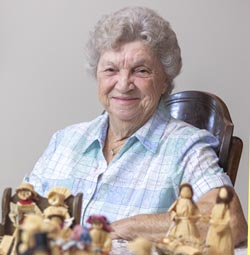 Mrs. Luke is responsible for creating hundreds of different corn shuck doll characters and scenes depicting Cajun culture including harvesting seafood, seafood boils, holiday gatherings, and even the Rougarou!
The Event: Jonathan Foret will recognize Brunella Luke as a Tradition Bearer in a ceremony during the Rougarou Fest.

HONORING NICOL and FJ DELPHIN, CANE RIVER CREOLE TRADITIONS, CANE RIVER, LA
Saturday, October 21, 2023 at 2 pm,
Louisiana Sports Hall of Fame and Northwest Louisiana History Museum
Address: 800 Front Street, Natchitoches, LA
Ambassador: Shane Rasmussen, Professor of English and Director of the Louisiana Folklife Center, Northwestern State University
Partnering Organizations: Louisiana Sports Hall of Fame and Northwest Louisiana History Museum, Louisiana Folklife Center, and Northwestern State University
Tradition Bearer: Nicol & FJ Delphin are indigenous to Cane River. Both embrace the idea of preserving their family heritage, legacy, and traditions on a daily basis. They have been living along the banks of Cane River most of their lives and embrace their Creole culture where they learned the foodways and traditions from the elders and insist that they are passed on to future generations. They have been married for 28 years and are currently working to restore their 205-year-old historic structure, the John Carroll Jones Plantation Home, built from a Creole architectural design.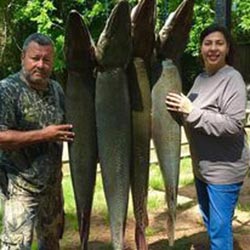 They have been married for 28 years and are currently working to restore their 205-year-old historic structure, the John Carroll Jones Plantation Home, built from a Creole architectural design. They are both members of St. Augustine Catholic Church which is central to the Creole community. Both are rich in cultural knowledge from the generations they descend from and are eager to share with others that are interested in Creole Culture traditions such as quilting, sewing, hunting, fishing, tanning, gardening, making cracklin', hog roasting, using gigs, bow and arrow, making jelly, syrup, ice cream sauce topping, salsa, drying of cayenne peppers, filé, and more. They embrace the land and will continue to live the culture, carrying traditions from the earliest days.
The Event: Dr. Shane Rasmussen will interview the Delphins about their traditions and work. The event will include a ceremony in which they will be honored as Louisiana tradition bearers at the Louisiana Sports Hall of Fame and Northwest Louisiana History Museum.