ARTICLES & ESSAYS



Indian Classical Music and Dance in South Louisiana
By Andrew McLean
Introduction
Now that Indian culture has become more established in American life, it is a much more lively and interactive time for the Indian community of South Louisiana. Though somewhat reduced since Hurricane Katrina, the Indian population in the past few decades has increased in Louisiana. The younger generation of Indians is filled with more pride about their heritage than the previous generation as India's contributions to global culture and the global economy (principally through information technology) are often front page news. The complementary and alternative health movement has embraced the benefits of India's yoga, and thus health spas and yoga studios are commonplace, offering various forms of this Indian tradition adapted to modern Western lifestyles. The inclusion of Indian popular music and dance styles in Western popular culture is evident in mainstream movies, television programs, and commercials. Though practiced by a smaller segment of the Indian community, India's classical arts that have been maintained and performed in Louisiana have showcased and preserved India's ancient and modern heritage. These arts fortify the lives of and deepen the sense of community among Indians in South Louisiana, while offering the local non-Indians, including Louisiana musicians, more direct interaction with India's cultural gems. Classical music and dance have played a simultaneous role reaffirming older traditions and maintaining a current sense of place through interaction with the new homeland and its styles.
History of Indian Classical Music
Like jazz, Indian classical music is a spontaneous music that takes a unique shape in each performance depending on the circumstances and the environment in which it is played. As an oral tradition, it is typically passed down in formal teacher-student relationships known as Guru-Shishya parampara. Its essential melodic form, the raga, has roots in the ancient times before written language was used to convey spiritual meaning. For a long period of history, the essentials of the Hindu tradition were not passed along in books but were embodied in sacred sounds memorized and recited by specialists in temples (see Beck's writings in bibliography). Some of these sacred sounds have elucidated a path to spiritual union (yoga) known as Nada Yoga including the primordial sound prayer Aum, also written as Om, which is said to be the sound of the universe, and Nada Brahma which means "sound is God." This use of sound as a spiritual practice gradually developed into both the melodic (raga) and rhythmic (tala) features of Indian classical music. Both the notes of the basic musical scales as well as the various beats and rhythm cycles came from this "sound of the universe" (called Sa among musicians). Ragas and talas are basically specific treatments of these scales and rhythms that use a specific combination of notes and maintain a certain design, character, and mood while a musician composes and spontaneously elaborates. Depending on the nature of a raga, there may be hundreds or even thousands of compositions, which adhere to its structure. The ragas of Indian classical music, then, developed in these temples principally as a form of vocal prayer music with some secondary instrumental accompaniment.
The instrumental music, like Western classical music, initially modeled itself on the vocal music, but eventually established its own distinct character. Comparatively speaking, Western music including jazz flourished as a medium for several interrelated voices (melody, counterpoint, harmony, etc), but Indian classical music has maintained a soloistic tradition that features a single voice or instrument with optional instrumental accompaniment. Commonly featured instruments in Indian classical music include:
sitar - a 25 string lute made from a gourd body and wood neck,
veena - a predecessor of the sitar,
sarangi - a 38 string bowed instrument with a skin surface under the strings like a banjo and sits in the musicians lap,
bansuri - a bamboo flute,
sarode - a 25 string lute made of wood with a metallic fretless fingerboard and plucked with a coconut shell,
santoor - a 72 string hammered dulcimer which is a predecessor of the harpsichord and piano, and
tabla - a pair of tuned drums.

Some Western instruments have gradually been accepted as well including the violin and the harmonium--a small hand-pumped organ brought in during British rule.
In the middle of the second millennium while Western classical music was developing multiple voices into chordal music (polyphony), Indian music remained mono-tonal (monophony) but underwent an equally significant shift by dividing into Hindustani (north) and Carnatic (south) styles as north India was overtaken by the Islamic Moghal Empire. While the Carnatic system of the south remained a music principally associated with Hindu temples, the northern Hindustani tradition was cultivated in the Muslim courts yielding a melodic and instrumental focus, which attempted to de-emphasize the Hindu-themed lyrics typically embellished in raga presentations. Whether lyrically or melodically rich, the two music systems were recognized for their profound spiritual appeal and remained an important part of many sacred occasions. Though they were officially Muslims as members of the Royal court, Hindustani musicians tended to transcend the Hindu-Muslim dichotomy by honoring both religions in their own prayer services and were even known to claim music itself as their religion. Once the British takeover of India destroyed the royal patronage system that supported Hindustani musicians, the "priestly caste" of Hindus (Brahmins) in the north began to sponsor classical concerts and eventually became students of the Hindustani maestros.
Arriving in Louisiana
In the 1960s when the initial waves of Indian immigrants arrived in Louisiana mostly for education and port-related jobs, many Louisianans began to take interest in India's vast spiritual landscape. Young people, in particular, found new avenues for spiritual satisfaction in the meditative practices of Buddhism and Hinduism, both of which were born in India. Another significant source of Indian spirituality for Indians and non-Indians alike were the long play (LP) records of Indian classical music. These LP's not only nurtured the Indians' sense of their own culture but inspired many local musicians to treat music making as a spiritual practice unto itself. The first LP of Indian classical music was recorded in 1955 by Ustad (Muslim title for master-musician) Ali Akbar Khan whose eldest son, Aashish Khan, has made several recent trips to New Orleans to play with New Orleans musicians. The elder Khan's LPs, along with his Beatles-associated, more famous brother-in-law, Pandit (Hindu learned person, abbreviated as Pt.) Ravi Shankar, inspired a league of admirers that included jazz giants like John Coltrane, Don Cherry, and others who were so moved that they approached the Indian maestros for instruction in the transcendent sound of their classical music. As many music-loving Louisianans remember, Pt. Ravi Shankar even toured through New Orleans and Baton Rouge in the 1970s giving many listeners their first direct experience with live Indian music.
The Indians who emigrated here, however, did not come to South Louisiana to play their classical music. Those who had a taste for or some basic training in their classical music listened to recordings or practiced their lessons privately in their homes while occasionally giving performances at various community centers. At first it was the women of the community who devoted time to keeping the music alive. Sitarist Mrs. Meera Seth is probably the first musician to present Indian classical music in Louisiana. She still has the newspaper articles from the 1970s that feature her early concert presentations in Baton Rouge:
Music is a universal language. . . . It's a way of communicating with other cultures. . . . Through music we can tell a lot about the heritage of the culture. Playing sitar all over Baton Rouge in the International Expo, etc., I thought that it was my duty to expose Indian classical music to Americans. I became like an ambassador, like a bridge. Then I started teaching [private students], and this gave me the most happiness. (Seth 2008)
Audio Player
Meera Seth performs "Bhupali" on her sitar.
Gradually, as the Indian population increased in the region, other classically trained artists arrived who could teach the many music and dance forms aside from their chosen professions. Weekly singing classes began in Metairie in the 1980s under Sunita Pethe. Houston resident Padmini Chari, was asked to make regular visits to tutor the community's children in the South Indian classical dance form known as Bharatnatyam. This gave dozens of Indian and some non-Indian students direct access to the culture's graceful movements and profound music structures.
By the 1990s some real momentum was becoming established. In 1995, sitarist Ashok Gildyal and sarodist Priyodarshi Majumdar accompanied a New Orleans Museum of Art exhibit of Indian (Jain) art with long-time Louisiana resident and tabla player Tushar Roy.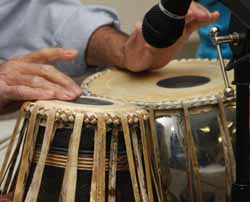 These concerts were well attended by both Indian and non-Indian listeners. Much to the delight of the Indian community, two non-Indians brought their classical training and academic expertise in Indian music and spirituality to the region. Dr. Guy Beck, a Hindustani vocalist with six years training in Calcutta, earning the degree of Sangit Bivakar, began teaching classes about the significance of sacred sound in Hinduism as an assistant professor in Religious Studies at Louisiana State University and Tulane University. Andrew McLean (the author) was trained in tabla and Hindustani music at the Ali Akbar Khan College of Music in California, and then returned to his native New Orleans to share the teachings and offer tabla classes for the first time in Louisiana. As proud custodians of this rich musical tradition, these musicians give full-length concerts (1-3 hours) in southern Louisiana venues, sometimes with local New Orleans musicians.
Finally, to promote the appreciation of India's artistic heritage classical arts connoisseurs in New Orleans established the Indian Arts Circle of New Orleans (IACNO). IACNO presents programs that feature touring professional artists from India such as the legendary Pt. Hariprasad Chaurasia (bansuri), Pt. Shiv Kumar Sharma (santoor), and Pt. Ajoy Chakraborti.
Cultivating Transcendental Music
Burde Kamath's family, including his wife Urmilla, daughter Meghana, and son Mithun are involved in almost all aspects of Indian classical arts as concert producers and students of both music and dance. The scope of their respect and interest in their cultural heritage is vast.
Here in the U.S., we are missing the music dance, art, and culture. Because they are so ancient, we very much admire the cultural aspects of our Indian-ness; especially the classical music, which we feel we have to treasure. The same goes with Indian dance, the Bharata Natyam. It has much more value than we can imagine. We want to make sure that our children understand it, and as much as possible, like it. (B. Kamath 2008)
While most Indians keep in touch with their country's sound culture through commercial recordings of popular music (such as popular Bollywood film songs commonly referred to as filmi), television, and more recently the internet, only a small portion of the community takes to classical music. As sarod player Priyodarshi Majumdar states, "This is not popular music; there are very few people who actually like this kind of music." It is not that the Indians do not value their classical music. Compared to the more popular forms of music, it just requires more from both the listener and performer. Local concert producer Subash Kulkarni compares the two forms saying that for filmi music, "If it sounds good and the [lyrics'] meaning is good, it becomes popular. There is a totally different discipline for classical music. In classical music there is the need for a commitment to the training and the teacher." Classical Indian dance instructor Padmini Chari, who has given over twenty years' service to teaching Indian dance in New Orleans and produced several accomplished local dancers, describes this very issue in terms that are equally applicable to music. "When you learn the classical dance you're locked up for five or six years. You don't get anywhere in one year! Whereas, with Bollywood and all that, you can just go and learn and perform. So if you have this fascination for the stage, ... it's Bollywood." The general perception is that classical music has a more serious mood than "light" classical and other forms of Indian music. Classical music requires more active listening to understand its sweet side, so most people who are looking for entertainment or simple distraction prefer the lighter "semi-classical" and film music.
Many famous composers and singers of these lighter, more popular styles in fact had classical training and were associates of the classical musicians. Asha Bhosle for example, sometimes called the "Elvis of Indian music," even tied ganda with (became an official disciple of) Ali Akbar Khan who is called the "Bach of Indian music." Local vocal music instructor Sudipta Das elaborates.
Even in the light classical and more popular songs, you can't sing the details of the melodies if you don't cultivate a basic understanding of classical ragas. Every song still is based on the notes from the ragas. This is a language, and because I've been trained, I can hear that it's based on a certain raga. In classical music, the compositions are very complex and extended and require a lot of skill. You can tell the difference between those who have training to whatever degree and those who don't because of the depth. If you have the training, you can go into those deep notches. Without training, you can't present those deep little notes built into the song. The voice doesn't respond as rapidly. But you have to practice to acquire the speed. Classical training is clearly indicated when fitting-in with the tabla. With the training you can touch those notes and keep in line with the rhythm. (Das 2008)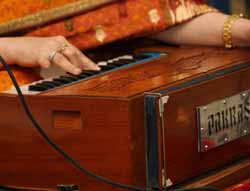 The notes of ragas are commonly referred to as sargam. The word sargam) derives its name from the first few notes of the musical scale "Sa, Re, Ga, Ma, Pa, Dha, Ni, Sa," and is roughly equivalent to the solfege of western music, "Do Re Mi Fa Sol La Ti Do." While she taught vocal students in Metairie, Sunita Pethe described her intentions: "First I want them to learn the Indian classical music. Like a base, if the base is ready, you can learn any kind of music. Now they can recognize the various ragas and apply it to any style of music, . . . even western music. As long as they learn the sur [pitch] and the tal [rhythm]." Pethe was the first trained Indian musician to offer vocal classes in south Louisiana, and some of her students have gone on to join bands and choirs of Western music. She continues, "I think they really enjoy it. They know what Indian classical music is, and they can use their music in different parts their activities, and they do. I'm very proud of them. They are using the basics I taught them. They learned and they listen all the time!" One of Pethe's students, Mithun Kamath confirms,
For me, it's all about the microtones! That kind of indescribable, ... the bending and sliding, . . . that's what does it. . . . That's what makes Indian classical music so much more emotional. The kind of music I listen to now reflects the Indian classical music I listened to as a kid. I tend to be interested in things that reflect certain things from Indian classical music. I haven't experimented as far as translating Indian classical music to stringed instruments, . . . [but] that's why I came to Nirvana [an Indian restaurant], . . . because I wanted to hear your guitar [a modified sitar-guitar hybrid]. It was awesome! Derek Trucks [famous blues guitarist] has become my all-time favorite guitarist, . . . and his guitar sounds like a sarode. . . . Those are the things I'm drawn to now and obviously it's not a coincidence. (M. Kamath 2008)
Learning to play classical Indian music requires more than listening and technical skills. Mithun's mother Mrs. Urmila Kamath says, "Classical music is not learned easily. We know what effort it takes sadhana / riaz [disciplined, consistent practice] without which the artist cannot shine. I think in India music is a spiritual experience. It's not just something you listen to." Mithun echoes that sentiment, "Music is really the one thing that I identify with the most as far as my identity as an Indian-American, . . . even more than language and food. It's what I would want to pass on if I could choose one thing. There's just so much involved." When asked what the most important thing for the public to understand about his music culture, he continues, "There's that transcendental nature that may not exist in other music. . . . It's just so tied up in the spiritual and meditative side of our culture. Something in it can transfix you."
Honoring Sarasvati: The Goddess of Music
While seasoned musicians will typically perform at house concerts and a variety of public and private events, the students' yearly recitals give them an opportunity to show what they've learned and ask for blessings in their continued studies. For those students or teachers associated with the Indian state of Bengal, recitals are traditionally given during the annual puja (prayer service) held in the first part of spring called Sarasvati Puja. According to Hindustani vocalist and professor of Religious Studies Dr. Guy Beck of Kenner, "The Goddess Sarasvati is venerated by all students and performers of Indian music as the divine patron of music and learning: indeed she personifies the power of sound and speech" (Beck 2007). In typical images, Sarasvati is carrying sacred books (the Vedas) and musical instruments while birds gather around her graceful presence. The Louisiana Bengali Cultural Association (LBCA) held this years' Sarasvati Puja at Woodlake Country Club in Kenner. The day was divided into morning and evening segments. The morning service was adult oriented including elaborate offerings of flowers, oils, sweet foods, and incenses to the goddess along with the lengthy recitations of ancient, traditional Vedic verses by presiding priest, Dr. Ashim Bhattacharya, and of course, a communal meal and socializing.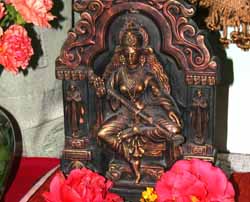 The evening portion brought the children into focus with the much-anticipated "Cultural Program." On this day, it was clearly more important to simply participate than to offer an excellent performance. The program featured mostly children in a light-hearted, but steady upward progression of proficiency, which culminated in the more mature music and dance items from those who had obviously been studying. Some sang their favorite pop song a capella or in karaoke style with a CD recording, while others recited new and traditional poetry. In one of the program's more mature items, Monika Roy, a long-time student of Padmini Chari, presented a condensed version of a two-hour Natyanjali dance recital she had prepared for six years. Prema Bhattachaya sang a few light classical songs accompanied by her teacher Sudipta Das on harmonium and Tushar Roy on tabla. Vocalist Sumaitha Chowdhury, a recent immigrant from Bangladesh, accompanied herself on harmonium with Tushar Roy's tabla. Arnab Ray gave an eloquent speech reminding the community that the swan image often depicted in paintings of Sarasvati represents the discernment that turns the knowledge into wisdom and judgment.
Audio Player
Priyo Majumdar performs "Raga Kafi" on his sarode.
One such musician who exemplifies such discernment in transmitting the classical music tradition is Priyodarshi Majumdar. "Priyo," as he is called, initiated his training as a classical sarode player in Calcutta as a young teenager. During an eleven-year apprenticeship to his guru Sri Robi Chakraborty, his lessons would last for several hours every Saturday at the guru's home where he was virtually adopted as a son. The lessons included learning to vocalize all aspects of the music while developing the techniques required to articulate the music on his instrument. Before relocating to New Orleans to pursue an engineering degree at Tulane in the early 1990s, Majumdar had won music competitions in the state of Bengal, and his proficiency instantly earned him a reputation as the most respected instrumentalist in Louisiana's Indian community. From his Metairie home, he has taught select students and performed at numerous Indian social gatherings as well as represented the Indian community locally in prestigious events such as the New Orleans Jazz and Heritage Festival.
Priyo attends the LBCA's Sarasvati Puja to honor all the arts and forms of learning but hosts a private puja in his home specifically for his student recitals. He explains,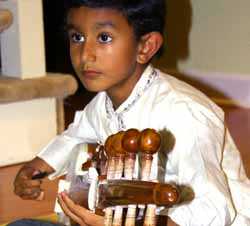 This is traditional music and I've learned it in a very traditional way. Since I have been so fortunate to have a guru who transferred all whatever he could and I whatever I could take from him. I try to at least carry on that same tradition here. I don't have to, but I like playing it and if I can help someone to play it and enjoy it, why not! My son is six years old and it's almost like a given that my son will learn up to a certain point. Then we'll see if he enjoys it and wants to keep it up. (Majumdar 2008)
At the LBCA puja, Majumdar's son Prokkawn saved his sarod recital for the home puja and opted instead to present a few poems he had memorized for the community puja. Before Prokkawn's recital began, Ramabai Shenoy, a respected elder in the community, asked if she could sing an opening invocation to the goddess Saraswati to set the tone of the event.
Ramabai Shenoy sings an opening invocation to the goddess Saraswati. The lyrics and translation are below.
Amba Devi Saraswati
Ananda Roopini Palaya Mam
Trailokya Janani DEVI
Ananda Roopini Palaya Mam
Vinavadini Saraswati
Ananda Roopini Palaya Mam
Mayura Vahini Saraswati
Ananda Roopini Palaya Mam

Amba, Devi, Saraswati
who is blissful, protect me
She is the mother of the universe
who is blissful, protect me
She is playing the Vina (her instrument)
who is blissful, protect me
She is riding the peacock (her vehicle)
who is blissful, protect me
Audio Player
Ramabai Shenoy sings an opening invocation to the goddess Saraswati.
Producing Concerts of Touring Indian Artists
Concert organizer Subash Kulkarni arrived in Chicago from Mumbai/Bombay in 1968. By 1970 he was organizing concerts featuring mostly Indian film stars. Once he moved to New Orleans he recognized the effect that Indian classical music was having on Western audiences:
Can you imagine what they would do when they listen to the person live? And you don't need that experience on a daily basis. . . . It's the kind of experience that's etched in their heart and brain, and you can connect that every time you listen to that music. You have to describe the music as divine because you immerse yourself so much that you forget yourself. And you are in a state of rejoicing your whole life and you forget everything! (Kulkarni 2008)
In New Orleans Kulkarni found a few other Hindustani aficionados, including Dr. Sudhanva Wadgaonkar and Dr. Madhukar Prasad (who has since moved to Houston). Wadgoankar's enthusiasm is contagious: "Classical music is a big part of my life. It's very spiritual; it is very intense. You have to listen to it [classical music] live instead of just recorded music. Not having live [Indian] music [in New Orleans] we had to go to the recorded music, but if we can get this!" Along with a few independent promoters, these three connoisseurs became the principal sponsors of Indian concerts in the New Orleans area. An established producer in Pennsylvania had a seasonal list of touring Indian artists that often included the artists of the highest caliber from India including the afore-mentioned bansuri maestro Pt. Hariprasad Chaurasia and santoor pioneer Pt. Shiv Kumar Sharma, both of whom had been in Pt. Ravi Shankar's touring ensembles in the 1970s. Up-and-coming standouts of the next generation have been brought to New Orleans as well. These include Pt. Anindo Chatterjee and Vishva Mohan Bhatt, who was awarded a Grammy for A Meeting by the River (Cooder and Bhatt 1993) with blues guitarist Ry Cooder.
It was important to these organizers to offer the highest possible representatives of their music culture to the Louisiana public in addition to being able to enjoy the music themselves. Wadgaonkar expounded,
Like Western music, only 10% of the people are interested in the pure classical music. The bigger part, which I think is important, is that it is a very big part of Indian culture, and the local American community has to be presented with this culture. It is a very rich heritage, which is important. Culture ambassadors have to come from India and present it to the American community. It is something to be proud of which is rich in India. And there are a lot of similarities with the jazz music. (Wadgaonkar 2008)
With the momentum established by these organizers, a bigger production team was formed called the Indian Arts Circle of New Orleans (IACNO). Priyodarshi Majumdar joined the group with similar intentions.
I started out with selfish reasons. . . . That's what I did back home and I miss it. We don't get as many concerts as we used to get back home. Back in India during the wintertime, there was like a concert everyday. And there were some music conferences where they would go for like five all-nighters. It was a beautiful overload of music! So when I come here, I'm starved. Arranging concerts is special because live music is something that we've grown up with. Something else comes out of live music, which is not there in recorded music -- . . . that live interaction. It's a great experience . . . to have close contact with the musicians, to make my family a part of it, to show my son how these concerts go so they can . . . learn how to appreciate. And when our organizing committee gets together, . . . it forms a close bond. (Majumdar 2008)
This expanded committee (IACNO) is now directed by Majumdar and Urmila Kamath and also includes Jayashree Rao, Suki Pramar, Vijaya Devarajan, Sunita Pethe, and Andrew McLean. The IACNO's concerts have been held at various local university auditoriums and typically attract 200-500 listeners both of Indian and non-Indian descent. The non-Indians are a combination of students from the host universities as well as patrons from the local community who routinely support live, New Orleans-based music. The Indian attendees are mostly Hindus of the higher castes (Brahmins) from northern Indian states.
Extending the Sense of Musical Community
Both Majumdar and Wadgaonkar have come to see the importance of their music culture in relation to the local music of New Orleans. They consider it a special privilege and opportunity. Recognizing a certain kinship, they regularly include local New Orleans musicians in their private music gatherings at home. Wadgaonkar elaborates,
Indian classical music has the same soul as the jazz music. They perform with a particular melody in a different way every time and create the mood for the audience. The jazz musicians can appreciate that. That's why it's so important for New Orleans to have Indian classical music. I think if it is presented and marketed properly I think it will succeed and the musicians here will adopt it.
Majumdar, through the inspiration of New Orleans native and classically trained Indian percussionist Andrew McLean, has become the featured centerpiece of Jugalbandi Jazz, a series of concerts presenting musical dialogues between Indian and New Orleans musicians. Beginning in 1999, their concerts have been held at many venues including the Snug Harbor Jazz Bistro, the Hookah Cafe, Zeitgeist Multi-disciplinary Art Center, and the New Orleans Jazz and Heritage Festival. Majumdar has now performed with several of the most noted New Orleans musicians, including Henry Butler, Tim Green, James Singleton, and Jason Marsalis. He talks proudly of what they have achieved together.
It was never a concrete thought in my mind that I want to play concerts with local musicians. Indian classical music concerts are so unlike Western classical music concerts in that audience members you will see all the time that they are saying something or the other. . . . They hear a certain phrase and they just say something out loud like 'Wow that's great!' We really like that as a musician, and we long for that. But there's not a huge clientele for Indian classical music concerts here. Then Andrew came along. . . . The very first concert we did with three non-Indian musicians for a convention downtown was a huge success. So, that was a great experience! Just because the first one went so well, I started to look forward to them. Every single one of them becomes an eye-opener/ear-opener for me. I'm learning all the time. It's amazing how the local musicians can pick up our music. It's really uplifting to hear all these accomplished musicians wanting to play with me. I've made good friends and we've made good music. (Majumdar 2008)
Local community collaboration goes beyond the actual musicians to the other institutions that support New Orleans music including Loyola University. Loyola's Montage Music series was looking to feature some international music and found a perfect fit in the IACNO. A mutually beneficial relationship has developed in the years since the collaboration began. Majumdar continues,
In terms of the community cohesion, our collaboration with Loyola, which started a few years ago, has grown to include more non-Indians. We see a lot of Americans coming, and it fills my heart. I do have big plans, but this music and this town have given me so much. I feel exhausted and invigorated at the same time, and I want to do it again. I hope that this music thing that we're doing in the long term, it'll help to bring a lot of new people together and keep them together. (Majumdar 2008)
Storytelling through Dance
South Louisiana's classical Indian dance practitioners have also developed an eye for the local community. Padmini Chari, who comes from her Houston home on a semi-monthly basis to teach classical dance in Metairie, arranged a benefit program after hurricane Katrina which raised money for the Habitat for Humanity. During the 25 years she has been coming to the New Orleans area, Chari has taught dozens of young Indian students Bharatnatyam: the modern classical dance form originating in Tamil Nadu in South India, which is a 20th century reconstruction of Cathir, an ancient art of temple dancers. Though a taskmaster with high expectations for her students, Chari is adored with affection and respect from her students and their parents alike. Her students routinely commit an entire day (6-10 hours) if not a whole weekend (2 days) to the rigors of this disciplined art. In one class, four students memorized hand and facial gestures as well as a pattern of syllables that must be recited in coordination with every step while a pre-recorded melody wrapped around a complex ten-beat pattern. Each student, of course, must also spend adequate time in between classes practicing the material for the next class. Under Chari, several students have completed their Arangetram, which signifies six years of intensive training and is marked by a lengthy recital in full costume and decorative makeup.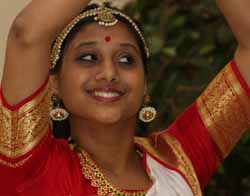 A strict, rhythmically sophisticated and dramatically decorative style, Bharatnatyam is accompanied by the classical Carnatic music indigenous to Southern India. In south Louisiana however, there are no available practitioners of Carnatic music. Chari's students have, therefore, grown accustomed to using pre-recorded music in their training and performances. Though it yields a less intimate relationship with Indian classical music, the static nature of pre-recorded music does help establish a reliable consistency that sets the framework for the nonverbal storytelling to unfold.
While classical music presents cultural values via more abstract sonic structures, classical dance clearly delivers cultural content in a more narrative form. The stories depicted in these dances usually feature popular characters and episodes from India's two major Sanskrit epics: the Ramayana or the Mahabharata. For many students and parents, in the absence of the naturally re-enforcing cultural elements that would be present in India, the stories they learn to tell through classical dance give them their most direct connection with the mythical landscape of their ancestors that informs and re-enforces their identity as Indians while here in Louisiana.
For a few years beginning in the late 1990's, south Louisiana was fortunate to have Sunanda Nair, another south Indian dance instructor who lived and taught in Kenner. Like Chari, she taught Bharatnatyam, but she also is a renowned practitioner of a rare and nearly extinct classical dance form from Kerala in south India called Mohini Attam, the "Dance of the Enchantress." She arrived in Louisiana with a strong reputation and was able to attract live musicians from outside Louisiana to accompany her students' on occasion. After Hurricane Katrina, however, she and her family eventually relocated to Houston.
Though Hurricane Katrina has dealt a strong blow to the momentum of her dance program, Chari's successes in Louisiana and her determination to continue teaching in the area are unshakable. Keeping things in perspective, she remains confident about her students' potential in the coming years.
India has come to the mainstream now. Everyone appreciates what is Indian. So, they don't feel ashamed. I remember 25 years ago, the kids were embarrassed to do dance in the schools. Now they're proud to do it and that's a big change. It's very sad in Louisiana. It was booming, but because of Katrina everything has gone dull now. Next year we'll do a really big production! It's been a very satisfying experience, otherwise I wouldn't have come after Katrina. It's just the dedication of the students; the parents and the students make me come. It's like a second home. (Chari 2008)
Conclusion
Maintaining cultural traditions in a foreign land is a complex and personal matter. Some Indians focus on cuisine, others on the popular film factory known as Bollywood. Still, for others it is in the temples or other community centers that they feel most connected to their home culture. As the musicians, dancers, music organizers, and other members of south Louisiana's Indian community interviewed here have articulated, classical music and dance are salient practices as resonant sources of all Indian culture. Whether it's practicing or teaching these arts, participating in private ceremonies or public performances, giving cultural demonstrations or engaging in cross-cultural exchanges, these classical arts, though abstract and symbolic, convey deeper cultural significance beyond the capacity of words. Because it is generally considered spiritual and not necessarily religious, it has also been more accessible to non-Indians. As a result, Indian classical arts have taken on an unexpected and special significance in the lives of many Indians as they establish their identity in the context of Louisiana culture.
Sitarist Meera Seth's husband Kishan Seth has an interesting perspective. He has witnessed four decades of Indian immigration in south Louisiana and he believes that we have entered a new era of acceptance of Indian culture.
Actually, in 1970 in Baton Rouge, some people only knew that India had cows and snakes and elephants. Of course, the whole world has become a very small place. If they didn't have the Indian M.D.'s and software engineers today, in a lot of places America could not survive. Now things are improving and people are learning. (Seth 2008)
Indians in Louisiana are more confident and enthusiastic than ever about themselves and about contributing to the plurality of Louisiana cultural life. More Louisianans in turn are obviously becoming more open to Indians having recently elected the first Indian governor in the history of the United States of America. His election begins a new era for Indians in Louisiana. For those who participate in the maintenance and performance of India's classical arts, we have much to look forward to in South Louisiana.
Recommended Reading and References
Beck, Guy L, editor. Sacred Sound: Experiencing Sound in World Religions. Waterloo Ontario: Wilfrid Laurier University Press, 2006.
Beck, Guy. Sonic Theology: Hinduism and Sacred Sound. Columbia, SC: University of South Carolina Press, 1993. (reprinted in India: New Delhi, Motilal Danarsidass 1995).
Beck, Guy. "The Magic of Hindu Music" Hindustani Today Kapaa, Hawaii: Himalayan Academy, 2007. http://www.hinduismtoday.com *This entry has an excellent description of the instruments used in Indian Classical music.
Cooder, Ry and Vishva Mohan Bhatt, A Meeting by the River, Water Lily Acoustics 1993.
Neuman, Daniel M. "Indian Music as a Cultural System" Asian Music. Vol. 17, No. 1. (Autumn - Winter, 1985), pp. 98-113. First Page viewable at the following address: http://www.jstor.org
Neuman Daniel M. The Life of Music in North India: The Organization of an Artistic Tradition. University of Chicago Press, 1990.