ARTICLES & ESSAYS


Moon Cakes, Knotting, and Feng Shui: A Peek of Chinese Culture in Baton Rouge, Louisiana
By Jun Zou
Every year around February at the Louisiana State University Student Union Theater, the Chinese community in Baton Rouge presents a vibrant production of Chinese performing arts, including singing, dancing, instrument playing, comedy, and martial arts to celebrate the Spring Festival, also known as Chinese New Year. Chinese New Year starts on the first day of the new Chinese lunar year containing a new moon and ends on the Lantern Festival fourteen days later, occurring around the time of the full moon. While the performers are mostly from China, and the programs are authentic Chinese, the targeted audience has always been the general public, and the goal has always been to introduce and share rich Chinese culture and traditions in order to promote diversity and cultural communication.
The Baton Rouge Chinese community organizes similar cultural events from time to time year round that are getting increasingly popular. They present a variety of exhibitions and demonstrations on Chinese traditional and/or folk arts.
Chinese immigrants in Baton Rouge keep their precious and diverse culture and traditions by practicing, sharing, and learning. Among many other forms, Chinese folk arts, Chinese feng shui, Chinese festivals, and Chinese family values are the primary vehicles that convey the culture and traditions of local Chinese immigrants are passed on to new generations to come.
Folk Arts And Fine Arts
Chinese folk and fine arts are flourishing in Baton Rouge. Baton Rouge is home to artists who practice paper folding, paper cutting, Chinese knotting, brush painting, dance, and classic music. A few also perform the tea ceremony. Some intentionally decorate their homes with fine collections of Chinese paintings, ceramics, and scholar's stones to make their American-style homes more familiar and more Chinese. For those who practice feng shui, these same items can take on additional meaning by bringing luck through their selection and placement. The photos illustrate the various artistic works created by Chinese artists in Baton Rouge.
Paper folding, also known as zhe zhi (translated from Chinese) and origami (translated from Japanese), represents about two thousand years of history. Since the first century A.D. in the Han dynasty (206 B.C. - 220 A.D.), the time when it is believed that paper was first invented in China by Cai Lun, people have been folding paper (zhe zhi) into various shapes. Historically, the Chinese developed some simple forms, some of which survive to this day. Today, master paper folders are found in many places around the world. New and improved folding techniques have produced models with many different variations including complex geometric shapes, animals, flowers, and even human figures.
The two most well known paper folding artists in Baton Rouge are Mr. Hwa Sze Kao and his student, Mr. John Hu. Mr. Kao and his wife came from Hong Kong and were mathematics professors at Southern University for 40 years. Mr. John Hu, a retired chemical engineer, originally came from Hebei province of China. Paper folding and paper cutting are their leisure-time hobbies. Most of their paper folding works are of geometric shapes, figures, and animals, and exhibit a strong mathematic skill. For instance, the creation of "Pineapple" involves in-depth understanding and application of mathematics that governs the geometric composition. Similar characteristics are found in many of their works.
Paper cutting is considered a traditional art form in China. There, people make colorful paper cuts to decorate windows and doors for major occasions such as wedding ceremonies and festivals. Paper cutting includes both geometric and organic shapes that can be either positive or negative. The most commonly-used color is red, and flowers, animals, and symbols are the most common images. For his paper cuttings, Mr. Kao uses classic Chinese symbols such as dragons, golden fish, and lotus flowers, but also will include figures. Each symbol has special meaning for the occasion. For example, in Mandarin Chinese the word for "lotus" sounds like "He" and symbolizes the wish of "harmony." As a result, it is used for a wedding ceremony.
Chinese knotting as an art has a long history and profound cultural connotations. Originating from practical purposes, it developed during the Tang and Song Dynasty (960-1229 A.D.) and was popularized in the Ming and Qing Dynasty (1368-1911 A.D.). Chinese knotting most often uses red or yellow cord and frequently incorporates additional pieces such as sculpture and symbols made of jade, bamboo, or other materials. Chinese knotting is also widely used in home decoration, clothing, and other ornaments such as key chains and necklaces. It is also often found in vehicles hanging from the windshield mirror. According to traditional belief, they bring good luck to the owners.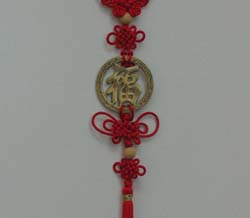 Mrs. Judy Huang and her friend Miss Mei Chung are two of the most well known artists who specialize in Chinese knotting in the Baton Rouge area. Their works include many different patterns and animals. While they get the cords as well as the bamboo plaques, jade sculptures, or bronze plaques from Taiwan, they carefully select objects and match the knotting style accordingly. Below are two examples that are often used as decorations in homes. On the left, Mrs. Huang and Miss Chung have combined a pair of bamboo plaques carved with the Chinese characters "Fortunate" (left) and "Satisfying" (right) to be hung on the two sides of a door. On the right, they used the Chinese character for "Blessing" in copper, the most widely used home decoration.
Traditionally there are four basic types of knotting patterns that can be used to create an unlimited number of styles. Below are two examples. The pieces on the left, which one might attach to a purse or cell phone in order to bring luck to the bearer, utilize jade and traditional knotting patterns. The crawfish key chains on the right illustrate the artist's incorporation of Louisiana culture into this traditional Chinese art form.
Brush painting has been practiced in China for thousands of years. Traditionally, it used simply water and ink to create black and white paintings. More recently, artists have added colors. The greatest purpose of Chinese brush painting is to present the emergence of life and deliver a certain message. The subject can be anything in nature.
Mrs. Ren Jen-gyi Koai, also known locally as Margaret Koai, is originally from Taiwan and learned Chinese painting techniques there. She has been practicing them for over 30 years. She often does demonstrations and delivers lectures in Chinese painting at various places including Louisiana State University. In addition to the practice of Chinese painting, Mrs. Koai also collects scholar's stones and performs the tea ceremony.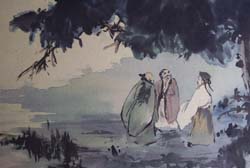 Chinese scholar's stones, also known as scholar's rocks or viewing stones, are slightly shaped or naturally-occurring rocks appreciated by Chinese scholars from the Song dynasty onwards. The most well-known stones are from Tai Hu (Lake Tai) in southeastern China with the finest examples dating from the Ming dynasty. The most valued stones are all natural and subjected to no artificial carving at all. All the colors of the rainbow are possible, and colors should contrast with each other for the best aesthetic effect. The natural marks can resemble anything that can be imagined, from purely natural objects such as a dog, to completely abstract objects such as a Chinese character that says, "Blessing." The stone can weigh hundreds of pounds or can be small and weigh less than a pound. Collecting these stones has become a tradition, and they are highly prized. The following photos show some of Mrs. Ren Jen-gyi Koai's personal collection.
Chinese scholar's stones.
Music and Dance
Several organizations in the Chinese community regularly present Chinese dance and music in Baton Rouge. Some events feature professional and semi-professional musicians and dancers from China as entertainment for the larger Baton Rouge community, while others, like the Spring Festival, provide opportunities for local artists to perform. In Spring 2006, under the leadership of Mei Su, the Chinese Friendship Association supported the creation of the Traditional Chinese Dance Group consisting of local Chinese women and some LSU Chinese students. Xiaomai Seal, the group leader, leads the dance practice weekly in order to perform at traditional Chinese holidays and other local international events. She arranges for tailors in China to make the costumes.
At the 2007 Spring Festival, many local dancers performed. Xiaomei Seal and Chuncun Yanga, from mainland China, performed Liang Shan Bo and Zhu Ying Tai, which is based on a Chinese legend about a tragic romance. Liang Shan Bo and Zhu Ying Tai are the Chinese equivalents to Romeo and Juliet.
A local group of dancers from mainland China performed "Back to Parental Home" which is based on the Chinese folk song, "Back to Parental Home" about the happy mood that married women have when they go back to their parental home during Spring Festival period (a folk tradition in China).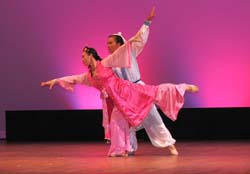 Yunbing Ma, an LSU student from China, played the Chinese lute, a four-stringed lute with a pear-shaped body that is called Pipa. The name combines the Mandarin words "pi" and "pa," which are the two movements used to play this music instrument. Since Tang Dynasty (618 - 907), Pipa has been one of the most popular Chinese music instruments, and maintained its appeal in solo as well as chamber genres. Traditionally Pipa is mainly a solo instrument.
LSU students Yuan Zhang and Lushan Sun performed another couple dance, Flying Goddess/Dun Huang. This dance is based on the frescoes in the Dun Huang Grottoes along the ancient Silk Road in China. These frescoes form the world's longest painted corridor, with a total of 45,000 square meters of painted murals and have been the inspiration for other art forms including music and dance.
Chinese scholar's stones.
Another group performed the Yang Ge, a style of celebration dance in northern China's countryside that expresses happiness. All the performers are originally from mainland China and now living in Baton Rouge.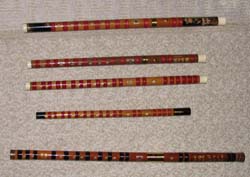 Baton Rouge is home to some musicians who play Chinese classical music. Some are foreign students at LSU, while others are permanent residents. As an example, Dr. Lubing Luo plays and composes Chinese flute music both at home and in public. Chinese folk flute solos were written to tell ancient stories or tales from various tribes of China. Earliest flute music can be traced back to around the 12th century. They were played mostly on wooden or bamboo flutes. Coming from Guangdong province in China and working as a research chemist at a local company, Dr. Lubing Luo learned both Chinese and western music theory, and has been studying and practicing Chinese flute since he was in high school in China. "I am now very interested in making an effort to integrate these two forms (Chinese and western) of music," Dr. Luo said. Below are his flutes. The four on the left are rhythm flutes and the one on the right is a melody flute.
Feng Shui
Feng shui, an ancient Chinese term meaning "the way of wind and water," has a history of more than 2000 years. As a unique cultural tradition that blends several aspects of Chinese cultural practice, feng shui is an enticing composite of mystical beliefs, astrology, folklore, and common sense. By analyzing the flow of energy and evaluating its influence on a person's life, feng shui primarily applies to the selection, placement, and arrangement of buildings, land, and/or burial sites by Chinese in order to achieve harmony with the living environment, and in relationships, business, and career development. Feng shui is not a religion; anyone with any religious background can practice it. It has been very popular in Hong Kong and Taiwan, and it is being revived in mainland China nowadays.
Mrs. Qiongfang Ni and Mrs. Ren Jen-gyi Koai are two Chinese residents of Baton Rouge who apply feng shui principles in their homes. They came from Guilin in mainland China and Taiwan respectively, and have been living in Baton Rouge for six years and fifteen years. Both believe that good feng shui brings good fortune to their family. "Good feng shui of a house directs healthy air flow and daylight into the house, which always brings fresh air, health, and wealth to a family," Mrs. Koai said. Orientation of a house is critical in feng shui practice, "the most important criteria for us to choose a house is the orientation of the house, we like a house that faces south." Mrs. Ni said, "a house facing south can enjoy maximal sunshine in every room, which brings in healthy energy to the house and the family according to feng shui."
They shared some general guidelines and tips that they use to decorate their houses. Some other rules related to building orientation, building formation, and time factor are beyond this essay.
Some items are considered "lucky objects," and people incorporate them into their house decoration to bring luck to the home's occupants. These include aquariums, living plants, tassels, and wind chimes; representations of tigers, dragons, and elephants; and statues of Guan Gong. Generally feng shui practitioners purchase or collect these items, but some may make the knotted items.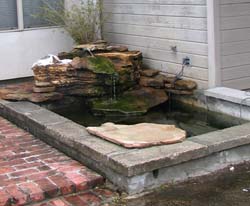 More specifically, an aquarium is considered to attract luck and bring prosperity into the house. It can be placed either outside the house or in the living room. Fishes absorb negative chi, especially the blackmole (blackmoor) variety. It is a common practice for feng shui masters to use a fish tank as feng shui "cures." Fountains and waterfalls are further considered to bring beneficial chi to a home. To the left is a photo taken in front of the aquarium in front of Mrs. Koai's house that she designed and built, this piece by piece, with her father.
The dragon, a symbol of authority, can be strategically placed in an office or a home to symbolize the authority and power. Place a dragon on the dragon wall (to the left when facing the front door) and make sure it does not appear to be heading toward the door or a window. Here is a Green Dragon that Ren Jen-gyi Koai has placed on top of a display shelf.
Tigers represent bravery and strength. They can be placed in a den or an office. A tiger should not have its mouth open or look as if it is "ready to pounce." Place the tiger on the tiger wall (to the right when a person faces the front door).
The elephant, according to Buddhism, is a celestial animal. It is seen as a representation of morals and dignity. In feng shui it is an excellent good fortune symbol that represents power and prominence associated with the head of the family or company. Elephants also serve as house keepers and guardians. The elephants should be placed underneath of an interior exposed beam.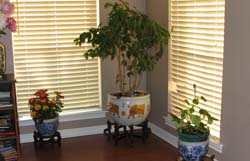 Guan Gong is a Chinese god still worshipped by many Chinese, especially in Hong Kong, who is based on one of the best known generals throughout East Asia, Guan Yu (160 A.D. - 219 A.D.). Guan Yu's true life stories have been largely fictionalized and exaggerated in one of the most well-known Chinese classics Romance of the Three Kingdoms, and the historical figure has evolved over time to the status of the Chinese "God of brotherhoods," representing the code of brotherhood and righteousness. In feng shui, a statue or image of Guan Gong ensures peace and harmony for all residents in a house, protection for the patriarch, and prosperity, and luck for all.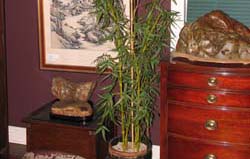 In feng shui, live plants and flowers are believed to alter or harness chi (positive energy). Practitioners place live plants at the up-right corner of a room when one is standing with their back to the door.
Tassels are used for protecting and blessing a home or office. The color is usually red and sometimes made with Chinese coins and lucky symbols. People usually purchase them from special stores in China.
Wind chimes ease the tension between wind and water smoothly, bringing calm and quiet style to any space. People usually purchase specially designed feng shui wind chimes for home decoration and/or as solutions to various particular situations. For example, a wind chime with five solid metal rods could be used to repress bad luck caused by beams or poison arrows.
Since colors are believed to be related to yin and yang and wu xing (the five elements: water, fire, wood, metal, and earth), they are used to maintain balance among specific chi energies. As a result, they play a significant role in feng shui practice. Red, symbolizing virtue and truth, is the color of life, luck, prosperity, power, glory, and happiness.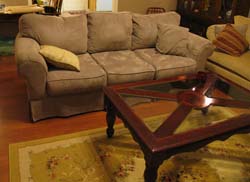 It is good for the fame or reputation area of your home. Yellow in feng shui is considered to be as auspicious as red and represents sunbeams, warmth, motion, cheerfulness, and friendliness. However, according to a noted color feng shui consultant, prolonged exposure to large amounts of intense yellow can cause anxiety. Green, symbolizing hope, longevity, and vitality, represents lush growth, vegetation, and the rebirth of springtime. Green is preferably used for the family and health area in a home
The photo above illustrates the use of color according to the feng shui principles. In her living room, Mrs. Qiongfang Ni, has used three colors, yellow, green, and red, by using a red coffee table and a yellow-green rug.
Traditional Festivals and Foods
The Baton Rouge Chinese community celebrates four key festivals each year: the Spring Festival, the Lantern Festival, the Duan Wu Festival, and the Moon Festival. These festivals follow the lunar calendar, so their dates vary on the western calendar. Each festival is strongly associated with specific foods.
Spring Festival is the biggest festival for any Chinese community since it is the celebration of Chinese New Year. Lasting 15 days, it starts on the first day and lasts to the 15th day of the first month of the year according to the Chinese lunar calendar, which means that the holiday usually falls on the second (or very rarely the third) new moon after the winter solstice. On the western calendar, it may fall between January 21 and February 20. However, Spring Festival does not mark the start of spring. In traditional Chinese culture, the start of spring (called Li Chun) occurs about February 4 and the festival marks the height of the season.
Spring festival is the time for family reunions. In the old days, there is a family dinner on the New Year's Eve. Then children would stay awake for the whole night of New Year Eve to wait for the first dawn of the New Year. The young generation would kneel down in front of their elders, and the elders would usually distribute hong bao, a red pocket containing small amount money called ya shui qian or "new year money," to kids as the New Year gift. Chinese immigrants to the United States are not always able to follow all the rules because of scheduling conflicts and the impossibility of having a family reunion since more family members are back in China. Often friends and their families get together to share a big meal, and make telephone calls to greet distant relatives around midnight of the New Year's Eve, or the next morning. In Baton Rouge, some Chinese groups cooperatively produce shows for the community. In 2007 the Boar Year, the New Year celebration and show at LSU Union Theatre was a joint effort of all major Chinese groups. It was considered a major success. In addition, many of these groups, including Chinese Friendship Association, the Chinese Association, and the two Chinese churches, organize dinner parties separately around the New Year's Day.
Spring Festival is associated with four foods, including jiao zi (dumplings), "nian gao" (New Year Cake), yu (fish), and ji (tangerine). As the shape of jiao zi resembles ancient gold and silver ingots or a crescent moon, it symbolizes the hope for a year of plenty. Traditional jiao zi is made by wrapping a meat of vegetable filling in dough and is served with vinegar and soy sauce. In Mandarin Chinese, "nian" means year, and gao is a homonym for "high," thus nian gao symbolizes progress and promotion at work and in daily life, and improvement in life year by year. Nian gao is a sweet, sticky, white or brown cake made from sticky rice flour and sugar. It can be fried, steamed, or boiled and served with sugar. "Yu" means fish and, in Mandarin Chinese, is a homonym for "surplus" or "more," so eating fish symbolizes a lot of savings for each year. Usually, Chinese serve whole fish to symbolize family unity. They point the head of the fish to the most respected family member, usually the grandfather or grandmother. Finally, ji (tangerine) is very popular because in Chinese "ji" means "good luck."
The lantern festival on the 15th of the first lunar month marks the end of celebrations of the New Year. It is most associated with yuan xiao, a small dumpling ball made of sticky rice flour filled with sweet stuffing and round in shape. It is a must for the Lantern Festival, symbolizing family unity, completeness, and happiness.
The Duan Wu Festival, also referred to as the Dragon Boat Festival or Double Fifth Day, is on the 5th of the fifth lunar month. On the western calendar, it usually falls in June. While many stories regarding its origin abound, the most popular and widely accepted version regards Qu Yuan, a minister during the Warring States Period (475 - 221 BC). From that time to this day, people commemorate Qu Yuan through Dragon Boat Races, eating zong zi and several other activities, on the anniversary of his death: the fifth day of the fifth lunar month. While there are no dragon boat races held in Baton Rouge, the Chinese community eats zong zi, a sticky rice ball, with a filling, wrapped in bamboo or reed leaf that is generally steamed. The fillings can be egg, beans, dates, fruits, sweet potato, walnuts, mushrooms, meat, or a combination.
The Moon Festival, also known as the Mid-Autumn Festival, is on the 15th of the 8th lunar month. On the western calendar, it falls in mid or late September. Moon Festival is one of the most important traditional events for Chinese. Traditionally, farmers celebrate the end of the summer harvesting season on this date, similar to Thanksgiving in the United States. This is also a day for family reunions. When the full moon rises, families get together to watch the full moon, eat moon cakes, and sing moon poems. There is a beautiful Chinese legend associated with the Moon Festival. Legend says that Chang Er, one of the most beautiful figures in Chinese literature, flew to the moon, where she has lived ever since. Legend says that you might see her dancing on the moon during the Moon Festival. Each year in Baton Rouge, the Chinese Friendship Association and the Chinese Association organize gatherings or parties during Moon Festival. Most families also purchase yue bing, or moon cakes, to eat that night when the moon rises. Their shape, usually is round, symbolizes family reunion.
Chinese Family Values
The Baton Rouge Chinese community has preserved Chinese family values that center on the Confucian concept or notion of xiao, or filial piety. As one of the most important ingredients of Chinese tradition, filial piety permeates Chinese culture and actively influences family structure and the patterns of daily life. It, in turn, becomes a vehicle to pass the culture and traditions from one generation to the next, from one place to another.
In general, parents have authority over their children, even when the children are grown and financially viable. In ancient China, it is usual for all family members on the father's side to live together, and the ones positioned higher on the family tree would theoretically have higher authority over those positioned lower. Nowadays, although it is hard to keep family members all living together, adult couples still consider their parents as part of the family and not just part of their extended family. As a result, they carry the responsibility of taking care of their parents as seriously as taking care of their children.
As a big family, each family member has a name according to his/her relationship to others in addition to their first and last name and these names indicate seniority and the relationship. For example, in Chinese, one's mother's brother is called jiujiu, whereas one's father's brother is called baibai.
All interviewed families consider filial piety to be their most respected moral protocol, and they feel that this would not change whether they are in China or in North America. One said, "We support our parents who still live in China. In Chinese traditions, it is the next generation's responsibility to take care of their parents." Another said, "We believe life is a circle, we will get old in one day and our kids may support us also." In Baton Rouge, it is not uncommon to see three generations living under one roof, where grandparents were invited from abroad to stay for an extended period time, ranging from half a year to a couple of years, in order to enjoy the company and filial piety of the children and grandchildren.
Conclusion
Clearly, the Chinese community has been very successful in maintaining many of their traditions and cultural characteristics. While individuals have different professions in the society, what is common is that all families are making maximum efforts in passing on Chinese language, traditions, culture, and values to the next generation. The unique Chinese traditions and cultural characteristics not only harmonically coexist with mainstream Louisiana but also complement and positively contribute to Louisiana's cultural, social, and economic landscape.