ARTICLES & ESSAYS


Balance of Grace and Strength: Chinese Folk Dancing in South Louisiana
By Guiyuan Wang (王桂园)
(Internet Explorer users: If you cannot see the Chinese characters, change to Compatibility View. See the Page drop down menu.)
Folk Dances of China
Like Tai Chi, ping-pong, and badminton, folk dancing is a popular exercise in China, especially outdoors. It might be interesting, if not strange, in the United States to see a crowd of people, loosely organized, dancing early in the morning or at dusk after dinner in a public space, but in China, it is not at all uncommon. Chinese people love to dance in parks or community playgrounds, or any big rooms available. No "club" fee is required. Someone will bring a CD player, and the best dancers always are in the front row so those who forget moves do not need to worry about getting behind.
China is one of the largest countries in the world. Regional cultures thrive in their own natural and social settings. China also has 56 ethnic groups. These distinctive peoples have all brushed their colors on the cultural landscape and painted a splendid mosaic of China. There is no single "Chinese Culture," but rather many regional and ethnic cultures. The great diversity has given birth to a large number of traditional dances, a gold mine for folk dancers to explore. Roughly speaking, Chinese dances can be separated into two groups: ethnic dances and classical dances.
Among the 56 ethnic groups, Han Chinese are the majority and make up about 91 percent of the total population. Han culture has abundant classical arts and regional variations of folk arts, representative of local geography and social history. For instance, Han folk dances that originated in Northern China tend to be bolder and more energetic, reflecting the regional characteristics, while southern folk dances are dainty and elegant, much like the classical literature from that area.
Chinese classical dances, the result of thousands of years of professional dancing in China, are part of the mainstream Han Chinese culture. They embody traditional Chinese aesthetics and dancing skills and now are reinforced by modern dancing techniques. These dances are derived from the same root as Chinese martial arts, focusing very much on control?the control of releasing power and drawing back at will. Chinese classical dance actually is a martial art accompanied by traditional music and costumes.
Although real classical dances are difficult for non-professional dancers, they are irresistible to Chinese folk dancers. Many classical dances have been creatively tailored into folk versions, which are practical for folk dancers. They are referred to as folk classical dances in this research. Usually the most difficult moves are cut out, the music shortened, and the lineup rearranged.
The 56 ethnic groups of China have dances that are created by real people based on their real lives. These dances are referred to as ethnic dances. The 55 ethnic groups make up nine percent of the total population, but their cultures are anything but minor. As the "minorities" of a country of more than 1.3 billion people, their populations are sizable compared to the minorities in many other countries. For example, there are more than 16 million Zhuang people and 10 million Manchu people living in China. The 55 minority groups are mostly exempt from China's one-child policy, so their cultural influences increase as their populations grow. Their cultures are distinctive and their dances are a major component of Chinese folk dances.
The 56 Ethnic Groups in China
1.Han (汉)
2. Zhuang (壮)
3. Manchu (满)
4. Hui (回)
5. Miao (苗)
6. Uighur (维吾尔)
7. Yi (彝)
8. Tujia (土家)
9. Mongol (蒙古)
10. Tibetan (藏)
11. Buyi (布依)
12. Dong (侗)
13. Yao (瑶)
14. Korean (朝鲜)
15. Bai (白)
16. Hani (哈尼)


17. Li (黎)
18. Kazakh (哈萨克)
19. Dai or Dai
20. Lue (傣)
21. She (畲)
22. Lisu (僳僳)
23. Gelao (仡佬)
24. Lahu (拉祜)
25. Dongxiang (东乡)
26. Wa (佤)
27. Shui (水)
28. Naxi & Mosuo (纳西)
29. Qiang (羌)
30. Du (土)

31. Xibe (锡伯)
32. Mulam (仫佬)
33. Kirghiz (柯尔克孜)
34. Daur (达斡尔)
35. Jingpo (景颇)
36. Salar (撒拉)
37. Blang or Bulang (布朗)
38. Maonan (毛南)
39. Tajik (塔吉克)
40. Pumi (普米)
41. Achang (阿昌)
42. Nu (怒)
43. Evenki (鄂温克)
44. Gin or Jing (京族)

45. Jino (基诺)
De'ang (德昂)
46. Uzbek (乌孜别克)
47. Russian (俄罗斯)
48. Yugur (裕固)
49. Bonan (保安)
50. Menba (门巴)
51. Oroqin (鄂伦春族)
52. Drung (独龙族)
53. Tatar (塔塔尔族)
54. Hezhen (赫哲族)
55. Lhoba (珞巴族)
56. Gaoshan or Taiwanese aborigine (高山)

Many folk dancers have learned the well-known ethnic dances, including Tibetan dances, Mongolian dances, Dai dances, Korean dances, Miao dances, and dances from the Xinjiang Province (northwestern China) and Yunnan Province (southwestern China), both known for their diverse nationalities. Due to the population structure of China, many Han Chinese do folk dances of other groups. In this way, the majority learns from the minorities, and the dances of a minority, as part of their cultural legacy, are supported, appreciated, and preserved not solely by the people themselves.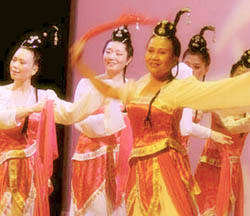 On the surface, folk classical dances and ethnic dances are different and not to be compared, but the concept behind them is the same. Traditional Chinese philosophy is all about balance?the balance of Yin and Yang, the balance of female and male, and in modern China, the balance of new and old as well as the balance of East and West. Likewise, Chinese folk dances can be seen as the pursuit of the balance of grace and strength, softness and boldness, elegance and vigor, delicacy and magnificence, and dynamic moves and static states. The folk classical dance "Peach Blossom (桃夭)" presented by the Baton Rouge Chinese Sunshine Dance Group is a perfect example. This Chinese classical dance is based on a poem from a Chinese classical literature The Book of Poetry (诗经) of the pre-Qin times (before 221 B.C.). Its poses and gestures draw on the dance images and figures that survived in the brick paintings of the Han dynasty (200 A.D.). The young ladies of ancient China represented in the dance are likened to peach blossoms as described in the poem.
Chinese Folk Dancers in South Louisiana
Baton Rouge and New Orleans are the two major cities in south Louisiana where Chinese folk dancers practice and perform on a regular basis for traditional Chinese holiday celebrations and international cultural events. Three well-organized groups are the Chinese Sunshine Dance Group in Baton Rouge, the dancers of Chinese Friendship Association in Baton Rouge, and the dancers of the Academy of Chinese Studies in New Orleans. I am a dancer of the Sunshine Dance Group. Also, a few individual dancers are located in Baton Rouge, New Orleans, and Houma.
In Baton Rouge, Chinese folk dancers have been active and known for several years. The Sunshine Dance Group was formed in the summer of 2005 when the team leader Xiaomei Seal (黄小梅) and some other dancers decided to practice on a regular basis. According to Jenny Hsia Chen (夏自珍), one of the original team members, only four of them were at the beginning. Currently almost twenty dancers practice with the team. The Sunshine Dance Group has performed in Baton Rouge and New Orleans for several international events (the Annual International Heritage Festival, the International Cooking Competition, and the 2008 World Cultural Economic Forum), Chinese holiday celebrations (the Annual Celebration Gala of Spring Festival and Annual Celebration Gala of Moon Festival), and several local schools: Fall Fest of International Language School, Flavor of the World held by the Baton Rouge international school, anniversary of Baton Rouge Community College, Louisiana State University International Student Association's silent auction and LSU Christmas Candle Lightening Event.
They have performed at a special production focusing on the Baton Rouge Center for World Affairs and its international programs by the Around Town TV studio. The dancers were also invited to perform for the Chinese New Year celebration of Rice University and Spring Festival Celebration of Houston Shandong Chinese Chamber of Commerce.
The Chinese folk dances performed by the Sunshine Dance Group include folk classical dances "Peach Blossom (桃夭)" and "Dancing on the Fan (扇舞丹青)," and ethnic dances of Miao, Mongolian, Tibetan, Dai, Korean, Uighur, and Han people such as "Bai a Bai (摆呀摆)," "Heaven (天堂)," and "Zhuo Mo (堂嫫)." The dancers also organize children's folk dances as well. Although the children are not counted as "official" team members, they are the most adorable and their performances are eye-catching on the stage.
In New Orleans, the Academy of Chinese Studies plays an important role in the preservation of Chinese cultures. The current principal is Rongyi Zhou (周荣懿). The school's mission is to continue the Chinese education for children of Chinese descendents and to advance the awareness and understandings of Chinese culture. Based on this platform, two dance teams, one of young students and one of teachers and parents, practice and perform regularly.
The dancers of the Academy have performed for the Annual Asian Heritage Festival held by the Asian Pacific American Society of New Orleans and several Chinese New Year/Spring Festival Celebration Galas. Different from the Sunshine Dance Group in Baton Rouge, the Academy of Chinese Studies in New Orleans focuses more on the education of the younger generation. In the academic year of 2008-2009, the school had 130 students, including about 10 adult students, 110 children of Chinese immigrant families, and 10 children students of non-Chinese background. For the 2009 Asian Heritage Festival, held by the Asian Pacific Society of New Orleans, the school performed "Yunan Lantern (云南花灯)" and "The Beautiful Grassland (美丽的大草原)."
One of the dance teachers, Ping An (安平), says that in order to acquaint the children with the diversity of Chinese cultures and ethnicities, ethnic dances from Tibet and Xinjiang are often chosen. These two regions are famous for the diverse ethnicities of Tibetan, Uighur, Uzbek, Kazakh, Mongol, Xibe, Kirghiz, Daur, Tajik, Uzbek, Russian, and Tartar people. Parents and teachers practice and perform for cultural events as well. The dance practices and performances have been organized by the enthusiastic school officials and teachers and supported by parents for over three years.
There are some individual dancers. Two examples are Ting Nicole Landry (张婷) in Houma and Marilyn M. Li (李孟蓉) in New Orleans. Ting graduated from an art college in China, majoring in folk music and also does folk dancing. She came to the United States in 2007 and now in 2009 lives in Houma, Louisiana. Marilyn Li (李孟蓉) came to the U.S. in 1980 and has been working as a medical geneticist and pediatrician at Tulane University Medical Center. It is not that the dancer prefers not to join a dance group. The Chinese community in Houma is small and Ting has no fellow dancers in town. She has to occasionally join the dancing activities of the Academy of Chinese Studies in New Orleans. Marilyn stays as an individual dancer because she has found other Chinese dancers in her social circle.
The Fun
Although people enjoy folk dancing for different reasons, it is universally recognized as a fun activity. First of all, dancing is good exercise and also easy for people to get into. The body language of Chinese folk classical dances and ethnic dances is made up of all kinds of stretching, twisting, crouching, kneeling, lying down, bending over, splits, and moves indescribable with words. Dancers, including myself, may sometimes complain how we "suffer" while making difficult movements, keeping certain poses for too long, trying to move joints not often used, or stretching the muscles a little too much.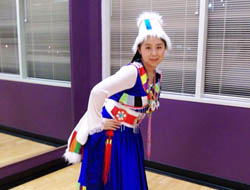 But after the intense workout, everybody feels great and the previous strains are forgotten.
Folk dancing is an avenue of self-expression and relatively easy to learn. Every performance gives the participants the opportunity to dance according to their ability. A person has to be gifted to sing traditional Chinese folk songs really well, whereas folk dancing provides a wonderful alternative. If one is diligent enough, one can become a good folk dancer. Having been in the Sunshine Dance Group for about three years, I have seen the progress of all the dancers, including those who never danced before joining the team.
For the Chinese folk dancers, every dancing experience is refreshing both physically and spiritually. The beautiful music creates an atmosphere that helps the dancers put pressures aside. Marilyn Li (李孟蓉) is a good example. As a medical geneticist and pediatrician, she deals with stressful, life-threatening situations, and she has found that not only is dancing a good way to relieve stress but also the music brings her peace.
Folk dancing is an outstanding way to preserve cultural heritage as well. Among the 13 dancers documented for this project, 12 are Han Chinese and one has Manchu ancestry. Regionally the dancers are from all over China including Anhui Province (central eastern China), Hubei Province (central China), Shandong Province (central eastern China), Guangxi Province (central southern China), Xinjiang Province (northwestern China), Gansu Province (central northwestern China), the City of Beijing (eastern China), Jiangsu Province (central eastern China), and the Island of Taiwan. Among these, Xinjiang and Guangxi are especially known for their multiple ethnicities. The full names of Xinjiang and Guangxi are Xinjiang Autonomous Region of Uygur people and Guangxi Autonomous Region of Zhuang people. My hometown, Gansu province, is another ethnically diverse province with a lot of Tibetans, Yugur, and Hui people.
All the dancers understand that the diversity of Chinese cultures is also the source of their vitality. Some dancers may especially love certain dances from an artistic perspective. For instance, Ting Nicole Landry (张婷) likes bolder folk dances from northern China, and Hsiaopo Cheng (陈晓波) likes the light-heartedness of the folk dances from Yunnan Province, such as Dai dances from southwestern China and Korean dances from Northeastern China. I personally like Tibetan ethnic dances very much because I came from Gansu Province, the south of which is a Tibetan culture area. I am excited to perform the Tibetan ethnic dance "Zhuo Mo (堂嫫)" for the Baton Rouge Chinese Cultural Night in October. Although the dancers have different regional and ethnic backgrounds, their passion, desire, and actual efforts of preserving the cultures of all the minor ethnic groups and different regions of China are all the same.
Learning about the region or the ethnicity of the people is the first step of heritage preservation. Through the dances, a person experiences the life styles, customs, languages/dialects, and even the natural settings of the people. For instance, traditionally Tibetan people carry big buckets on their waists. That is why some moves in Tibetan dances are made with the dancer's upper body bent in that particular way. In ethnic dances from Xinjiang, shaking the head often means a happy feeling. Dai people, who mainly live in Yunnan province (southwestern China), have a nationally known dance about the beauty of peacocks. The moves of the bird are artistically simulated by the dancer, and the dainty dance reflects Dai people's aesthetics and how it is related to their environment. "Heaven (天堂)" a Mongolian dance, draws a dynamic picture of the unfettered nomadic life on the vast Hulun Buir Grassland and Horqin Grassland in northern China.
Every new dance is an exciting experience and valuable lesson. The original "Peach Blossom (桃夭)", a classical dance in the same genre of the Han classical dances more than two thousand years ago, is full of symbols. In the dance, the emotions of young Han Chinese girls longing for marriage are expressed by the light-footed moves in a refined and elegant way. The happiness of their future marriage life is symbolized as the blooming peach flowers and the red color of the costumes is a typical pleasant color in Han Chinese culture for marriage.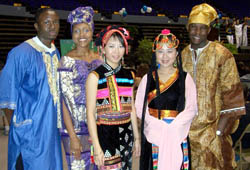 Folk dance also builds friendships. Within one group, the strong sense of belonging to the same team bonds the dancers together. There may be arguments and disagreements about how a dance should be practiced, or how a costume is tailored, or how a performance is scheduled, but the issues are always settled on behalf of the whole group. As a member of the Sunshine Dance Group, I always see how much the dancers truly care about each other like friends or even family members. In addition, the presentation of Chinese folk dances through multiple avenues has established great friendship between Chinese folk dancers and the audiences and dancers from other countries.
The Difficulties
The Chinese communities in Louisiana are relatively small, making it difficult to find enough dancers even in Baton Rouge and New Orleans. Xiaomei Seal (黄小梅), the team leader of Sunshine Dance Group complains that the Baton Rouge Chinese community is not big enough and it is hard to organize a team of adequate dancers. Xiaomei's dancer friend in China has a team of 50 to 60 dancers, while here the Sunshine Dance Group of less than 20 dancers is possibly the biggest one in Louisiana. The same problem exists in New Orleans as well. Marilyn Li (李孟蓉) performed a solo dance for a local television show for celebrating the Chinese New Year 2009 in New Orleans (COX Cable 77, Orleans Parish), "Asian American Highlights" hosted by Tina Soong, a journalist who has focused on Asian American community news for the Times-Picayune for about 20 years. Another time Marilyn was invited by the Chinese Student and Scholar Association of University of New Orleans to prepare a dance performance. In both cases, Marilyn originally planned to perform a group dance. But there are not very many Chinese students in either Tulane University or the University of New Orleans for Marilyn to find somebody who could dance with her.
It is even harder to find Chinese folk dancers in other cities or towns in south Louisiana. I could not get in touch with any Chinese folk dancers in Lafayette. Ting Nicole Landry (张婷) was the only dancer located in Houma. She has to go to New Orleans to participate in a dance group because there are no fellow dancers in Houma. Her husband says that it is frustrating that he can do nothing about it. Chinese folk dancing usually requires team work. Even for the solo dances, the success is often established on the support of a team behind the curtain. Therefore, it is very difficult for individual dancers to continue alone.
The biggest difficulty, however, is that the dancers have to take care of everything themselves. There are no professional dance teachers nearby to teach new dances. The dancers can not afford to own or rent permanent dancing studios, so they have to move around very often for practice space. Also it is almost impossible to get costumes, or materials to make costumes in Louisiana.
In China, a dancer can learn new dances from TV, DVDs, dancing studios, and art schools. Among them, professional teachers of studios and schools are the most efficient. In the U.S., Chinese dance schools are located only in a few states where the Chinese communities are sizable, such as the states of New York, Texas, and California. The dance schools closest to Louisiana are in Houston. Dancers of the Sunshine Dance Group in Baton Rouge have consulted the J & L Dance School, one of the three schools in Houston, only twice in four years. It is not practical to do it more often. Usually we rely on DVDs brought from China and more often the Internet is our "teacher" to learn new dances. Obviously this limitation makes learning new dances more difficult for us.
Time and place for dance practice are two problems facing groups here. In China, amateur dance groups are usually made up of dancers who are either retired or working as colleagues. Therefore, their schedules are easier to coordinate. As noted above, in China it is common for amateur dancers to use public spaces for practicing. If it is a dance team of coworkers they can use the ballroom or other large rooms arranged by the organizer of the performance. But this is not the case for Chinese folk dancers here. The dancers usually have very different jobs and schedules and may have to travel some distance to practice. In addition, the dancers do not have an established place to practice. In Baton Rouge or New Orleans, few public spaces are available for folk dancing. Renting a place is expensive and therefore not feasible. The dancers have to take every opportunity when some place is available, so moving around is not uncommon. Both the dance teams of the Academy of Chinese Studies in New Orleans and Baton Rouge Sunshine Group often use the public facilities of local universities. Rehearsal has to be during the hours when they are not used by the university personnel. Both teams have had the experiences of practicing at somebody's house when there were no other places available.
The space problem partially creates the schedule problem. Much personal time has to be sacrificed to make the best use of the available place. The dance classes of the Academy of Chinese Studies in New Orleans are squeezed in between the break time between other classes. When performances are coming, parents and children go to the school earlier and leave later to have more practice time. The folk dancers in Baton Rouge practice once every week on weekends. Sometimes, weekday nights are the only time to use the practice rooms of Louisiana State University. Some dancers' jobs don't allow them to leave until 7 p.m. so they have to rush to the practice place without eating.
In China, costumes are bought, rented, or tailored from dance studios or stores. Louisiana has no such resources. Ninety-five percent of the costumes and props, such as traditional Chinese fans and handkerchiefs, are bought by the dancers or their friends and families in China. Xiaomei Seal (黄小梅) and her family pay the most money for the costumes and properties of the Sunshine Dance Group. Xiaomei's husband Ben makes some stage props for the group. For example, he did a wonderful job in making some traditional Chinese benches for a children's dance and simplified imitation of a traditional musical instrument pipa (琵琶). Ben is a native Louisianan and was not familiar with either the bench or the instrument. With great patience and hands of a craftsman, the benches he made are authentically traditional Chinese. With different wood parts supporting and locking each other for great security without a nail, the bench shares the same structural mechanics as traditional Chinese architecture.
The Academy of Chinese Studies in New Orleans pays the most money and at times parents or teachers donate costumes or stage properties. The remaining five percent of costumes and props are made by dancers or dancers' friends who taught themselves. Jenny Hsia Chen (夏自珍), a dancer of the Baton Rouge Chinese Sunshine Group, has become an amateur tailor and does a lot of tailoring work for the group. Other dancers do what they can to help. Some keep an eye out for good fabrics and materials. Others join in the tailoring part and make simple costumes. Individual dancers usually use their personal costume collections or borrow costumes from other dancer friends.
The Special Meanings
Difficulties never reduce the dancers' passion for dancing. Traditional dances, along with many other Chinese cultural forms, bear special meaning for overseas Chinese people. When immigrants are away their homeland, they often cherish their traditions because they are expressions which give them a sense of belonging and link them to their roots. Parents do not want the younger generation to lose their native cultures. Trying to keep children in contact with Chinese cultures has become a tradition in many Chinese immigrant families. Ling Yu (于玲)'s daughter Tong-tong is the best youth dancer of the Academy of Chinese Studies in New Orleans. Tong-tong is her parents' nickname for her and her real name is Junru Yan (闫俊如). She performed a solo dance for the 2009 Asian Heritage Festival in New Orleans on May 9. Ling hopes that the efforts of her and her husband can be turned into profound memories for their daughter and she can hand down the traditions to the next generation.
Folk dancing is a cure for nostalgia. The older that Chinese immigrants get and the longer that they have been overseas, the more they want to embrace Chinese traditions. Hsiaopo Cheng (陈晓波) has been here for 28 years, longer than the time she had been in China. To her it is wonderful to experience other parts of the world and learn different things. But the more she does so, the more she wants something familiar, something she grew up with. When Hsiaopo was still a young college student in Beijing, she was picked to learn folk dances, just for the sake of performances. She almost did not want to do it because she felt that it was a "waste" of time. Jenny Hsia Chen (夏自珍) explains how she feels about doing Chinese dance in Louisiana:
It is nostalgia. Especially here is not California where can see many, many Chinese. We want something familiar. Even my sister-law who lives in California said she felt it was more "flavorful" to watch traditional dances here because we don't have that many Chinese. Personally, I also feel that since we started to show traditional Chinese dances to American people in Louisiana, what they think about us has changed because they know more about China.
Like her, many Chinese folk dancers in Louisiana, including myself, were never, or not to this degree, involved in folk dancing back home. But now in the U.S., we value every performance as an opportunity to contribute to the understanding and appreciation of Chinese cultures. The applause from the audience makes us proud. At the same time, it also reminds us of the responsibility of representing Chinese cultures. Although what we do is a small part, we think people are getting more familiar with true Chinese cultures.
For the dancers, it feels good to repay people who offer their appreciation and support. It also provides the Chinese community an opportunity to give back to the community where we live in. This is especially true now, since China is going through rapid development and receiving great attention. People want to know more about China, such as the economic development and the ways Chinese people educate children about traditional Chinese values and cultures. The performances of the dancers certainly cater to people's curiosity and craving for Chinese cultures. We are glad to see that Chinese folk dances are becoming more widely known, and that more people understand the cultural diversity of China.
Along with the Chinese language and traditional holidays, Chinese cultures and arts have attracted many non-Chinese children in Louisiana. Parents realize that China is going to be more influential in the world and it is promising for their children to learn Chinese language and cultures. In New Orleans, non-Chinese children take classes of Chinese language and dances from the Academy of Chinese Studies and participate in the performance as well. Junru Yan (闫俊如) (Tong-tong) has a good friend in her middle school, with whom she often shares Chinese snacks and traditional stories. She also shows Chinese folk dances to her. She became so fascinated that she has become a student of the Academy of Chinese Studies. In their middle school, Tong-tong also presents Chinese dances and songs, and shares Chinese food during the tea hours after curriculum time. In Baton Rouge, non-Chinese children participate in the children dance performances.
Communication among people from different cultures is the basis of understanding. Many long-term Chinese immigrants feel that how American people think about Chinese immigrants has changed. Hsiaopo Cheng (陈晓波) recalls that, decades ago, the image of early Chinese immigrants was that they were simply blue collars who worked hard, ate different food, and spoke an elusive language. Now American people have more comprehensive knowledge about China and Chinese cultures, and a better understanding of the personalities of Chinese immigrants. Many dancers think that Chinese Americans as a whole have gained more respect and higher social status. The change cannot happen without these immigrants' own efforts and the growing influence and strength of China. But without doubt, the increasing communication between Chinese Americans and other groups is also indispensable. The efforts of Chinese folk dancers contribute to this improved communication.
Conclusion
Every cultural form is special in its own way, but as far as maintaining Chinese cultures, folk dancing may be one of the best. It is truly connected with the Chinese cultural roots and has powerful expressive forces beyond national and cultural boundaries. The dances show the diversity of Chinese cultures. Every performance is a package of the traditional music, clothing, life style, customs, aesthetics, and symbols of a people in their regional, social, and natural settings.
Because of the lack of resources, it is not easy to do Chinese folk dances in south Louisiana. The problems of costumes and stage props, and time and space still limit the productivity of the dancers. Besides the group efforts of overcoming the difficulties, extraordinarily dedicated team leaders and supportive families and friends are critical. When I did my interviews at the Academy of Chinese Studies in New Orleans, everyone spoke highly of the principal, Rongyi Zhou (周荣懿), and other school officials for their persevering spirit and tireless hard work. Baton Rouge dancers, including myself, cannot be more grateful to Xiaomei Seal (黄小梅) and her husband Ben, both passionate and charismatic. Xiaomei never hesitates to use her connections in China and personal resources to equip the Sunshine Dance Group, and her husband Ben Seal is a great supporter by donating costumes, making stage props, and giving suggestions.
The willpower of the dancers to keep going originated from the understanding of how important it is to preserve our heritage, especially overseas. Bearing much more meaning than in the mother country, folk classical dances and ethnic dances have become essential parts of the Chinese communities in South Louisiana. For the dancers, practicing folk dances is a great way to express their Chinese identity. For the Chinese audience, enjoying familiar folk dances is a cure for nostalgia in their life away from the homeland.
Successful performances of Chinese dances would not happen without support from the local communities. As descendants of early immigrants, many Louisianans sympathize with the dancers and understand the need for treasuring cultural heritage. Many people, especially children, are curious about China and want to learn more Chinese cultures. The dancers are encouraged and moved by the audience who truly appreciate and enjoy the dances, and are proud to be cultural messengers in the global village. Along with many other traditions and arts from all over the world, Chinese folk dances are playing and will continue to play a role in improving communication and understanding among the people in Louisiana.