ARTICLES & ESSAYS



The Hiding and Watching Louisiana I-20 Blues
By Nicholas Rey Deriso
North Louisiana has reached the end of the twentieth century with some things unchanged. Some people still work hard—many with their hands—and pray harder, and blues singers still speak to it with guitar, harmonica, and the human voice. Among those who speak, are four men who seem to form a kind of conversation about black and white, past and present.
There is Jesse Thomas of Shreveport. On his old records, he's a whispering recollection of all that is desired and feared, of human longing. There is Brownie Ford of Hebert: When he sings about Cowboy Jack, Ford is fierce and determined, personifying everything that makes the South what it is in our mind—expansive, scary, yet hopeful. And there is Henry and Tookie of Rayville, two friends who perhaps wouldn't have been friends in another time. A black man and a white man, joined together in songs celebrating the heavy air of the Delta.
In those four men, two white and two black, we can clearly see where blues has come from and where it's going. Their music unfolds in a time-honored way—blues or ballads sung loud—but in a most modern form: The overlay of race permeates their work, yet never shouts down its true voice.
Audio Player
Cotton Pickin Blues performed by Po Henry and Tookie Blues Duo.
Jesse Thomas has been using his own voice for a long time. Born around the turn of the century, he was making records as early as 1927, years before Delta blues innovator Robert Johnson and his musical heir Muddy Waters.
Thomas's "Rolling Stone Blues," in fact, prefigures Water's similar and more famous tune. From the renowned 1929 recording of "Blue Goose Blues" (a song which Thomas rerecorded in 1995), Thomas is revealed as a guitar player of uncommon complexity.
Like his contemporary Blind Lemon Jefferson, Jesse Thomas learned initially by playing and by listening to family and friends, not from records. (Even Robert Johnson had had records to learn from.) But later, and very importantly, Thomas studied music and theory out in California, and he became one of the first prominent black musicians who could read blues music. It was during this period that Jesse sat in with T Bone Walker and Nat King Cole, long before either recorded.
Thomas's most important early innovation was the practice of bending notes, a thing we've become used to in rock music. "He wanted to make it sound like a saxophone," says partner Dan Garner of Shreveport, a reflection of Jesse's cool mixing of blues and jazz.
Though it's true that both B.B. King and Roy "Book" Binder have covered his material, it is Thomas's own unmistakable joyous twang rather than any single song which represents his benchmark in the blues. It is "a very frustrating benchmark," as Garner says. "The progressions are very simple, but he's doing all this intricate finger picking."
At eighty-four, Jesse "Baby Face" Thomas remains a vital, innovative performer, himself a benchmark, an elder statesmen in the history of Louisiana's contribution to the blues. He's an elder statesmen but not the eldest. The honor goes to Hebert's Thomas Edison "Brownie" Ford who was not allowed to attend school as a child because he was "half-breed," part Choctaw and part Anglo. Born in 1904, Ford would eventually appear at Carnegie Hall in April 1994. Along the way, Ford's musical journey can be seen as linked to that of Shreveport's most famous blues musician, Huddie "Leadbelly" Ledbetter. Both Brownie Ford and Leadbelly knew Texas bluesman Blind Lemon Jefferson and both learned to play quite varied repertoires before taking off on their own to become well known as folksingers.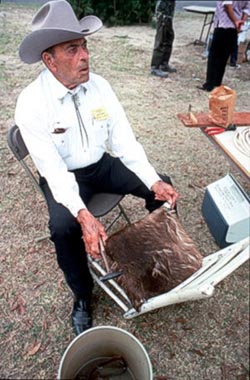 But Brownie Ford, in his own way, is perhaps even more astonishing than Leadbelly. Leadbelly, after all, spent twenty years locked away in Angola on a murder charge and seemed to be singing songs of another time in an almost forgotten style. Brownie Ford, though, has continued to live among us and it is he, not just his songs, which has resisted change.
Resisted some serious change. For example, as an ex-bullrider, he's been stomped ("I got killed in Port Arthur, Texas, in 1948," he says, without emotion. "I mean, he just like to not left me enough hair to comb") and he's been gored. Brownie, like the blues, is a survivor.
Take, for another instance, the year 1990. Brownie, then only 86, was sitting in a chair on his porch, drinking some coffee. Next thing he knew—more than three months later, he says—Ford woke up in a nursing home. He didn't even know where he was or how he got there—didn't remember a thing since that cup of coffee. He'd been in critical condition, a victim of complications from a bad gall bladder, unconscious at one point for as long as three weeks straight. Brownie looked around, there in the nursing home, and his first words were: "Where's my boots?" The nurse told Ford that he didn't need any boots, that he couldn't walk. Brownie replied: "Hide and watch." And he was up and gone. A great moment in the blues.
Brownie Ford is perceived as white, Jesse Thomas as black. They met for the first time at the Louisiana Folklife Festival in 1994. Between them they run a musical spectrum from British Ballads to African American jazz. It's not hard to believe that such a diverse musical landscape might emerge from North Louisiana. This is a rich area, to be sure; one full of all the bad luck and trouble that brought forth a blues lyric. But more importantly, it was an area striped with the road that would eventually become Interstate 20.
I-20 connects East and West and two early recording hubs: Jackson, MS, home of Trumpet Records (which produced sides by Sonny Boy Williamson, Big Joe Williams, Sunnyland Slim, Willie Love, the terrific black gospel group the Southern Boys and many others), and Shreveport, LA, home of Jewel—Paula Records (which recorded Johnny Shines, Frank Frost, Clifton Chenier, Robert Johnson's step—son Robert Jr. Lockwood, Willie Dixon when he was in dispute with the Chess brothers, and, later, Ike Turner, among others). In between, lie the towns which always provided sources and stopovers for the blues.
It's still going on today. Wednesday nights, you won't find Henry and Tookie at the mid-week prayer meeting, but holding their own meeting in Rayville, LA, a practice session with an open door. "Sometimes, people show up," Tookie says, lifting his hand in a way that conveys just how little this matters. "Sometimes, they don't."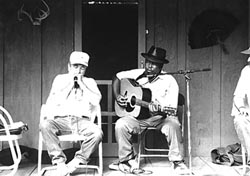 Henry and Tookie grew up down the road from one another: Tookie, born in 1937 to a migrant oil-field worker, was the younger of two, a white kid; Henry, born in 1928, the child of sharecroppers was one of nine children. Henry would go on to have nine children of his own.
The two men lived in Rayville for years, Tookie says, and never knew each other very well. Never knew, for instance, that they both had an interest in Delta blues. Henry taught himself to play guitar at the age of then. Only, it wasn't a guitar, really. It was a piece of wire stretched from a nail on the side of the house, called a diddley-bo. He'd stick a Coke bottle under it for tuning purposes. Tookie didn't pick up his instrument, the mouth harp, until about 1960. Hours of listening to Little Walter helped hone his skills. Eight years ago, they ran into each other. This local guy, Tookie heard, was into the old-time blues-a guitar player, sounds a lot like Lightnin' Hopkins, they said. And it was old Henry Dorsey. Henry Dorsey.
Today, these two men are like family to the folks at the New Orleans Jazz and Heritage Festival; 1994 saw them make their fifth appearance there. At home, they've opened for several traveling blues acts as they make their way along Interstate 20, including Clarence "Gatemouth" Brown, Bobby "Blue" Bland and the great Sam Myers. In Henry and Tookie's own music you hear the richness, the mingling, the triumph that is the heritage of the region's music, black and white.
You can hear it running just below the surface of Henry's playing every Wednesday night, in the intricacy of Jesse Thomas's finger-picking as he remakes an old tune, and perhaps see it occurring to Brownie Ford as an old memory. In that way, North Louisiana—age-old and brand-spanking new—finds its tradition.
If you think the blues, and all that minor third and minor seventh note glory, only made its way to the east banks of the Mississippi you're wrong. As Brownie Ford told the nurse, hide and watch.