ARTICLES & ESSAYS


Louisiana's Native Americans: An Overview
By H.F. "Pete" Gregory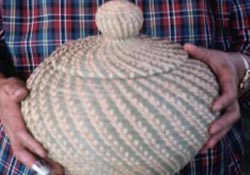 The Louisiana Indians are the inheritors of ancient traditions. They consist of Alabama, Koasati (Coushatta), Choctaw (four groups: Jena, Bayou LaCombe, Clifton, and an urban group in East Baton Rouge Parish), Chitimacha, Houma, and Tunica-Biloxi. A mixed Choctaw and Apache group in northwest Louisiana rounds out a complicated cultural picture.
The Coushatta language survives. A few Choctaw speakers have lasted at Jena; the Choctaw-Apache elders speak archaic Spanish dialects; and the Houma primarily speak Louisiana French dialects. A few elders among the Tunica-Biloxi retain snatches of that language, and, like the Houma, speak French. The Houma speak French most of the time, and among the other groups the creolized Mobilian jargon, an early trade language, has survived as an "Indian language."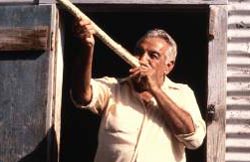 All this cultural diversity flies in the face of students of folklore and anthropology. One columnist recently observed, "I'm overwhelmed." Louisiana, with the second largest Indian population in the east, certainly has the most diverse cultural scene. The swamps and prairies have provided refuges for Indian tribes; and while others have been forced into losing their cultural identities, the Louisiana Indians have clung tenaciously to their old ways.
Cane basketry, made of the once common "rivercane," blowguns, log mortars and pestles, dugout canoes (the ancestor of the French pirogue, smoke-tanned deerskins, and mud-filled timber construction all became part of the material cultural of Louisiana. Early on, Europeans, both Anglo and French, borrowed such things from their Indian neighbors.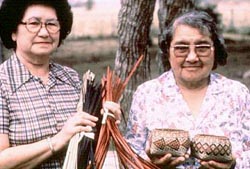 Similarly the Indian languages colored Louisiana's vocabulary: Avoyelles, Caddo, Catahoula, Calcasieu, Tangipahoa, Ouachita, Tensas, and Natchitoches Parish all derive their names from one Indian tongue or another. The word "bayou," almost a synonym for Louisiana in the public mind, is itself derived from the Choctaw (or Mobilian) word, bayuk. The rivers and bayous abound in Indian names, even some of the French toponomy is of Indian origin—Bayou Nez Pique is named after a chief, while Lacassine refers to a medicinal drink. Atchafalaya, Mermentau, Calcasieu, Tensas, Ouachita, Dorcheat, Bisinteau, Catahoula, Tchefuncte, and Floctaw are typical names of Louisiana water bodies. Learn those and one becomes a real Louisiana native. Learn what those names mean and become a Louisiana Indian! The marks of the tribal people even lead to the name of the state's capital city, Baton Rouge—isti huma in a Muskogean language—the Red Stick, was once a tribal boundary marker!
Louisiana also learned of Indian foods and how to derive them from the woods and waters of the region. Alligator, shellfish, all sorts of fish and waterfowl, frog legs, and, of course, crawfish were on Indian menus.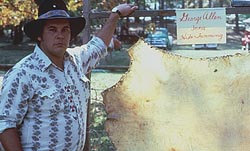 In Louisiana Indian communities, there now exists a new genre of Folklore-mostly concerning anthropologist and folklorists. Stories abound about the "giants of academia": John R. Swanton, Albert Gatschet, Frank Speck, and others. Perhaps the most astounding thing to Indian people is the apparent inability of these "trained" people to remember what they see or hear. One Coushatta elder put it candidly, "Why can't anthropologists learn our language or remember what we say - they have to take notes or make tapes. We all learn without doing that!" Indians somehow noticed that professors were terribly "slow learners" by Indian standards. In Indian communities some people knew three to four languages; anthropologists and folklorists were having trouble learning what children already knew!
The rich body of songs, stories, arts and crafts and beauty of Indian languages has been shared, but tribal people request it be understood as what it is-another ancient lifeway, as complex, useful and beautiful as anyone else's. Learn, and love, it as they do and tribal people become the teachers, the best practitioners, of that ancient art. Perhaps some day their rocking chairs will be as respected as the academic "chairs" developed for those who carry such knowledge away from them. That is a new kind of humanism!