ARTICLES & ESSAYS



Willie and Irma Durisseau: Creole House Dance Music
By Louis Michot
Louisiana French music, most commonly recognized by the terms Cajun and Creole, has been celebrated as the main vehicle driving continued interest in the language and traditions of South Louisiana. Before gaining local and national popularity through the commercial record industry starting in the late 1920s, this music was mainly played at house dances in communities across South Louisiana. House Dances, known in French as bals de maison, were the prime opportunity for social gathering before the time of dance-halls in many small towns.
In a time when we look back to recordings to give us a glimpse of the roots of Louisiana French music, we sometimes overlook the deepest wells of information and experience in our own region-the elders who played at and attended the bals de maison. I was fortunate to be introduced to Willie and Irma Durisseau in 2019, who attended many house dances in their native Lebeau, Louisiana, throughout the 1930s. Willie was a Creole fiddler who played at the dances. At one such dance in the late 1930s, he met Irma Doucet. They were married not long after, staying married for 78 years until Willie's death in December of 2019, at the age of 101.
Audio Player
Willie Durisseau talks about his first fiddle and playing at house dances. Recording by Louis Michot, April 12, 2019, Opelousas, LA
The importance of Willie Durisseau's resurfacing as a Creole fiddle playing elder cannot be overstated. As the Creole fiddle gave way to the Zydeco accordion and became a very rare sight and sound in the modern musical landscape, Mr. Durisseau's presence and memories quickly became an abundant source of inspiration for Creole culture, as very few practitioners of this art still exist. As Herman Fusilier stated in his 2018 article in The Daily Advertiser,
... like many of us ... thought the last of the original Creole fiddlers were buried when the casket closed on Canray Fontenot in 1995 and Carlton Frank in 2005. ... In contemporary zydeco, ever-popular accordion has virtually erased the fiddle from the music. Ed Poullard, a 66-year-old Eunice native and Beaumont, Texas, resident who learned from Fontenot, was believed to be the oldest living practitioner. But even Poullard is excited with [J. B.] Adams' discovery of a surviving link to Creole fiddling's past. His name is Willie Durisseau, who turned 100 on Feb. 20. He still plays the old Creole style, as much as his arthritic fingers let him. (Herman Fuselier, The Daily Advertiser, June 5 2018, "100-year-old Opelousas fiddle player is a living link to the past").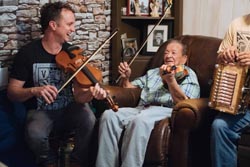 I sat down with the Durisseaus for a series of informal interviews in April and May of 2019, along with Corey Ledet, a Creole Zydeco accordion player, Robin Miller, a local French speaker and cultural enthusiast, and J.B. Adams, a Creole music aficionado and radio DJ in Houston who was the first to find out that Willie had retaken to the fiddle at the age of 100 years old. J.B. then notified Herman Fusilier, who interviewed Mr. Durisseau and published an article in 2018. It became J.B.'s intent to give Mr. Durisseau the recognition he deserved, and he and a fellow Louisiana French music lover Robin Miller decided to call me to help give light to his story, as they thought I would be an appropriate person to sit down and reminisce because of my knowledge of Louisiana music and our French. I gratefully obliged, and came the first day they called. Because my wife was working as a high school French teacher, I had to bring our 17-month old son, Marius, who proved to be a great icebreaker, as Willie seemed to love him.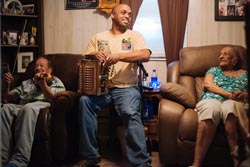 In fact, some of Willie's longest "performances" on fiddle were to entertain Marius. Unfortunately for the sound recording, Marius was also playing the fiddle and triangle during these songs, so it's not always easy to hear Mr. Durisseau's fiddle on these particular songs. This does, however, make Willie and Marius the recording duo with the world's largest age span; 101 and 1 years old respectively. When Marius was taken out of the house by Robin, for a better recording atmosphere, Willie's songs were fewer and shorter, showing that he truly loved playing for people. Though I was scared it might be a distraction, Marius' presence seemed to put the Durisseaus at ease. They had 14 children of their own, and numerous grandchildren, great-grandchildren and even great-great-grandchildren, so playing music for kids around the house was apparently the norm.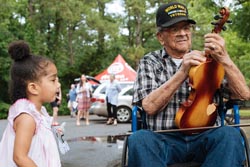 Willie Durisseau was born on February 20, 1918 in Mallet, and was raised in Lebeau, both communities in St. Landry Parish, Louisiana. His days as a Creole fiddler began in Lebeau, where he and his brother, Jimmie, made their first fiddles out of cigar boxes. They played house dances in the 1930s and were usually joined by one or more of their cousins, the Joe brothers: Aaron, Caffery, and Clarence. Of the two sets of brothers, they played fiddle or guitar, or both, but none of them played the accordion, and according to both Willie and Irma, they never had an accordion at their house dances in Lebeau. "Jimmie Durisseau, oh yeah he played fiddle too, and sing in French, and that old time French music. He would sing Mr. (Amedé) Ardoin's music in French," Irma stated, followed by a confirmation of how much she loved to hear musicians sing Louisiana French music. She then added, "no accordion, just fiddle and a guitar at the country dance."
Audio Player
Irma Durisseau answers Robin Miller's questions about how Willie's brother Jimmie sang the music of Amedé Ardoin. Recording by Louis Michot, April 12, 2019, Opelousas, LA
Willie eventually met Irma Doucet at one of these house dances, and the two were married in August of 1940. Irma stated that they played at and frequented house dances in 1938 and 1939, but that in 1940 much of the community moved to Beaumont, Texas, presumably for work. That same year Willie joined the United States Army and went to fight in Okinawa in World War II. Irma said they played a few small house dances after the war, but that these social gatherings soon faded as the community was not as strong as before the war, and Willie put down the fiddle to raise his family and work in construction. Willie and Irma later moved to Opelousas to raise their family, but the couple never let go of their heritage and memories of those days in Lebeau.
Audio Player
Irma Durisseau speaks of the country dances in Lebeau, Louisiana and that no accordions were present, only fiddle and guitar. Recording by Louis Michot, April 10, 2019, Opelousas, LA
In 2017, a family member bought Mr. Durisseau a new fiddle, and at the age of 99 he picked the instrument back up to recall some of the melodies from these dances over 80 years ago. As one can find it hard to imagine still playing the fiddle at 101 years old, Willie was able to carry a tune for about a minute at a time, and only a few tunes in the space of an hour, but the clarity and authenticity of the melodies flowed from his fingers like gold.
In 2019 Willie Durisseau was honored by Louisiana Folk Roots with the "Keeper of the Flame" award, and gave what may be his only public performance. A year earlier in 2018, the historic Hotel Cazan in Mamou started The Willie Durisseau First Annual Fiddle contest in his honour.
Willie Durisseau's music was like a precious time capsule that was buried in his mind for almost a century. While many musicians modernize, and change their repertoire as the trends change, Willie held on to the music of his youth and accessed it like a rare gem to share with his family, while Irma reminisced on stories of the older, simpler times. Mr. Durisseau's ability to tap into those nights at the bals de maison is what makes his music truly priceless. When he would let a melody flow from his mind to his fingers on the fiddle, I was transported to a world long gone, when entertainment had no electrical plug, when people shared in the joy of each others' story-telling and music to celebrate the week's end. What makes this gift Willie shared with us so special was that he was able to transport himself back to these house dances, without being influenced by the thousands of songs, whether pop or Zydeco, that he heard on the radio for the many decades he had put down the fiddle, and share with us a truly living piece of history: house dance music from the 1930s in Creole Louisiana.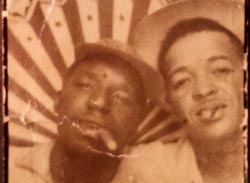 I've seen this once before, where a musician brings a forgotten era of music to a modern time, as if he had been guarding a dormant secret for decades. Ray Abshire, who passed away this year on Mardi Gras day after playing the Mamou Courir de Mardi Gras, was one such keeper of musical knowledge. Just like Willie, Ray had put down his instrument for a few decades to raise his family without the distraction of music and the night-life. I met Ray in the late 1990s, when he started playing accordion for Les Freres Michot to replace my father, Tommy Michot, the band's regular accordion player, when he couldn't make a gig. The first time Ray Abshire sat down to play with Les Freres Michot, I knew this was not your typical accordion player. His repertoire and accordion style were like nothing I had ever heard, except in some older recordings. Turns out that Ray took his cousin Nathan Abshire's place with the Balfa Brothers Band at the very first Tribute to Cajun Music in 1974, and shortly after he put the accordion up for many years to focus on business and raising his family.
Ray had not only learned from Nathan Abshire, but also from Amedé Breaux, who was one of the first accordion players to record commercially, and one of the best accordion players to date in my opinion, as he played very freely and improvised over melodies with so much feeling and virtuosity. When Ray Abshire began playing again in the 1990s, it seemed to me that his musical mind and fingers were still in the 1970s, still learning from accordion players who's prime was in the 1920s, a style that was based in house dance music, and not yet adapted to the drums and electric guitar sound that would follow World War II. As Ray continued to play in public again in the 1990s, and reacquainted himself with the current music scene, his repertoire and playing style seemed to follow, and he quickly learned the popular tunes of the traditional music scene. In the process, the style that I first heard him play seemed to have given way to the modern style. I wish I had recorded our first shows together with Les Freres Michot, as they were a look back in to rich musical past. Ray was a true carrier of culture.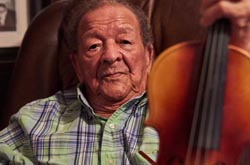 Willie Durisseau brought an even older musical tradition to the 21st century. The songs he played in 2020 are barely recognizable by name, as they are likely the roots of modern Creole and Zydeco songs. In his interview with Herman Fuselier, Durisseau plays a melody that resembles a song recorded by Alan Lomax in 1934 sung by Jimmy Peters of Jennings, Louisiana called "S'en aller chez Moreau." Another song he played for me, on both my fiddle, and then on his own, is melody that is really hard to pin down as a modern song, demonstrating to me that it's a melody that is from the house dances in Lebeau, and a song that is being brought out of obscurity 80 years later. I asked him what he called the song, and he replied "C'est le Zydeco," so I titled this song "Willie's Zydeco" in his honor. Corey Ledet proceeded to learn the song right there in front of him, on accordion and fiddle respectively.
Audio Player
"Willie's Zydeco" performed by Willie Durisseau. Recording by Louis Michot, April 12, 2019, Opelousas, LA.
Willie and Irma both share in a similar heritage, one that both defies and defines Louisiana culture in the 20th century, that of being both white and black, from French and African descent, and from a French speaking background, each part of the complex definitions that would come to be known, Creole. Willie's father, Paul Durisseau, was born in Quebec, Canada, and his grandmother was named Rebecca Hull, also from Quebec. The photo on the Durisseau's wall shows Paul Durisseau, an apparently white French Canadian, but they gave no explanation of how he ended up in Louisiana, nor who Willie's mother was, nor how they met. Irma, when asked at the Louisiana Folk Roots interview by a musician in the crowd, if she had ever experienced racism growing up in Lebeau, replied that she had "nothing to say" as her father was white.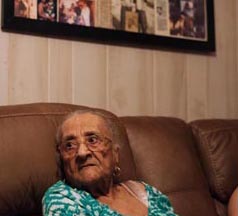 Neither of them talked any more about growing up with parents of different races, though I did read where one of their daughters mentions that it was hard for her father to move forward in life because he was "marked" as an African-American. When asked about this, they did not see it important to talk on this subject, rather they spoke about how much they loved the old days growing up in Lebeau, before all the distractions of the modern world. Irma repeated how life moves too fast today, and how they used to have everything they needed to keep them entertained and happy in the 1930s.
Audio Player
"Hey Mom" performed by Willie Durisseau. Recording by Louis Michot, April 12, 2019, Opelousas, LA
Willie's passing on December 17, 2019, marked the end of an era. He was the last surviving Creole house dance fiddle player known in Louisiana, and could quite possibly be the oldest musician to record music in the history of the world. Dave Bartholomew, known as the architect of rock'n'roll, was also born in 1918, and continued making music into his 100th year. Bartholomew passed away as one of the most famous producers and song-writers in the world, quite the opposite of Durisseau, who is remembered as a great father and humbly resurfaced as the last Creole house dance fiddler, but they both deserve to be honored as among Louisiana's greatest cultural icons. Willie Durisseau's story will live on not because he wanted to make a name for himself as a musician, but because his music was a deep well of love and joy. His music acted as a catalyst to bring he and Irma together almost 80 years ago, and the importance of family and tradition will always be what keeps Louisiana Creole culture alive.
Notes
Willie Durisseau was first brought to public attention by J.B. Adams, after Linda Simien, his co-worker at a Houston radio station who was related to Irma Durisseau by marriage, video called J.B. from a family reunion to show him Willie Durisseau playing fiddle. J.B. immediately made it a point to drive with Linda from Texas to the Durisseau house in Opelousas, Louisiana to meet Willie and Irma. He then called Herman Fuselier to come and interview Willie, which marked his first public recognition as Creole fiddle player. Robin Miller saw the article, and called J.B. Adams to ask about visiting Willie and Irma, and they invited Louis Michot and Jo Vidrine to join them at the Durisseau house to help document the visit.
Louis was aided in this project by his Advisory Board: Ryan Brasseaux Ph.D., Josh Caffery Ph.D., and Erik Charpentier Ph.D.
Sources
Durisseau, Willie. 2019. Interview by Louis Michot. Opelousas, Louisiana. April 10
Durisseau, Willie. 2019. Interview by Louis Michot. Opelousas, Louisiana. April 12
Durisseau, Willie. 2019. Performance with Louis Michot. Ville Platte, Louisiana. May 8
Fuselier, Herman. 2018. "100-year-old Opelousas fiddler is a living link to the past." The Daily Advertizer. June 5, 2018. https://www.theadvertiser.com/story/entertainment/2018/06/05/ creole-fiddler-willie-durriseau-opelousas-legend/669689002/