ARTICLES & ESSAYS



Louisiana Folklife Month 2019
The Louisiana Folklife Month recognizes the rich diversity of Louisiana's living traditions of tradition bearers in order to bring attention to the individuals who sustain them. The initiative showcases an array of tradition bearers in a series of public programs taking place at venues across the state. Folklife Ambassadors from the Louisiana Folklife Commission (LFC) and Louisiana Folklore Society (LFS) have selected the following tradition bearers to be recognized at public presentations.
Video provided by Brian Davis, Folklife Commissioner,
Louisiana Trust for Historic Preservation
The presentations include the following tradition bearers: Elaine Larcade Bourque, brown cotton weaver from Milton; Mariana Titus, artist, writer, photographer from St. Mary Parish; Janie Luster, artist, basket weaver, jewelry maker from Theriot; Zion Travelers, Gospel quartet from Baton Rouge; James Norcom "Buzz" Jackson III, songwriter from Covington.
Presentations will be moderated by Folklife Ambassadors from the Louisiana Folklife Commission (LFC) and Louisiana Folklore Society (LFS).
Folklife Month is supported in part by funds from the National Endowment for the Arts and the Louisiana Endowment for the Humanities.
To learn about all tradition bearers recognized since 2015, click here
HONORING ELAINE LARCADE BOURQUE
ACADIAN BROWN COTTON WEAVER
Saturday, October 12, 2019, 11:15 AM
Festivals Acadiens et Créoles; Atelier Tent
Address: 500 Girard Park Drive, Lafayette, LA 70503
Ambassador: Ray Brassieur, Associate Professor of Anthropology, University of Louisiana, Lafayette
Partnering Organization: Louisiana Folklore Society; Festivals Acadiens et Créoles; Center for Louisiana Studies
Tradition Bearer: Born in Acadia Parish near Bosco, Elaine Larcade Bourque has lived along the Vermilion River in Milton for the last 60 years. She has demonstrated weaving and spinning at many of Louisiana's festivals as well as around the United States. Bourque learned her skill from master weaver Gladys LeBlanc Clark during the late 1980s and together they were awarded a Folk Arts Apprenticeship Grant by the Louisiana Division of the Arts in 1989. She prefers to work with brown cotton, which has a soft, natural shade of brown and does not need to be dyed, but is more difficult to spin than white cotton because of its short staple. Bourque is an avid gardener, and has grown and harvested her own supply of Acadian brown cotton annually for the last 30 years.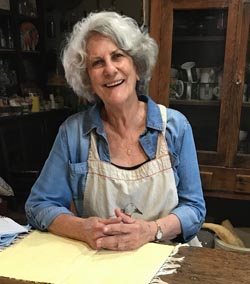 In addition to weaving and educational demonstrations, Mrs. Bourque spends time documenting Acadian blankets that remain in the families that wove them as part of the Acadian Brown Cotton Project. She was a major contributor to the research and production of the documentary film "Coton jaune - Acadian Brown Cotton - A Cajun Love Story" and has provided the Acadian brown cotton seeds to local seed banks for preservation efforts. Her knowledge and experience are guiding the development of multiple Acadian brown cotton projects, including Field to Fashion, the Acadian Brown Cotton Project, and an upcoming exhibit at the ULL Hilliard Museum of Art in the Fall of 2020.
Mrs. Bourque's dedication to honoring and highlighting the artistry and labor of Acadian women serves to preserve the history and continuity of a 250 year weaving tradition in the French speaking parishes of Southwest Louisiana. In her words, " It has been so interesting for me to meet with the relatives of the weavers. I get to hold a textile that is usually close to 100 years old or older. Since the weaver is deceased, I have to let the blanket tell me a story as to how proficient the spinner and weaver was and how the blankets were used to keep their families warm. After I do the interview and document the blankets I always walk away feeling good because I think some people may feel a little differently about the worn, "old and ugly" blankets in their closet. I hope I have made them realize what a treasure they have and that it was made with much labor and love, L'Amour de Maman.
The Event: Dr. Ray Brassieur will interview Mrs. Bourque about her life and work as a traditional weaver and oral historian of the Acadian Brown Cotton tradition. The event will include a ceremony in which Mrs. Bourque will be honored as a Louisiana tradition bearer.

HONORING A ST. MARY PARISH LEGEND:
MARIANA TITUS—ARTIST, WRITER, PHOTOGRAPHER
October 8 at 6 p.m. at the Alex P. Allain Main Branch Library
of the St. Mary Parish Library System
Address: 206 Iberia Street, Franklin, Louisiana.
Ambassador: Rebecca Hamilton, State Librarian of Louisiana; member of the board of the Louisiana Folklife Commission
Partnering Organizations: St. Mary Parish Library System, the St. Mary Chapter Louisiana Landmarks Society, and the State Library of Louisiana
Tradition Bearer: Mariana Titus, artist, writer, photographer
From her early years, spent in Garden City, La., filled with confidence gifted to her from a family friend, to appreciate the beauty of her immediate surroundings, to when she received her first camera, an Imperial Six-Twenty, to her introduction to books first via the bookmobile that parked at the Garden City Store each Wednesday, and later via the Franklin Library; by the age of 6, Mariana was an avid reader and photographer and her little world began to grow.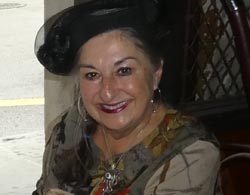 Mariana's father was one of the first Chiropractors in St. Mary Parish and his shingle hung on the Old Highway 90 across from the old Garden City Post Office. Listening to his patients speak as they waited for treatment, Mariana was transfixed by the rhythm of their speech and their Cajun French cadence, helping her develop a love for language and the dialect of the people around her, and a skill for storytelling.
Mariana merged these experiences of growing up in bayou country and listening to these unique voices, with her innate gift of storytelling, to be able to create new stories and to re-tell the stories of others in an honest, authentic, uniquely St. Mary Parish voice. She did this with her first book "Graveyards and Bayou Bars," which is a compilation of barroom stories about life, love, relationships, and food—captured in photographs and punctuated by gravestone epithets. Using this technique of listening and informally interviewing local people, she wrote five more books in this same style: "Summers Full of Porch Bull," "Hurricanes, Healings and Dancing," "Rain, Cane, Bayou Refrain," and "Sunday mornings, Crowning Glories."
As an artist, influenced by Kees Von Dongen, Picasso and Van Gogh, Mariana has extended her storytelling to images in mixed media, acrylics and oils. After the death of her beloved mother, Mama T., Mariana began to paint faces called the "Ana's" which represent Mama T, and her joy and spirit, in the free-wheeling imagery of the painters that influenced her. The paintings retell the stories of her mother's early life in Venezuela and later with her father who worked in the oil fields there before bringing his family back to the United States.
Mariana turned 70 in Paris this year and says her life is just beginning; and although she began her life in rural St. Mary Parish, La., has traveled the world and settled, part time, in Santa Barbara California, with her husband Richard Baker, in some ways she has never left home. Each year, for the past 40 years, Mariana has faithfully returned to St. Mary Parish each summer for several months to stay at Mama T's house, to enjoy the simple life on the bayou and Mama T's front porch, visit the bayou bars, and to collect stories and images and to create art that document her roots and her home.
The Event: Mariana Titus will be honored, and will give her presentation, entitled St. Mary Parish: Roots and Reflections from a Native Daughter, in the very library that she frequented as a young girl and that is within walking distance of Mama T's front porch. The Alex P. Allain Memorial branch library is the headquarters library and one of 7 branches of the St. Mary Parish library system. One of the missions of the St. Mary Parish library is to collect, preserve, and make available to citizens, books and other materials about St. Mary Parish and the surrounding areas. They have always been a big supporter of Mariana's work and according to staff, "When Mariana writes a new book we can't keep it on the shelf because everybody wants to read it and see if they are in it."

HONORING JANIE LUSTER
HOUMA INDIAN ARTIST, BASKETWEAVER AND JEWELRY MAKER
Sunday, October 27, 2019 at 3pm, Rougarou Fest, Main Stage
Address: Downtown Houma, 7856 Main Street, Houma, LA 70360
Ambassadors: Dr. Gary LaFleur, Center for Bayou Studies, Nicholls State University; Jonathan Foret, Executive Director of the South Louisiana Wetlands Discovery Center and Rougarou Fest Chairperson.
Partnering Organization: Nicholls State University Center for Bayou Studies and the South Louisiana Wetlands Discovery Center.
Tradition Bearer: Janie Luster is a master palmetto basket weaver and cultural preservationist of the United Houma Nation. Hailing from the community of Bayou DuLarge in Terrebone Parish, Janie comes from a long line of traditional healers and is a tribal advocate.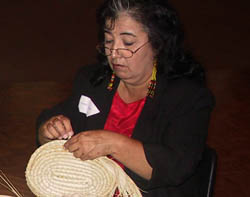 A dedicated practitioner of diverse tribal customs, she is widely recognized for her coiled half-hitch baskets, made using an intricate weaving technique lost to the Houma for nearly a generation. Reintroduced by Luster in the 1990s, the hitch-coil method with a half-hitch knot—common in areas of South and Central America—is considered limited in North America to Louisiana's largest tribe of indigenous peoples.
Luster was born in 1952 to Mary and John Gustave Verret Sr. As a child she became immersed in tribal culture, learning, for example, the Houma-French language spoken by the tribe for nearly three centuries. She studied herbal folk healing using indigenous flora, a practice handed down from an ancestral traiteuse, or medicine woman. Like generations of Houma women before her, she also mastered the craft of palmetto-frond plaiting to make fans, hats, mats, and baskets using a flat hexagonal weave.
In addition to baskets, Luster makes dolls from cured Spanish moss and jewelry and home decor using the dried diamond-shaped scales of the alligator gar (Atractosteus spatula), a ray-finned fish native to the southeastern United States. Luster demonstrates her traditional crafts at various cultural events across the state, including the New Orleans Jazz and Heritage Festival, and has passed on her skills to her children and grandchildren, who frequently join her at such gatherings. She served on the tribal council for eight years and has been the recipient of the United Houma Nation Cultural Preservation award as well as the Louisiana Division of the Arts Folklife Fellowship award. In 2011, Luster was inducted into the Louisiana Hall of Master Folk Artists.
Janie is also known for her cooking talents and appeared on A Taste of Louisiana with Chef John Folse: Garfish & Caviar - Bayou DuLarge, LA in 2015 and also with Loretta Olden's Seasoned with Spirit cooking show. She was featured in the 2019 documentary short, Heart of the Palmetto for WWNO. Janie has been married to William Luster since 1974 and together they have five children: Angela, Adilia, Ann, William "Louie" and Zebadiah "Zeb" Luster.
The Event: Janie Luster will be honored at the Rougarou Fest. The Rougarou Fest is a family-friendly festival that celebrates the rich folklore that exists along the bayous of Southeast Louisiana.

HONORING A LIFETIME OF MUSIC
ZION TRAVELERS SPIRITUAL SINGERS
Sunday, October 27, 4:15 p.m., Greater Baton Rouge State Fair, Main Stage
Address: State Fairgrounds, 16072 Airline Highway, Baton Rouge, LA. 70717
Ambassador: Jim Hogg CEO Jim Hogg Group LLC Advertising / Public Relations firm Host of "Sunday Morning in Hogg Heaven" radio program
Partnering Organizations: Greater Baton Rouge State Fair
Tradition Bearers: Heard every Sunday Morning on WIBR radio since 1946 until a few years back, the Zion Travelers Spiritual Singers continue to share their brand of traditional a cappella, specializing in tight harmonized jubilees, spirituals, and hymns, that has taken them to the Smithsonian Folklife Festival in Washington DC.,The World's Fair in 1984, New Orleans Jazz and Heritage Festival, and many other prestigious events, festivals, special church concerts and much more. These men of faith dressed in black suits, deliver their sound in an emotional presentation of the great stories of Bible characters. These men live their faith and their music is one of pure joy, animation, and you know they truly believe the words they sing.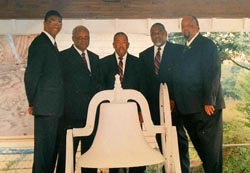 Their bass singing provides the rhythmic bottom that provides the foundations for the rest actually simulates a double stringed upright bass. They'll even switch parts during the song—some going into a falsetto, the other singers move tightly around the lead singer. Their tonal quality sounds natural, but certainly a learned highly skilled musical art form. Their repertoire demands that you cannot just sit still, especially during selections of "Ezekial / Dem Bones" or "John the Revelator". The current members are Corey Hill, Lutrell Cox, Esau Wright, Robert McKinnis, and Willie Johnson.
The Event: Zion Travelers Spiritual Singers will perform a concert at 3:15 pm at the Greater Baton Rouge State Fair and after their show will be honorably recognized as Louisiana Folklife Tradition Bearers for their steadfastness and faithfulness over the 75 plus years, for their tremendous talent, and for their gift of sharing their heartfelt music they have kept alive for younger generations to hear, see and embrace.

HONORING JAMES NORCOM "BUZZ" JACKSON III
SONGWRITER
October 19 at 8:00 pm, Ozone Songwriter Festival
Address: Lafitte Street Station, 698 Lafitte St., Mandeville, LA
Ambassadors: Tommy Ike Hailey, Louisiana Folklife Commission and Associate Professor of Archaeology and Anthropology, Northwestern State University of Louisiana; John West, Ozone Songwriter Festival Chair
Partnering Organization: Ozone Songwriter Festival
Tradition Bearer: James Norcom Jackson III, better known as "Buzz" to his friends, has been playing guitar and writing songs for over 35 years, beginning back when he was in high school. At first glance, you might never imagine the profound impact this soft-spoken Louisiana native has had on the region's songwriting community. It's not something his modesty would ever allow him to tell you, but actions speak louder than words, and countless songwriters across the southeastern United States have benefitted from the things Buzz has done to support, encourage, and promote songwriting as a profession and as a hobby.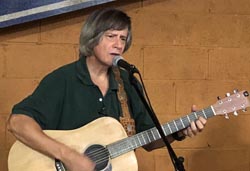 Several years after graduating from high school, Buzz moved to Nashville to pursue his dreams, and it was there that he and Greg Barnhill, his friend, former schoolmate, and fellow songwriter, combined their songwriting talents to form a creative marketing and branding company. Business was brisk, but after 18 years in Nashville, family obligations called Buzz home to Louisiana. He relocated to Covington in 2010, still serving as Managing Partner of the company, while Greg remains in Nashville as Creative Director.
Back in Louisiana, Buzz immediately missed the outlets for songwriters that were so readily available in Nashville, so he founded the Northshore Songwriters Circle (NSC) to share his songwriting experience with others interested in writing and performing their own original songs. After almost a decade, the NSC is still going strong, meeting on the first Thursday of each month at the Beach House Bar and Grille in Mandeville. Hundreds of songwriters have participated in the Circle. Some are professionals, while others do it for their own enjoyment, but it matters little to Buzz why they write songs, just as long as they keep doing it.
Buzz's creation of the NSC would have been a great accomplishment had it simply continued as it was, but then the seeds Buzz planted began to grow. Circle members started creating and participating in songwriter events and groups across the south from Texas to Florida, all because of the support and encouragement they received from Buzz. And it doesn't end there. For years Buzz envisioned a songwriter's festival on the Northshore, but that dream was deferred until he noticed that funding for school arts programs was being cut drastically, leaving many students with no access to music classes. He had to take action, so in 2017, he helped create the Ozone Music Education Foundation and, soon afterward, the Ozone Songwriter Festival. The inaugural festival took place in Mandeville, Louisiana in October 2018 and was a great success, with four stages and over 100 local, regional, and national songwriters participating.
Even now, there's no time to rest. Buzz serves as Secretary on the Board of Directors of the Foundation, he coordinates the Foundation's instrument gifting program and guitar lessons for students, and, of course, every first Thursday you'll find him at the Beach House, surrounded by a group of grateful songwriters who have come together, once again, as the Northshore Songwriter's Circle.
The Event: Buzz Jackson will be recognized as part of the Ozone Songwriter Festival on Saturday, October 19 at 8:00 pm at the Lafitte Street Station. Over 100 singer-songwriters will perform Saturday, October 19 and Sunday, October 20 on multiple stages in Old Mandeville. The Ozone Songwriter Festival is a public outreach activity of the Ozome Music Education Foundation, a 501(c)(3) nonprofit organization whose purpose is to provide education and guidance for children and adults who want to learn to play music, to write songs, and, if they wish, to pursue careers in the music industry. The festival is a free, family-friendly event.