ARTICLES & ESSAYS



Louisiana Folklife Month 2020
Louisiana Folklife Month celebrates the rich diversity of Louisiana's living traditions by bringing attention to the individuals who sustain them. The initiative showcases an array of tradition bearers in a series of public programs taking place at venues across the state. Folklife Ambassadors from the Louisiana Folklife Commission (LFC) and Louisiana Folklore Society (LFS) have selected the following individuals and entities to be recognized.
Due to the COVID-19 pandemic, plans for Louisiana Folklife Month events remain uncertain. Some locations may have online presentations or may delay the event. As plans are finalized, they will be added to this page.
The following tradition bearers will be honored: Rick Adams, Singer/songwriter, Alexandria, LA; Katrice LaCour, Zydeco musician, Natchitoches, LA ; Bogalusa Italian-American Club, St. Joseph's Day Altar Tradition; Grayhawk Perkins, Choctaw/Houma Nation Storyteller, Educator, and Musician, Mandeville, LA; Goldman Thibodeaux, Creole musician, Mallet, St. Landry Parish; and Lawrence "Black" Ardoin, Traditional Creole accordion musician, Lake Charles.
The tradition bearers are selected by Folklife Ambassadors from the Louisiana Folklife Commission (LFC) and Louisiana Folklore Society (LFS).
Folklife Month is supported in part by funds from the National Endowment for the Arts and the Louisiana Endowment for the Humanities.
To learn about all tradition bearers recognized since 2015, click here
HONORING RICK ADAMS
SINGER/SONGWRITER, ALEXANDRIA, LA
Ambassador: Dr. Tommy Ike Hailey, Associate Professor of Archaeology and Anthropology, Northwestern State University of Louisiana
Partnering Organization: Ozone Songwriter Festival
Tradition Bearer: Influenced by country, folk, and rock-and-roll as well as bluegrass and blues, Rick Adams is a Central Louisiana musician who has played guitar and written songs from a young age. For the last twenty years, Adams has been active in the music community, performing locally and regionally in two bluegrass groups and becoming a founding member of Reverend Charley's Patent Medicine Show, an eclectic folk group whose songs frequently reference Louisiana's distinctive cultural landscape./p>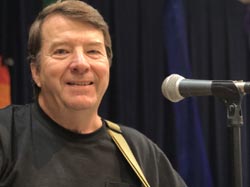 In addition to collaborative ventures, Adams writes and performs his songs as a solo artist, recording the nationally recognized CD "No Cover at the Door" in 2009, followed by "Curves in a Long Straight Road" in 2016. The latter album ultimately spawned the formation of his swing band, Just Barely Texas. Rick supports and encourages other songwriters at venues throughout the state. He is a participant at songwriter festivals such as Third Street Singer-Songwriter Festival in Baton Rouge and at the Mississippi Songwriter's Festival in Ocean Springs. He has a collection of new songs and is presently working on his third solo album.

HONORING KATRICE LACOUR:
ZYDECO MUSICIAN, NATCHITOCHES, LA
Ambassador: Dr. Shane Rasmussen, Director of the Louisiana Folklife Center and Professor of English, Northwestern State University
Partnering Organizations: The Louisiana Sports Hall of Fame and Northwest Louisiana History Museum, the Louisiana Folklife Center, and Northwestern State University
Tradition Bearer: Multi-instrumentalist Katrice LaCour leads a zydeco trio that plays with the goal of bringing the distinctive musical sounds of the state's southwest parishes to north Louisiana audiences. Also featuring Rainey LaCour and Denver Shoup, The LaCour Trio plays a mixture of old-school zydeco, Creole La La music, and R&B zydeco, appealing to both seasoned zydeco lovers as well as those new to the genre. LaCour's passion for zydeco stems from the French Creole culture that shaped his upbringing in the Cane River town of Cloutierville.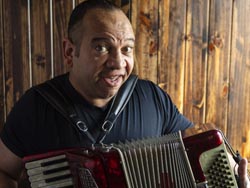 Aside from playing professionally, LaCour shares his love and knowledge of music with younger generations, teaching orchestra for the past 11 years at the Northwestern State University Elementary/Middle Lab School. LaCour's students have received statewide and national recognition, and the orchestra, one of the largest orchestra's in Louisiana, performed in 2019 at Carnegie Hall in New York City. He reflects, "Every culture is unique and passing that along to others is the best way to keep it alive. Whether it is stories shared from generation to generation, or a way of life, that's what makes French Creole traditions worth saving."

HONORING BOGALUSA ITALIAN-AMERICAN CLUB
ST. JOSEPH'S DAY ALTAR TRADITION
Ambassador: Brian M. Davis, Executive Director, Louisiana Trust for Historic Preservation
Partnering Organization: Louisiana Trust for Historic Preservation
Tradition Bearer: Each spring for the past forty-six years, the Bogalusa Italian-American Club has prepared an altar to St. Joseph and educated the public about the centuries-old Sicilian tradition of giving thanks for a bountiful harvest. The group is composed of twenty-six active members, descendants of the Italian immigrants who, drawn to jobs in the town's timber industry, began arriving in Washington Parish in the early 1900s.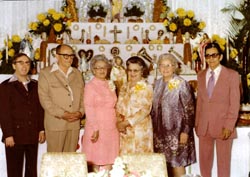 Work begins for the club in January, as members gather to make cuccidati (fig cakes), pignolatti (fried pastries), and other confections traditionally shared on the March 17 feast day. Italian vegetables, redfish, flowers, and decorations showing years of use by generations of Bogalusa's Italian-American also adorn the towering altar. The society performs a pageant as part of the annual celebration with members representing saints while the community joins in a feast of pasta, vegetables, bread, wine, and Italian cookies. Taking part in the St. Joseph's Day altar tradition instills in members not only pride in their Italian heritage but also reverence for their ancestors who helped define the distinctive culture of Bogalusa.

HONORING GRAYHAWK PERKINS
CHOCTAW/HOUMA NATION STORYTELLER, EDUCATOR, AND MUSICIAN, MANDEVILLE, LA
Ambassador: Teresa Parker Farris, Independent Folklorist, Chair-Louisiana Folklife Commission
Partnering Organizations: New Orleans Jazz & Heritage Foundation
Tradition Bearers: Of Choctaw and Houma Nation descent, Mandeville-based Grayhawk Perkins is a lifelong storyteller, educator, musician, and one of the last speakers of Mobilian, an ancient trade language once used by the indigenous peoples of the Gulf South. He has worked for more than 25 years as a cultural coordinator for the New Orleans Jazz & Heritage Festival where he helped spearhead the creation of the Native American Village. He has served as an Interpretive Ranger for the Louisiana Office of State Parks, designer and director of Kenner's Canne Brulee Native American Village, and Cultural Naturalist for the Audubon Louisiana Nature & Science Center. Drawing from his tribal folklore, Perkins has performed as a storyteller at the Smithsonian's National Museum of the American Indian and regularly headlines the University of Alabama's annual Native American Festival at the Moundville Archaeological Park.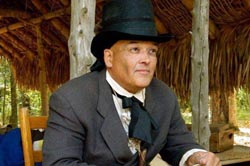 Perkins has been active in the New Orleans music scene for decades, performing at marquee events such as Jazz Fest, the Voodoo Music + Arts Experience, and Bayou Boogaloo. In addition to leading his namesake ensemble, The Grayhawk Band, he has frequently played percussion alongside such notable acts as Dr. John and Coco Robicheaux.
Event Grayhawk Perkins will be honored during the Blues & BBQ Festival: Festing In Place, October 16-18 on 90.7 FM and at crescentcitybluesfest.com

HONORING GOLDMAN THIBODEAUX
CREOLE MUSICIAN, MALLET, ST. LANDRY PARISH
Ambassadors: John Sharp, Assistant Director for Research at Center for Louisiana Studies, University of Louisiana-Lafayette; Herman Fuselier, Executive Director, St Landry Parish Tourist Commission
Partnering Organization: Festivals Acadiens et Créoles, University of Louisiana at Lafayette Center for Louisiana Studies; St Landry Parish Tourist Commission
Tradition Bearer: Goldman Thibodeaux is one of the only musicians who performs the rural, pre-Zydeco, house-dance, early 20th century music of the communities around Lewisburg, Lawtell, Mallet and Prairie Ronde, Louisiana. Goldman preserved the native music of his culture and time, Louisiana LaLa music. He played in a mixed-race band echoing Ardoin's experiences (and a part of Ardoin's demise), and carried on the music traditions of his other grandparent, Joseph "Bébé" Carrière and his uncle Éraste Carrière. He taught himself in the traditions of Canray Fontenot, Alphonse "Bois Sec" Ardoin and Douglas Bellard (the first person to commercially record Louisiana Creole music - one year before Amédé Ardoin began his recording career). The music he preserves is the music that came before the Zydeco greats like Clifton Chenier, BooZoo Chavis, Beau Jacques and the contemporary exemplars of the style like Lawrence Ardoin, Mary Broussard, Corey Ledet, and Chris and Sean Ardoin. It is a music that is distinct from Zydeco but it is the music that Zydeco was built upon.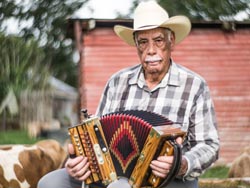 In 2015 he was featured at the Louisiana Endowment for the Humanities Bright Lights Literacy Awards. Last year he played for an anniversary celebration of the founders of the Alexandre Mouton Museum and the Lafayette Library Association (Mouton, another Confederate soldier who also has a large Creole line of descendants). The latter event is testament to Goldman's fearless acceptance of who he is and what he represents in Louisiana culture and the culture of the nation-at-large. - Excerpt from a biography by Darryl Bourque.
Event Goldman Thibodeaux will be honored during Festivals Acadiens et Créoles on October 10.

HONORING LAWRENCE "BLACK" ARDOIN
TRADITIONAL CREOLE ACCORDION MUSICIAN, LAKE CHARLES
Ambassador: Jennifer Ritter Guidry, Outreach Coordinator, CWPPRA-Coastal Wetlands Planning, Protection, and Restoration Act, USGS /Wetland & Aquatic Research Center
Partnering Organization: CWPPRA-Coastal Wetlands Planning, Protection, and Restoration Act, USGS /Wetland & Aquatic Research Center
Tradition Bearer: Lawrence "Black" Ardoin, seventh child of Alphonse "Bois Sec" Ardoin and father of Chris and Sean Ardoin, is the musical link between traditional Creole music and the zydeco of today. Born in Duralde, Louisiana, to a sharecropping family that supplemented its income with music, he initially played drums, filling in for Louisiana legend Canray Fontenot, but eventually took his father's spot in the family band on accordion. He calls the music he plays Cajun-Creole, a product of the rural communities where one musical sound was honed by his great-uncle Amédé Ardoin in the early 1900s.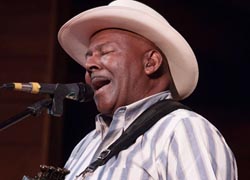 Not only an accomplished accordion player of the "old sound," he expanded his repertoire to include other native genres like swamp pop. A retired machinist of 38 years, Ardoin adapted and retired from the stage as the music scene changed. He is a shrewd business manager, moving into booking and operating Habibi Temple, where he most famously organized the zydeco showdown between Beau Jocque and Boozoo Chavis. Today he plays with his son Sean and André Thierry with Creole United.
Event Lawrence Ardoin will be honored by CWPPRA in November during a series of virtual events.