ARTICLES & ESSAYS


"Looks Very Simple, But Takes a Lot of Time": Diana Gay's GuaTamales - Guatemalan Tamales
By Mandy McClain with Susan Roach
Introduction
Diana Gay, a Guatemalan native, does not mind sacrificing her day to cook tamales. She does not mind having to check on them every so often. She does not mind getting her hands dirty to roll and pat them into the shells. She does not mind boiling the chicken, cleaning the leaves, and letting the tamales cook for over an hour. Diana does not mind all of this because she loves to cook and is used to this way of cooking, the end result is delicious. Cooking is one of her major means of preserving her Guatemalan traditions.
Background
Born in Guatemala, Diana Gay immigrated to Ruston, Louisiana, where she married Louisiana native Bruce Gay in 2000. After she immigrated, she brought three of her four children from a previous marriage, but one fifteen-year-old daughter, after staying six days, decided to return to Guatemala to live with Diana's mother, Carlotta. That decision was based, in part, on the language barrier. She discusses her family's various reactions to living here: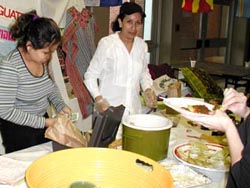 I have four kids. Two months ago I brought three kids . . . . One is fifteen years old, another nine years old, and the smaller is six. But the first one, she didn't like here. . . She [was] supposed to come here for a long time, but she have six days to stay here and she says I want to come to Guatemala. And I ask her, "Why [do] you want to come back?" Because she didn't have nothing to hear, you know the language is a very big thing for us, and she decided to come back to Guatemala. It's different. She have plenty friends in Guatemala, all the time with the friends. . . But she's okay in Guatemala. But the other two, they love to stay here. Sometimes I ask them, "You want to come back to Guatemala?" [They say] "No."
Even though she understands the importance of being bilingual, Diana considers fluency in her native tongue to be an important part of maintaining her Guatemalan heritage. Diana still speaks Spanish as much as possible while also practicing her English. She has learned some English with the help of her husband, a Ruston native, who also speaks Spanish. She comments on her efforts to learn English: "I think that the English is easier than the Spanish to learn, but to me, it takes me a long time. I want to speak very good English, and if I think that I am not going to speak the good, I prefer to be quiet. But I would like to speak English very well." At home, Diana says, they speak Spanish to the children to ensure they retain their Guatemalan culture while trying to assimilate into American culture: "We taught them in Spanish . . . [my daughter] is six years old, but she don't speak a very good Spanish, you know, because she's just a little thing . . . I like that they are speaking Spanish and English too because it's very important." Like Diana, the girls learn English by hearing others speak it. Diana and Bruce know it is hard on the girls, but in the end they know it will be for the best.
Diana is careful to preserve her culture not only by maintaining her family's fluency in Spanish, but also by continuing to cook and share Guatemalan food, particularly her delicious tamales. When Diana Gay lived in Guatemala, she worked as a secretary for a big business and completed two years of college, majoring in psychology. She thinks too much time has passed between cooking and fulfilling her responsibilities to her family and their business for her to return to college. Since arriving in Ruston, Diana has had many jobs including cleaning, house painting, and working in their import store, Mijos, where she sold cultural items such as jewelry, clothing, and masks. It was in Mijos that Diana got the idea to sell Guatemalan tamales. She recalls, "I remember when we opened the store, [at] the opening, we gave some chuchitos [tamales], and the people liked [them], and one friend. . . told me, 'Why you don't sell every one time per week maybe?'" At that time, she would prepare around 150 per week, selling them for one dollar each with six tamales in a package. Her sales increased by word of mouth. Diana loves cooking tamales, and she appreciates that people buy them, which is not true in Guatemala. Diana says that "really in Guatemala, only the poor people fix the tamales to sell." However, Diana has no qualms about selling them here in the states; it is just a cultural difference to her.
After she began selling her tamales, Diana was invited to demonstrate tamale making at the Louisiana Folklife Festival. Even after Mijos closed, she continued her cottage business, which grew into their small café, Great GuaTamales, which they operated for a couple of years. After they closed their café, Diana still continued to make tamales for special orders and for special cultural presentations such as the Louisiana Tech University's International Students Fair.
Tamales in Guatemala
Cooking is a skill that Diana has grown to appreciate. As a child, she learned to cook by "watching mother and the family," so she grew up with that knowledge. Later, she attended some formal cooking classes at school: "I like to cook; I was in many courses to cook. For me it's very easy only to watch the people, and I have the idea very soon how to." When asked when she began to cook on her own, Diana replied, "Until I stay [came] here, because in Guatemala I didn't cook, sometimes only weekends because I was working. And we have another person to help us to cooking, and my mother cook, and I always cook weekends." She never needed to cook, and with the responsibility of her job, she did not have the time. When Diana lived in Guatemala, she was uninterested in learning to make tamales on her own. She says, "I only helped her [Diana's mother] to fix, but I never was interested to know because, you know, [when] you have your mother [with you], you don't need to make some [tamales]." However, Diana did say, "We have many kind of tamales, and for Christmas, we usually make one or two hundred tamales. It's tradition to make tamales, different kind of tamales. You need a different kind of leaves . . . and I remember that my mother wake, like, at three in the morning on Christmas day to fix the tamales." Her mother would make one to two hundred tamales for Christmas, and Diana follows in her footsteps.
Diana carries on this tradition, which was passed down from Diana's mother to Diana, by rising early in the morning to make tamales, not just for Christmas, but for customers year-round. She would like to continue the tradition by teaching her daughters, but neither daughter seems interested in learning the craft now. Despite her daughters' reluctance, Diana is positive that one day they will come to love making tamales as much as she does.
Tamales are eaten at family dinners or on special occasions, such as birthdays and Christmas. Diana reports how the tamales are used: "We serve the cake and the chuchito (or tamales) and maybe, like, chips. But we usually use [tamales] for birthdays or when you have a very big party because you can fix plenty and it's easy to serve." Diana explains that a big meal similar to this is eaten every day at her house in Guatemala, although the size of the meals differs for each family because of the work required for preparation and clean up. In Ruston, Diana cooks tamales for her family's supper, and on Fridays, when they had their store, she would sell them. Since she loves cooking tamales, Diana makes them year-round. All she needs are hungry people, plenty of preparation time, and help cleaning up afterwards.
Diana enjoys cooking tamales alone, but solitary cooking is not the norm in Guatemala. Diana explains, "In Guatemala usually always there are many people to help. For example, if you are going to have a party, all the people-maybe the neighbors or people that you know-offer the help, and always the kitchens are full of people to help you." However, Diana likes cooking alone because too many people in the kitchen get in the way. She says, "I love to cook by myself because sometime you . . . think that another people [already] put [in] salt, and you know it's a mess. I love to cook by myself."
Cooking Tamales in Louisiana
Cooking tamales is a long, complicated process, requiring her trusted utensils, ingredients, and traditional techniques. The recipe is time-consuming, and Diana spends the entire day constantly checking the progress of her tamales. The chicken or other meat filling takes at least an hour to make, and an additional hour is needed to prepare her homemade salsa as a topping for her tamales using tomatoes, pico de galla, and basil.
Two hours of work are necessary before the tamales can even be made. Diana says, "The process takes a long time in Guatemala, as well as here in Louisiana." She provides the following overview of their preparation in Guatemala:
The people first buy the corn, and then go to boil like two hours . . . it's very hard, like two hours. And then they go to a special place to mix . . . to have the consistency [to] stay [together] like a very good mix, and then we add some like salt, some condiments, and we put some meat inside. We can fix the meat with tomatoes, and onions, garlic, and . . .we make like a kind of tortilla . . . and then we put the meat inside, and then closed and then try to use the corn leaves and . . . then boil like one hour a little more.
A minimum of three hours is necessary to cook Guatemalan tamales. Prior to making tamales, time is needed to prepare the chicken and salsa. Diana says, "And one day I fix the leaves, clean the leaves because [they don't] come in very clean, but take a lot of hours to work." The time needed to make tamales is not unusual, since most meals in Guatemala are also time-consuming. Diana says, "If you want to cook one typical food, you have to work maybe sometimes ten, twelve hours to do, and you know, here you can not make a decision to cook only one day for ten, eight hours. For that reason that now we are like trying to make another kind of foods, and only the people that have plenty time can fix those."
Native ingredients are not always available in the states, and Diana works with whatever she can find at Wal-Mart or Super One. One ingredient necessary to the dish is what Diana calls "leaves." Also known as tamale shells, the leaves, usually plantain or banana in Guatemala, are not available here, so instead Diana uses corn shucks, which she usually buys at Wal-Mart.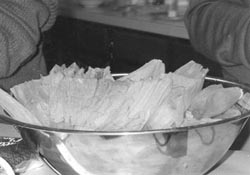 Diana laments that she has much larger choices of leaves in her home country: "In Guatemala, we have like a different kind of leaves and give another flavor. For example, we fix the chuchitos . . . and on top we put two chocon [plantain] leaves that I didn't see here in the United States. And then you cover the pan with the leaves, and the flavor is different." Since she cannot find these leaves in the Ruston, she substitutes by covering the pan with foil and the lid. The size and price of the tamale shells are different here than in Guatemala. Diana complains, "But here in the United States I can find only the leaves, very small. . . In Guatemala I can find maybe for twenty cents; from the United States the same quantity that I buy . . . one dollar and fifty cents." Diana usually buys "only one bag if it's only for the family; only one bag because I can make like twenty-four tamales."
The amount of tamales desired determines which ingredients and items she will use. Not just any kind of pot or pan will do, and the proper materials and utensils must be present before starting, such as a deep pot for boiling the chicken. Diana uses this pot continuously, washing it after cooking the chicken and reusing it for the tamales. Diana says, "I have a pan, very big, that have, I don't know how to say this, have something like [shows the pan]. It's like that one, and you can put the tamales [in it]." Although Diana calls it a pan, it is usually called a pot because of its depth.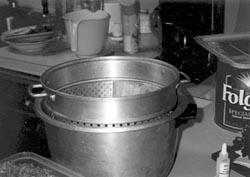 Within this deep pot is also a colander of the same size and depth that keeps the tamales from sticking to the sides of the pot. It is similar to a barrel, and tightly packed tamales are placed along the sides. Reusing this same pot makes the process more time consuming; however, Diana relies on it. She first uses it to cook the meat for the tamale filling. Diana says the kind of meat "doesn't matter but we usually use chicken and pork." She also adds, "We use beef only to put outside on the grill." In Guatemala, shredded beef is more common while in Ruston, it is usually ground. Diana prefers chicken shredded by hand. She boils the chicken breasts and adds tomatoes, garlic, potatoes, and carrots which she then blends together, creating a unique flavor.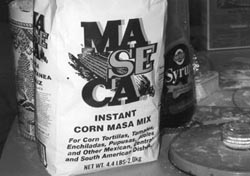 Diana does not bother to measure the water or any other ingredients for this dish since she is so familiar with the process. Although no ingredients are measured in her tamale recipe, she typically uses measuring cups when preparing other meals. She fills the pot a little less than half way full with warm water. Diana uses baking powder in her tamale dough: "I use a little. This helps to make . . .the mix. . . keep for a long time." Baking soda keeps the dough fresh and compact. Next, she adds two or three handfuls of butter and then seasons her tamales with salt. Cheese is included in the recipe, but Diana says, "Really in Guatemala we use another kind of cheese, but here I cannot find them." Now that she lives in Ruston, Diana uses shredded cheddar cheese or mozzarella. Corn, the most important ingredient in Diana's tamales, is used in many Guatemalan dishes: "We always, our culture, use the corn. It's the base for everything. We eat tortillas with mixed corn. We have many kinds of tamales with corn, many kinds of meals with corn." According to Diana, corn is cheaper and more abundant in Guatemala. She says, "In Guatemala this [corn] is very cheap, you know, we have plenty." In Guatemala, corn is purchased in markets, but in Ruston, Diana uses Maseca, an instant corn mix from Super One.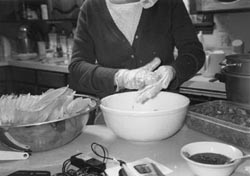 To make the dough, she continues to talk and cook without measuring. After mixing the ingredients, Diana pours them into a bowl, and then begins to knead the corn mix, using gloves to keep her hands from becoming gritty.
When asked how long the corn is kneaded, she replied, "You can feel the texture, for example this is ready." This process is not timed, but completed once the texture feels right. Diana begins to compact the corn mix and roll it into balls. Next, Diana pats each ball flat, similar to a hamburger patty; it is ready for the meat filling.
She places the chicken mix on top of the flattened corn mixture and then lays this corn and chicken patty onto two leaves overlapping each other.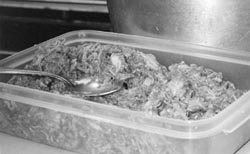 She wraps the leaves around and closes the ends up, similar to making a fajita with a tortilla wrap, and places the wrapped tamale into the deep colander within the pot.
About two dozen tamales can fit in the colander, and this is the amount she usually cooks for her family.
She cooks "only twenty-four tamales because [if] we have more, we ate more." Diana is concerned with eating too many tamales because of the calories. She states, "My food is delicious, but it is very fattening." After putting all of the tamales into a pot, she places empty leaves around the tamales to keep them tightly packed. She proceeds to place the pot on top of the stove, putting it on medium heat for one hour and twenty minutes. Once the tamales are on the stove, foil covers the tamales, followed by a lid placed on the pot to seal in flavor.
Diana opens the lid continually to check the tamales. If they are left uncovered, the flavor is lessened, and the kitchen may become smoky and steamy. All that is left is waiting and watching. Cooking the tamales takes a lot of time, mainly because she must watch the pot. Diana notes the importance of not leaving the cooking tamales untended: "[You cannot leave the] pan one hour and you go to work, no you have to check every time . . . . They [tamales] need water, and water, and [if] you leave like twenty minutes and you don't check, [there] will be a very big mess." To determine if the tamales are ready, she uses a technique she learned from her mother: "She told me the secret that I really didn't know. And now I know the secret but she told me that they have to make like that [taps on a tamale], and the sound is like compact, and [they're] ready. But usually after one hour, they are done."
Before Diana began to cook in bulk, she made tamales once a week. Diana says, "Here, before the idea that I am to fix plenty, I was fixing like one time per week." Diana must give up most of her day just to fix supper, and yet she calls these tamales "a complement for the meal." She also says, "It's a lot of work. But I like, I love to cook."
Differences
Although Diana was raised in Guatemala, she cooks in what she calls the "Mexican way." She says, "I grew up in the Mexican way because it's easier." She recalls living with some Mexican people after she moved to the U.S. as an adult: "I was living in California, and I was living with Mexican people for a few years, and I love the Mexican people. I learned so much." Diana describes the differences she discovered between Guatemalans and Mexicans: "We speak Spanish, all, but depends because, you know, there are many kinds of people that some don't go to the school and it's not the same, but we have different schools." Most of the people in Guatemala speak Spanish, and the language serves as a common ground. The two cultures also use different spices: "The Mexican people put use more pepper more spicy . . . use one kind of special pepper that helps to give another color, the color very strong." Diana does not make her tamales spicy since most of her customers prefer milder dishes. She says, "Here I cannot fix [cook] with too much [spice], you know, because the people doesn't like, but for example, I love the pepper, and I like the very spicy meat."
Diana also discusses some differences between Guatemala and her current home. In Ruston, she only uses tamale shells once because if they are left out, the shells may become spoiled or rotten. In Guatemala, Diana says that "You don't freeze the food. Everything is fresh. The meat is of the day. For example, we have two days in the week that the food, the meat is very fresh. Sometimes you use the refrigerator for to leave some leftovers, but no more than one week." Diana prefers not to eat leftover tamales and would rather eat her food fresh. In Guatemala, they do not have freezers, so food is bought and eaten fresh. Diana will not eat anything after it has been frozen two days. Another difference is the cultures. Diana says,
The culture in Guatemala is very rich. Most of the people in Guatemala are Catholic, and the Catholic all the time have parties for a church, different kind of parties, not like you have here. But always you have something to do. We can go everyday to the church, the church are open all the day at a very big church. And there are many parties for the Catholic church and every Sunday or every week we can go to do something. . . . The people are a little different, dramatic. . . . I like the Latin people, understand the Latin people. The thing is that you are always busy some. For example on Sundays you can go to the central park only to sit down or to visit with a friend or something. It's different. The culture is definitely different.
Most Guatemalans are Catholic, and this religion is a big responsibility in her native home. Guatemalan women stay busy with housework, and the men work during the day, not participating in cooking or housework. Diana explains,
In Guatemala, the men don't cook. . . .It's different. In Guatemala, the men don't wash clothes. They only work and rest, but they don't make nothing. Now I think that is changing, just a little, but the people that go to the school, the university, you know that kind of people, is like a kind of help to the woman now. And makes just a little things, maybe to help to very light to clean or something like that, but not something that they have to do. It's impossible in Guatemala.
She thinks gender roles are changing in Guatemala, especially among the more highly educated, but she does not believe men will be cooking anytime soon. She is grateful for her husband here who helps with the housework.
Conclusion
For all these differences, Diana still keeps her culture going strong in her house. She and her husband speak Spanish to the children. Mainly, she keeps her culture and tradition alive by cooking foods from her home country. Folklorist Patricia Sawin writes that "Foodways" in addition to having "an enormous impact on a person's comfort in a new situation . . . also serve as a means for differentiating oneself from the majority Anglo culture" (1990). Diana's tamales separate her from mainstream American culture, and they also keep her culture alive. She loves cooking the tamales and sharing that tradition with the people in her adopted home. Even though she may have to give up her day to cook, she says, "It is one of my favorite [things]." She knows the limitations she must put on the tamales because she cannot find certain ingredients here. However, she works with the differences to make great tamales that have become a hit in her new home. Part of her folk tradition learned from her mother, the tamales tell about her and her Guatemalan culture. She cannot lose the origins of this tradition, so each time she makes tamales, she preserves her own culture and enriches that of her new home.
Sources
Gay, Diana. Personal Interview. February 10, 2001.
Sawin, Patricia "Latino Folklore in the United States." The Emergence of Folklore in Everyday Life, ed. George H. Shoemaker. Indiana, Trickster Press, 1990: 153-162.