ARTICLES & ESSAYS



Mr. K-Doe Goes to Washington
By Ben Sandmel
The monumental New Orleans R&B star barnstorms the Capital City. Ben Sandmel rides along.
Ernie K-Doe passed away on July 5th, 2001. He was identified in most news stories and obits as a "New Orleans rhythm & blues singer." That's accurate enough, for quick reference he was a damn good one, too, as evidenced by such classics as "Mother-In-Law" yet it hardly tells the whole story.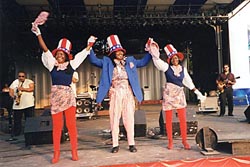 In a city full of colorful characters, K-Doe was one of the most flamboyant, a true Crescent City eccentric. Yet that, again, is only part of the picture. Ernie K- Doe believed in himself, and he inspired confidence in others. With the indispensable help of his wife, Antoinette, K-Doe picked himself up from the gutter and jump-started a career that had lain dormant for decades. There was a literal level to some of his ambitious, excessive pronouncements: he was dead serious, for instance, when he said "I'm ready to accept the Nobel prize." But K-Doe's core message was the indomitability of the human spirit, the ultimate success of rugged individualism, and the belief that all things are possible with faith and motivation. Beyond his great records and outrageous antics, this unfailingly positive perspective is one of the great aspects of K-Doe's legacy.
Audio Player
"Where Ever There's a Will, There's a Way" performed by Ernie K-Doe, from the album Real Mother in Law for Ya, 2002 Westside Records.
Another endearing, enduring trait is the joy that K-Doe that brought to so many people, and the joy that he experienced in the process. Such delight was genuine, and consistent; he didn't turn it off once the show was over. K-Doe loved to laugh, and to make others laugh. He was a cut-up, a streetwise surrealist, a spontaneous verbal inventor with intriguingly circuitous trains of thought. He also represented a rich folkloric tradition of African-American disc jockeys, much like Monroe's own beloved Sister Pearlee Toliver. Today, tapes of Ms. Toliver and K-Doe's respective radio programs are highly-sought collectors' items among a global network of cognoscenti.
Ernie K-Doe loved to meet and greet the public, and visitors to his club, the Mother-In-Law Lounge, were welcomed with warmth and hospitality, along with Antoinette's delicious home-cooked food. The Lounge felt like a private home rather than a place of business, and few people ever left without a big smile and rich, unique memories. Now that K-Doe has left this realm, those smiles and memories will keep him with us in spirit. The following article recounts a memorable road trip that I was fortunate enough to make with the K-Does in 1999.
On the Fourth of July in Washington, D.C., in the shadow of the Washington Monument, a gospel band is eating lunch. The musicians are fueling up for their impending performance at the National Park Service's annual Independence Day Concert, held outdoors at the Sylvan Theater. Their at-table chit-chat stops suddenly when a striking figure enters the back-stage hospitality tent. The man sports a cobalt blue suit, some seriously big hair, and an intense yet abstracted stare. The musicians, who accompany gospel diva Shirley Caesar, are dressed in mundane street clothes. They realize that someone of importance has arrived, but are a little fuzzy when it comes to his name.
"Aren't you a famous singer?" one of them asks.
The important personage pauses dramatically. "Yes ... I am," he replies. Several more seconds pass. He seems to be letting the full profundity of this fact sink in.
"Well, who are you?" his inquisitor continues.
"Let's just put it like this," the blue-bedecked man intones. "There ain't but two songs that will stand the test of time, until the end of the world. One of them is 'The Star Spangled Banner. The other one is 'Mother-In-Law.'"
In the 38 years since "Mother-In-Law" reached Number One on both the national pop and rhythm & blues charts, the man born Ernest Kador, Jr., better known as Ernie K-Doe has traversed a wide range of peaks and valleys. Besides hitting big with "Mother-In-Law," K-Doe says that one of his most triumphant summits came in 1962, when he "beat James Brown on stage" during a hometown concert at the Municipal Auditorium in New Orleans. K-Doe also recalls playing such R&B shrines as New York's Apollo Theater and the Regal Theater in Chicago. Many of his other 1960s recordings, "A Certain Girl," "Te-Ta-Te-Ta-Ta," "Shirley," "Tain't It The Truth," and "Hello, My Lover" were regional hits that became perennial favorites, but did not sell well outside of the South. Nevertheless, they are classic performances that enhanced the legacies of Ernie K-Doe and producer/arranger Allen Toussaint as masters of the New Orleans R&B genre.
During the 1980s, a more distinctive facet of K-Doe's talent emerged during weekly broadcasts on New Orleans' community radio station, WWOZ-FM. A typical show consisted of K-Doe spinning his own old records while screaming such pronouncements as "I'm a Charity Hospital baby!" "Yeah, I'm cocky. I'm supposed to be cocky!" and even the ultimately immodest "How great thou art!"
This ranting rhetoric spawned a cottage industry in bootleg tapes of his radio programs, but it didn't do much for K-Doe's career. He was taken off the air, to the dismay of his many fans, although he still returns as a special guest during fund drives. He fell on hard times, drinking heavily, and his lovably loose performances descended into sloppy embarrassments. K-Doe earned a reputation for being difficult and unreliable, and few venues would take a chance on booking him. It looked as if the valleys might mark the end of his line.
Happily, however, Ernie K-Doe was saved by love. In 1994, he married Antoinette Fox, who has turned his life around both personally and professionally. Antoinette helped him stop drinking. "It was like God removing a devil from his body," she says. She now makes sure that he is prompt and clear-headed on the bandstand, and spends hours designing and hand-sewing his elaborate stage outfits. "I'm a seamstress by trade," Antoinette explains. "I learned from my grandmother. When I was a little girl, I never played outside with all the other children. I was sitting at that old Singer sewing machine with her."
Together, Antoinette and Ernie run the Mother-In-Law Lounge at the corner of Claiborne and Columbus. This friendly neighborhood bar and shrine to K-Doe has become a must-see for discerning tourists who flock to New Orleans as a musical Mecca. It also draws a diverse local crowd that ranges from green-haired grunge types to middle-aged couples. K-Doe sings there on the majority of weekends, and can be found holding court almost every evening. Special events include the annual renewal of Ernie and Antoinette's wedding vows, each January. The public is always invited.
Most significantly, K-Doe is performing nationally again, and playing select showcase gigs at that, instead of grinding out endless sets on the club circuit. In February, 1998, he received a prestigious Pioneer Award from the Rhythm & Blues Foundation at the organization's annual banquet, which was held that year in New York. K-Doe accepted the award, which came with a five-figure stipend, by cutting up during the ceremony and cheerfully disrupting the proceedings with an unauthorized encore. The audience included Stevie Wonder, Gladys Knight, and emcee Smokey Robinson, who was reduced into hysterics at the podium by K-Doe's antics.
That set and another great one at the 1998 New Orleans Jazz & Heritage Festival sent the message that Ernie K-Doe was back on his feet. Thankfully, being clean and sober hasn't turned him dull. His voice is strong, he's still good for some bursts of fancy footwork, and he knows how to work a crowd. He can hold his own on stage, and there's nowhere he'd rather be.
"I'm just like a rabbit," K-Doe says. As with many of his pronouncements, there is often a distinct tinge of surrealism, at least at the beginning—and frequently at the end, too. Beyond his solid musical talent, a major part of K-Doe's appeal lies in his anarchic, loose-cannon charisma. He is a charming New Orleans eccentric with a wild sense of humor and a flair for vivid verbal imagery. At the same time, K-Doe is extremely street-wise and savvy. There are moments when his outrageous persona seems to be a calculating ploy that serves him well in public; in one-on-one conversation, he is much more reflective and rational. Still, K-Doe's endearing spaciness is never far beneath the surface. "When you throw that rabbit in the briar patch," he continues, "that's exactly where he wants to be. And that's me, on stage. I'm happy then, and I'm making others happy, too."
This palpable, infectious happiness "combined with K-Doe's impressive credentials and cleaned-up act" prompted Nick Spitzer, the artistic director and co-host of the Independence Day Concert, to invite him to perform in Washington. "We always feature a New Orleans or South Louisiana artist, but we've never had any of the great, classic R&B heroes," explains Spitzer, who once served as Louisiana's state folklorist. He currently produces and hosts the New Orleans-based public radio program American Routes. "It seemed like the right time to bring in Ernie K-Doe," Spitzer goes on, "and pair him up with the great R&B pianist Eddie Bo. They're good friends, and they have often played together over the years." Beyond entertaining a large crowd in Washington later estimated at 60,000 people, the concert will be carried by some 150 radio stations across America, with K-Doe's segment broadcast on WWOZ, the aural home of his former on-air glories.
Rewind to July 3rd, when both the Ernie K-Doe and Eddie Bo entourages are assembled at New Orleans International Airport for an early-morning flight to Washington. It's just been announced that the flight has been delayed for three and a half hours. Antoinette K-Doe and her cousin, Tee Eva Perry, are trying to catch up on their sleep. Perry owns and operates a praline shop and sno-ball stand on Magazine street, just three doors down from Trent Reznor's recording studio. She also has appeared in several music videos and in the movie JFK, and has been singing and dancing with the K-Does for the last five years. Tee Eva and Antoinette refer to themselves collectively as the Paradise Ladies. They always dress identically on the road, to Antoinette's specifications, and at the moment they are sporting lime-green tights while fidgeting in their tortuously rigid airport chairs.
But Ernie K-Doe is feeling good, despite arriving early for nothing, and he's in a very talkative mood. "I used to play in Washington back in the '60s," he recalls, "at the sweet old Howard Theater. I was on a big show there with Del Shannon, Chuck Jackson, Smokey Robinson and the Miracles, and a young lady called Baby Face Washington. I played at the White House several times when John F. Kennedy was president, but I never got to meet him. This time I'm going back under President Bill Clinton. What would I say to President Clinton if I got to meet him? Come on up on this stage and blow your tenor saxophone!"
"Am I nervous about playing in front of such a big crowd? Let's just put it like this: I am ready for them, and I hope they are ready for me. I haven't missed yet. There is a first time for everything, but I don't believe that this will be it. And I'm glad that I had the pleasure of making a record that will stand the test of time, because people gonna have a mother-in-law until the end of the world. There is plenty of competition for me now, because the young generation has heard about Ernie K-Doe, and now they are going to get a chance to see Ernie K-Doe, and they will find out that their parents was telling them the truth."
"As far as the young generation with their rap music, you're putting me on the spot, now, but let's just put it like this. Rap, to me and I could be wrong but the way I feel about rap is it's a phase. With rap you really don't have to sing. Not like guys like me, B. B. King, Jackie Wilson, Bobby "Blue" Bland, Joe Hinton, Joe Tex, Johnny Adams... I like to sing, and when I listen at rap I would say there's no real singing. But I would also say this: they know what they are doing, even if I don't."
"I have a new CD that's a gas, man," K-Doe proudly proclaims. "Warren Hildebrand put it out [The Best of Ernie K-Doe, Mardi Gras Records]. And I got a song on there called 'You Done Did It, Baby.' It goes 'You done did it, baby, you made my love come down.' It's the first blues song that I ever recorded; the others were all different styles, this is my first real blues, on record. And in this record, the lady that I'm singing to, I call her 'booty.' Every woman in the world carry a booty, and she thinks that her cargo is the best in the world. I'm relying on all the ladies in the world to let this be their national anthem. When I holler, 'Oh, booty! Good booty! Welfare booty! Every kind of booty!' then all the ladies gonna stand up and holler, 'I got one!' and then the lady across the hallway she gonna holler 'I got one, too!' All the ladies is proud of what they're carrying around. It's a ladies theme song. I want the ladies to feel proud about themselves. And I want them looking forward to me making my comeback."
A crowd has gathered during this soliloquy, but it's neither libidinous nor irate women, as might be expected. It's a group of Boy Scouts in full uniform, en route to a field trip in the nation's capital. They instinctively sense the presence of greatness, although they cannot identify the celebrity whom destiny has booked on their flight. No matter. Ernie K-Doe, resplendent in an orange suit and shoes, does not disappoint them. As the Scouts wait patiently in line, he graciously signs autographs and poses with them for photos.
The plane lands in Washington, and the musicians plus their retinue are whisked straight to the stage for a rehearsal and sound-check. The afternoon heat is stultifying, and everyone retreats to an air-conditioned trailer, where a deli tray awaits the hungry travelers. The caterer, obviously, is not from New Orleans. "What the hell is this?" several people ask with revulsion. They rummage through the bottom layers of piled food, muttering imprecations about red beans, hot sausage, and French bread, but their search is in vain. The portobello mushroom and roasted pepper sandwiches remain uneaten. So do the bowls of cous-cous and tabouleh.
The rehearsal is a great success, however. K-Doe and Eddie Bo both know that this is a big gig, and because it's live, on national radio, there can be no lulls, wasted time, or "dead air." A short, tight set of eight songs is worked out and run through, and a few minor adjustments are made. They finally check into the Phoenix Park Hotel to rest up for tomorrow.
Besides K-Doe and Bo, the Independence Day Concert features a wide spectrum of other artists, including Shirley Caesar, Latin percussionist Tito Puente, and bluegrass icon Ralph Stanley. By mid-afternoon on July 4th, these stars, their band members and other concert performers are all milling about the hotel lobby. Later in the evening, at what K-Doe calls the "after-party," many of them will join in an impromptu, unlikely, multi-cultural jam session. Right now, it's fascinating just to watch them interact.
Each headliner is a leader of his or her respective genre, but there's no contest when it comes to picking the day's snazziest dressers. K-Doe wears his cobalt blue outfit for the ride to the concert site; soon after his arrival" and his cryptic conversation with Shirley Caesar's band" he heads to the trailer to change yet again. After lengthy preparations, K-Doe and the Paradise Ladies emerge wearing identical red-white-and-blue Uncle Sam outfits, replete with tall, floppy stove pipe hats.
Fully in character, Antoinette addresses Ernie as "Uncle Sam."
"Y'all behave," he replies, "or I'm gonna start signing them dollar bills on the left!" Like many K-Doe-isms this sounds good, but no one seems to know exactly what it means.
K-Doe and Eddie Bo are relaxed and nonchalant about the upcoming show, but the Paradise Ladies are extremely excited. "From a little girl," Tee Eva says, "this has always been my American dream, to be an entertainer, singer, and dancer. Now here I am, and I'm very happy! I'm so proud that Antoinette and Ernie chose me to perform with them. It's the Fourth of July, and here I am in Washington, D.C.! The three of us have such a great time singing and traveling together. Ernie is such a wonderful person to be around. I get a real good education from him 'cause he knows his music so well, he instructs and teaches. And Antoinette is amazing, too."
"I thank God that Ernie is finally getting the recognition that he deserves," Antoinette reflects. "I thank God that he's living to see it. God has been a healing process for the two of us. I respect Ernie because he respects ladies, and he never tries to clip a lady's wings, in business. That says a lot about him, especially for a man from his generation. They don't like to see a lady fill a man's shoes. But he respects me as a bar owner, and he supports me and Tee Eva 100 percent. I love performing with him, and sewing our costumes gives me an outlet for different sides of my personality and my creativity."
"The main thing to understand," Antoinette points out, "is that I'm married to the man, not the legend. The legend belongs to the people. I know him as the legend but I love him as the man behind the legend. As long as you can separate those two things then you can handle it. I respect his career, and he respects mine. When I'm busy at my sewing machine, the legend leaves me alone."
Waiting to go on, the legend has a backstage guest, a DJ named Libby Gates, from WWMG, an oldies station in Charlotte, North Carolina. "I've known K-Doe's music all my life," Gates says, "and I've known him and Antoinette for five years. People in New Orleans may take Ernie K-Doe for granted, but our station has his music in heavy rotation. My co-workers don't believe that I'm friends with someone so famous."
By now it is show time. Eddie Bo opens up with hot versions of his two biggest tunes, "Check Your Bucket" and "Check Mr. Popeye," and then Nick Spitzer brings on Ernie K-Doe and the Paradise Ladies. Their patriotic outfits elicit roars of approval as K-Doe tears into his first song, "Honey, Hush." With a 28-minute set there is no time to warm up gradually, but K-Doe doesn't need to. He is already in a full frenzy, inspired by the sight of a sea of faces and the Washington Monument thrusting skyward. "Here's one that sold a million for Ernie K-Doe!" he screams, launching into "A Certain Girl." When K-Doe feels inspired, as he does now, a song's published lyrics are heavily interspersed with such phrases as "I'm cocky but I'm good!" "Burn, K-Doe, Burn!" and "Get up on your feet for Ernie K- Doe!" Sometimes, this last command is followed by the order, "Now, bow down on your knees to Ernie K-Doe!," but not today. Many people obey his exhortation to stand, however. K-Doe clearly has the audience in his spell, with one notable exception, the poor, confused woman on the far right of the stage who's attempting to "sign" his remarks for the hearing impaired.
"A Certain Girl" is followed by an over-the-top rendition of "Mother-In-Law." K-Doe and the Paradise Ladies bow, blow kisses, and leave the stage. Eddie Bo plays "Hook and Sling" with his fine band, and then brings back K-Doe and company for an encore/finale on Jesse Hill's New Orleans R&B classic "Ooh Poo Pah Doo." All too quickly it's over, though the crowd is screaming for more.
Backstage, an exhausted but exultant Ernie K-Doe appraises his performance. "It went good, man, very nice! I enjoyed myself! You got over 60-some thousand people out there. That shows you I still have drawing power. That makes me feel good, a Charity Hospital baby from New Orleans, dressed up like Uncle Sam, on the Fourth of July, in Washington, D.C.!"
"And it proves my point, too," he concludes. "Let's just put it like this. There ain't but two songs that will stand the test of time..."
SIDEBAR Ernie's Oeuvre K-Doe's best sides are bootlegs, and he doesn't see a penny. At the present time there is no definitive collection of Ernie K-Doe's original 1960s hits on CD. Bootleg anthologies hit the market on occasion, but K-Doe does not get a penny of the proceeds. Except for an occasional song on a larger, multi-artist anthology, the following is the extent of his work currently and legitimately available on CD: The Best Of Ernie K-Doe (Mardi Gras Records). Despite the title, this collection does not include the original renditions of K-Doe's hits from the 1960s. The versions here, recorded in the 1990s, emphasize K-Doe's surreal side more than his musical ability. This is particularly apparent on his treatment of "Georgia On My Mind," which would have made Fellini go get a day job. Fever! (DuBat Records). Another latter-day recording that's more notable for antics than musicianship, but is entertaining nonetheless. Children of the World and White Boy/Black Boy (Big K Records) A two-song CD with K-Doe's last recordings that, ironically, are also two of his best since his classic work in the 1960s. "White Boy/Black Boy" will appear in the soundtrack for the Hollywood movie Happy Here and Now, along with scenes featuring Ernie and Antoinette, to be released in late 2001/early 2002.