ARTICLES & ESSAYS


Mabuhay Pilipino! (Long Life!): Filipino Culture in Southeast Louisiana
By Laura Westbrook
As far as the social heritage, [we have] had to preserve it as Filipinos. We had to be successful in the general population and also to remain part of the smaller community. It is a balancing act between the public and private life. The thing that would symbolize the Filipinos might be the tinikling—the dance between the bamboo sticks, learning to move in and out of the two worlds with good grace, courage, and humor.

-Marina E. Espina
Brief Historical Overview
Filipinos have a long history in Louisiana, particularly in the coastal areas of the state's southeastern region. The earliest evidence of Filipino settlements is from the 1760s, during the period of Spanish rule (Baustista 2002). At this time the first Filipinos-the first Asians to settle this area that later became part of the United States-made their homes on the shores of Lake Borgne, east of New Orleans. Filipinos were seafaring people, and they arrived as sailors and navigators on Spanish galleons, departing the ships as they traveled between Spain's two colonies of Manila and Acapulco. Some of the sailors who jumped ship to escape servitude on the galleons made their way from Mexico to coastal Louisiana (Pido 1999). Eight to ten generations later, Filipinos are well-assimilated into the state of Louisiana, and new immigrants from the Philippines arrive annually as well, making this group of Louisiana residents one of the state's oldest, and newest, populations.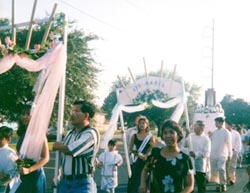 This first Filipino migration to the United States was followed by successive waves as the early "Manilamen" were able to send for their families. These islanders were well able to adapt their seafood-harvesting skills to fishing and shrimping Louisiana's coastal waters, and the typhoons of their homeland somewhat prepared them for its precarious weather. On barrier islands and coastal marshes, in communities with names such as Manila Village, Bassa Bassa, and Saint Malo, the Filipinos built housing in their traditional style. These "stilt villages" comprised living structures that were raised completely above the ground, about ten feet high. Environmental educator Lynn W. Schonberg notes that other wetland communities adopted and adapted this practical style, until the coast assumed its present look, lined with camps on stilts.
Schonberg notes that Filipinos, along with other Asian immigrants, developed the first major shrimp harvesting and processing establishments on the Gulf Coast, such as Manila Village, Bassa Bassa, and other settlements:
Their towns filled the coast with extensive raised platforms used to dry shrimp in the sun. Here they would perform ancient Chinese rituals of "dancing the shrimp," a method for removing the heads and shells from dried shrimp. The "dancers," who wore canvas on their shoes, were often accompanied by guitar. On Fifi Island, just behind Grand Isle, remnants of a shrimp-drying platform established in the 1870s still exist today. (Schonberg 1995)
This business was an important part of the local economy well into the 1900s. The shrimp were harvested by fishermen who brought them to platforms in communities such as Manila Village. The processed shrimp were exported to Asia, Canada, and Central and South America.
In early 1883, the writer Lafcadio Hearn visited the fishing station of Saint Malo. In March of that year, Harper's Magazine published his depiction of the early Manila Village:
Out of the shuddering reeds and banneretted grass on either side rise the fantastic houses of the Malay fishermen, posed upon slender supports above the marsh, like cranes or bitterns watching for scaly prey. . . . All are built in true manila style, with immense hat shaped eaves and balconies, but in wood; for it had been found that palmetto and woven cane could not withstand the violence of the climate. Nevertheless, all this wood had to be shipped to the bayou from a considerable distance, for large trees do not grow in the salty swamp. The highest point of land as far as the "Devil's Elbow," three or four miles away, and even beyond it, is only six inches above low-water mark, and the men who built those houses were compelled to stand upon ladders, or other wood frame-work, while driving down the piles, lest the quagmire should swallow them up. . . . There is no woman in the settlement, nor has the treble of a female voice been heard along the bayou for many a long year. Men who have families keep them at New Orleans, or at Proctorville, or at la Chinche. . . . There is no liquor in the settlement, and these hardy fishers and alligator-hunters seem none the worse therefore. [They] live largely upon raw fish, seasoned with vinegar and oil. (Hearn 1883)
Manila Village, in Barataria Bay, was just southeast of Lafitte-15 miles north of Grande Isle and 15 miles south of Myrtle Grove. It was the oldest and largest stilt village, and the most well-known in its time. The large buildings, by all accounts about a dozen or more, were painted green with red roofs. (Perhaps Hearn, who visited in dark weather and had the dramatic perception of an artist, mistook this decoration for "slime," though some Filipinos who remember Manila Village say that the buildings were not painted because the fishermen were too busy to do much decorating.) They were slightly angled in order to shed water. By the time of the first detailed documentation of the buildings, they were used for communal living by the men who worked processing seafood while their families lived inland. In addition to housing, the raised village comprised a fuel dock for boats, warehouses, a general store and a post office, and some private homes. The children who lived on the mainland would be released from school during harvest times to help the family during their busiest season, and those who recall Manila Village and other such communities recall it as an intensely exciting time. On September 9, 1965, Hurricane Betsy's 18-foot swells brought an end to the last of the Filipino stilt villages. The men who lived in the stilt villages during the fishing season joined their families on the mainland and assimilated into other professions.
In addition to those who established the early fishing villages, there have been further waves of immigration from the Philippines. These include soldiers who had fought alongside American troops against the Japanese, and a newer ongoing emigration that began after the Immigration Act of 1965, which allows for as many as 20,000 Filipinos each year to resettle in the U.S. This wave, largely comprising college students, military families, and professionals, is sometimes referred to in the islands as a "brain drain" that enriches the United States (Cordova 1983).
Jefferson Parish recently announced the recruitment of 60 Filipino teachers to its school system. On their arrival, established Filipino-Louisianans rushed to welcome the new residents and provide them with furniture and household items. In this way, the community absorbs new members and helps them to adapt, and the connection with newcomers just arrived from the islands serves to reinforce cultural identity and ties to the homeland. Lydia Alvarez, who is active with the Philippine-American United Council of Louisiana (PAUCLA) as well as other Philippine organizations, describes how the community welcomed some new arrivals:
The first group of teachers that came last year was the Special Education teachers hired by the New Orleans Recovery District (about 30 of them). Our community, consisting of various organizations such as the Philippine American Women's Associate of Louisiana (PAWAL), Filipino-American Association of St. Tammany (FAAST), Kapitbahay of Greater New Orleans (KBGNO), PAUCLA, Kapitbahay Association, New Orleans Filipino-American Lions Club, and the Filipino-American Doctors Association, welcomed them and provided them with clothing and household items; one was given a car. The Jefferson Parish Filipino teachers just arrived in August and September, and they are provided furnished apartments in the West Bank.

There are also about 50 Filipino restaurant workers (hired by Brennan's Restaurant) who came [at the] same time as the Special Education teachers and were welcomed by our community with wide open arms. There are more of them coming.
Today, Louisiana Filipinos, like those around the country, are quite assimilated personally and professionally, though most also make time for Filipino activities as well. American Filipinos can often be heard referring to themselves as "Pinoys," in a very similar spirit. According to Dawn Bohulano Mabalon, now an assistant professor at San Francisco State University specializing in Filipino American history, and others whose families have used the term "Pinoy" or "Pinay" as far back as the 1920s, the term was originally used by Filipinos in the United States as a self-description, to distinguish themselves from Filipinos still residing in the islands. Among contemporary Filipino Americans, the term "pinoy" has also come to be an affectionate reference to people, things, sounds, and flavors of Philippine background, rather like some might use the expression "down-home." An example is one cook's assertion, describing her recipe that weds Filipino to Louisiana ingredients and techniques, that "This special ingredient is what puts the pinoy in my gumbo!"
Philippine Heritage and Language
The Republic of the Philippines is located in Southeast Asia, and Manila is its capital city. The Philippine Archipelago includes 7,107 islands in the western Pacific Ocean (east of Vietnam). The indigenous culture varies among the different islands and some traditions reflect European and American influences from Spain, Latin America, and the United States. Modern day Filipinos are of Austronesian descent (ancestors hailing from Indonesia, Melanesia, Micronesia, and Polynesia), although the backgrounds of some Filipinos may also include Spanish, Mexican, American, Chinese, Arab, or Indian ancestry. The racial blending stems from successive periods of emigration and colonization. The Negritos or Aeta (indigenous peoples) were the islands' original inhabitants; Malays from Southeast Asia moved into the area bringing Muslim culture (Muslims constitute roughly 5% of the population), and later Chinese and east Asians mixed with natives and Malays. The nation is unique among Asian nations in that it is primarily Christian. The majority of the population (82%) is Roman Catholic; most of the remaining population affiliates with other Christian churches, although there are also small communities of Buddhists, Daoists (or Taoists), and tribal animists (Dolan1991).
The Philippine population lived an agrarian lifestyle until the islands were colonized by the Spanish. Magellan claimed the islands for Spain in 1521, and one month later was killed by a tribal chief. Permanent Spanish settlement was finally established in 1565, and Spanish occupation was marked by various types of resistance which are still topics of Filipino stories and songs today. The first phase of United States rule, in 1898, was ostensibly put in place with the goal of establishing Philippine self-rule, though regulations regarding such things as migration and trade were heavily weighted in favor of the United States, and Filipinos chafed at continued occupation. Under General Emilio Aguinaldo (later the first Philippine President), the first declaration of independence from Spain was presented to the public on June 12, 1898, but independence from the United States was not officially declared by the government until July 4, 1946.
Most Filipinos in Louisiana speak English and Tagalog, the language of Manila and the surrounding provinces, which has been designated the Philippine national language and renamed Pilipino. Some also speak Spanish. According to Zenaida Bayuga of Jefferson, every person who moved to the United States from the Philippines speaks Tagalog, while most of those born here speak it with varying degrees of fluency. Even those who cannot respond to a question in Tagalog still sing some of the important songs in the language. In regard to the numerous languages with which she grew up, Mrs. Bayuga says, "Filipinos are multilingual." In the islands, there are eight major languages and an estimated 121 dialects. Mrs. Bayuga notes, "Depending on their education, they usually learn Tagalog and also English, which was used in school above the second grade for many years." Islanders also speak the dialect spoken in the region in which they grew up. The eight major dialects are Tagalog, Cebuano, Hiligaynon, Ilocano, Bicol, Samareño, Pampango, and Pangasinan. Some Louisiana residents still speak their home dialect, but most report that there are not enough people to practice with, and it is enough of a challenge to maintain both Tagalog and English.
Some family names can be considered indigenous to the islands, such as Bacdayan and Macapagel, and some are localized Chinese, such as Cojuangco, Soliongco, and Sylianco. Most Filipino family names, however, derive from the Spanish, such as Ramos, Alamar, and Ramirez.(1) Veronica "Elsie" Tuazon of New Orleans explains that the assigning of Spanish names to many Filipino families from different cultural backgrounds has resulted in confusion:
People hear our names and think we are Latino. We are not Latino; we are Asian! The Filipino people were given Spanish names by the Spanish, and we had, of course, to learn the language. In fact, we can tell which province of the Philippines people lived in during the time of Spanish colonization. They grouped the names they assigned to the people. People who lived in a certain area were given names that begin with A, B, C, and in a different area they had names like Ramirez, Sanchez, and Tuazon. So the name is almost like a zip code, telling where the families lived at that time.
Social and Benevolent Organizations
According to Marina E. Espina, who remembers spending summers in Manila Village as a girl, the fishermen who worked there also had homes in the Faubourg Marigny on the outskirts of the French Quarter, and after Hurricane Betsy this neighborhood was home to the highest concentration of Filipinos. Rather than segregate themselves, the Filipinos-while maintaining close ties and strongly identifying as Filipino-socialized freely with their German, Irish, French, and African-American neighbors. Filipinos in Louisiana, from the earliest arrivals of single fishermen, have a long history of racial tolerance and intermarriage. The majority of Filipinos in Louisiana today cheerfully absorb relatives-by-marriage who come from other cultures, and welcome their children as full members of the Filipino community.
Louisiana Filipinos have organized mutual aid societies since their earliest communities were established, and social clubs offered their members places to gather and strengthen community ties. Working together, cultural organizations served not only to provide community to people missing family and routines from home, but also to advocate for the good of the group. One example is the successful repeal of a prohibition against Asians owning land. Today there are about 21 social, cultural, and professional organizations of Louisiana Filipinos. Almost half are local chapters of national organizations; all are geared toward improving the lives of Filipinos living in Louisiana. A good number of them operate charitable activities that benefit residents regardless of their cultural background. Some people, like Marina Espina, the first female president of the Filipino-American Goodwill Society of America and the founder of the Asian Pacific American Society, wonder whether the multiplicity of organizations has the result that "Filipinos lack a sense of unity" and that perhaps this means that "the Filipino community becomes less visible to New Orleans society." Others contend that there is a strong core of very active community members who maintain memberships in multiple organizations.
Filipino associations also sponsor activities that facilitate assimilation into, and enjoyment of, traditional Louisiana celebrations. For years the local chapter of the social organization Caballeros de Dimas-Alang sponsored a Filipino float in the Elks parade, the procession (parade) that follows Rex along its Uptown route on Mardi Gras morning. The group, first organized by Hermogenes "Slim" Del Prado, built and decorated innovative floats that differed from others in their use of natural materials as decorations and also with the incorporation of a motorized truck rather than the then-customary horse- or mule-drawn float. For its first three years, from 1935 to 1937, and again in 1946, theirs was awarded the first-place prize as the most popular and beautiful float.
Rhonda Richoux, who now lives in St. Bernard Parish, recalls the days when cultural communities attended social clubs right in their own neighborhoods. Her story also brings out the constant interaction Filipinos had (and still have) with other immigrant communities and with visiting sailors from the islands.
Growing up in New Orleans, I didn't feel out of place with my Cajun name, Richoux, and my brown skin, courtesy of my Filipino grandparents. At home, my Cajun and Filipino American relatives exchanged recipes and family stories-for example that my Filipino ancestor Felipe Madriaga worked in the Filipino fishing villages of St. Malo and Manila Village and, with his Irish wife Brigett Nugent, ran a small restaurant at one time. With so many diverse cultures, each neighborhood seemed like the center of the universe to its inhabitants. It was certainly the center of my universe, because just about everybody I knew and loved lived in the Faubourg Marigny, right outside of the French Quarter.

Grandma and Grandpa Burtanog lived next door to us. They always had relatives living with them who had come on hard times. Grandma and Grandpa Richoux lived across the street. My daddy, divorced from my mom, stayed there when he wasn't at sea. My uncle Frank Reyes lived on the corner, in a big house that seemed to hold half the neighborhood. It didn't dawn on me until I was older that some of those Filipino men I saw at the house were not relatives, but seamen who boarded at Uncle Frank's house.
In addition to families and neighborhoods, Filipinos also gather in social, professional, and charitable organizations. Many of these raise funds to assist new arrivals from the Philippines while they settle in Louisiana, to support victims of disasters in the Philippines or in Louisiana, to support favorite charities unrelated to cultural groups, or to support ongoing community activities. One of the earliest important social clubs, with a clubhouse in the Faubourg Marigny area in New Orleans, was the Filipino-American Goodwill Society. According to Rhonda Richoux, new arrivals from the Philippines were quickly welcomed into the local Filipino clubs. The clubs celebrated holidays and maintained customs from the home country, and also embraced local customs. This helped immigrants to learn about new customs by participating in them with fellow Filipinos. One example is Mardi Gras; individual Filipino clubs held their own Mardi Gras balls and elected their own carnival courts. Rhonda Richoux describes the activities of the Filipino-American Goodwill Society, nicknamed "The Flip Club" by its teenaged members, to which her family belonged:
[The Filipino-American Goodwill Society] had Easter parties, Santa Claus at our Christmas party, and picnics for small children and the whole family. We also had a band, usually a local jam band, on Friday or Saturday nights. Our club was family-centered, and so there was always a mixture of generations at any given moment there, but dance night was mostly teens and adults. During the week, though, when most people were at work and children were in school, it was usually the old men and housewives enjoying a friendly card game or a meal together.

I have many good memories of the club: the old men cooking pansit [Filipino stir-fry], dinuguan [a pork stew], and sinigang [meat or seafood stew with a "sour" broth], speaking their native language, switching to Spanish or English when the dialects clashed; and the blue-eyed grandchildren feeling safe within the embrace of our tight-knit Filipino community. . . . The Flip Club taught me so much. It kept me in touch with my ancestral roots, kept me in tune with what it means to be Filipino in America, taught me about family, politics, and history. Families met there, politicians spoke there, and our history was part of the daily conversation there.

To my sorrow, our beloved Flip Club is no more. As the older members began to pass and the new generation had more pressing things to attend to, the membership dwindled and the club was closed. There are, of course, other Filipino and Asian clubs around town that still thrive, but there will never be another with the neighborhood feel of The Flip Club. I miss the community, the friendly people, the conversation. But, there is one thing that still feels like home to me. No matter where in the country I may be, if I meet a Filipino and tell him of my heritage, I'm guaranteed a smile and a good conversation.
For a time, Francisco and Maria Garcia and their four children lived in an apartment on the second floor of the two-story building that housed the Filipino-American Goodwill Society. Mr. Garcia, one of the first Filipino merchant marines in the United States describes the neighborhood and activities:
The Filipino community was at that time centered on the Touro Street-Kerlerec Street area [just across Esplanade Avenue from the Tremé neighborhood]. After a while we needed more room for the kids, so we moved to Almonaster Street in the Ninth Ward, where a number of other Filipino families lived. We didn't have any social clubs in that neighborhood, but we had get-togethers and picnics. We could go to the Union Hall. Filipinos love sports; we men used to go in groups to watch the boxing at the Municipal Auditorium or the Coliseum, and some of the boxers in the flyweight division were Filipino also. For club activities, we still drove in to the Marigny to the [Goodwill Society] clubhouse run by Mr. Gino Batista.
Mr. Garcia explains that, though people no longer have the same spare time they once did, and there are not as many activities of special interest to Filipinos, community members still honor their culture. Traditional ideals, he notes, such as honoring elders, are maintained even though formal ways of showing respect have been largely discarded as old-fashioned. He points out that the Filipino community is very close, but its members are also very open to friendships with non-Filipinos. He offers his assessment of the Filipino community in Louisiana:
We're a happy bunch. You never hear about crime among the Filipinos here. We keep our community together. The people are independent. They may work on ships, but they own their own houses. Also, we are not clannish; we mix with local people. . . . When I grew up [in Manila], it was the custom to express respect for elders by kissing their hand or touching the back of their hand to the forehead. Not many young people still do it today, but every once in a while you meet someone who still does that.
Businesses
A few Filipino-run businesses in New Orleans serve important functions in the community. Business owners, like Gerardo (Gerry) and Thelma Yumul, maintain connections to larger business organizations for American Filipinos and also serve as mainstays within their local communities. The Yumuls, who operate Yumul International Enterprises and Yumul Travel International, also are prominent members of state and local groups such as the Philippine American United Council of Louisiana and the New Orleans Filipino American Lions Club. Business owners in the community know that they can rely on people like the Yumuls for advice.
The Streetcar Bistro (at 201 Baronne Street), operated by Crispin and Choleta Pasia, is a place to gather and visit for a Sunday brunch that features Filipino dishes such as adobo (poultry marinated in soy sauce and garlic), lumpia (vegetable egg roll), kare-kare (ox-tail stew with peanuts), and menudo (a pork and vegetable dish entirely different from the Mexican food of the same name). Chef Paul Prudhomme met Cris, who was already a successful chef, while on an Asian tour, and sponsored the couple's move to New Orleans, where Cris furthered his culinary studies at K-Paul's Louisiana Kitchen before opening his own restaurant featuring dishes from the Philippines. Some are blends of Philippine and Louisiana cuisine, such as his "Dancing Shrimp Manila Bay," the name of which refers to the practice of "dancing the shrimp" at Louisiana fishing communities such as Manila Village. Similar to barbequed shrimp, this recipe incorporates ginger and kalamansi juice (tastes a bit like lime juice) and San Miguel beer, which is brewed in the Philippines. Cris describes his clientele at the restaurant:
During the week, a lot of people come here regularly; they work at Tulane hospital, lots of lawyers, and other people who work downtown. On the weekends, we have a lot of people here from the Philippines. These days, there is a little more of a mix of everybody. Some Filipinos bring friends-Americans, Indonesians, Indian, so now many different people come here. This place is important to Filipinos because they see their friends here and have food they cannot find in other restaurants. It's not a huge menu, but I always have at least 12 to 15 items.

People have special occasions at the bistro, too--parties to celebrate birthdays and graduations, and wedding receptions. Most of these are Filipino people. One of the most challenging requests for a special event was a dish called litsong baboy [roast suckling pig]. It is sort of like cochon de lait; 35-45 pounds takes a long time to cook-six to seven hours over an open-flame rotisserie. One of my favorite special things to do, though, is to demonstrate cooking techniques; sometimes people ask for that, and I enjoy sharing the traditional recipes and preparations.
Another mainstay business is Ely's Philippine Imports (339 Howard Ave in New Orleans), a store operated by Ely Catolos and known in the community as Tita Ely's. Lance Harwell, who is active with the New Orleans Filipino-American Lions' Club, describes the storefront: "Don't look for a big sign or any sort of display. It is as nondescript a location as ever there was. In fact, at first I thought I might be going into someone's house. Family seems to always be there, and there seems to always be something on the stove. It is a very friendly place." Sister Helen Ojario, a Carmelite nun, came to Louisiana from the province of Iloilo to serve as Coordinator for the Global Network for Justice with Loyola University. She is active in some of the Filipino organizations and, in her precious spare time, helps out at Streetcar Bistro and visits when she can with Tita Ely. Sister Helen explains that Tita Ely's business is a hub for Filipino activities:
The interesting part of what is going on now is [that] her place is where Filipinos working aboard the cruise boats visit when they are docked in New Orleans. They get their food and phone cards, and send boxes to the Philippines for their families. This is really a typical Filipino trait: work so hard, send money to their families back in the Philippines, send also boxes loaded with things from USA, and call their families by using phone cards. Ely's store is a place where they get things and also send these boxes to the Philippines through Ely. I love going to Streetcar Bistro and Ely's Store because I continually learn about our culture, values, and religiosity by listening and observing these dynamics.
Tita Ely's is important to the Filipino community as a place where people can go at any time to visit with others with whom they can speak Tagalog or watch television from the Philippines. The store is small and brightly-lit, and seems to always be either empty or full. Alongside the "all Philippines all the time" wall-mounted television are posters of scenic mountainous and beachy vistas from the home country. Shell necklaces, small wood carvings, and ceramic items are displayed in a glass case beneath the register. The shelves, which need re-stocking every two weeks, display soup stock, canned vegetables not otherwise sold in Louisiana, and favorite Filipino snack foods. In the back of the shop are fish, meats, and frozen foods, some of which were prepared by Mrs. Catolos. If she is not too busy, Tita Ely will cook up some of the dishes she keeps "almost ready" in one of her many refrigerators and freezers. Visitors can sit in the brightly-painted courtyard and listen to music while they enjoy a meal.
Mrs. Catolos, who was a schoolteacher in the Philippines, came to the United States as the bride of a Filipino American serviceman in 1958. She enrolled at the University of New Orleans while working at D.H. Holmes department store and raising three children in the 1960s during a time when her husband, a merchant marine, was often at sea. She says that her strong accent made it difficult to find challenging, remunerative work, and that she would end up working "the business side" away from customers. She proved her worth to D.H. Holmes, but realized that she could go into business for herself and provide items sorely missed by local Filipinos. In 1971, she began importing Philippine handicrafts such as wood-carvings, items of clothing, and puka-shell art and jewelry. Soon, she had a stall at the French Market in the section known as the flea market. Her present store is her third location (the other two were in the French Quarter), and her son now operates the flea market stall on weekends. Tita Ely describes her business:
This is known as a sari-sari store. We call it "everything is there;" it means "mix-mix"-a little bit of everything. I have food from home we can't get in other stores, but now people who want more produce can go to the big Asian market on the West Bank. I cook for the merchant marines when they come here [to the Port of New Orleans]. Mostly they learn about the store from other sailors; they say, "Everybody knows you!" [Laughs.] I know when to cook because I know their schedules. Now it's not just Filipinos who come here-it's also Thai, Indonesian, Indian, Chinese. . . . Some of their favorites are sinigang [fish soup with a tamarind broth], dinuguan [a piquant pork stew], menudo, chop suey or pinakbet [mixed vegetables]. They like pansit, too [fried noodle dish somewhat similar to Pad Thai].
Mrs. Catolos' comments about helping Filipino seamen who move to New Orleans, or who visit her store while visiting the port, echo the comments made by others, such as Rhonda Richoux who spoke fondly of the seamen who visited her childhood home so frequently she thought of them as "uncles." Mrs. Catalos says that the rules have changed due to new national security measures, so that gatherings of seamen at her store are spread out over a longer period of time, but are smaller than they were before September of 2001:
Before 9/11, the sailors would come into the store twenty at a time. Now not so many are allowed to be off the ship at the same time. But they will all come, so I make four kinds of soup with vegetables, pork cooked with vinegar and soy sauce, and fish.
Among the most important things Mrs. Catolos stocks are telephone calling cards. Local people turn up to buy them, and servicemen use them to call their families at home, often from the phone at Tita Ely's. Sometimes the servicemen show Tita Ely wallet-sized photographs of their families, and she shows them her album of photographs saved from her home when it was swamped after Hurricane Katrina.
Among the images are pictures of a family wedding at which the bride and groom do the "dollar dance" to bring good fortune. During the dancing at the wedding reception, the bride's family pin money to the bride's veil, and the groom's family pin money to his suit, a practice that she says came to Philippine-Louisianans from the Rizal province, and possibly others, in the Philippines. This image is especially interesting because this tradition, also maintained by many Louisiana families, highlight cultural and religious similarities that helped Filipinos assimilate.
Religious Observation and Celebrations
Most Filipinos in Louisiana regularly attend Catholic church services and also participate in church-based activities during the week or on special occasions. Regular and special religious observances take place throughout southeast Louisiana. Regular monthly activities include the evening novena and mass in honor of Our Lady of Fatima held at the Saint Maria Goretti Catholic Church (7300 Crowder Boulevard, New Orleans), with a pot-luck community dinner afterward, which takes place on the first Saturday of every month. On the second Saturday of each month, Marcelina and Ernesto Espiritu host a novena in honor of Our Lady of the Miraculous Medal (Saint Catherine Laboure, who received the first vision of the Medal of the Immaculate Conception) at their home in Chalmette. On each third Sunday, an afternoon novena and mass are held in honor of Our Lady of Perpetual Help at the Infant Jesus of Prague Church (700 Maple Avenue in Harvey), with a community potluck dinner afterward. On the fourth Sunday of each month, the Our Lady of Medjugorje Prayer Group holds a novena and meeting, which are usually at various members' homes. In addition to regular church-based and other weekly observations, Louisiana Filipinos celebrate special religions occasions such as Flores de Mayo/Santacruzan and special feast days such as the Feast of San Lorenzo Ruiz.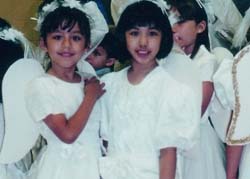 Flores de Mayo/Santacruzan is one of the primary annual celebrations that brings together congregations throughout Louisiana, and draws friends and family from other areas. The observation of Flores de Mayo and Santacruzan combines spiritual and social celebration in a day that both honors the season and commemorates a time-honored religious story. Organized each year by Filipino volunteers, it is usually held in the Catholic Church attended by the person or group organizing the festivities. Sometimes, they choose to go to a church that has a Filipino priest. According to Nannette Franzuela, formerly of Gretna but since Hurricane Katrina living in Jacksonville, Florida, explains, "This facilitates everything, because the priest already understands the culture."
In New Orleans, as well as in the Philippines, Santacruzan is always held in the Month of May, the month of the Blessed Virgin. This is also because in the Philippines, May is the time flowers are in bloom and the weather is cool and dry, before the rainy season begins in June. The secular celebration of Flores de Mayo (Flowers of May) is usually combined with Santacruzan, which commemorates the story, dating to the year 324, of Empress Helen's (mother of Constantine the Great) search for the true cross. Success was celebrated when it was reported that a cross possessing healing properties had been discovered.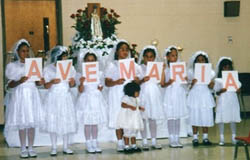 Filipino-Americans in New Orleans often have only one Santacruzan celebration, although others may be held in Slidell or Mandeville. Marina Espina says, "There are not many Filipinos here, like in California, New York, or Chicago, where there are many celebrations of the season. In the New Orleans area, people join forces and celebrate at one church. There are several Filipino priests that they can call on in Houma and Thibodaux, and around New Orleans." Nanette Franzuela adds, "It is a way of honoring the Blessed Virgin Mary, and whatever I can do to honor her, I will. I like doing this because it involves my whole family, just as it shows my children part of the culture their father and I grew up with. Holding the Flores de Mayo and Santacruzan here in America is reaffirming my faith and my roots."
The day begins outside the church with the congregation walking in a procession and singing "Dios te Salve Maria" ("Hail Mary") in Spanish, in between saying the prayers of the Holy Rosary. The procession is led by one of the adult members of the congregation, often using a loud-speaker. Once inside the church, the children and youth offer flowers to the Blessed Virgin Mary. The young people are all dressed in their finest clothes (often white). Lined up in pairs, they place flowers in front of a statue of Mary. The final devotee, the year's appointed "Reyna Elena" (Queen Helena), then places her flowers and a symbolic cross in a place of honor near the statue.
After the church rituals there is always a feast followed by a program of activities. Everything is coordinated by a committee of volunteers who have pledged their efforts just for this affair. Community ties are strengthened as celebrants feast on Filipino-American food and participate in the program of activities. People come from around the state and beyond, especially after Katrina, to renew friendships and to see the children and youth all dressed up and participating in what local Filipinos describe as one of the Philippines' oldest folk practices.
Nanette Franzuela, who has coordinated many Flores de Mayo/Santacruzan celebrations, describes the preparations and the celebration :
Every year's Santacruzan has a committee that takes care of planning the next [celebration]. They usually meet right after the previous one's done, and take one year to coordinate it. They assign the next year's Reyna Elena, as well as the Segunda Elena [the second queen]. The families with teenage girls are asked if they want their teenager to be Reyna Elena, and if they do, then that family usually heads the coordination of assigned tasks, often the provision of flowers for the floral offering. Because the Reyna Elena is like the "belle of the ball," this is a cherished position. The line is usually long to be one. The Segunda Elena is the next in line, and is presented to be the next year's Reyna. The Reyna Elena's family, if they want, can donate more food for the feast, which is often "coordinated pot-luck." The Committee coordinates all activities. They have subcommittees for food, flowers, liturgy, music, as well as the after-church presentations. Two months before the affair, they call a meeting to make sure everyone's ready.
The organizing committee, about one month before the affair, also comes up with the line-up of participants. The little girls and boys are usually given the role and title of "Angels;" the older girls, teenagers, are each given the title that is an accolade of the Virgin Mary, such as "Star of the Sea," "Queen of Angels," and so forth. The teenage boys are then asked to be escorts of the teenage girls in the procession. The committee also assigns and makes a list of "Arch Bearers" for the Reyna Elena and Segunda Elena, as well as "Gift Bearers" for the Holy Mass [who offer the gifts of host, wine, and money collected].
The Reyna Elena's family is also in charge of preparing the flower arches that are used in the procession. These are done one week before the affair if they are using silk flower arrangements, and, if fresh flowers are used, the arches are prepared the morning of the event. Together with the members of the Committee, the Reyna Elena's family also helps prepare and decorate the Function Hall where the post-church activities (a feast and a party) are to be held. The young Reyna Elena is "queen for a day" (it is not a title handed down from one queen to the next) and, though she is encouraged to enjoy the day to the utmost, all remember that her primary function is to enact the story of Queen Helena. Mrs. Franzuela describes the activities that take place after the feast:
The activities during the feast part are usually entertainment numbers, like Filipino folk dances, singing, piano playing, and the like. The longest preparation is among those who are asked to present numbers for the program during the festivities. Dancers have to practice their steps, coordinate music and costumes. Filipino dances require a lot of practice, especially when they have to use props like bamboo and the like. Otherwise, there will be a lot of crushed feet and sore legs! Practices usually start three to four months before the affair at the latest. Now, they have actually formed dance groups that perform for other affairs, who therefore practice regularly, too.
I like every part [of this tradition], because each part has a special meaning that flows into the next that we cannot do without. It feels great to participate in one from beginning to end. I was able to do this in 2003 when my daughter, Nina Angeli, who was then 13 years old, was Reyna Elena. I enjoyed coordinating the many activities I was expected to do, and loved the camaraderie my friends and I shared; I would never have done it all without them! It was an exercise in bayanihan [cooperation]. Members of our family came from all over the U.S. to join us in the celebration, and that was a great feeling. Some people think it is very challenging, and it is, but because of the community behind me, we were all able to have a wonderful celebration! Just as well, my daughter had a great experience not all girls get, the chance to be "queen for a day," all in a religious setting.
The Pasion, an enduring Lenten ritual, is the singing, in Tagalog, of the Kasaysayan ng Pasiong Mahal ni Hesukristong Panginoon Natin (Account of the Sacred Passion of our Lord Jesus Christ).(2) The songbook is over 200 pages long, and the ritual song takes many hours to complete, sometimes it may be almost an entire 24-hour period and sometimes the song is sung to a faster tempo in order to be completed within a specific timeframe. The melody is not strictly set; it may be traditional but also may be altered to include modern tunes, and there is room for improvisation. The sung story begins with the Book of Genesis and includes the story of Noah, the birth of Mary, and the life of Jesus. However, accounts may include Old Testament figures such as Moses and David, and also stories important to Filipino legend such as St. Helen's search for the true cross. The story also includes moral lessons and recommendations for proper living.
A person or family hosts the ceremony, and accompanying community meal, usually as a way of giving thanks for blessings that have come to them during the past year. People who attend the ceremony but do not participate in the singing need not sit silently during the entire recital, but may eat and quietly visit while the singing goes on. Adlai DePano of Metairie, who participates each year as a singer in the pasion, describes the event:
There have been several families that hosted this musical tradition but I am most familiar with the one hosted by the Espiritu Family of Arabi. The Espiritus have been hosting these pabasa [literally "reading"] during the Lenten season. Sung in chant fashion in the vernacular [the Espiritus, originally from Rizal Province on Luzon island, do their pasion in Tagalog], the pabasa takes the better part of a day to undertake. Of course, while the volunteer singers take turns chanting the verses [in 8-8-7-7-8 meter], those on "break" partake of food prepared by the host family. This is a significant literary and musical form which I have dreamt of making available through a website for those who want to continue this tradition here in the U.S. and to preserve it for posterity and future generations of Filipino-Americans. This will entail the gathering and notation of the different chant melodies and the posting of the pasion text, which runs into the hundreds of printed pages.
The Feast of San Lorenzo Ruiz is another event that brings together the Filipino Catholic community in the greater New Orleans area. For the past 20 years, mass has been celebrated on the last Saturday of September to mark the Feast Day of San Lorenzo Ruiz. The mass is held at the St. Maria Goretti Catholic Church in New Orleans East. As with Santacruzan, a family hosts the San Lorenzo Ruiz celebration. In 2008, the Camania family of New Orleans East served as the host family. The host and hostess are called the hermano and hermana (Spanish for "brother" and "sister"). During the mass, participants place before the altar objects reminiscent of the life of San Lorenzo Ruiz (who at this time remains the only canonized Filipino saint in the Roman Catholic Church). After the mass, the congregants retreat to the Fellowship Hall for a shared meal and, frequently, a program for the entertainment of the attendees. Folk dances, folk songs, and community line dancing are often included in these programs.
Adlai DePano sings in the Silayan Choir, which performs for both sacred and secular occasions. The Tagalog word silayan means "to revisit," and the intent of the choir is to keep Filipino culture vital by maintaining contact with traditional songs from home and by sharing them with the larger community. Dr. DePano describes the choir's repertoire and its activities in the community:
Aside from the [San Lorenzo] celebration here in New Orleans, the Houma-Thibodaux Filipino-Americans have been holding similar gatherings. But never have the celebrations "clashed" as theirs is held on the actual Feast Day itself [September 28th] but not when it falls on a weekend. This year, for example, the Houma-Thibodaux gathering is scheduled for Friday, September 26th. This is a happy arrangement because the local Filipino-Americans get to attend two celebrations rather than just one. This year, the Silayan Choir has been invited to provide liturgical music for the Houma-Thibodaux Feast Day mass. The Bishop of Houma-Thibodaux will celebrate the mass, as he has for the last several years. The New Orleans area celebration was once graced with the presence of one of the auxiliary bishops from the Archdiocese [Bishop Nicholas D'Antonio in 1995]. Three years ago, Archbishop Alfred Hughes was scheduled to celebrate the Feast Day mass. But Katrina disrupted the preparations and dispersed much of the Filipino Catholic faithful.
The Silayan Choir is a group of Filipino-American friends, tending now towards senior citizen status, who saw a need for Filipino liturgical music for the many religious gatherings in the community and tried to remedy the situation. We sing with guitar and sometimes keyboard; the more traditionally Filipino pieces are preferably sung with guitar accompaniment. I use a classical guitar with nylon strings and not electric or acoustic. This is a reflection of our Spanish heritage. If we had the means to acquire one, we could use a banduria to reinforce the melody line. [The Filipino banduria is a fourteen-stringed instrument similar to a mandolin.] The group is purely voluntary, largely amateur, and happily Filipino. We favor compositions of contemporary liturgical composers [such as the recently deceased Fr. Eduardo Hontiveros, S.J., who is recognized as the "Father of Filipino Liturgical Music"]. Of course, we have sung secular folk songs for non-liturgical events, as well. For some of these occasions, we have performed to "canned" accompaniment since live instrumentalists are not available.
Secular Celebrations
In Louisiana, the largest non-religious Filipino celebrations is Independence Day, which is an occasion to commemorate the country's history and the journeys taken by those who now make their homes here. Filipinos have traditionally celebrated June 12th as Independence Day, but this date was not recognized by the United States government, in favor of the July 4th date on which independence was granted from the United States, until Republic Act No. 4166 was passed by Philippine President Diosdado Macapagal in 1964. Currently, Filipinos in the Philippines and in the United States observe June 20th as Independence Day, and celebrations typically focus on customs and foods from home. Philippine Independence Day celebrates independence from both Spain and America. For local Filipinos, the most recent celebration was special because it marked the 110th anniversary of the first declaration of Filipino independence.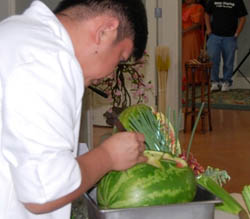 The Philippine Heritage Celebration is held on or near Philippine Independence Day each year. When Independence Day occurs on a weekday, regular work schedules must still be maintained, so it is celebrated either the weekend before or after June 12. In 2008 the festivities, sponsored by the New Orleans Filipino American Lions Club but organized and attended by Filipinos who were both members and non-members, opened with an invocation by Deacon Patrick Dempsey. In his opening prayer, the island-loving priest of Irish descent declared, with enthusiastic sympathy, "We are all Filipino!" This was followed by the United States Pledge of Allegiance, then the United States and Philippine national anthems, and finally a song of importance to all Filipinos, one that is learned by everyone at an early age. Robert Romero, the president of the Filipino-American Lions Club, explains the importance of this song, called "Ako Ay Pilipino" ("I am a Filipino"), and also discusses the importance of gathering together as Filipinos to remember and celebrate freedom, culture, and community:
The essence of "Ako Ay Pilipino"" can be expressed as one would think about a bird. When a bird is caged, you can see the struggles of the bird, and that his every thought is the struggle to fly free. When the bird is free, it is able to live to its full potential. Our freedom is what lets us live to our potential, and Filipinos bring to their new home in America a long history of struggle for freedom, and a strong appreciation of our freedom. We share this appreciation with our American neighbors. We enjoy the freedom to choose our own occupation, to celebrate our holidays.
The word "celebrate" comes from the Latin and means "to attend in large numbers," so, for us, to celebrate means to be together. To celebrate our freedom is to remember the struggles of our forefathers, and also to connect to each other and share the daily struggles of current times. This gathering is also a time to share the culture and customs with each other and the next generation. I saw a quote recently that referred to "the seed that brings forth the harvest of tomorrow." That's what our culture is, and that is we do when we get together to celebrate our freedom and our heritage. But we are not going to live forever. We pass it on to the new generations so they can remember and continue with pride.
The lyrics are presented here in Pilipino (Tagalog) and in translation.
Ako Ay Pilipino / I Am a Filipino
Ako ay Pilipino, ang dugo'y maharlika
Likas sa aking puso, adhikaing kay ganda
Sa Pilipinas na aking bayan
Lantay na perlas ng Silanganan
Wari'y natipon ang kayamanan ng Maykapal
Bigay sa 'king talino, sa mabuti lang laan
Sa aki'y katutubo ang maging mapagmahal
Ako ay Pilipino, ako ay Pilipino
Isang bansa 'sandiwa ang minimithi ko
Sa bayan ko't bandila laan buhay ko't diwa
Ako ay Pilipino, Pilipinong totoo
Ako ay Pilipino, ako ay Pilipino
Taas noo kahit kanino, ang Pilipino ay ako...
I am a Filipino; my blood is noble and free.
Natural to my heart, are noble aspirations.
For the Philippines that is my country,
Pure pearl of the Orient,
Where it is as if all the bounty of the Creator has been brought together.
My God-given talents are meant only to do good.
For me it is inherent to be caring and loving.
I am a Filipino, I am a Filipino;
One nation, one soul is my aspiration.
For my country and flag I give my life and soul.
I am a Filipino, a true Filipino.
I am a Filipino, I am a Filipino.
My head held high to anyone, the Filipino is me.
After everyone at the Independence Day celebration sang songs in Tagalog, the audience was entertained by singer Joahn Mactal, who sang the popular song "Isang Lahi" ("One Race") in Tagalog, and six-year-old Elenita Stewart, who sang a pop Tagalog-language song of love and heartbreak called "Bakit Pa" ("Why?").
With the exception of the annual installation of officers in the New Orleans Filipino American Lions' Club, the rest of the evening was devoted to enjoying the food prepared by Chef Pasia and Choleta Pasia, sous chef Christopher Cagandahan, and the rest of his catering group, and to enjoying performances of traditional dances known to all present.
Dances From The Philippines
It is said that each district comprising the Philippine islands has its own distinctive cultural customs and its own folk dance, which is performed at festivals and local dance exhibitions where dances of the various regions can be enjoyed. This is a lot of dances-the Philippines are composed of 7,107 small islands! In this sense, the Asian Heritage Festival, produced by the Asian Pacific American Society and the largest annual public event at which Filipino dances can be seen in comparison to those of other Asian countries, serves a similar function. Rather than being performed in a program with other local dances in the Philippines, only a few dances are chosen to represent the Philippines, while the rest of the dances are from other countries across Asia.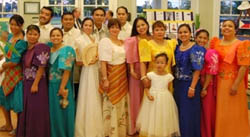 The Philippine Heritage & Independence Day celebration is very different in feel, since it specifically celebrates Philippine history and culture. The event is commonly described by participants as "a bonding experience" for Filipinos in Louisiana. Family members come from other places for the event and, after Katrina, community members may return from their new homes to celebrate with their former neighbors. The most obvious difference, of course, is that the crowd is almost entirely Filipino-notable exceptions are non-Filipino spouses. One of the most interesting and exciting ways in which the event differs from other events at which Filipino culture is included is the reception given by the audience to the dance performances, described by children and adult attendees as the high point of the evening.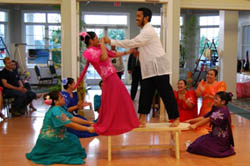 It is impossible not to get caught up in the great enthusiasm of the crowd during the dance performances at the annual Philippine Heritage/Independence Day commemorations, at parties after saints' day or feast day observations, or at other Filipino festivities. Dance is an important component of these, and of most, Filipino celebrations. The audience can seem to be one large, boisterous family when everyone is clapping in time to the music, urging success to their favorite suitor in la simpatica, cheering as fire and water are expertly maneuvered through pandanggo Sa ilaw or binasuan, or laughing along with the dancers when they manage a dangerous move in the bangko or tinikling.
Lydia Alvarez, who sometimes coordinates dance performances for Filipino events, describes the "joy and enthusiasm" experienced by residents who grew up in the Philippines "whenever the traditional dances are done."
It evokes warm memories of the laughter and the happiness one feels when there's a local fiesta or gathering in a certain locality in the Philippines. . . . There are so many dances in the Philippines, each depicting a period in Philippine history (the native Philippine dances from the rural areas, dances from the Spanish era, dances with Muslim influences, etc.). Some of these are performed in the Louisiana area, depending upon the choreographer who can teach a group of people a certain dance.
Dance was more a part of everyday Filipino life 50 years ago than it is today. In the 1970s, the nationwide movement toward cultural pride reinforced local Filipinos' determination to keep their heritage alive for younger members who were exposed to more outside influences than previous generations. According to Mrs. Alvarez, these efforts are being renewed in the 21st century:
We have started these cultural presentations way back in the early 1970s, and through time interest for these somehow waned. I thought it would be worthwhile to restart it again. Like the leaders from before, I am very much aware of the need to keep Philippine customs and traditions in the hearts of our youth so that they will remain in tune with their ancestry.
Older community members hope that the current popularity of dance-including "fusion" dance that blends traditional music and motions with modern rhythms, costumes, and movements-will encourage the closer involvement of young people with Filipino dance. Mrs. Alvarez sums up the thoughts commonly expressed by adults and older Filipinos:
Dance can express so many things - feelings, pride, and love for country. It can express who you are, what you feel and what you stand for. Our own folk dances and the performers are my inspiration. I'm so proud of them. . . . Everything with the dance is my favorite - the dance itself, the melody and rhythm of the music, the gracefulness of the steps and movements. I could say that our folk dances provide wholesome entertainment for the family, for both men and women, young and not-so-young, and they are powerful in upholding our culture, customs, and traditions.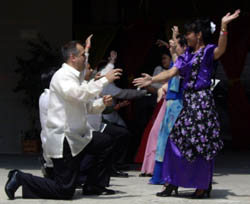 Louisiana's Filipino residents enjoy dancing. Social gatherings often include free-form dancing to popular music as well as performances of traditional dances. Many traditional dances from the Philippines are currently maintained in Louisiana; three of the most popular are pandanggo sa ilaw (the dance of lights), la simpatica (a courtship dance), and tinikling (the Philippine national dance). Lydia Alvarez describes some of the most popular dances:
Tinikling is one of the most popular dances because of the intricacies of the dance; also, the pandanggo sa ilaw where the performers dance holding glasses with lighted candles and sympatica with its playful mimicry of a lady trying to see who of her many suitors will win her heart. The bangko dance provides excitement, especially when there's danger that one of the dancers might make a wrong move and fall from the bangko. It is not unusual for the audience to cheer or to clap as an expression of the joy they feel whenever there's a gathering that brings them back to a life they have left behind.
Pandanggo Sa Ilaw—The Dance of Lights
The popular pandanggo sa ilaw, from Lubang Island, Mindoro, in the Visayas region, is routinely described as "a dance of grace and balance." Its name, which translates as "fandango with light," derives from the Spanish fandango and, like it, the music is lively in three-quarter time. Spanish influence can be seen in the traditional costume as well. The dancers are challenged to execute smooth and beautiful moves while dancing with lighted tinggoy (oil lamps) or, when special care must be taken, votive-type candles, balanced on their heads and on each hand.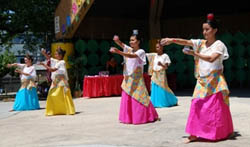 Balance is extremely important-not only do the dancers each balance three objects, but having both hands occupied means that, if the lamp on the head seems to be slipping, there will be no free hand to right it. In some performances, practiced dancers will balance the lamps on the backs of the hands rather than the palms, requiring an even higher level of expertise. Dancers demonstrate their skill in managing the lamps, especially as they carry out fast whirling turns, move low to the ground, and even roll on the dance floor without dropping their lamps or setting anything aflame. Seasoned dancers enjoy sharing humorous tales of near-disaster from the times when they were learning this dramatic and challenging dance.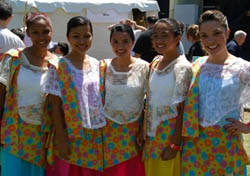 One couple who enjoy traditional dance, Jessie Urcia and his wife Hermie, were born and raised in the Philippines. Jessie was born in Mandaluyong, Rizal; Hermie was born in Sampaloc, Manila. Jessie moved to New Orleans in 1977 to join his brother, and Hermie first visited the city in 2000 while she was working on a ship with Commodore Cruise Lines. She settled in the city in 2001 not long after meeting Jessie. Through him, she was welcomed into the larger Filipino community. Jessie describes the theme and hazards of the pandanggo:
What is interesting in the pandanggo is the story that is being portrayed in the dance. This to me is a courtship dance, which is made more interesting with the candles in the glasses as I help my partner balance them on her head and one on each hand.
In one of the homes that we went to practice, the dance ended up with lots of candles splattered on the floor as well as the walls. I think the homeowners still have the telltale signs left on their walls to remind them not to have the dancers practice with lit candles again in their home!
Sara Bovard and a group of friends learned to do the dances as an enjoyable after-school activity, and now the group performs for Filipino and mixed-audience events. She says, "We have two family friends that learned the dance from their hometown in the Philippines, Amy Belcher and Luna Chardy. They were both very patient in teaching us the movement. A few of the girls learned the dance in three practices of about four hour sessions." Josie Bovard, Sara's mother, laughs, "I have a tree full of oranges in my back yard. The girls learned by balancing the soft, older oranges on their heads. For a while, we had those oranges breaking all over the place! But they learned quickly." Sara explains the challenge of balancing in the dance:
Most of the females that learned this dance joined the group in high school. The pandanggo sa ilaw is a dance that requires balance of the candles and grace in the movements. . . . The most difficult thing about learning the dance is getting over the fear of balancing the candle on your head! There is no trick involved in balancing the candle. Once you learn the movement you attempt the balance and then the dance becomes your grace.
Sara notes a difference between performing for an all-Filipino audience versus a mixed audience, "The shock factor is more surreal from a mixed audience versus an all-Filipino audience, because they have never seen anything like this." Like many people who keep traditional dance a vital part of Louisiana's Filipino community life, Sara explains that dance enhances her feelings of connection to her heritage and of pride in Philippine culture. Her comments also capture the great sense of fun with which dancers approach a performance:
My favorite thing about the traditional dance is that I feel like I am a part of something so great-that people can see what beauty and grace comes from the Philippines. And that our heritage really comes out when you see such an elegant performance. The funniest thing that has happened normally happens a number of times-a few of us have dropped the candles. Whether performing for public or practicing, the gasp that comes from every direction is hilarious! All we can do is keep going!
La Simpatica—A Courtship Dance
The Spanish regime of the 16th century marked a time when Filipino instrumentation and dances incorporated Western and, particularly, Spanish rhythms and motifs. Ironically, this Spanish-tinged dance incorporates a nod to anti-Spanish sentiments.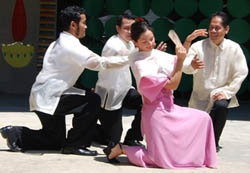 A series of Spanish-influenced courtship dances are named in honor of the literary character "Maria Clara," who embodies the virtue and nobility of the native Filipina woman. Maria Clara was the primary female character in Jose Rizal's 1887 Spanish-language novel, Noli Me Tangere (Touch Me Not), about Filipinos' struggle to throw off Spanish political oppression, which had an enormous effect on the political history of the Philippines. The rhythms and the woman's clothing show strong Spanish and Western influence, but the dances also utilize bamboo castanets and the abanico (Asian fan), and the men wear the traditional barong tagalog, an embroidered long-sleeve shirt made of pineapple fiber that is popular in the Philippines. Today, Louisiana Filipino men usually wear the barong tagalog, but may also wear tropical-weight short-sleeved embroidered shirts for this and other dances.
In the popular courtship dance called la simpatica, a very particular young lady considers four suitors, each in his turn, one of whom will become her sweetheart. As each man makes his case as to why he would be the best choice, she flirts, deliberates, dances briefly with each one, and ultimately selects a mate. The dancers are free to be as serious, playful, or dramatic as they wish, and each performance is different. When she identifies her choice, the new couple runs offstage hand-in-hand, to tremendous cheers from the audience members whose candidate was chosen, and laughter from the rest.
Elsie Tuazon organizes the group and often choreographs the dances, an important role. She characterizes the dance as "the charming girl dance," and discusses how it is learned and practiced in Louisiana:
It is quite easy to learn this dance. Because we know the dance well, we take three days to practice for a performance, but it takes dedication. We practiced after work from eight o'clock until midnight. This dance is performed all over the Philippines by peasant groups, especially in Manila. Here in Louisiana we dance during special festivals and on Independence Day, and for the induction ceremonies of officers in the Filipino associations.
Jessie Urcia adds that all of the traditional dances provide more opportunities for fellowship and visiting among Filipinos, and that, because everyone who grew up in the Philippines knows many of the dances, locals are able to reach out to new arrivals by including them in dance practices and performances:
La simpatico is another dance that I really enjoy, especially made more fun the last two times I danced it with guys who are all Filipinos who have just arrived in the States. These Filipinos have working visas and are helping the city recover by providing services as teachers or in the hospitality business.
Male and female dancers explain that the best performances are those that seamlessly combine Spanish with Filipino dance movements and steps, and that graceful hand gestures are very important because they convey a great deal of the interaction between the woman and her suitors. Catherine Moreau danced la simpatico at the Asian Heritage Festival and at the Philippine Independence Day celebration. She learned it from Elsie Tuazon, who has taught many younger dancers and is valued in the community as someone who keeps traditions alive. Catherine acknowledges that national pride is a primary reason that dance remains important to Filipinos and that she feels the importance of the dance to the audience when she performs for a Filipino group, but she also expresses feelings of joy in movement and in community with other Filipinos and with other dancers:
Mrs. Elsie Tuazon is all of the dance group's instructor and was a dancer herself on the Philippine Independence Day; she danced the pandanggo sa ilaw. I've danced for the Filipino community before when I was a teenager, but it was a modern pop-culture dance. la simpatica was the first folk dance I learned in 2005, from Mrs. Tuazon, for the APAS [the Asian Heritage Festival coordinated by the Asian Pacific American Society].
It's always a great feeling of accomplishment after I have performed a dance. The stress of learning the dance and wanting everything [to] be executed perfectly all falls away once you are finished and everyone tells you how much they have enjoyed watching you perform. As a half-Filipino and Caucasian American, [this] always leaves me feeling closer to my Filipino heritage. You obviously feel that you know yourself a greater amount when you do learn more of where you come from. This has to be my favorite thing about traditional dancing. Everything and anything that I do take away from it, I would like to teach my future children.
Ms. Moreau's description of dancing echoes what other dancers have said about the sense of fun with which traditional dance is approached, even when the dances are complicated or require great skill. With a smile, she reveals that, on at least one occasion, her choice of suitor was influenced by more than impressive masculine dancing, though the audience had no idea that the "fix was in."
When picking my suitor in the dance, I always just have fun with it. I like to pick the person who makes me laugh the most. My last dance partner that I chose promised me candy if I choose him! All of my memories of dancing are equally fond and I look forward to making more. My next dance will be the pandanggo sa ilaw, the dance of lights. I am excited to be learning another dance, especially this one that I have always enjoyed watching others perform.
Tinikling: The Philippine National Dance
Tinikling is one of the oldest dances of the Philippines. Though it is known to have originated in the islands of Leyte in the Visayan Islands, it is enormously popular and has become the national dance. Several dancers mentioned that this dance has no Spanish influences, and is an indigenous Filipino dance. It is named for the tikling bird, a long-legged heron-like bird that eats rice growing in the watery fields. Though the bird is regarded with fondness, it causes its share of headaches for rice growers. The dance imitates the agility and speed of the bird as it gracefully makes its way among tall grasses, tree limbs and roots, and bamboo traps set by rice farmers.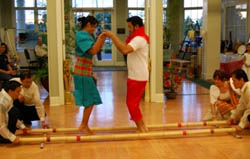 Filipino people commonly hear two different stories about the origin of the dance. The first, and most common, is that the dance celebrates the natural environment and customs of the islands. The other is much darker—put very simply, it is that the dance evolved as a strategy for evading punishment by colonial taskmasters. According to this story, the slowest rice-pickers were forced to jump between thorny sticks held by Spanish overseers. One of the dancers pointed out that, though this is an unlikely punishment, it illustrates the people's feelings about this bitter period of colonial rule. There is no general agreement on the true origin of the dance; some combine the two stories to say that the motions of pickers jumping between the thorns resembled the bird's movements, or that the dance represents the bird dodging pursuing farmers. Some performances even incorporate a farmer character that pursues the other dancers in and out of the bamboo poles.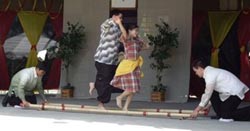 Today, in Louisiana, the national dance is a joyful ritual. Young dancers are very proud the first time they are able to dance between the moving sticks without falling, being knocked on the ankle, or "caught" when the poles come together. Experienced dancers point out that one must remember to work with hollow bamboo, rather than with solid rattan, which can be much harder on the ankles!
Absalon "Aloie" Inocian, Jr., came to New Orleans very recently from Kilid Simbahan sa Guadalupe, Cebu City (Philippines), and says that it gives him a strong feeling of pride to see the customs of home being maintained by the Filipino community in Louisiana.
It's a totally different feeling right now when you are away from your homeland; the pride becomes bolder like you have to do everything to [remember the home customs]. But right now, as I accepted the challenge to join as one of the Philippine folk dancers, my heart as a Filipino guides and dictates me whether I'll step on the left foot first or to turn on my right next. Doing it by heart and passion highly contribute in playing it well. I was proud of dancing that Philippine folk dance [at the 2008 Philippine Independence Day celebration], and still I am! And still will be!
Aloie reflects on the particular challenges and dangers of the tinikling:
At first, I can feel the nerve but as I go along I said to myself, "I'm in this dance floor, bearing the Philippine flag." Boost my pride, to perform more than 100%, to entertain people, to bring pride, and to wholeheartedly represent my country. And yes, I can say we made it! The proud feeling that I gained is very addictive. It's like a snow cone on a very hot summer day; you will always want to do it. . . . Since I came here, I always wanted to show to my countrymen and to let them feel my alab ng puso [blazing love] that I am proud being a Filipino. My country is my inspiration.
The technique is as follows: two sections of sturdy but pliable bamboo, about 8 to10 feet in length, are placed parallel to each other on the ground. At each end, a person who has good arm strength and understands the dance sits cross-legged on the ground holding the ends of the two poles. The poles are then struck together in time to the music. Two dancers stand to one side of the poles. After a brief musical interlude, during which the dancers become familiar with the beat of the music, the female dancer gracefully gathers, in one hand, enough of her balintawak or patadiong skirt to allow her feet room to maneuver, and the man, dressed in the traditional barong tagalong, places his hand on his waist. They hold these hand positions during the dance. The dancers may perform a waltz step, as a sort of salute to their partner, then resume their starting places alongside the poles.
The poles are brought very slightly off the ground and struck together at each first beat of the second, third, and fourth measures. The sound of the poles clacking together has the effect of building excitement among the audience as they anticipate the dance with a combination of eagerness to see the beauty of the dance and dread that harm (or embarrassment) may befall one of the dancers. From their starting positions, the dancers quickly and lightly jump between the poles, and then dance in and out of the moving, loudly clacking poles. The skill of each dancer is determined by how nimbly and gracefully he or she can move while retaining the proper form and upper-body posture. Of course, the primary concern of new dancers is not falling down or becoming entangled in the poles! Often, the music builds in intensity and speed, as do the dances, carrying the audience along in speculations as to whether or not they might be able to perform such a graceful, and fun, dance.
Conclusion
Because most of the observations and celebrations in the community, both sacred and secular, include dance at some point in the day, dance assumes a prominent role in the culture and most people remain familiar with at least some of the traditional dances. Marina Espina sees tinikling as symbolic of the life of the modern Filipino immigrant:
From the earliest history of Filipino immigration, we have been able to preserve our identity through food and through language. When Filipinos began to live in neighborhoods with other people, and because of their jobs, they wanted to rise on the ladder of success. As far as the social heritage, they had to preserve it as Filipinos. They had to be successful in the general population and also to remain part of the smaller community— it is a balancing act between the public and private life. The thing that would symbolize the Filipinos might be the tinikling— the dance between the bamboo sticks, learning to move in and out of the two worlds with good grace, courage, and humor.
Hermie Urcia describes dancing as an activity that can be shared among the generations, and between established Filipinos and recent arrivals:
There are not a lot of Filipinos in Louisiana, in comparison to other big cities, but this makes Louisiana a more attractive place for new immigrants or non-immigrants alike. There is the genuine warmth and a welcoming feeling that you will notice when you meet Filipinos here in Louisiana.
All Filipinos in Louisiana speak English and are familiar with American popular culture, but there are several factors that help Filipinos to remain connected to the islands and to their culture. Many Filipinos remain in close contact with friends and family members who live in the Philippines, and visit regularly. Children, even those who do not become fluent in Tagalog, at least learn some traditional songs and expressions, and pick up some of the language if their families visit the islands. The current popularity of traditional-pop fusion and traditional dance has young people interested in learning from their elders. The large number of Filipino organizations in Louisiana, which support Filipino enterprises in the United States and the Philippines, gives residents a variety of ways in which to be involved with other Filipinos and with causes of importance to the larger community. Like all of the Filipinos interviewed for this essay, Hermie Urcia expressed thankfulness to all of those individuals (more than could be named in this essay) who spend their available time organizing Filipino events and sharing the culture:
I am so glad that there are a lot of Filipinos who still want to keep the Philippine culture alive here in Louisiana, like Lily Alvarez, Cecille Malendez, Zenaida Dhir, Zenaida Bayuga, Robert Romero, Gerry Yumul, Remy Baker, just to name a few, the list can go on and on.
In interviews, Filipinos stress that theirs is not a closed community, and that Filipinos in Louisiana welcome and value their friendships with non-Filipinos. Gatherings such as Independence Day celebrations, the annual Filipiana gala, and even Filipino religious observations all welcome respectful non-Filipino guests. Sometimes the interest of an outsider, such as an interviewer or festivalgoer, can offer a welcome opportunity to proudly explain Filipino culture and history. The most valued traditional gatherings, though, are those that include active Filipino community members and new arrivals from the Philippines. These occasions allow Louisiana Filipinos to welcome new arrivals, grow their community, and keep in closer touch with their homeland. Hermie Urcia reflects on his community in Louisiana:
There are several instances that the Philippine culture are showcased every year, [such as the] Filipino Heritage Festival, Independence Day, Ms Philippines [charity fundraiser "Filipiana," sponsored each year by Philippine American United Council of Louisiana]. Filipinos are well known for its hospitality and this extends to everybody, but most especially to our kababayans [term of endearment meaning "people coming from the same bayan (country)] when we live outside the Philippines. This is something that I feel is very strong here in Louisiana.
Filipinos in Louisiana have managed, to a high degree, to assimilate into American life while retaining important aspects of Philippine tradition and also maintaining a strong sense of unity. This positive cultural identity and dynamic community life allow Louisiana's Filipino community to remain vital as it absorbs the new while retaining the traditional, and as it extends to new generations and new arrivals from the homeland.
Bibliography
Bautista, Veltisezar. The Filipino Americans (1763-Present): Their History, Culture, and Traditions, 2nd Edition. Warren, MI: Bookhaus Publishers. 2002.
Cordova, Fred. Filipinos: Forgotten Asian Americans. Dubuque, Iowa: Kendall/Hunt Publishing Co. 1983.
Dolan, Ronald E. Philippines: A Country Study. Federal Research Division, Library of Congress. 1991.
Hearn, Lafcadio. "Saint Malo, A Lacustrine Village in Louisiana." Harper's Weekly. March 31, 1883.
Pido, Antonio. "Macro/Micro Dimensions of Pilipino Immigration to the United States," in Maria P.P. Root, ed. Filipino Americans: Transformation and Identity. Thousand Oaks (CA): Sage Publication, 1999, pp. 21-38
Schonberg, Lynn W. "Barataria-Terrebonne: A Glorious Past, A Fragile Future." Louisiana Environmentalist. September-October 1995: 24-33.
Interviews
Alvarez, Lydia. Interview. May 7, 2008.
____. Personal communication. November 11, March 27, 31, June 6, 16, July 8, 15, 16, 17, 21,
____. August 15, 25, September 29, October 30, 2008.
Astilla, Carmelo. Personal communication. May 25, June 13, 2008.
Bayuga, Zenaida. Interview. May 26, 2008.
____. Personal communication. June 9, 14, July 7, 9, August 16, 2008.
Bovard, Sara and Josie. Interview. April 19, 2008.
____. Personal communication. July 17, 2008.
Catalos, Ely. Interview. July 23, 2008.
DePano, Adlai. Interview. June 3, 13, August 6, 14, 2008.
____. Personal communication.
DePano, Liz. Personal communication. June 15, 17, July 7, 8, August 8, 2008.
Enriquez, Nestor. Personal communication. May 9, June 5, 2008.
Espina, Marina. Interview. June 10, 2008.
____. Personal communication. July 18, 2008.
Franzuela, Nanette. Interview. June 11, 13, 15, July 10, 2008.
____. Personal communication.
Garcia, Francisco. Interview. July 26, 2008.
____. Personal communication August 14, 16, 2008.
Garcia, Kurt. Personal communication. June 9, July 22, August 4, 2008.
Harwell, Lance. Personal communication. May 14, 23, 25, June 3, 6, 9, 11, 2008.
Inocian, Absalon. Personal communication. May 27, July 16, 17 2008.
Moreau, Catherine. Interview. April 21, 2008.
____. Personal communication. July 22, August 15, 2008.
Ojario, Sr. Helen. Personal communication. June 11, July 20, August 14, September 10, 2008.
Pasia, Crispin. Personal communication. June 3, 7, 2008.
Pimentel, Zeno. Personal communication. June 11, 2008.
Richoux, Rhonda Lee. Personal communication. May 5, June 6, 2008.
Ramos, Ramona. Personal communication. June 16, July 5, July 7, 2008.
Romero, Robert. Personal communication. June 7, July 28, 2008.
Tuazon, Elsie. Interview. April 25, 2008.
____. Personal communication. May 13, 16, 19, 2008.
Urcia, Jesse and Hermie. Interview. July 24, 2008.
____. Personal communication. August 14, 15, 2008.
Resources
Alcantara, Ruben. Sakada: Filipino Adaptation in Hawaii. Washington, D.C.: University Press, 1981.
Alejandro, Reynaldo G. The Food of the Philippines: Authentic Recipes from the Pearl of the Orient. Warren, MI: Bookhaus Publishers. 1999.
Alejandro, Reynaldo G. The Philippine Cookbook. Warren, MI: Bookhaus Publishers. 1985.
Barrameda, Bong. Pinoy Trivia volumes 1 and 2. Anvil Publishing, 1993.
Bautista, Veltisezar. The Filipino Americans (1763-Present): Their History, Culture, and Traditions, 2nd Edition. Warren, MI: Bookhaus Publishers. 2002.
Bonus, Rick. Locating Filipino Americans: Ethinicity & the Cultural Politics of Space. Philidelphia: Temple University Press, 2000.
Canillo, A., E. Casuga, J. Cordova, C. Cortez, and B. Menor, Jr. Pinoy Know Yourself: An Introduction to the Filipino American Experience. Santa Cruz: Third World Teaching Resource Center, 1975.
Cariaga, Roman R. The Filipinos in Hawaii: A Survey of their Economic and Social Conditions. University of Hawaii, 1936.
Castillo-Tsuchida, Adelaida. Filipino Migrants in San Diego: 1900-1946. University of San Diego. 1979.
Choy, Catherine Ceniza. Empire of Care: Nursing and Migration in Filipino American History. Durham: Duke University Press, 2003.
Crisostomo, Isabelo T. Filipino Achievers in the USA & Canada: Profiles in Excellence. Warren, MI: Bookhaus Publishers. 1996.
Cordova, Fred, ed. Filipinos: Forgotten Asian Americans. A Pictorial Essay 1763-ca.1963. Dubuque: Kendall Hunt, 1983.
Crouchett, Lorraine Jacobs. Filipinos in California: From the Days of the Galleons to the Present. El Cerrito: Downey Place Publishing House, Inc., 1982.
de la Cruz, E., P. Baluyut, and R. Reyes. Confrontations, Crossings and Convergence: Photographs of the Philippines and the United States,1898-1998. Los Angeles: UCLA Asian American Studies Center, 1998.
Enriquez-Kenny, Isabel. 1992. Dancing the Shrimp. Magic Lantern Films.
Espina, Marina E. Filipinos in Louisiana. New Orleans: A. F. Laborde & Sons, 1988.
Espiritu, August. Five Faces of Exile: The Nation and Filipino American Intellectuals. Palo Alto: Stanford University Press, 2005.
Espiritu, Yen Le. Filipino American Lives. Philadelphia: Temple University Press, 1995.
Evangelista, Susan. Carlos Bulosan and his Poetry: A Biography and Anthology. Seattle: University of Washington Press, 1985.
Filipinas Magazine. Filipinas Publishing Inc. GBM Building, 1580 Bryant St., Daly City, CA 94015.
"In Our Auntie's Words: The Filipino Spirit of Hampton Roads." Filipino American National Historical Society-Hampton Roads Chapter. San Francisco: T'boli Publishing and Distributor, 2004.
Francia, Luis, ed. Brown River, White Ocean: An Anthology of Twentieth-century Philippine Literature in English. New Brunswick: Rutgers University Press, 1993.
Friday, Chris. Organizing Asian American Labor: The Pacific Coast Canned-Salmon Industry, 1870-1942. Philadelphia: Temple University Press,1994.
Fujita-Rony, Dorothy B. American Workers, Colonial Power: Philippine Seattle and the Transpacific West, 1919-1941. Los Angeles: University of California Press, 2003.
Gelle, Gerry G. Filipino Cuisine: Recipes from the Islands. Warren, MI: Bookhaus Publishers. 1997.
Hearn, Lafcadio. "Saint Malo, A Lacustrine Village in Louisiana." Harper's Weekly. March 31, 1883.
Ignacio, A., E. de la Cruz, J. Emmanuel, and H. Toribio. The Forbidden Book: The Philippine-American War in Political Cartoons. San Francisco: T'boli Publishing and Distributor, 2004.
Karnow, Stanley. In Our Image: America's Empire in the Philippines. New York: Ballantine Books, 1989.
Kerkvliet, Melinda Tria. "Interpreting Pablo Manlapit." Filipino American History: Identity and Community in Hawaii 37: 1-25.
Lawsin, Emily. "Beyond 'Hanggang Pier Only': Filipina American War Brides of Seattle, 1945-1965." M.A. thesis, University of California Los Angeles, 2000.
Lott, Juanita Tamayo. The Common Destiny of Multigenerational Americans: Four Generations of Filipino Americans. Walnut Creek: Alta MiraPress, 2005.
Lyon, Eugene. "Track of the Manila Galleons." National Geographic. Vol. 178, No.3, Sept. 1990, pgs. 4-37.
Mabalon, Dawn. Filipina Pioneers: The Pinay in Stockton, California, 1929-1946. UCLA, 1997.
Malave, A. and M. Manalansan, eds. Queer Globalizations: Citizenship and the Afterlife of Colonialism. New York: New York University Press, 2002.
Manalansan, Martin. Global Divas: Filipino Gay Men in the Diaspora. London: Duke University Press, 2003.
Melendy, Brett H. "California's Discrimination against Filipinos, 1927-1935." In Racism in California: A Reader in the History of Oppression, edited by Roger Daniels and Spencer Olin, Jr., 141-151. New York: The Macmillan Company, 1972.
Morales, Royal F. Makibaka: The Pilipino American Struggle. Los Angeles: Mountain View Publishers, 1974.
Natividad, Irene, ed. The Asian American Almanac: A Reference Work on Asians in the United States. Washington, D.C.: Gale Reserch Inc, 1995.
Navarro, Jovina, ed. Diwang Filipino: Filipino Consciousness. Davis: University of California, Davis, Asian American Studies, 1974.
Oades, Riz A. Beyond the Mask: Untold Stories of US Navy Filipinos. National City: KCS Publishing, 2004.
Okamura, Jonathan. Imagining the Filipino American Diaspora: Transnational Relations, Identities, and Communities. New York: Garland Publications, 1998.
Parrenas, Rachel Salazar. "'White Trash' Meets the 'Little Brown Monkey': The Taxi Dance Hall As A Site of Interracial & Gender Alliances Between White Working Class Women & Filipino Immigrant Men in the 1920s & 30s." Amerasia Journal 24, no. 2 (1998): 115-34.
Pastor, Cristina DC. Scratch the News: Filipino Americans in Our Midst. Portland, Oregon: Inkwater Press, 2005.
Pido, Antonio J. The Filipinos in America: Macro/Micro Dimensions of Immigration and Integration. New York: Center for Migration Studies, 1986.
Posadas, Barbara M. The Filipino Americans. Westport: Greenwood Press, 1999.
Quinsaat, Jesse, ed. Letters in Exile: An Introductory Reader to the History of Filipinos in America. Los Angeles: UCLA Asian American Studies Center, 1976.
Raymundo, Rizaline. Tomorrow's Memories: A Diary (1924-1928) of Angeles Monrayo. Honolulu: University of Hawaii Press, 2003.
Reyes, Norman. Child of Two Worlds: An Autobiography of a Filipino-American, or Vice Versa. Colorado Springs: Three Continents Press, 1995.
Robles, A. and P. Tabios, eds. Liwanag: Literary and Graphic Expressions by Filipinos in America. San Francisco: Liwanag Publications Inc., 1975.
Root, Maria P.P., ed. Filipino Americans: Transformation and Identity. Thousand Oaks: Sage Publications, 1997.
San Buenaventura, Steffi. "Filipino Immigration to the United States," The Asian American Encyclopedia. New York: Marshall Cavendish, 1995: 439-453.
San Juan, Epifiano. After Postcolonialism: Remapping Philippines - U. S. Confrontations. Lanham: Rowman & Littlefield Publishers, Inc., 2000.
Santos, Hector, ed. "Philippine Centennial Series." US, June 3, 1997.
Scharlin, C. and L. Villanueva. Philip Vera Cruz: A Personal History of Filipino Immigrants and the Farmworkers Movement. Seattle: University of Washington Press, 2000.
Schonberg, Lynn W. "Barataria-Terrebonne: A Glorious Past, A Fragile Future." Louisiana Environmentalist. September-October 1995: 24-33.
Shaw, A. V. and L. Francia, eds. Vestiges of War: The Philippine-American War and the Aftermath of an Imperial Dream, 1899-1999. New York: New York University Press, 2002.
Storey, M. and M.Lichauco. The Conquest of the Philippines by the United States, 1898-1923. New York: GP Putnam's Sons, the Knickerbocker Press, 1926.
Strobel, Leny Mendoza. Coming Full Circle: The Process of Decolonization among Post-1965 Filipino Americans. Quezon City: Giraffe Book, 2001.
Syquia, Serafin, ed. Flips: A Filipino American Anthology. San Francisco: Philippine American Collegiate Endeavor and the Associated Students of San Francisco State University, 1971.
Tajima-Peña, Renee. "My America, or Honk If You Love Buddha." PBS film about Asian Americans, featuring the Burtanog sisters of St. Bernard Parish, Louisiana. (1997). 87 minutes, 16 mm color.
Takaki, Ronald. Strangers from a Different Shore: A History of Asian Americans. Boston: Little, Brown and Company, 1989.
Villanueva, M. and Cerenio, V., eds. Going Home to a Landscape: Writings by Filipinas and Filipina Americans. Corvallis: Calyx Books, 2003.
Notes
1. The correspondence of names with provinces was not as consistent as it may have been intended to be. More information about Filipino names can be found in the introduction to the Catálogo alfabético de apellidos ("Alphabetical Catalog of Surnames"), published in the Philippines in the mid-19th century in response to a Spanish colonial decree instituting a systematic distribution of Spanish surnames among Filipinos.
2. "Pasion" is also sometimes spelled "Pasyon."