VIRTUAL BOOKS


More Than Just a Trade: Master Craftsmen of the Building Arts

Table of Contents
(click to expand or collapse)

Ironworking and Blacksmithing
On Iron Working and Blacksmithing: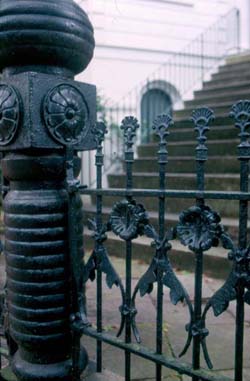 We still use a cold forge. A forge is a cast iron stove, so to speak, with an open top that you load with charcoal and you light, and it's got a forced-air blower that puts pressure behind the flame. This produces enough heat where you can stick a bar of iron in there, say, a half-inch square by half-inch square up to a one-inch square by one-inch square, which is extremely heavy, and in a matter of minutes it will be glowing red hot. You take it out and you have the anvil, which is a hammer and, for instance, those screws—we hammer them out to where the iron, as it is going around the circle, actually tapers and becomes smaller, and that is your true wrought iron work, where the iron is worked to where it changes dimension, as opposed to that which stays the same dimension. It changes dimension as it takes on different forms. That is probably the aspect of the work that takes the most skill.
--Donald Tudury, Iron Worker
I've got serious into doing blacksmith work in the early [19]80s from working with my parents in the awning company. Customers ask me about hardware, especially old hardware—one hundred, two hundred year old pieces in the Quarter. By being familiar with the ironwork . . . at first I asked guys, to see if they were interested in it. Once somebody told me how much they were willing to pay for a strap hinge, it got my interest up to start getting into it myself. So I started building up a clientele, just by working on the properties where the awning shop is right now. I started working after hours and making strap hinges and books and latches.
--Darryl Reeves, Blacksmith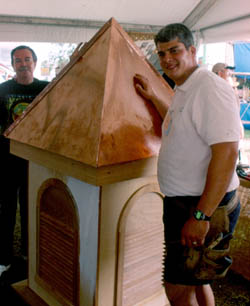 Wrought-iron work is so diversified and there are so many things that you can do with it. I can make a scroll according to a blueprint and my son can make a scroll and Glen [ornamental fabricator Glen Thurman] can make a scroll and they are all going to look like the blueprint, but there are going to be minute differences in them—the heaviness of the hammer blow and the hand of the artist doing it. . . . [To determine quality work] you look for the curvature of the scroll. It shouldn't have any flat spots in it. It should be nice and perfectly round if it's supposed to be round, or elliptical if it's supposed to be an ellipse. You look for the smoothness of two joints—where they intersect, where it's perfectly aligned and everything is smoothed down to where it looks like it's one piece of metal. The craftsmanship. It gets down to that.
--Donald Tudury, Iron Worker
My shop is the only commercial artistic blacksmith shop that I know of in the area. They also have blacksmiths that make hardware for ships, and we do have those in the area. The type of blacksmith that I am, I do restoration work and artistic work. And that's the big difference. I make more furniture, more of the stuff that the other guys wouldn't have interest in.
--Darryl Reeves, Blacksmith
Most of our work in the last five years has been from architectural prints. We have done designing in the past. Frankly, I'm not a very good artist. I'd much rather do it out of iron than draw it. Just like that table base of yours, I could whip that out, but drawing a picture of it, it doesn't come out very well. The architectural prints kind of take a load off of us. In other words, we're looking at it on paper and we do what they ask us to do, and if there is any question, we just communicate and hammer out any things. Sometimes they'll forget something, or they'll draw something that's not practical, and we'll bring it to their attention.
--Donald Tudury, Iron Worker