ARTICLES & ESSAYS


Twisting at the Fais Do-Do: Swamp Pop in South Louisiana
By Shane Bernard
Steering down the asphalt ribbon called Highway 190, you accelerate through the subtropical night across the flat prairie between Opelousas and Eunice, eager for an evening of rough-hewn South Louisiana music. Which nightclub to check out? You wonder, the Step Inn Club or the Green Lantern in Lawtell? The Purple Peacock in Eunice? Maybe the Jungle Lounge or the Rendezvous to the north at Ville Platte?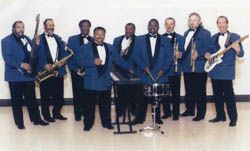 A flicker of neon catches your eye: Slowing to a crawl you pull into the graveled lot of one of the oldest, perhaps the largest, certainly the most legendary swamp pop nightspot the Southern Club, on the outskirts of Opelousas. You enter the vast, smoky, dimly lit structure, cross a dance floor of swirling couples and glance at the familiar figures mingling around the bandstand: Johnnie Allan, Warren Storm, Rod Bernard, Tommy McLain, Clint West, Bobby Charles. A motley group, one performer might wear sneakers, worn-out blue jeans and perhaps an old letter jacket; another, two-toned suedes, pleated slacks, a fancy dress coat and a flashy tie studded with musical notes. Most share an interest in pomade and wild pompadours, but some prefer the simple flattop. Allan takes the stage as a guitarist bangs out a random riff, a drummer stomps his bass pedal and a mike screeches momentarily. The singer gives a quick nod and the band breaks into the opening strains of a typically gut-wrenching South Louisiana ballad. Eyes shut tightly, his face contorted as though in pain, Allan belts: Lonely days and lonely nights, Dear, I cry myself to sleep.
You've just observed swamp pop in its natural habitat. But what, exactly, is swamp pop? The swamp pop sound is typified by highly emotional vocals, simple, unaffected (and occasionally bilingual) lyrics, tripleting honky-tonk pianos, bellowing sax sections and a strong R&B backbeat. Upbeat compositions often possess the bouncy rhythms of Cajun and black Creole two-steps, and their lyrics frequently convey the local color and joie de vivre spirit pervading South Louisiana. Swamp popper Gene King's 196 1 recording "Little Cajun Girl" exhibits these characteristics, coupling vivid, folksy lyrics with the animated beat of a traditional two-step:
Hey little Cajun girl, let's go
Allons au village
We'll eat some fricassee
And drink that bon cafe
Hey little Cajun girl, let's go,
Allons au village
Slow, usually melancholic swamp pop ballads, however with their heavy, triplety feel, undulating bass lines, climactic turnarounds and dramatic breaks exhibit the heart-broken, what's-the-use-of-living laments common to many traditional Cajun and black Creole compositions, born generations ago of widespread poverty, hard-living and the loneliness of a largely rural existence. These qualities are illustrated notably in the swamp pop anthem "Mathilda," recorded in 1959 by black Creole swamp poppers Cookie and the Cupcakes:
Mathilda, I cried and cried for you,
Yes, no matter what you do.
Yes, I'll cry and cry in vain.
I want my baby back again.
Classics of the swamp pop genre include Dale and Grace's "I'm Leaving It Up To You," Johnny Preston's "Running Bear," Freddy Fender's "Wasted Days And Wasted Nights," Phil Phillips' "Sea Of Love" and Jimmy Clanton's "Just A Dream," all Top Ten national hits. Three of these--"Running Bear," "I'm Leaving It Up To You" and "Before The Next Teardrop Falls"--reached number one on national charts; over twenty swamp pop recordings have broken into the Billboard Hot-100 since 1958. In South Louisiana, however, the birthplace of swamp pop, fans and artists regard numerous songs less popular nationally as even more essential to the basic swamp pop repertoire. These standards include such regional hits as Clint West's "Big Blue Diamonds," Tommy McLain's "Sweet Dreams," Randy and the Rockets' "Let's Do The Cajun Twist," T. K. Hulin's "Graduation Night," Rufus Jagneaux's "Opelousas Sostan" and Johnnie Allan's "South To Louisiana."
From obscure South Louisiana origins swamp pop went on to exert an influence on popular music both in the U.S. and abroad a few notable swamp pop-ish tunes include Bill Haley and the Comets' cover (rerecording) of "Later Alligator," the Rolling Stones' version of Barbara Lynn's "Oh Baby (We Got a Good Thing Going)," the Honeydrippers' rendition of "Sea of Love" and the Beatles' original composition "Oh! Darling," which exudes the triplety, emotionally charged swamp pop ballad sound. Recently the swamp pop sound appeared in national hits by country and western artists T. Graham Brown, Mark Collie, and Billy Joe Royal.
The makers of swamp pop music describe the genre in various terms: One might refer to it as white rhythm & blues; another, a combination of rock 'n' roll and country and western music; and yet another, rockabilly with a strong blues element. A few swamp pop musicians deny the genre possesses any distinctive qualities, insisting it resembles music hailing from anywhere in the U.S. Others, however, refer to swamp pop as a blend of many influences arising in a specific geographic region, a view embraced by this study.
Specifically, I consider swamp pop a rhythm & blues hybrid influenced mainly by New Orleans rhythm & blues, country and western and Cajun and black Creole music, indigenous to East Texas and the Acadiana region of South Louisiana. (Acadiana embraces a twenty-two parish area of South Louisiana officially recognized by the state legislature for its sizable Cajun population.)
Although often misunderstood and even ignored by many enthusiasts of South Louisiana's ethnic music, swamp pop deserves recognition and preservation as the region's third major indigenous genre (along with Cajun and zydeco) not only because it once thrived in the region and even attracted a national audience, but because it descends from traditional Cajun and black Creole sources. Most swamp poppers grew up immersed in Cajun and black Creole culture and music, and as children also absorbed the strains of country and western music, which had appeared in the region by the mid-1930s but it was the appearance of big-city rhythm & blues on the Cajun and black Creole prairies that acted as the catalyst for swamp pop's creation during the early 1950s. Although swamp pop is primarily a local rhythm and blues idiom, it bears the imprint of its ethnic roots and thus should be viewed not as an aberration of traditional music (as some maintain), but like Cajun and zydeco as a positive expression of the entire Cajun and black Creole experience.