VIRTUAL BOOKS



Stitching Community: Fiber Arts and Service
By Laura Marcus Green

Crafting Circles of Friendship: Crocheting, Knitting, and Hand Quilting Groups
You may have seen them in your favorite café or other haunt: a circle of women seated in a cozy spot, engaged in conversation. Their fingers fly, as crochet hooks and knitting needles transform colorful yarn into hats, scarves, blankets, or other items. They are intent on one another and on their work. They may not notice you as you walk by or gaze from a nearby table. What is the story behind these groups that are popping up in our communities?
Like many phenomena, handwork traditions ebb and flow over time, according to people's needs and interests. Since the early 2000s, there has been increased interest in handwork of all kinds. The proliferation of specialty yarn shops in recent years is indicative of this trend. Whereas once there were few places a person could buy yarn in the United States, today handworkers have many choices. The internet expands exponentially the availability of yarn, patterns, and instruction. With this boom, another trend is that yarn shops have become informal gathering places. Many offer classes in various techniques and opportunities for stitchers to come together and socialize while working on their projects. Likewise, quilting and quilt shops are enjoying increased popularity.
Quilters and quilt scholars look back and attribute the revival in quilting and handwork in the late 20th century to the 1976 United States Bicentennial and the concurrent "back-to-the-land" era, when people embraced and revisited old-time practices and lifeways. Today, some see the recent resurgence in handwork as a response to the terrorist attacks of September 11, 2001, when people turned or returned to stitching for the comfort that both the process and the final products provide. As in the 1970s, there is a contemporary DIY (Do it Yourself) movement. Many find utility and recreation in creating their own clothing, home décor pieces, and other items. Whatever the reason, handwork circles have become popular, offering camaraderie, artistic exploration, cultural preservation, and in many cases, community service.
Battered Women's Shelter and Pregnancy Problem Center
Battered Women's Shelter and Louisiana War Veterans Home
Crafting for a Cause
Well, Pat and Wade Schmidt were sitting here crocheting and they had gotten to the point where they said, 'You know, we've crocheted blankets for every member of our family, we've done hats for every member of our family. And we're producing something every week-it's beginning to pile up, and we have nothing to do with it. You can just give so much of this away, and people go, 'Oh joy, another hat!' And so we said, what can we do with our product that would make a difference somewhere? Since our family members have all the hats they could possibly wear.
Audio Player
Lynn Langberg talks about how Crafting for a Cause got started. Field recording by Laura Marcus Green.
This is how Linden Langberg remembers the origins of Crafting for a Cause, a community service-oriented fiber arts circle that meets at the Pride-Chaneyville Branch of the East Baton Rouge Parish Library. The group began in around 2010 with two or three women learning to crochet from Linden Langberg, Head of Circulation at Pride. As friends invited friends and word of the circle spread, more community members joined in. The group has grown to a weekly circle of 10-15 regulars who show up at the library to crochet, as well as knit, sew, and do counted cross-stitch, among other art forms. The group earmarks projects for donation to various causes, including leprosy patients in Nepal, those recovering from human trafficking and domestic violence, cancer patients, war veterans, and pregnant women who choose to keep their babies. The group accepts donations of yarn, and holds an annual fundraiser to support the purchase of specialty yarns for particular needs, like wool hats for those living in colder climates, or caps made from softer, lighter materials for use next to the sensitized skin of chemotherapy patients. For Crafting for a Cause members, it's not just a question of finding a home for their abundant handwork projects. Linden shares, "We enjoy meeting and talking and having a lot of good fellowship and interaction. But we decided that we didn't want to just sit around and do nothing."
Linden began researching possible recipients for the group's handwork. An internet search revealed that a local cancer hospital was taking donated hats. Figuring that hats are quick and easy to make, requiring little yarn, the crocheters set themselves a goal of making 100 hats to donate to the cancer hospital. Just as Linden was poised to call the hospital, a chance encounter led the group in an unexpected direction. Dr. Deanna Hagge, originally from the Chaneyville area, now lives in Nepal, where she works for the Anandaban Leprosy Mission Hospital in Kathmandu. When she returns to Louisiana for a visit, she stops in at the library. On one such occasion, as Dr. Hagge was talking to Linden Langberg about her work in Nepal, Linden had an idea. Would Dr. Hagge's patients like some crocheted hats? "Absolutely, we would love them," was Dr. Hagge's enthusiastic response. Linden took this idea back to the group and they decided to pursue it.
And so it was that the first 100 hats made by Crafting for a Cause found their way to Nepal in a vacuum-sealed package, carried in Dr. Hagge's suitcase. The hats were well received. This first set of hats were made from acrylic yarn, accommodating Louisiana's warm climate. Dr. Hagge suggested that future donations to her patients be made from wool yarn, since the weather is much colder in Nepal. The second hundred hats Crafting for a Cause sent to Nepal with Dr. Hagge were made from wool yarn in simple patterns and bright, "happy" colors like turquoise, yellow, and orange, which are favored by the patients. The recipients also enjoy hats with crocheted flowers. Crafting for a Cause member Wade Schmidt has been dubbed "The Flower Queen," as she loves to crochet flowers. The group finds the hat that best matches each flower, and another member, Elaine Forbes, sews them on. Dr. Hagge has sent Linden photos of the patients receiving and wearing the hats, which is fun and gratifying for Crafting for a Cause members.
Making the hats for Nepalese leprosy patients has connected Crafting for a Cause to a situation a world away from Chaneyville. Linden reports, "The patients are just so grateful for anything, because leprosy is a disease that is so shunned. If you get leprosy in Nepal . . . [typically] your family throws you out. And you have nothing but the clothes on your back. And you aren't taken back in. And even if it's a woman, they'll throw not only her out but her children out. Her husband will just throw her out and she's on the street, by herself."
The Anandaban Leprosy Mission Hospital in Kathmandu offers long-term care, treating not only leprosy but also the resulting nerve damage to patients' faces, fingers, or toes. Often, patients lose digits or legs because, without full use of their nerves they no longer have feeling in these areas of the body, and can injure themselves. A hospital stay may last from two to four years, as patients not only recover, but also learn skills that will allow them to return to society as productive citizens. Dr. Hagge has presented her work in Nepal at the Chaneyville-Pride library branch as a special program.
After the Nepalese hat project, Crafting for a Cause directed their talents toward making items for the Louisiana Department of Veterans Affairs home in Jackson, Louisiana. Linden explains that "several of our husbands are vets. And we have a lot of people [in the Crafting for a Cause circle] who go to the veterans' home to volunteer. So we did blankets and lap robes and shawls, because there were female veterans at the war vets home. And a lot of lap robes, some slippers. And hats. They said bring hats, they'll wear hats, too. And scarves."
When Crafting for a Cause members research potential recipients of their handwork, they call service organizations to determine what needs their handwork might address. Because of the abundance of generous fiber artisans in the area, the market can become saturated. Crafting for a Cause members prioritize their donations by confirming a genuine need for their handwork. They learn what recipients can use and inform themselves of any specialized needs vis-à-vis materials, colors, and design. When they have completed a project, group members go in person to deliver their gift. Linden describes the process:
Audio Player
Lynn Langberg talks about giving their donations to the groups. Field recording by Laura Marcus Green.
We like to go as a group and hand the donation to the people and tour the facility and see what we're doing. . . Oh, it is such a wonderful feeling . . . everyone has been so welcoming and so generous to let us in, to let us see their operation, and so grateful for everything we've brought, that we've never had a negative response at all, and we've never had anybody say, 'Oh no, we don't need that.' And it's very heartwarming to us, because we are a group of women who are very blessed-we have everything we need." On these occasions, Crafting for a Cause members meet with the staff at the host service organizations, but not the actual recipients themselves.
At the time of this research, Crafting for a Cause had completed a variety of community service projects, with others in progress. They have donated washcloths and bags for holding personal items to residents of Hope House, a program for those in recovery from human trafficking. They have also made baby blankets, booties, and caps for the Pregnancy Problem Center, a Catholic Charities program offering alternatives to abortion, along with pregnancy tests, counseling, and parenting classes. Participants in this program are "paid" in the form of vouchers that they can redeem at the program's gift shop, which carries items the future mothers will need for their babies. The items donated by Crafting for a Cause become a part of the shop's inventory, which program participants can "buy" for their babies. Other recipients of Crafting for a Cause donations include the Battered Women's Shelter and St. Jude's Children's Hospital.
Sometimes, a need arises close to home and Crafting for a Cause responds. Linden Langberg shares the story of a seven-year-old who benefited from the group's generosity.
Audio Player
Lynn Langberg talks about an especially memorable gift. Field recording by Laura Marcus Green.
We did a care package for a young girl who is at St. Jude's right now, undergoing cancer treatments. Several of the ladies in the group are good friends with the grandmother. And so, we sent a care package of a blanket and a little cell phone case, and the little eye covers, you know, that she could wear, and a bag. Each person took a different item that they wanted to send to her and made it for her. And we asked for her favorite colors, and so we did everything in her favorite colors. And made up this care package and sent it to her when she went to St. Jude's. And they say, they know she's had enough and doesn't want to deal with people because she puts her little sleep mask on and just sits in the bed with her sleep mask on, and everybody knows to leave her alone for a little while.
Crafting for a Cause has had a ripple effect among participants, the library and the broader community. Among the unexpected outcomes of this handwork circle is a book club. Linden selects books she thinks the group will like, often a "cozy mystery" series. She explains, "And then we sit around and talk about, well who do you relate to best in this book? And, oh, I just loved the part where. . . We have one lady who just doesn't read, because she has dyslexia and has never really enjoyed reading. And she is going nuts over reading these books, she loves it. She said, 'You know, I never enjoyed reading, it was always a struggle for me. And I've read every single book.' So that's another dimension to our group." Group members also exchange recipes and share prepared dishes, and have their own birthday club.
Holding Crafting for a Cause at a public library has multiple benefits, including easy access and visibility for the group. The group receives a steady stream of donated yarn. Linden reports that the phone will ring and someone will say, "We saw your group in the library newspaper, can we bring you some yarn?" "We'd love it," she tells them. Linden relates the story of a satellite group at another library branch in the East Baton Rouge Parish system. One day, two women in another part of the parish called Linden, saying, "We can't come out there, [but] can we still crochet for your group?" With cooperation from some of her colleagues at these women's library branch, Linden set up a system through which she sends them yarn from the Crafting for a Cause stash. The women go to their library, pick up the yarn, crochet items for donation, and then send them back to the Pride-Chaneyville branch.
Crafting for a Cause has bolstered the Pride-Chaneyville branch library's programming and audience development. As Head of Circulation, Linden facilitates programming throughout the year. Not only has Crafting for a Cause become part of this programming, but because members love to be at the library, they also attend other programs, such as computer classes. Crafting for a Cause members attend Linden's annual Christmas crafts program, where they make wreaths and other items. The stitchers recruit their children and spouses, resulting in better attendance at library events, all around. This heightened participation has in turn generated new programs at the library, as the area's pool of talented retirees offer new classes and public programs. Linden has found that Crafting for a Cause is "a real community builder."
Among Crafting for a Cause's greatest beneficiaries are the participants themselves. The members' time together at the library each week is sacred. Linden relates that the women "have told their husbands, don't make doctors' appointments. 'I won't take you anyplace on Thursdays.' And it's really great—not only do we crochet, we also have ladies who knit and quilt and do counted cross-stitch, who've joined the group, for companionship, for fellowship, also. And they show up and some days it's, 'My husband's driving me nuts, I had to get away from the house.'" Or, for those who are widowed or on their own, "My house is so empty and quiet, I had to get away from the house." Reflecting on Crafting for a Cause's multiple benefits, Linden observes,
"We can talk and have this community and still be doing something with our hands. Because, as women, we have to multitask. We cannot just sit and talk. We have to be doing something. And we can have our community and talk and discuss our problems and talk about, you know, 'Oh, my knee started hurting'—well we've got five nurses in our group." The nurses in the group help diagnose the members' problems, or get them to go see their doctors. "It's just a real community with a common goal, a common purpose, and we're working with our hands, we're doing more than one thing. And although we're not solving the world's problems, we're giving to people who aren't as fortunate as we are, quite frankly. And that really gives us a good feeling."
Knit Wits Christian Ladies Knitting Group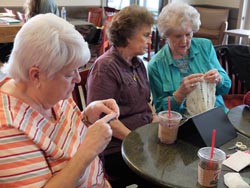 On most Wednesday mornings, the Knit Wits Christian Ladies Knitting Group can be found at a CC's Coffeehouse, knitting, sipping coffee, and visiting around tables pushed together to accommodate the group. The Knit Wits have their roots in a knitting class that began in 2007 and gradually expanded from two women into a larger group, as friends invited friends and others happened upon the circle at the coffee shop and joined in. Today, the Knit Wits number around 40 active members.
Founding member Brenda Averette explains their name. One day, when a carpenter was working on the Averettes' roof, Brenda was headed out to her knitting group. The following week the roofer was there again and as Brenda was leaving he commented, "I suppose you're going to your knitting group. If they're all like you, they are a bunch of knit wits." Brenda shared this story with the group, and so they became the Knit Wits. Later, as Brenda relates, "'Christian Ladies' came about when I attempted to set up a social group on Facebook and found there were some other groups by that [Knit Wits] name or similar. Since we were all Christians and love God, pray together, laugh together, cry together, [and] share together, I just thought it would be appropriate to add that to our name. And it just stuck and kind of clarified that even though we love to have a good time, we do it in a clean way!"
The Knit Wits have found shared purpose in stitching items for donation to various causes. The group's first charitable project was inspired by a news story reporting that local cancer care providers were in need of chemo caps. The Knit Wits rose to the occasion, donating a stash of caps to Our Lady of the Lake Hospital's children's oncology unit. From there, they expanded their efforts to a variety of causes, including a food bank and a homeless shelter.
Another recipient of the Knit Wits' handmade gifts is the Family Resource Center in Denham Springs. This organization encourages young pregnant women to carry their babies full term, whether they opt to raise them or give them up for adoption. Upon enrolling in the program participants receive a baby cap, along with a list of parenting classes that they can take over an eight-week period. Participants also "earn" a set of baby items as they complete each class. Knit Wits members explain that receiving the baby cap makes the pregnancy real to the mothers, letting them know that they are carrying a living being. The Center offers sonograms with the same intent, but refers their clients out to professional medical care and where needed, to adoption services. In addition to filling a community need, the baby blankets, caps, and booties provide an opportunity for Knit Wits members to stretch their stitching skills and to take action towards a community service project that aligns with their own beliefs.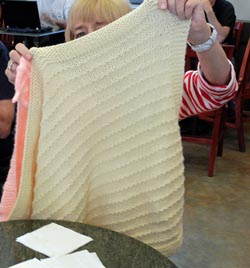 Knit Wits members also make scarves for the Seamen's Church Institute of New York & New Jersey, an Episcopal Church-affiliated organization that serves mariners through education, pastoral care, and legal advocacy. While they provide support for seamen year round, the Institute holds an annual Christmas at Sea program, which is a drive to gather handmade scarves, caps, socks and other comfort items for mariners spending the holidays away from their loved ones. Handworkers and volunteers from around the United States send items between Labor Day and December in order to fill the need. The Seamen's Church Institute provides detailed instructions on their website for making donated items, including knitting and crochet patterns and suggestions and sources for yarn. This information ensures that donations will satisfy recipients' occupational requirements: "SCI's specially designed articles of clothing meet needs of mariners working on the water in extreme conditions, harmonize with their work environment (and unique work attire) and conform to safety standards for clothing worn on board" (Christmas at Sea).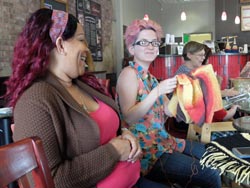 Knit Wits members pay close attention to the yarn that goes into their projects, matching weight and fiber content to a specific situation. Lighter, mostly synthetic yarns go into baby items or chemo caps for example, while heavier woolen yarns are used to make items for the homeless during colder months of the year.
When asked how they decide upon the recipients of their scarves, caps, blankets and other items, Knit Wits reply, "Whatever God puts in our hands." Generally, as the group identifies a cause, several members visit a potential recipient organization to introduce themselves and determine whether there is a genuine need for their handwork. They take the time to learn about recipients and their specific requirements. Louise Doherty and Becky Wells are most often the ones who deliver donated items to recipient organizations. When preparing to donate large quantities of hats, Louise sorts them in bags according to size, to facilitate distribution. Some recipient organizations keep a stash of donated items on hand to have at the ready when the need arises. When the group has determined a community service recipient, members all work on that particular project at the same time. One Knit Wits member reflected on the group's combined efforts on such projects: "When you divide it among all of us, it's not hard."
Although the group initially came together around a common desire to learn to knit and grow their skills, many have become lifelong friends. The Knit Wits describe themselves as an open and loving group who never argue. This harmonious aspect is a point of pride among the group's numerous and varied members. Louise Doherty observes, "As many people as we have, there's not one bad apple among us."
Knit Wits members often go to lunch following the circle. Beyond the weekly meetings, they also gather socially several times a year. In the summer, Becky Wells hosts a blueberry picking party, for which her husband cooks up a jambalaya. In the winter, the group holds an annual potluck Christmas luncheon, where they exchange gifts. These events also provide an occasion for a yarn swap. People winnow their stash, bringing items to trade with one another.
The Knit Wits also take yarn-oriented road trips together. Leaving from Baton Rouge, group members gather and convoy in four or five cars to yarn shops in such destinations as New Orleans, Hammond, Lacombe, and Ponchatoula, Louisiana, as well as Diamondhead and Gulfport, Mississippi. Generally, they leave in time to reach a yarn shop when it opens. Following lunch, they either shop some more or head for home. While many of the group's charitable projects are made with donated yarns, group members say they also help keep area yarn shops in business!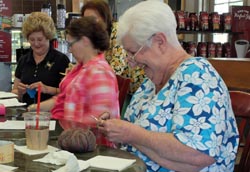 The Knit Wits' weekly gatherings are a laboratory for learning new techniques and growing skills. In addition to their community service work, members also stitch their individual projects. They provide instruction and mutual encouragement, rather than compete with one another. Group members are happy to put down their own projects, in order to help someone else who might need assistance. Not only are the Knit Wits' projects productive, but they may also have cognitive benefits. Group member Birdie Sandifer observes that knitting and learning new patterns are "wonderful for the mind, good for all aspects of the mind." Group members are ever challenging themselves to try something new. Louise Doherty's motto is, "You're never too old to learn something new. And never say you know everything, because you don't!"
Member Profile: Tanya Sevin
Tanya Sevin joins the Knit Wits whenever she is home in Baton Rouge. A talented knitter, she confesses that crochet is her "first love." Her handwork holds an important place in her life, connecting her with fellow Knit Wits, those she encounters out on the road, and many she will never meet. In a series of email exchanges with the author, she shares some of her stitching experiences and reflections about them:
I have always from the time I can remember wanted to learn what I call the home and hearth arts. I first learned sewing. But I could bake all day. I later in life got the means and time to pursue knitting and crochet, since I travel with my husband as he works refinery shutdowns. I find a knitting group everywhere I go if possible and have had such a good time. I am a believer in doing something worthwhile with my time and yarning fulfills this for me. . . I make a lot of hats and charity items and when I am finished with each item I have leftovers I make into granny-square afghans. It isn't a fancy work but each different piece of yarn represents what I dearly love to do, which is make the hats.

I had been practicing and trying out all kinds of crochet and knit patterns for three years. I was traveling so much and had no permanent group to give the projects to. My goal was to find groups who needed scarves, hats, and lap afghans. I found one, Handmade Especially for You, a knit store in Torrance, California [that] had kits of yarn already balled up ready to knit. You signed the kits out, knitted the scarf, and brought them back as many as you could do. They distributed them to the local and nationwide abused women's shelters (Handmade Especiallly for You.

Since meeting you, a lady who I made an angel afghan for, who was in treatment, passed away.1 My daughter sent me a photo of the lady during chemo, covered up in the afghan. She took it to all treatments and her family contacted me; they said she had it on her when she passed and wanted her buried in it. To some, the stories might be depressing. To me it is so wonderful to think something I made could comfort another.

My best friend just asked me two weeks ago to make a comfort scarf and hat for her co-worker who has just started chemo. The lady posted all the hats and [a] shawl on Facebook with a kind thank you. Our [Knit Wits] group makes many things and three main ladies in the group usually deliver. It is such a privilege for me to be connected to these women who inspire me to try new projects and to make sure nothing is wasted.

Crocheting has brought many good things to my life and has even allowed forgiveness when I gave a couple of items to family members who had not been a part of my life in years. It seems that an item made with love can build a bridge to another. And receiving emails or photos of someone I have never met saying a hat of scarf or blanket gave them comfort is such a blessed feeling. As many hours as I have spent alone doing what I love, I have been more than rewarded.
Ultimately, the Knit Wits Christian Ladies Knitting Group fulfills multiple roles for its members. It provides a vehicle for service, creates community, and nurtures artistic growth and cultural preservation. Group members observe that the camaraderie is very important. One noted, "It's about friendship, creating a bond." Further, the circle helps keep the knitting tradition a vibrant part of people's lives. Brenda Averette reflects, "I do believe knitting was about to become a dying art, in our culture anyway, since we don't have horribly cold weather and [don't] have a need for thick and warm clothing." In the hands of these devoted stitchers, knitting is alive and well and filling a need in Baton Rouge.
Notes
1. Here, "angel afghan" refers to a crocheted blanket in the shape of an angel.
Chaneyville Hand Quilting Group
Several days a week, as many as nine or ten quilters gather around a frame to hand-quilt one another's quilts. They sometimes have classes in particular patterns or techniques. There is a community tradition of providing quilts for those who have been "burned out" in a fire or for others in the community who are in need. Many of the quilters make quilts for their children and grandchildren. The center provides entertainment, socializing, and various services in a rural community where there are few other options for the participants-many of whom are retirees. In that light, the quilting sessions are themselves a service to participants, as is the cooperative donation of time and stitching.
Chaneyville Community Center Quilters