VIRTUAL BOOKS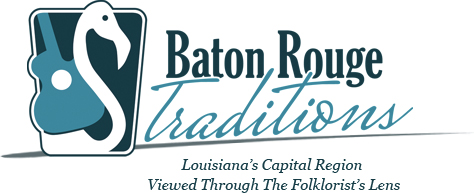 Maida Owens, editor
Baton Rouge Traditions is a compilation of research conducted in the greater Baton Rouge area primarily over the past decade for the Baton Rouge Folklife Survey, the New Populations Project, and other sources. The project was coordinated by Maida Owens, and 22 folklorists and other writers contributed. Together these essays offer a glimpse of this metropolitan area that is the state's capital.
* indicates that a field report is available upon request.
Presentations, Commemorative Quilt, and Exhibit
Research from this project is being shared with the public through panel discussions, a commemorative quilt, and an exhibit.
Presentations

If you would like to attend one of the panel discussions and performances, click here.

Quilt

For information about the commemorative quilt and how you can make quilt squares, click here.

Exhibit

For information about the planned traveling exhibit, click here.
Table of Contents
Introduction
Baton Rouge Gives
Baton Rouge Makes
Baton Rouge Plays
Baton Rouge Worships
Baton Rouge Works
Baton Rouge Diversifies