ARTICLES & ESSAYS
Traditional Arts: A Window onto Northwest Louisiana's Multicultural Landscape
Other Shreveport Articles
(click to expand or collapse)
Cultural Preservation: Keeping the Flame Burning for Future Generations
Seasons and Cycles — Festivals and Rituals Mark Life's Rhythms
Of Hand and Heart: Handwork Connects Family and Community



Shreveport's Indian Community: Three Organizations, Shared Visions, Treasured Cultural Traditions
By Laura Marcus Green
For the Love of Music and Community: Tabla Player Hith Patel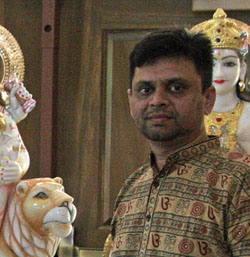 Like Mini Menon, percussionist Hith Patel contributes his traditional talents to cultural events. Occasionally he performs at activities sponsored by the Indian Association of Shreveport & Bossier City and the LSUS India Studies Program. Most often, he plays for services and special occasions at the Sadhu Vaswani Hindu Cultural Center and Hindu Temple. Hith Patel was born and raised in the east Indian state of Jharkhand, although his family's cultural roots are in the western state of Gujarat. He explains that India is a multicultural country, with 27 different states, each with its own language, customs, and cuisines. Culturally, he considers himself Gujarati, although he enjoys experiencing traditions from India's diverse regions. Of Shreveport-Bossier City's 250 Indian families, approximately 50 to 60 families are Gujarati.
Hith explains how he came to play the tablas.
Music is my passion. When I [was] born and after a certain time, I found that I [had] a little bit more interest in the music, and I just started playing at home with a desk and tables and doors. And then somehow I got musical instruments at my home, and I just tried to play [by] myself. And after that, little by little, in my society and my small community, they start calling me just to go and join the group.
The call to come and play at community events has continued to beckon, even over the past ten years since Hith has lived in the U.S., first in San Diego and now in Bossier City.
Hith Patel has vivid childhood memories of Navaratri, a nine-day autumn festival honoring the goddess Durga, among the most important Hindu deities. During Navaratri, evenings are devoted to music and dance as people gather to celebrate the festival. Growing up in Jharkhand, Hith remembers Gujarati musicians coming from his family's home state to play for the nightly festivities. A Gujarati musician staying with the Patel family during Navaratri noticed young Hith's interest in playing the tablas. He took Hith's hands in his and held them as he played, telling Hith, "Okay, just sit with me and play."
When his tabla teacher became too busy to come for Navaratri, another group was hired to perform at the festival in Jharkhand. Hith joined these musicians and his apprenticeship continued. Having lived away from India for ten years, Hith points out that wherever there are Hindu people, there will be Navaratri celebrations "in each and every corner of the world." In some of the larger U.S. cities where there are significant Hindu communities, the festival lasts for nine nights, as it does in India. In Shreveport and other cities with smaller Indian communities, the festival generally takes place for two days over a weekend. Learn more about the observance of Navaratri in Louisiana
Raising a family, running a business, and participating in Indian community events make for a busy life. Music is not only Hith's passion, but it is also a refuge. He explains, "I am the music lover guy, you know. When I have stress, when I have any tension, when I have any problem, I just go and start listening to music. And that gives me lots of peace of mind." Hith marvels at the ease of finding Indian music over the airwaves through satellite radio and the internet. In addition his love of Gujarati and other Indian musical traditions, he also has a taste for American country, Arab, and African music.
Over the years, Hith has learned to play several Indian percussion instruments, including the Indian dhol, as well as the conga, bongo, and tumba drums, representing other international musical influences. The tablas were his first instrument, which he began playing at around the age of six. The body of his tablas are brass. Tablas may also be made from wood or clay. All tablas have cow- or goatskin heads. Hith explains that there are more than 1,000 tabla rhythms, as each song has its own rhythm. He believes that tablas are meant to be played with other musical voices, or instruments. Tablas have musical keys and must be tuned in a particular way to communicate and harmonize with these other voices. Hith tunes his tablas with a wooden mallet. It takes five to ten minutes to tune a set of tablas. In the context of a concert, there is not time to tune the tablas between songs. Professionals generally have six to ten pairs of tablas. Before a performance each pair is tuned for a particular song, so that tabla players can move seamlessly from one song to the next.
Hith points out that tabla music is not written down. Tabla musicians play entirely by ear. Yet the music consists of talas or rhythms, which the tabla player must memorize. Much of Hith's repertoire consists of Hindi devotional songs, or bhajans. He also plays Hindi movie songs, known as Bollywood, as well as Hollywood music. With his well-tuned ear, Hith can listen to diverse musical styles and learn to play along with recordings.
Until recently, Hith was the only musician in his family. Currently, he is nurturing his sons' musical interests. His philosophy on the matter is that his sons, ages six and eight, will come to music on their own if they have the interest. Hith knows he cannot force them to learn. One son wants to play drums and the other is drawn to the guitar. They accompany Hith to the Sadhu Vaswani Hindu Cultural Center and Hindu Temple and occasionally sit with him to watch and learn as he plays for services.
Needless to say, community members savor the occasions when Hith is on hand to play. As one friend remarked about Hith's musical talent, "We are surfing on the ocean, but he is the ocean." When called upon by the Sadhu Vaswani Hindu Cultural Center and Hindu Temple to play for bhajans, Hith happily goes, as his schedule allows. He reflects,
I love to play. I don't play for the money. I never ask for anybody to pay me for anything. I just play because I love it, you know? That's God-gifted to me, and if I have something, let's give it to God, too. So maybe if somebody's doing the prayer or something like that, if I have some kind of talent, let me do that, so everybody feels happy. That's the thing.