VIRTUAL BOOKS




The Power of Narrative: Tradition Bearers Share Inconvenient Truths
By Daniel Atkinson

Allen "A.B." Crochet: Low Relief Carver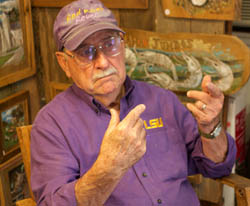 Allen Crochet is the only person in this essay who is not of African descent, but that does not mean that his work or ability to contribute to the African American narrative is diminished in any way. He is a retired high school art teacher who specializes in scenes of everyday life in Louisiana from the past to the present. In his early life, the Saints on the wall of his hometown church in Morganza, contributed to his artistic curiosity. Another was his older brother Laurence, who was the overseer on a large plantation in Labarre and requisitely had access to old cypress siding. One of his favorite subjects is the Black baptism, something that he regularly saw on Sunday afternoons when he went fishing with his father in the early 1940s:
Audio Player
Black Baptism. Field recording by Daniel Atkinson.
And consequently I do basically historical things like the plantation homes, wildlife, seafood, the Cajun, the bayou scene, and the baptism. Black baptism, one of my favorite subjects. [I've] probably done this about two hundred times, different phases of it, you know. My dad and I used to go fishing on Sundays and you can book it, around three o'clock, Little Rock Baptist Church out of Morganza would have their baptism. And we'd stop and watch them, you know, and sure enough, they'd just dunk them in under there and they had the ceremony, sing songs, they were dressed in white sheets, the whole thing! So I carve what I remember.
South Louisiana is full of talented carvers, so it wasn't a surprise when Crochet's art students showed interest in it as an alternative to drawing and painting. As chance would have it, they asked about the process after he showed slides of low relief carving and sculpture from the ancient Egyptians.
Audio Player
Getting Started Carving. Field recording by Daniel Atkinson.
I was doing/showing slides on Egyptian art [and] my students asked me why we didn't do any carving. We had been doing drawing and painting plus other mediums, but no three dimensional work. So when they asked, "Why don't we do that, if the Egyptians did it?" They did everyday scenes, not just kings and queens in Egypt. They did everyday scenes; farming, hunting, etc., etc., and I sort of froze [chuckle] when they said that. I said, "Well, we don't have [any] limestone," because the Egyptians carved on limestone, what we call bas-relief, which is shallow carving. "OK," I said, "Well, we have a lot of cypress." [Chuckle.] So that's how we got started. We dismantled old barns and sheds and outhouses and what have you. [We] got all the wood back to Livonia and they started doing, they did name signs originally, The Millers, the Farbers, you know. "We can go beyond that. Let's do things of our environment, the trees, and the buildings and etc., etc." [Students said,] "Sure, let's have at it." So we set on out together. [After] about ten years of doing that with my students, I decided to retire. One of my students was Henry Watson.
What started as a necessity for his profession, evolved into a passion that has stayed with him well beyond his retirement, culminating in him becoming a very popular artist and a facilitator of other artists such as Henry Watson. Though not as active as he once was on the festival circuit, Crochet is still working and universally respected among Louisiana artisans for his generosity, candor, and talent. Of particular note is his ability to use the unique characteristics of each piece of cypress in his work, allowing the grain to show through very light applications of acrylic paint. As he put it, "You want to retain the honesty of the wood." He usually starts in the center of his material and works his way outward, beginning with cypress or live oak trees as a compositional anchor. As his work reveals itself Crochet's technique shows how exacting and efficient his process is. Among other things, his wife Barbara (the "B" in A.B.) serves as a barometer of what will and won't sell at festivals and as he was quick to point out, "She's the brains of the operation!"
Carvings by Allen Crochet, his tools, and process.
Henry Watson: Low Relief Carver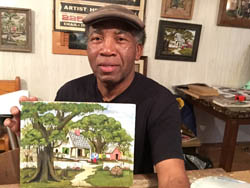 Henry Watson has been carving for forty years and was student of Allen Crochet in the 1970s at Livonia High School. Much like his former teacher, Watson enjoys the process of learning from history and making something of historical significance from what many people might see as nothing. Further, Watson's work elegantly showcases narrative from a uniquely Afro-American perspective and that has endeared him to thousands of fans all over the world as much as in his native Louisiana.
Audio Player
Learning From Old Buildings. Field recording by Daniel Atkinson.
Now, I'm seasoned in doing what I'm doing and it takes on greater meaning than just finding an old building. When I find an old building, and I'm taking it down and I'm looking around, architecturally, I'm learning stuff. How they put these old buildings together, how these old buildings [can] stand for a hundred years and last in the storm, the rain, and the heat. And a lot of these old buildings that I'm taking down is old slave buildings, old slave houses, old chicken houses, barns. . . . I get there and I'm taking these boards down and I'm looking at them and I thinking about who would have lived here, what they would have done here, if these boards could talk, what story would they tell me? And I just get in that mindset as I'm taking things down . . . and if I find anything under those old buildings, sometimes in the in the attic . . . and I knew that it was something that somebody had or dumped, and I start trying to put myself back in that time frame.
As he repurposes the wood from old buildings, Watson gains insight into the lives of people who have been long gone and would otherwise be nameless. That seems to be the greatest challenge and reward of doing this kind of work because it has to be honest, correct, and relatable to people who may never come across another example of the stories he is tells. As he said, "A lot of them is in me now. I capture their stories and legacy, and I talk about it often." His knowledge of antebellum life and architecture is truly unique and he owes everything to his grandmother who raised him. She was born around the turn of the 20th century and instilled in him a respect for the reciprocity that was necessary for success in life for the people who were the descendants of enslaved Africans.
Audio Player
Learning From Old People. Field recording by Daniel Atkinson.
All of the history and the bad things that happened, you know, during slavery and everything else, what you had was a connection. Because you may have had ten to fifteen row houses in a row on each side of the road or whatever. But what happened was, everybody worked on the plantation and the farms and they all depended on each other even after the years of slavery ceased, people still had that sense of connection. I remember when I grew up, if someone in the neighborhood killed a hog or something, they would tell everybody in the community, "Hey, we're doing this," and everybody in the community [would] come in and everybody pitched in and one was skinning, one was making cracklin' and they shared what they had, you know? It wasn't a big, mass rush to Winn-Dixie or to Wal-Mart. It wasn't that. And that was a community of love and sharing that they had to do to survive. I had a touch of it because my grandmother died at ninety-one and her sister died at ninety-six, you know. And the neat part of it was my grandmother lived in the rural [area], here in these little back roads and towns and I learned grinding corn and picking moss off the trees and stuff like that. I didn't know what I was doing, but I was doing what I was told, but [I] learned why she did it. Now, I got all this history.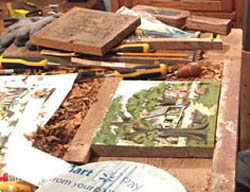 The next step for Watson was meeting and learning from Allen Crochet. Though carving was reserved for upperclassmen only, Watson stayed focused on the lessons Crochet taught the older students. At the age of fifteen, he began working on his own at home with a screwdriver and eventually worked his way up to better tools from the hardware store. Much like primitive artist Jessie Coates, Watson's work relies on his knowledge of a lifestyle that is largely extinct; therefore, his experience in art school was not very fruitful. Not only was his knowledge of the subject matter unsurpassed, but also there was little in the way of carving technique that they could teach him. After a year, he left and began his journey as an independent artist. Throughout, Watson has relied on his sense of independence, skill, historical knowledge, charisma, and work ethic to take him to every corner of the state and all of the people it contains to become one of the most sought-after artists of the region. He isn't interested in allowing the market or experts to change his philosophy or style because he likes being different and he well knows that being different does not necessarily mean deficient.
Audio Player
Statement on the Value of His Work. Field recording by Daniel Atkinson.
Here I am, down here in South Louisiana, taking historic pieces of wood [that] tells a story, comes from slavery and cabins and I'm carving my history. I'm not in France, [or] Spain. I'm not doing what Michelangelo did, I'm down here doing what Watson do!
In a world of labels, Henry Watson successfully avoids them because he knows better than most that his carvings on cypress will outlive us all and the contextual information they hold helps to ensure that the Black narrative is recognized for what it is. As he is fond of saying, "This is wood eternal!"
Details from Henry Watson's work
Lionel Key: Gumbo Filé Maker
Few things embody the spirit of South Louisiana like gumbo and much like jazz (in the traditional sense), everyone has their own way to do it, but in its diversity of its expression there are enough commonalities to beautifully, all be it loosely, tie it all together. That said, with all of the variants of philosophy on what makes "good" or "bad" gumbo, many feel that they must include filé, a powder made from dried sassafras leaves that serves as thickener and flavor enhancer. Also, the root of the sassafras tree is the source of traditional root beer or sarsaparilla, and some people throughout the region swear by the cleansing properties of the purple tea that can be made from it. Filé itself comes from the Choctaw people and has been a staple in Gulf Coast cuisine as long there have been people living in the region. Therefore, gumbo is one of the few things that unite all people from the region, transcending race, gender, politics, and class. Almost everyone eats gumbo and many want gumbo made with filé from Lionel Key.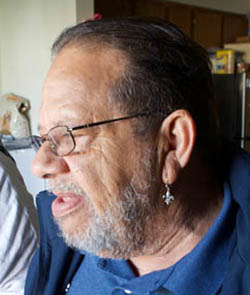 Lionel Key is a one-man, institution who devotes most of his spare time to grinding gumbo filé the traditional way, with a one-hundred-thirteen year old mortar and pestle made from a cypress stump and a pecan branch. He is rare in that he can trace the French side of his lineage back to Paris and his entire African American heritage in Louisiana. His family narrative is as complex as Louisiana itself and knowing that has empowered him to continue with his family's traditional practice when everyone else has gone to industrial grinders, and blenders or simply buys their filé from the store. He learned the process from his great uncle Bill Ricard in 1983 on the original mortal and pestle made by Bill's uncle Gérard Ricard in 1904. Two years later Uncle Bill was gone and his widow gave the mortar and pestle to Key who couldn't bear to see his family tradition end:
Audio Player
Origin. Field recording by Daniel Atkinson.
The mortar and pestle was the original way all things were ground before they introduced the grinder or the food processer or blender. Everyone had a mortar and pestle similar to what I have to crush red peppers, cayenne, to make filé, corn, things of that nature. They all crushed by hand. There were no machines involved . . . Because no one else in the family was interested in continuing to do it. . . . I just hated to see something of that nature just go to waste and be lost. And no one else would do it. God told me to do it. It's a labor of love. It has to be because there's a lot of labor involved in it. . . . Once a year you can harvest the leaves. You have to dry them. Then, you have to hand pick all of the leaves off the branches, you let the leaves dry on the branches. Then you cure them and then you can process them into filé.
Because it is such a labor-intensive process, people naturally moved onto mechanical means of processing sassafras leaves, but not Bill Ricard. He held onto the old way and remarkably, sold his filé in baby food jars for $.60. With that in mind, Key quoted his Uncle Bill, "A lot of people make filé, but they don't make it like me." He went on to say, "He [Uncle Bill] was old fashioned. He believed in tradition, just like I do." As a result, Key is in great demand at festivals and anywhere people who love filé gather en masse. He has been featured in multiple magazines and on the Food Network. His filé is the first in the state to be "Certified Creole," something that he says with humor and great pride. That pride also insures that his children will continue the tradition for years to come, so despite countless offers to buy his mortar and pestle, he refuses to sell it at any price:
Audio Player
Not for Sale at Any Price. Field recording by Daniel Atkinson.
People always be saying, "Oh, that mortar and pestle is so beautiful, I'd love to have it." And I always tell them, "The bidding starts at four million and goes up a million every second," because it's nothing I can sell, it's priceless. And I tell my kids, "if y'all sell this mortar and pestle when I die, I'm a-coming back and haunt all of y'all!
Karl Coleman: Painter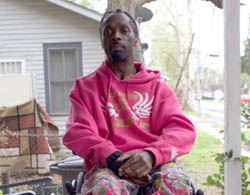 Karl Coleman embodies the rare notion of being the change that he wants to see. This comes from his upbringing in Baton Rouge, New Roads, and New Orleans where he was raised by his grandmother and surrounded by positive and productive elders who encouraged his artistic development from the age of three. Though he was born right handed, Coleman now paints with his left hand from a wheelchair since suffering a traumatic and life changing gunshot wound.
Audio Player
Gun Violence and Art School. Field recording by Daniel Atkinson.
[In] 1994, I had a confrontation with three guys, got shot in the back, and I became paralyzed on my right side. . . . After sixteen years of being paralyzed I picked up a pencil, "I bet I still could draw," and I took off from there. I signed up for the Bureau of Engraving and Printing's Art Instruction School, which is the home of Charles Schulz, Charlie Brown, and Peanuts. . . . I seen it on TV and applied and I passed the test and got recruited. And now I'm a professional artist and the first African American to graduate from the school.
Not one to let that stop him, Coleman has had plenty of opportunity to reflect on the wisdom of his experiences and impart them to anyone and everyone who is willing to listen. Most important to him is being the kind of elder to the children in his community that he had during his childhood, something he seldom sees among his peers.
Audio Player
Using Art to Save Lives. Field recording by Daniel Atkinson.
So, I'm trying to use art to change lives and save lives and that's about all I can say, you know. You know, I'm playing with the country's number one art galleries like from New York to Atlanta and Louisiana, but I shouldn't have to leave my own state to go to another state to do better. I'm from Louisiana, I'd rather stay here and accomplish all the things that change lives and save, you know, a lot of kid's lives because the crime and violence is real serious. . . . You got to stay focused, you know, I can't give up. I got to stay focused because the other kids are going to be next if somebody don't find a way of doing any[thing]. Me, I'm well known and I'm fun to be around and the kids, they'd listen to me if I could just get help. . . . [I'd like to] get the kids involved in it [art] and let them see that if I could put a painting in a museum and a gallery, then they could help uplift they spirit. Put them in a whole new mind frame than doing the same thing, watching videos and letting your pants sag. I could put them in a mind frame where they could be cool, unique, smart, because that's how I grew up. I got a lot of swagger, but I always stayed positive and smart and listened to elders and positive people, you know. And that's what I'm trying to instill in a lot of them.
In light of this, Coleman spends much of his waking hours painting, networking, and securing space to show his work – work that focuses on positive aspects of the Black experience in America from portraits of John Amos (James Evans from the TV show Good Times), Prince, Spike Lee, Kenny Neal, and Alton Sterling. His ability to hustle is beyond question, but access is key to furthering his success. As he said, "I just need me some help and get with my Black people and other people that's positive and do what I'm supposed to do."
Details of paintings by Karl Coleman.