VIRTUAL BOOKS




The Power of Narrative: Tradition Bearers Share Inconvenient Truths
By Daniel Atkinson

Edward "Shaka" Butler: Wood Carver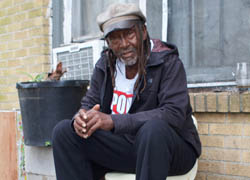 Edward "Shaka" Butler was born into a family of sharecroppers and was raised on the St. Louis plantation in Plaquemine. Like all of us, his experiences in childhood have played a major factor in determining who he is as an adult and how he views the world around him. These experiences are essential to every African American's personal narrative and they are something that Butler has dedicated most of his life to changing for the better, despite the resistance he faces:
Audio Player
Plantation & Children. Field recording by Daniel Atkinson.
This is what I long to do, is get my work out on the market and to tell the world what it was like growing up in this country here poor, broke, and Black, and uneducated. And not just what it was like growing up on a plantation. I got memories about that plantation So, how do I get my story across?. . . . I still really want those people who ran that plantation to be put out in the open to gaze what they did to me [and] many more young men, . . . And [they] got away with it and never given us nothing. That's still history! Black History month just passed. That wouldn't be a good subject for me to talk on in school? . . . [I want to] let these kids know that we've been about something. You got it in you. And that's what I talk about with the kids. "What you want to do? What you about?" You know, if I could help you with it, I'll help you with it. It doesn't have to be art, just open up your mind just something you could do with your mind!
Living on a plantation meant that Butler never attended school beyond kindergarten. Inspired by the actions of Frederick Douglass, any education that Butler has earned since then was stolen from the people who were invested in hiding it from him. Ultimately, he was incarcerated for twelve years, some of which was at former slave plantation, turned prison, Angola State Penitentiary. While in Angola, he had an epiphany:
Audio Player
Learning to Carve. Field recording by Daniel Atkinson.
And I tell the story, they locked me up in solitary confinement. I was dealing with the hardest time in my life and God give me that gift [unintelligible]. When they let me out of solitary confinement, I had an invisible chisel and knife in my hand, but I didn't have no wood. Right after I come out of confinement, one of the Captains [who] used to like talking to me. Captain Cochran, he called me, "Say look here. They got an opening to go to New Orleans to work at the [Jackson State Police] Barracks. I think that would be a good place for you."
After being transferred to the State Police Barracks, things began to change for the better, "I was able to get the wood I needed, the knives, blades I needed. That's how that came along. . . . The first face I carved was Dr. Martin Luther King, Mary McLeod Bethune, [and] Harriet Tubman." Butler learned to carve with whatever was available: box cutters, pocketknives, chisels, and torches. For context, he began to include powerful quotes from the people and events that he carved and sometimes included his own writing.
After his release in 1995, Butler devoted most of his life to his art in the hope that it could play a small role in uplifting the lives of children whom he feels have been forgotten and end up as statistic of wasted potential. That same year, he traveled to Washington, DC, for the Million Man March where he met fellow carver Steven "Ses-I Ras" Sheard, for whom he would become a collaborator and mentor. In 2000, he traveled to Florida to work with children and help with hurricane clean up and prior to that, he worked with the Deacons of Defense and Justice in Baton Rouge in an attempt to help close the loop on the decline of African American achievement since integration.
All of the inspiration from Butler's work comes from his memories and the neighborhood that surrounds his home near downtown Baton Rouge and he takes that with him wherever he goes. Along with historical figures, he also found inspiration in contemporary events like 911, police brutality, and music. Because his work serves a higher purpose, it is not for sale at any price. Rather, it is a call to action to engage with American history in such a way that all that has been marginalized and erased can have the space that it deserves in our national narrative. Therefore, it is free to anyone who wants it provided, they too will give it away to anyone and everyone who expresses a desire to engage with the discomfort of learning about the Black experience in the United States.
Carvings of Heroes and Heroines
Steven "Ses-I Ras" Sheard: Wood Carver, Drum Maker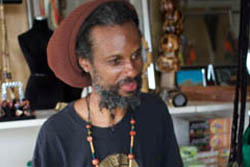 Steven "Ses-I Ras" Sheard is one of the last architecture graduates from Southern University and channels his artistic skills and Afrocentric knowledge into wearable art and drums. Though he was born and raised in Los Angeles, like a lot of African Americans who have called the L.A. area home since the 1940s, his roots are in Louisiana. Because of that, he feels at home in both atmospheres and has the strength of will to pursue his calling:
Audio Player
Origin. Field recording by Daniel Atkinson.
I've been doing crafts since I was a child. My father was real creative. He worked with wood, did a lot of carpentry he made [pretty much] our toys and a lot of things around the house as well. From the time I was a child I was working with wood and then I left it alone in high school time. And after college, I started getting' back into it. I started [first] working with bamboo and I made a necklace for myself and then I made another one for my girlfriend for Kwanza and she started getting compliments on the necklace, so I started making more and selling them. That was like in [19]96-97.
While still working as an architect in Los Angeles in the mid-1990s, Sheard began selling his crafts at festivals and fairs on the side. Soon after, he began studying African retention all over the New World and incorporated it into his art. This facilitated a serendipitous meeting with master wood carver, Edward "Shaka" Butler at the Million Man March in Washington, DC,:
Audio Player
Shaka. Field recording by Daniel Atkinson.
That's who I kind of learned the carving from. . . . He never really gave me a lesson as far as "This is how you do it," but I watched him carve for about two years before I ever even thought about carving. . . . His work is incredible!
Around the year 2000, he started making cajóns, drums made of wooden boxes, crates, or large cabinet drawers that were first used by Afro-Peruvians in the 19th century.
Audio Player
Cajón. Field recording by Daniel Atkinson.
A friend of mine bought a cajón from the Guitar Center, one of the popular music stores and I was looking at it and at first I was kind of intimidated by [it] because they had good marketing, there was mitered construction and everything like this, but another friend had bought one and he dropped his within two or three days after he bought it and it was sounding terrible. So, I was like, "It's not as good as they say it was. So, let me try it out." So, I started, I made a couple of them and started selling, making and selling them from there.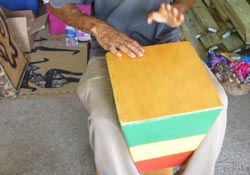 Because his drums are hand made, each one is a little different and reflects Sheard's mood at the moment, which extends directly from his upbringing by creative and curious people. Along with jewelry making, carving, painting, and drums, he is a passionate gardener and part of an artist collective that has a gallery that sits closely to his workshop where he makes his "wearable art." In many ways, he is an extension of his elders and has worked very hard to become the example that was provided for him:
Audio Player
Thoughts on Creativity. Field recording by Daniel Atkinson.
There are very few people still make stuff by hand. That was influence by my father for one and also Shaka. . . . At the time we met, we were kind of both working with bamboo, so we worked with bamboo a lot and I started creating jewelry with it and that really took off. . . . The jewelry for one, I like doing that and I keep doing that because, other than paintings or carvings and stuff pretty much only one person is going to see that. When you do a painting, that's in somebody's house and only one family can see it. If it goes to a museum, of course, a lot more are going to see it but, if a woman wears a pair of earrings everywhere she goes, people are going to see it. I like wearable art because a bunch of people can see it. . . . I went to Ethiopia three times, but before I even traveled to Africa, my work traveled there through other people.
Carvings by Steven "Ses-I Ras" Sheard
Joubert Harris: Split Oak Basket Weaver
Joubert Harris is a member of a family of split oak basket weavers with a tradition that goes back four generations. He learned from his father, Edward Harris who along with his mother, homesteaded 24 acres in the early 1950s that later expanded to 50 acres. In the elder Harris' minds, property ownership was key to escape sharecropping and provide for their children's education. All along, basket weaving kept the family together and served as a means of supplemental income. According to Joubert, "I'm happy to say that my parents recognized a need for that [education] and they also recognized that if basket weaving would help get us to the point where we ultimately are now, then that was something that they did. They made many sacrifices to get us to the point where we are."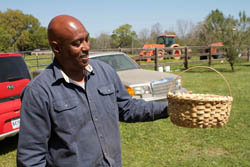 As a result, Joubert Harris has a remarkable connection with the natural world that continues to serve him well as an environmentalist for the State of Louisiana. In conjunction, his family's deep connection with their history insures that the Harris' will continue to be stewards of the land that their parents sacrificed so deeply to buy and keep. Though the story is not unique, the fact that they still own the land and can tell their own story is.
Audio Player
From Sharecropping to Ownership. Field recording by Daniel Atkinson.
Three of my older brothers were at the age where they could be working in the fields; cotton fields, corn fields on a daily basis and my older sister was at the point where she could do house work independently. And there was this particular day on this particular plantation where the foreman rode up on his horse and my siblings were getting ready to go to school, and they had to walk miles to get to school. The foreman to the plantation actually came to get my siblings to take them to the fields and it was a school day, but it was harvest time. And he basically told my dad, "I came here to get your children. They need to go in the field and get this crop in!" And my dad said, "Do what?" [Foreman] "Got to get them out! Time to go!" And he [Dad] said, "Well, no. My children, they're going to school." And, of course, the foreperson didn't like that and then he left in a rage and said, "We're going to see about this!" My daddy walked back in the house and my mother heard the dialog between the two of them and she said, "Well, you know what that means!" And he said, "Yeah, we going to need to start looking for another place." And sure enough, I think the next day the plantation owner came and said, "Look, you got to go. You got to find yourself another place."

So with that, they started out and, luckily, a cousin of ours who owned this 24 acres had this little shack in the back and it was abandoned. And they always [used to] tell me the story, my parents did, how it was basically what we call a shotgun house. And you walk in and you could still see daylight and you look up and it didn't have a ceiling and the walls, the boards were not very tight and you could see daylight. What they did at that time, there was a hardware store. They went and got all of these cardboard boxes and bundles of old newspapers. And they came back and started making starch. We used to make starch, what people now call glue. We would make this starch from flour and water and we would cook it and put it on the back of these papers and then they'd put that paper on the walls and on the ceiling to stop the holes, to keep the wind from coming in the house and make it more suitable for living. But, that was the beginning of ownership of real property. So that's the reason why this property is very, very meaningful as far as. . . . Excuse me because it makes me a little sentimental when I think about what they went through to get to this point.
Joubert's father Edward was orphaned at a very young age and raised by an aunt and his grandfather Robert Robertson who taught him the art of basket weaving.
At the age of seven, my dad was very curious and used to always watch his grandfather make these baskets. So his grandfather engaged him and started him weaving the bottom of the basket and also the very last part, which is what we call the rimming of the basket. And as tradition would have it, my dad having taken up that craft, taught us in the same way.
Harris baskets are extremely sturdy and Edward was known to stand on his baskets as a demonstration of their strength and the quality of craftsmanship that went into them. Joubert still uses homemade tools for splitting and refining the white oak strips. A very labor intensive process, Harris baskets initially served as a means to trade for food or other supplies and sold for as little as fifteen cents. Later, the baskets evolved into a favorite at craft shows for a couple of decades.
Audio Player
Process. Field recording by Daniel Atkinson.
Primarily, the white oak is the timber that we would use. When we find that tree, we have to cut that tree down and then we would bring it to a work area. Sometimes that would mean bringing it directly home. Sometimes, depending on where we are, where we might find that material, it might mean sitting in the woods, splitting that tree up into pieces and then bringing the pieces home and then further splitting that or refining that to the point to where you can actually weave the basket. Or, if again you were able to bring that home then you could work at you leisure and develop the basket. . . . In years past [at] the point my dad and older siblings initially were involved, we did get to a point where we started doing the arts and crafts shows in Louisiana and some of the other surrounding states. And that would be one of the things that a lot of the patrons would not realize, that we actually gathered the material and then weaved the basket[s].
As a result of his parent's sacrifice, Joubert Harris and his siblings were able to transcend the poverty trap of sharecropping and carve out a new narrative for themselves beyond what was expected within the greater American narrative. Though the family is not as active as they once were, Joubert Harris and his siblings see the cultural value in their baskets and looks forward to devoting more time to basket making in his retirement years along with his children, nieces, and nephews.
Conclusion
These vignettes comprise a very small portion of a largely untapped cultural narrative in the United States. They are stories of strength, loss, perseverance, and taking calculated risks in order to gain access to the inalienable right to life, liberty, and the pursuit of happiness. In their own way, each of these oral histories show that the basic principles of the United States have not been applied equally and despite this, the beauty of the human condition remains ever present, steadfast, and strong. Never the less, when these people have vanished from the scene, so does the knowledge of their collective experience, leaving what we are beginning to see as a wasteland unmet potential of all Americans. Therefore, if the greater American narrative is a coalmine, then Black culture is a canary. The tragedy lies in the knowledge that it does not have to be this way and A.B. Crochet's work beautifully demonstrates that people who are not African American can participate and even facilitate the narrative without resorting to stereotype, and the kind of arrogance that is informed by ignorance. Like beauty, humanity is in the eye of the beholder and we are all equally capable of expressing it, as long we do not require others to be on their knees just so we can feel tall.
Sources
Adichie, Chimamanda Ngozi. 2009. The Danger of a Single Story. Retrieved from https://www.ted.com/talks/chimamanda_
adichie_the_danger_of_a_single_story.
Butler, Edward "Shaka" Butler. 2017. Interview by Daniel Atkinson, March 11.
Coates, Jessie. 2017. Interview by Daniel Atkinson, March 13.
Coleman, Karl. 2017. Interview by Daniel Atkinson, March 13.
Crochet, Allen "A.B." 2017. Interview by Daniel Atkinson, March 9.
Harris, Joubert. 2017. Interview by Daniel Atkinson, March 15.
Hughes, Langston. 1951. Collected Poems.
Key, Lionel. 2017. Interview by Daniel Atkinson, March 10.
Roberts-Joseph, Sadie. 2017. Interview by Daniel Atkinson, March 9.
Sheard, Steven "Ses-I Ras". 2017. Interview by Daniel Atkinson, March 9.
Taylor, Diane. 2017. Interview by Daniel Atkinson, March 8.
Watson, Henry. 2017. Interview by Daniel Atkinson, March 10.