ARTICLES & ESSAYS



A Commentary: African Cultural Retentions in Louisiana
By Charles Siler
The thread which binds the quilt of Louisiana culture is African. Food, folkways, music, dance, religion, ritual, language, and style of creativity are among the many areas where this influence is evident.
In 1719, two hundred Africans were brought to New Orleans one year after its so-called founding. Why? According to Dr. Gwendolyn Midlo Hall, African people had the skills and knowledge to make the newest French colony viable.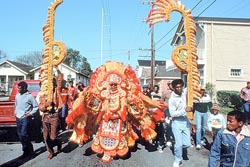 According to Dr. Hall, the French deliberately brought people from the Senegambian region to their new colony because the Senegal Valley was similar to the Mississippi Valley, they specifically instructed the captains of the ships bringing the enslaved to "produce several blacks who knew how to cultivate rice" and also bring "three or four barrels of rice for seeding which they were to give to the Company [i.e., the Company of the Indies] upon arrival in Louisiana." Rice became the most successful food crop to be cultivated in the new French colony.
Hall has done exemplary work in investigating the areas and national origins of enslaved Africans brought to the Louisiana colony. She contends that the African religious retention so dominant in the state owes less to immigrants from Haiti and the Caribbean than was presupposed by earlier academics.
Louisiana's undiluted retentions stem from an unbroken line to African culture during the state's colonial period. In a recent article entitled "Myths about Creole Culture in Louisiana," published in Louisiana Cultural Vistas magazine (Summer 2001), Hall makes a statement that is indirectly supportive of this concept.
Almost all slaves introduced into colonial Louisiana came directly from Africa. Most Atlantic slave trade voyages during the French period stopped off in various Caribbean islands for refreshment and supplies, but then they brought what was left of their 'cargo' to Louisiana. During the Spanish period, substantial numbers of ships arrived in Louisiana coming from the Caribbean bringing slaves, but Louisiana slaveholders and slave traders met ships coming directly from Africa as they docked in various Caribbean islands, purchased new Africans, and transhipped them to Louisiana.
This infers that African cultural traits, which have persisted throughout the history of enslavement in Louisiana were not filtered through another environment.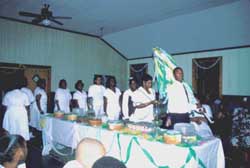 Nkombo. Though many lay claim to the best known food in Louisiana's culinary galaxy, nkombo, the West African word for "okra" is the root for the modern term "gumbo". Jambalaya and gumbo share similarities to West African dishes such as dchebuchin, which are common to the Senegambian home of many enslaved African brought to the colony. In Louisiana red beans and rice are a staple not unlike the Jamaican peas and rice, despite slight variations in preparation, they are essentially the same dish.
Jock-imo-feeno-ah-nah-nay! Jock-imo-fee-nah-nay!!
Processionals are an integral part of African culture and, in New Orleans, the second line is the archetypal expression of celebration. The second line is usually associated, outside of the area, with the jazz funeral tradition, which is only one place where it occurs. There are a variety of first lines - marching clubs, Mardi Gras Indian gangs, funerals, brass bands, and a variety of other, some newly created, celebrations. The name, Second Line, describes the followers of the first line. These are the drummers, dancers and others who follow the primary activity and give it support. The second line and its reflection of Louisiana's Senegambian connection links us to a processional dance called the Saba.
Video Player
Excerpt, American Patchwork: Jazz Parades. Brass bands march through neighborhoods in New Orleans accompanied by impromptu solo, couple and group dancers. Directed by Alan Lomax. Produced by Vestapol Productions, 1990.
In addition, since travel to West African has been on the increase, New Orleanians who have visited such countries as Senegal, Gambia, Ghana, and Benin, for example, have brought back reports of being fascinated by the same use of handkerchiefs and umbrellas as is found in their home city.
The line's movement is full of improvisation, a characteristic that links it to the processional formats of the Rara and Junkanoo traditions of the Caribbean and the Samba societies of Brazil. Each processional is reflective of regional developments born of environment and availability of decorative materials.
Louisiana's Mardi Gras Indians reflect the influence of the Plains Indians of North America in the generalised style of headpieces, also called crowns that are created. It is in the style of beadwork and suit construction where the African influence appears. The African continuum is illustrated by examples such as the work of Chiefs Bo Dollis (Wild Magnolias), Monk Boudreaux (Golden Eagles) and Larry Bannock (Golden Star Hunters) whose "Uptown style" suits reflect, in their beading technique, Nigerian influences. On the other hand, Chief Allison "Tootie" Montana (Yellow Pocahontas), credited with the development of the "Downtown style" suit, reflects a Bakongo (or Kongo) influence. (Kongo is also the source of the blacksmith and Shango ironworker cults. African ironworkers are responsible for much of the ornamental "lacework" that adorns Vieux Carre balconies.) Chief Montana, known for his sculptured suits, is a retired ironworker.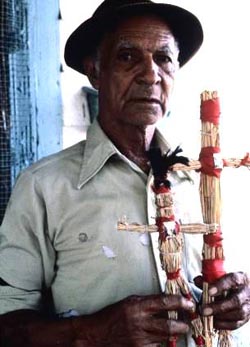 Modern incarnations within the Indian masking tradition are reflected in the design work of Victor Harris (Spirit of the Fi Yi Yi). Harris' masking style relates to the Bambara/Mandinka cultural links via their use of animistic design, raffia, and feathers, while still incorporating the sculptured patch structure related to the downtown Indians. Chief Clarence Dalcour of the Creole Osceola and his designer, Alvert Brown, created a style reminiscent of the Haitian Rara flags using sequins and beads in combination to create elaborate two-dimensional designs. The sequin and bead combination is also seen in the Brazilian Samba societies where these items are used in the creation of new costumes for their annual Carnival celebrations.
The Mardi Gras Indians also retained the Bamboula, which describes a drumbeat and dance. For nearly one hundred and twenty years the Bamboula, associated with Louisiana Congo Square legacy, was kept intact within that tradition.
In the early 1990s, internationally-famed percussionist Chief Hawthorne Bey visited New Orleans and taught the Bamboula beat to a group of local master drummers. In 1994, the Louisiana State Museum opened the exhibit Capturing the Flash: African American Photographers View the Black Indian Tradition. In a related program, Master drummer Luther Gray gave a presentation/performance of the Bamboula. It was an epiphany. The Indians present knew the beat. Though it had disappeared from the memory of the general populace it had remained in use by drummers and second liners following the Indians. Chief Howard "Smiley" Ricks (Indians of the Nation), a professional percussionist with Dr. John's band, remembered it as the changa or chango beat. Other chiefs present at the program confirmed Ricks' observation.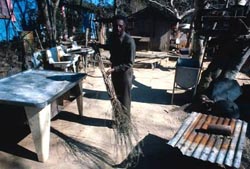 Gray, in a recent conversation, added another interesting note: namely that the dance known as the Bamboula is, stylistically, more Kongo derived. This information is coming forth as more people from this region have travelled to Africa and other parts of the Diaspora and are experiencing traditions that are "more than just familiar" to them.
African cultural retention abounds in the region and is taken for granted when not appropriated for sale to the public as a variant of so-called "mainstream" culture. The banjo, for example, is commonly considered European and is a staple of Appalachian culture that is usually associated with Whites. History, forgotten or distorted, has removed this instrument from its original cultural base. Joseph Holloways' book, Africanisms in American Culture presents an argument, in an essay entitled "African Heritage of White America," which ties the instrument and its playing technique to Senegambian music. In New Orleans, the late Danny Barker brought the instrument back into prominence during the career.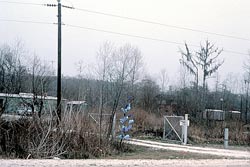 There are many commonplace musical links that demonstrate elemental ties to African culture. Ululation (yodeling), improvisation, the use of call-and-response and syncopation are characteristics of African music continent-wide. The use of a 17-21 tonal scale is common to African music whereas European music utilizes a 12-tone scale. Scholars and musicians involved in research are finding African music far more complex, harmonically as well as rhythmically, than previously noted. Far from being primitive, African music is considered to be advanced by those knowledgeable of its origins. Diminished tones utilizing the minor mode, as found in today's blues, typify the diversity found within the world's oldest music tradition.
Some years ago, Dr. Hashimi Maiga (a native of Mali) played a tape and asked me to identify the player. I totally blew it, identifying the player alternately as John Lee Hooker or one of the other musicians out of the Delta Blues genre. The guitar player, rendering centuries-old Malian melodies on a contemporary instrument was Ali Farka Toure. The question that has bugged me since hearing that tape is, "Was the 'first' person to play the blues in this country playing a familiar tune from his homeland on a new instrument?"
Hashimi reminded me also that the entire region, at the beginning of the Atlantic slave trade was still known as Mali, then a remnant of a civilization that had endured for more than a millennium. This area included all of the aforementioned African nations, Senegal, Gambia, Nigeria, Ghana and others. This made me mindful that the modern geographic designations are the results of the European division of Africa for the benefit of those colonial powers that wrecked the continent.
Dr. Ibrahima Seck, a native of Senegal, has long been fascinated by the cultural links that exist between his country and Louisiana and has studied these for years. In an effort to bring the information to people on both sides of the Atlantic, he created the Bouki Blues Festival, which is scheduled for January 2002 in Senegal. Music and scholarly presentations on the links are a part of the program for the festival.
The links are strong in architecture too. The main house at Louisiana's Laura Plantation, for example, was designed in a style that is distinctly Senegalese and perfect for the climatic similarities that exist between the two regions. A quick aside: the name Tchula (A Mississippi Delta town), according to Museum consultant, Dr. Deborah Mack, is a Senegalese word for village. Further investigation of language links should provide interesting results for future researcher in that area.
Many religious traditions, even among Whites in certain areas, are tied to the cultural practices of West Africa. Ring shouts, possessions ("shouting" amongst the Baptist and other groups), dance, drumming and speaking-in-tongues (ecstatic speech) are features of African religions. One may view voodoo and its variants as part of this aspect of a massive cultural Diaspora that has survived despite efforts to suppress it.
In parts of Northern Louisiana and Southern Arkansas the "Easter Rock" tradition is found. Easter Rock uses a modified ring ritual that is also found in other parts of the southeastern U.S. - Georgia, the Carolinas, and many of the Caribbean Islands. Louisiana's expert on the tradition, Dr. Joyce M. Jackson (Louisiana State University-Baton Rouge) is another scholar traveling to Africa to present a paper on Easter Rock and its links to practices that still exist on that continent.
Throughout the state there are "Spirit Houses" that represent the diversity of West African survivals that are considered a part of so-called mainstream traditions. We also find the mixing of religious practices such as Yoruba and Haitian VooDoo with Catholicism. The mixing of African religions with those imposed by slave masters grew out of the need of the enslaved for survival. This blending of religions (which included selecting "saints" to represent African gods) provided a disguise for the continuation of the African's own belief systems. Information regarding this practice is supported by research in Africa, as noted by Dr. John Mbiti, who indicated that Africans tended to convert the missionary and conquering religions on that continent by blending them with traditional beliefs.
Congo Square's prominence as a spiritual site among African-Americans in New Orleans, is rarely viewed as such by outsiders because of the association with music and dance by the tourism industry. However, the aforementioned spiritual retentions maintained along with the music and dance provided a basis for the Africanization of so-called mainstream religions in Louisiana.
Other indicators are also found throughout the state. Kathe Hambrick of the River Road African Museum (Gonzales and Donaldsonville) cites the finding of an egg with pins stuck into the shell. This is similar to, but an obvious adaptation of, a ritual device known as an nkisi (usually a figure or object that is pierced with nails or bits of metal whose purpose is to be a vessel and functions as an avatar used to contain pain or evil). The device, described by Hambrick, was found at the Africa Plantation near Donaldsonville.
Other items, such as a cowrie (Africa Plantation) and blue beads (Belle Helene), indicate the continuance of certain cultural traits through these items which are representative of African material culture. The cowrie has a variety of uses. In addition to its use as money, it is also found in the making of nkisi and other icons. Bottles can be found placed around graves in New Orleans cemeteries and appear in African American community burial sites throughout the state. Bottles have been used as spirit vessels and, even in this new millennium, can be found hanging from trees and adorning graves. This is another crossover element that is practiced by many that do not claim African ancestry. Hambrick describes having viewed graves with silver dimes embedded in wood placed atop them. These practices are also related to Bakongo or Kongo practices evident throughout the African Diaspora.
Robert Farris Thompson of Yale University, in an article entitled "Kongo Influences on African-American Artistic Culture," (Africanisms In American Culture; Halloway, 1991) is quoted:
New Orleans, city of the birth of jazz, had a strong and predominant Kongo element arising from the slave trade. It is no accident that one of our few documents North American attestations of the Kongo funda nkata seated position comes from Congo Square. In that culturally fabled place, where young New Orleans athletes once played a cognate form of early lacrosse (racquette) with amerinds, Kongo ndungu, extremely long and sonorous drums were played. The tremendous creative energies released when Kongo-derived traditions combined in New Orleans with those from the equally sophisticated Malian, Nigerian and Cameroonian traditional civilizations must have been amazing. This does not even take into account the final fillip: the blending of it all with the equally complex mix of musics - French, Spanish, English - in that culturally strategic city.
One interesting point which must be noted is that, even in the most liberal report one can find traces of the cultural attitude that has done damage to the interpretation of African history and culture and, therefore, the importance of these retentions. This brings to mind Dr. Maiga's admonition to remember that the region was still Mali and that the current political borders didn't exist, nor did any form of what we know as chattel slavery. Dr. Thompson and others of European descent fail, somehow, to remember that the dominant characteristics of what we now call Spanish music (and music notation) evolved during the seven century-long Moorish occupation of that region then-called Iberia. That meeting of the "musics" at Congo Square, therefore, could have been considered a reunion.
Dr. Hall speaks of the diversity of ethnic groups brought to Louisiana and establishes a timeline of their arrivals that can be used as an indicator of the appearance of certain traits peculiar to particular regions of West Africa. The Senegambians, due to their need in the new colony brought music, culinary, and other cultural links that can be documented.
The institution capable of telling the complete African story in a comprehensive manner has yet to be built in Louisiana. There are many institutions which carry the flag of African American culture in Louisiana: The Lake Charles Black Heritage Festival, The Arna Bontemps Museum (Alexandria), The River Road African American Museum, The Northeast Louisiana Delta African American Heritage Museum (Monroe) have all done exemplary work in interpreting and presenting aspects of African culture but have been limited to their particular regions of the state.
The full story will not be told until the space and funds are allocated to create a museum that is large enough to exhibit and programmatically (via lectures, panels, symposia, etc.) analyze the history of African Louisiana on a continuing basis.
Africanity is so woven so deeply into everyday American life that it is taken for granted and sometimes considered mainstream. If there is poetic justice, it lies in the fact that this culture had the strength and resilience to survive outright attempts to erase it from history and, in doing so, became the dominant creative culture in this state and nation.