ARTICLES & ESSAYS


Hayride Boogie: Blues, Rockabilly and Soul from the Louisiana Hill and Delta Country
By Michael Luster
As a newcomer to Louisiana, I'm somewhat reluctant to hold forth on any aspect of the rich musical heritage of this state. I certainly defer on the topics of Cajun, zydeco, New Orleans jazz and rhythm & blues, the musical forms for which Louisiana is so widely known. But since coming to northern Louisiana, I've noticed an almost total disregard for the musical heritage of this portion of the state where black and white traditions have flowered and cross-pollinated. The Louisiana Delta has received virtually none of the attention lavished on the opposite bank of the Mississippi, and, to my knowledge, Shreveport, which launched the national careers of such borrowed stars as Hank Williams and Elvis Presley—not to mention a passel of homegrown talent—has not garnered a single volume compared to the groaning shelf devoted to say Memphis. I want to take this opportunity to at least sketch a little of the area's musical contribution in just one twenty-year period, from 1949 to 1969, in hope that it might inspire me or someone else to carry it a little further.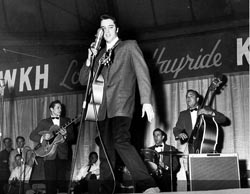 In the geographic body of Louisiana, North Louisiana is known as "above waist" with Alexandria serving as a sort of naval and Shreveport and Monroe/West Monroe spaced to complete the analogy. By and large the region's axis runs east and west with Mississippi-like Delta country shading to rolling pine hills reminiscent of East Texas. The twin cities of Monroe/West Monroe straddle the Ouachita River, a cultural divide shoved eastward toward the Mississippi; Shreveport sits far to the west but restores balance by serving as the principle magnet and reflector for Louisiana Delta musicians both black and white.
Had you been in Monroe in 1943, walking down streets named Congo, Calypso, or Adam and Eve, you might have encountered future Chess blues star Little Walter Jacobs with his harmonica or, on other streets, met with future Decca country star Webb Pierce, a West Monroe homeboy. But Pierce, left home the following year, pulled to Shreveport, and it is his 1949 release on the 4-Star record label that I want to take as my point of departure. That record was hard, white country with at least nominal allusion s to black music and it coupled a reworking of a western swing number, "Pan Handle Rag," with a new song written by Red Sovine called "Groovie Boogie Woogie Boy."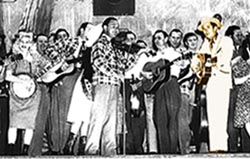 Sovine, a West Virginian, had replaced Alabaman Hank Williams that year on the new Louisiana Hayride, a powerful country music broadcast on KWKH second in importance only to the Grand Ole Opry. The Hayride, younger, brasher, more open to experimentation, would be known as the "Cradle of the Stars." "Groovie Boogie Woogie Boy" was written about a KWKH announcer Ray Bartlett who epitomized the syncretic mix coming out of the Delta at the dawn of the 1950s. Bartlett was equally adept at spinning hillbilly boogie and rhythm & blues records, sometimes as Ray Bartlett, sometimes as Groovie Boy, a jive-talking dee-jay of indeterminate ethnicity. On the Hayride, Bartlett would whip the crowd up with great cheerleader-like leaps, his legs extended high in the air. Among those listening were future rockabilly legends like Sleepy LaBeef, from just over the Louisiana state line in Smackover, Arkansas, who has cited Groovie Boy as a key player in his musical education.
Webb Pierce's recording of "Groovie Boogie Woogie Boy" and "Panhandle Rag" became a regional hit in the area known as the Ark-La-Tex, and he would shortly become the largest-selling country star nationally of the 1950s with thirteen number one records. His band became a "Cradle of the Stars" itself, nurturing the careers of area musicians Faron Young, the Wilburn Brothers, Floyd Cramer, and steel guitar great Jimmy Day. Pierce, while no rockabilly, would prove a major influence both at regional dances back home in Monroe and on his broadcasts over KWKH with songs like the "Hayride Boogie."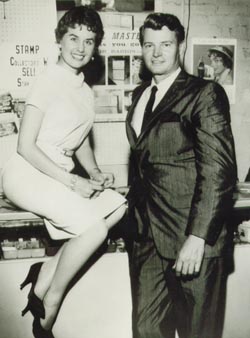 Among those picking up this signal, was a trio of cousins over in Ferriday, LA who had been slipping into a local black nightspot, Haney's Big House, to get supplemental doses of the blues and boogie. Micky Gilley, Jimmy Swaggart, and Jerry Lee Lewis were all descendants of Judge Thomas C. Lewis who had come to Monroe in 1805. But in 1949, Jerry Lee Lewis found his calling not on the law bench but at the piano when he gave his first public performance that year at the Ferriday Ford Dealership. The following year, Lewis traveled to Monroe to compete in a talent contest at Neville High School for the Ted Mack Amateur Hour. He did not win nor would he pass what some claim is an apocryphal audition for the Louisiana Hayride. Instead he returned to Monroe in 1953, after a failed stint in Bible College, to play in a country band at the Little Club and do solos at the Domino Lounge. Elvis Presley from Memphis would get the gig on the Louisiana Hayride in 1954 based on his recording for Sun Records, and success would wait for Jerry Lee until his own Sun record, a cover of a tune, "Whole Lotta Shakin' Goin' On," first recorded by Roy Hall, the piano player in Webb Pierce's band. The cousins back in Ferriday would wait a little longer for their own moments in the sun.
The road to Ferriday had begun back when some of Judge Lewis's descendants first lit out from Monroe to make their own way. A few, including Jerry Lee's granddaddy, had settled on a small rise twenty-five miles to the southeast called Snake Ridge. A couple of miles further south was Goldmine, and it drew a branch of another musical family, the Hawkins of Hawkins Holler, Arkansas. Delmar Hawkins took to country music and would travel back to Arkansas to show off the Cadillacs and other accouterments it bought him. These displays would inspire his nephew Ronnie to enter the music business as a barnstorming rock & roller. Delmar spent more and more time on the road himself, and eventually his wife took the kids and moved to Shreveport.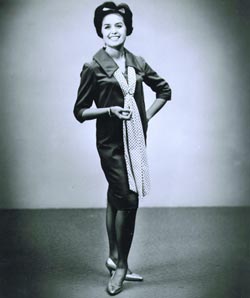 The boys Jerry and Dale Hawkins shared their father's love for music, and they prospered in the musical climate that swirled around Shreveport. Not only was there the Hayride but a local popcorn salesman Stan Lewis, a first cousin of Hayride and later Elvis drummer D.J. Fontana, had begun distributing, then producing, then issuing blues records on his own label. Soon Dale Hawkins was working as a teenage disc jockey and then organized his own rockabilly band. The Hayride had become an important outle t for rocking hillbilly musicians and local guitarists like James Burton and Fred Carter, Jr. had begun experimenting with replacing the high E string on their electric guitars with lighter gauge banjo strings to better emulate the keening bends of black guitarists. For Dale Hawkins's first release, with Stan Lewis producing, James Burton modified the guitar figure from Big Mama Thorton's original recording of "Hound Dog" to create "Suzi Q," a rockabilly record bluesy enough to be released on Chess in 195 7 along side those of Muddy Waters and Little Walter.
Like the Chess masters and his cousin Ronnie, Dale Hawkins was essentially a band leader and he and Ronnie would between them employ some of the most influential guitarists of the late fifties and early sixties. This period between rockabilly's heyday and the coming of the Beatles and the British invasion is often dismissed in the standard rock histories as a tepid period of teen idols and hit factory confections. In North Louisiana, this period laid much of the groundwork for the white blues of Engli sh bands like the Rolling Stones and the so-called swamp rock of Creedence Clearwater Revival both of whom would commence their careers with re-makes of "Suzi Q." Margaret Lewis (no relation to either Stan or Jerry Lee), a former back-up singer for Dale Hawkins and a rockabilly bandleader in her own right, would work with Mira Smith at Shreveport's Ram Records creating a microcosm of American roots music. Oak Grove native Tony Joe White formed a band Tony and the Mojos and began creating a blend of Delta blues and narrative after his brother brought home a Lightnin' Hopkins record in 1959. His own records ten years later like "Polk Salad Annie" and "Rainy Night in Georgia" would cause many to assume he was black, and his story-songs "Saturday Night in Oak Grove, Louisiana," "High Sheriff of Calhoun Parish," and "They Caught the Devil and Put Him in Jail in Eudora, Arkansas" bordered on a kind of soul music/regional literature hybrid which drew on local storytelling and the history songs of Shreveport's J ohnny Horton. And many, in fact, date the coming of soul music itself from Solomon Burke's 1961 cover of Shreveport's Faron Young's "Just Out of Reach (Of My Two Open Arms)."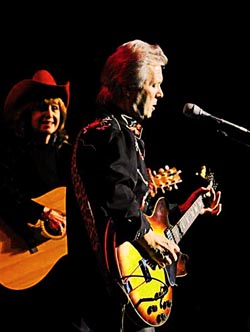 But increasingly, it looked like the 1960s was a period when North Louisiana saw its riches taken from it. Johnny Horton was killed in a car wreck in 1960, the year of Floyd Cramer's haunting, slip-note piano hit "Last Date," made after the piano-player followed the rest of the Webb Pierce band to Nashville. The piano hits had stopped for Jerry Lee due in part to complications in his family tree. The Louisiana Hayride ceased to be a weekly show as the "Cradle of the Stars" was robbed until it was all but empty. Mira Smith and Margaret Lewis closed down Ram Records to write songs in Nashville including the blues and country crossover hit "Reconsider Me." Dale Hawkins saw many of his old band members settle in California where they backed the telegenic Ricky Nelson and became the Los Angeles session aces known as the Wrecking Crew.
Dale himself would leave Chess and move into the producer's chair, overseeing the beginning of a new stirring of North Louisiana music. Back in 1954, Webb Pierce had returned triumphant to Monroe/West Monroe for Webb Pierce Homecoming Day. Hosting a television show in Monroe was singer and songwriter Merle Kilgore who had been slipping over to Shreveport every chance he got, and Pierce got him a recording contract with Imperial and then covered his song "More and More." Kilgore didn't make much of a dent as a recording artist but his songs did quite well. Faron Young recorded one in 1959 and then Kilgore supplied Johnny Horton a posthumous hit with "Johnny Reb" in 1961, Claude King with "Wovertine Mountain" in 1962 and Johnny Cash with "Ring of Fire" in 1963. After Pierce got him his Imperial contract in 1954, he passed the favor on in 1957 and got the company to sign Springhill native Joe Stampley.
Stampley did even worse on Imperial than Kilgore and instead concentrated on finishing high school and enrolling in college, where he and his brother joined a band much as the Hawkins brothers before them. In 1965, their band the Uniques went into Stan Lewis's studio in Shreveport with Dale Hawkins producing and recorded a song written by Joe Stampley and Merle Kilgore called "Not Too Long Ago." Modeled on the British Invasion, the record became a regional hit in the same area that had welcomed "Groovie Boogie Woogie Boy." Their cover of Art Neville's black slow-dance number "All These Things" in 1966 was a regional hit so memorable that those who came under its spell remember it on a par with the Beatles and are stunned when outsiders have never heard of it. This after all, is the story of regional music. Stampley would go on to national country hits and his label mates John Fred and the Playboys (who, of course, made their first record for a Monroe-based label) would go to the top with a Beatles psychedelic parody "Judy in Disguise (With Glasses.)" And on it rolled and still rolls. This region, like many, is important to the history of blues, country, and rock & roll. It's not Memphis, its not New Orleans but neither are they it. Popular music represents the mingling of many strains and each brings to the gathering a tale of home.