ARTICLES & ESSAYS


Louisiana Folklife Month 2018
Governor John Bell Edwards has proclaimed October 2018 as Louisiana Folklife Month to recognize the rich diversity of Louisiana's living traditions. Lt Governor Billy Nungesser has recognized six tradition bearers in order to bring attention to the individuals who sustain them. The initiative showcases an array of tradition bearers in a series of public programs taking place at venues across the state. Folklife Ambassadors from the Louisiana Folklife Commission (LFC) and Louisiana Folklore Society (LFS)have selected the following tradition bearers to be recognized at public presentations.
The presentations include the following tradition bearers: Sam Bailey,, gospel musician and show producer in Ferriday; Thomas Deshotels, Cajun Mardi Gras capitaine from Hathaway; April Nicole Jackson, recording artist (blues/r&b) from Baton Rouge James Sothern, folk musician, author, and educator from Houma; John Colson, filé maker/oral historian from Natchitoches; and Sylvester Francis, Mardi Gras Indian museum founder from New Orleans.
Presentations will be moderated by Folklife Ambassadors from the Louisiana Folklife Commission (LFC) and Louisiana Folklore Society (LFS).
Folklife Month is supported in part by funds from the National Endowment for the Arts and the Louisiana Endowment for the Humanities.
To learn about all tradition bearers recognized since 2015, click here
HONORING A LIFETIME OF MUSIC: SAM BAILEY AND THE SAM BAILEY GOSPEL SHOW
with Sam Bailey
Saturday, October 13, 2018, 7:00 PM, Delta Music Museum & Arcade Theatre, Ferriday, LA
Address: 218 Louisiana Ave, Ferriday, LA 71334
Ambassador: Tommy Ike Hailey, Associate Professor of Anthropology, Northwestern State University; Linda J. Gardner, Director, Delta Music Museum & Arcade Theatre
Partnering Organization:
Delta Music Museum & Arcade Theatre; Friends of the Delta Music Museum
Tradition Bearer: Although Sam Bailey was born in Mobile, Alabama, his family moved to Louisiana when he was only two or three years old, and most of his life has been spent in the Louisiana Delta country around Ferriday and Vidalia. He lived in Minden for about two years and Vidalia for many years after that, but more recently he calls Natchez, Mississippi home. Even so, his ties to Louisiana are still strong. Being just across the river from his beloved Louisiana, Mr. Sam takes an active role in the life of his church in Ferriday, and to this day he is a crowd favorite when it comes to singing gospel songs in shows at the Arcade Theatre in Ferriday. He is well loved by the Miss-Lou community, his church, and his music fans.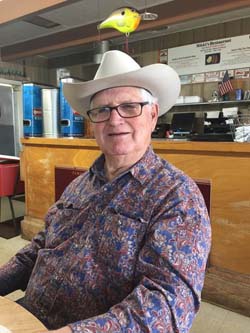 Mr. Sam, a lifelong musician, started singing with his sisters when he was four or five years old, and was playing guitar by ear by then as well. He has been a member of many bands over the years, including the Dewey Keen Band in Minden (playing lead guitar at age 15), Don Wiley and the Catahoula Playboys in live shows and on the weekly Don Wiley Show, which aired on KALB in Alexandria, Louisiana (steel guitar, lead guitar, and singer), and the Volunteers, out of Baton Rouge (steel guitar). He also played shows for about eight years at the Ford Theater in Harrisonburg, LA, and for the Big Ten Jamboree, a weekly TV show on Channel 10 in El Dorado, AR. During those years Mr. Sam also shared the stage with many nationally renowned Nashville recording artists, including playing steel with Ray Price, Gene Shepherd, and Norma Jean during their respective tours in Louisiana, playing lead guitar at the Louisiana Hayride for Faron Young (a show that also featured Johnny Horton), and playing steel guitar for a radio show at the Ernest Tubb Record Shop in Nashville.
His skill as a pedal steel guitar player led to an opportunity that many musicians only dream of in the early years of his marriage to Sandra Smith Bailey—Nashville great Merle Kilgore asked Sam to come to Nashville to make his living playing music and touring the country as a member of Merle's band. His young and growing family and his heart were in Louisiana, however, so he turned the offer down.
In the 1970s, Mr. Sam started turning more toward gospel music, performing with Sam and the Saints, who were active for many years in the Miss-Lou area, the Sam Bailey Trio, and the Hinsons.
He continued to play the steel guitar for many years until health challenges forced him to give it up, but being unable to play the instrument he knew and loved so well has not stopped him. Sam Bailey told Delta Music Museum Director Linda J. Gardner that he wanted to bring back "traditional gospel" music to the theatre, and the first Sam Bailey gospel show, named in his honor because of his outstanding reputation as a gospel singer and as a Christian, was held in April 2017. The gospel shows are generally very well attended and the crowd always wants to hear Mr. Sam sing, so he sings them their favorites, including "How Great Thou Art," and "When God Unfolds the Rose."
The Event: Sam Bailey will be honored as part of the Ronnie Cox and Friends show in the historic Arcade Theatre in downtown Ferriday, Louisiana. The Arcade Theatre is a live-music and event venue owned and operated by the Delta Music Museum. The Delta Music Museum's mission is to collect, preserve, and exhibit the musical heritage along the Mississippi River Delta Region beginning in Memphis, TN, and traveling down the Mississippi River Delta through New Orleans, LA, including, blues, jazz, zydeco, folk, rock and roll, country, gospel, rockabilly, and the myriad of other genres of music that are played here. As a part of this mission, the Delta Music Museum endeavors to educate the general public concerning the musical heritage of the Mississippi River Delta Region. The Ronnie Cox and Friends show will include a ceremony in which Mr. Bailey will be honored as a Louisiana tradition bearer.

MARDI GRAS MUSIC AND TRADITIONS
with Thomas Deshotels, Cajun Mardi Gras Capitaine
Saturday, October 13, 2018, at 2:00 - 3:00, Scène Atelier, Festivals Acadiens et Créoles, Lafayette
Address:: Girard Park, Lafayette, LA 70503
Ambassador: Barry Jean Ancelet, Festival Director, Professor Emeritus of Francophone Studies and Folklore and Center for Louisiana Studies Research Fellow at the University of Louisiana at Lafayette
Partnering Organization: Festivals Acadiens et Créoles and the UL-Lafayette Center for Louisiana Studies
Tradition Bearer: Thomas Deshotels has been associated with the Grand Marais (a rural community just north of Jennings) Mardi Gras run since the age of thirteen and he began to run with them at the age of nineteen. He ran under the leadership of his mentor and eventual father-figure Captain Wallace Gary, apprenticing first as a soldier, then as a paillasse. As a soldier, Thomas was renowned for his antics, climbing trees, hiding under houses, teasing members of the host family. He was what is referred to as a "good Mardi Gras." As a paillasse, he excelled as well, begging effectively for contributions and providing brilliantly illogical fodder for the zany mock trials and ritual floggings that are at the heart of this tradition. He is also an accomplished horseman, working as a cowboy and horse trainer the rest of the year. This serves him well on the Grand Marais run, in which participants ride both horses and wagons.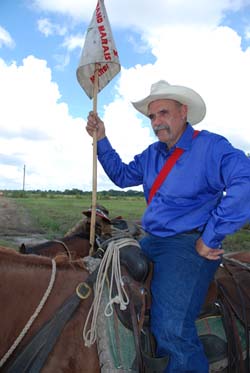 Captain Deshotels assumed leadership of the Grand Marais run in 2004, a year after the death of previous Captain Francis Hebert. Like his predecessors, he has become a master at the deep play and misrule of the mock trials. Under his tireless and solid leadership, the Mardi Gras has survived and even thrived through the difficult transitions brought on by the deaths of long-time veteran players and leaders. He has arranged Mardi Gras escorts for fallen members at their funerals. He has also shepherded the run through a number of difficult and complex changes, taking this tradition that has ancient roots into the 21st century, including the recent elimination of its problematic practice of blackface. He does it all with remarkable stability, heartfelt dedication, courage, a rock-solid moral compass, and most of all, a deep and abiding love for the Mardi Gras.
The Event: Deshotels will be honored as part of a workshop session on South Louisiana Mardi Gras runs and music at Festivals Acadiens et Créoles on the Scène Atelier stage. Barry Jean Ancelet will interview Deshotels and members of the Grand Marais run, who will also perform their traditional song and improvise a mock trial.

PRESENTING APRIL NICOLE JACKSON, RECORDING ARTIST (BLUES/R&B)
Saturday, October 13, 2018, 2:00-4:00 pm, East Baton Rouge Parish Main Library-Goodwood, Baton Rouge
Address: 7711 Goodwood Blvd, Baton Rouge, LA
Ambassador: Joyce Marie Jackson, Ph.D., President of Cultural Crossroads, Inc. and Professor in the Dept. of Geography & Anthropology at LSU
Partnering Organization: Cultural Crossroads, Inc.
Tradition Bearer:: April Nicole Jackson, aka "Sexy Red" is a Southern Sassy Soul Diva born and raised in the inner city of Baton Rouge, Louisiana on April 1, 1970. As a young child, she began singing commercial jingles while watching television. Her mother, Ms. Roxie Jackson, noticed young April's voice and started bringing her to Sunday School at their church. From there, April started singing in the church choirs and special church events.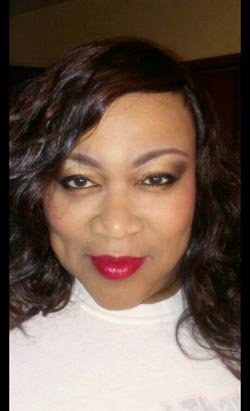 April received her education in the East Baton Rouge Parish School system and studied at Southern University. From there she garnered a finance career and found her love for singing again in 2006 at the age of 36. She performs Blues, R&B, and Sothern Soul Music.
April "Sexy Red" Jackson gained self-exposure by performing at many jam sessions around Baton Rouge at local night clubs and lounges. Then, she became a BMI affiliated Recording Artist and created Red Revue Entertainment where she is CEO and Manager. She hosted her pre album release party in June of 2015, introducing three of her CD Hit Singles. The singles "Good Good Lovin,'" "Full Time Lover," "Can You Feel Me" and "Move," quickly moved throughout Baton Rouge and surrounding areas, through performances and social and music media outlets throughout the world. The seven (7) songs EP entitled "Love Rope" will be released in 2019.
Sexy Red has sung with and performed for various Blues and Southern Soul artists including: Vince Hutchinson and the Heavy Storm Band, Patrick Henry and the Liberation Band, Clarence "Pieman" Williams and the Rouge Band, Kenny Neal, Tyree Neal, Lil Ray Neal, The Neal Brothers (Frederick & Donell), Uncle Fallay, Ms. Pat of 2GA1, Nathaniel Kimble, N-Tune, The OMT Band, Eric G and the All Stars, Harvey Knox and the Soul Spectrum, Nu40 Entertainment of Houston, TX, The Mellow Band, Stephanie McDee, Doug Broussard and Henry Turner Jr. and the Flavor Band (Ultimate Louisiana Tour Artist). Additionally, she is a current singer/performer with The Rude Show, a Ronnie "Rude" Perkins Production. Through this production she has opened for Universal Recording Artist Rude, Midnight Star, Cameo, and Morris Day and the Time. Lastly, she was Nominated for Female Vocalist of the Year at the 2016 Zydeco, Blues and Trailrides (ZBT) Music Awards in Houston, TX.
The Event: Cultural Crossroads, Inc. is celebrating its 20th Year Anniversary by featuring one of Baton Rouge's finest female blues artist, April "Sexy Red" Jackson. The program consists of an award presentation followed by a "Conversation with the Diva." The conversation will be led by Folklife Ambassador, Joyce Marie Jackson. Afterwards there will be a brief performance by the tradition bearer, April "Sexy Red" Jackson. She is a great representative of what Baton Rouge and Louisiana has to offer in the traditional performing arts category.

HONORING A COMMUNITY LEGEND
James Sothern, author of LAST ISLAND
Sunday, October 21, 2018 at 3pm, Rougarou Fest Main Stage
Address: Downtown Houma, 7856 Main Street, Houma, LA 70360
Ambassadors: Dr. Shana Walton, Associate Professor at Nicholls State University; Jonathan Foret, Executive Director of the South Louisiana Wetlands Discovery Center and Rougarou Fest Chairperson.
Partnering Organization: Nicholls State University Center for Bayou Studies and the South Louisiana Wetlands Discovery Center.
Tradition Bearer:: James M. Sothern, a community researcher and bayou cultural icon for over 40 years, is a Louisiana native who learned to play songs in Louisiana French. He was the banjo and accordion player at the La Trouvaille Restaurant from the time it opened in the 1980s until it closed in 2003. Thousands of visitors came from around the world to experience the Cajun way of life shared at La Trouvaille.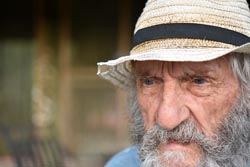 He wrote books featuring Louisiana French and traditional Cajun recipes, but he is best known for his book, Last Island, an account of the 1856 hurricane that destroyed the resort village located on Isles Dernieres causing great loss of both life and property. Sothern and a few of his friends made their first trip to Last Island while he was still in high school in 1950 using a handcrafted boat made of cypress.
Sothern shared his love for the Mississippi Delta as a Geology professor at Nicholls State University and as a teacher at South Terrebonne High School.
The Event: Sothern will be honored as a part Nicholls State University's Bayou Studies Symposium at the Rougarou Fest. The award presentation will be followed by a performance of the Cajun Music Preservation Society. The Rougarou Fest is a family-friendly festival that celebrates the rich folklore that exists along the bayous of Southeast Louisiana.

Celebrating Traditional Filé Maker and Oral Historian John Oswald Colson
Saturday, October 27, 2 p.m., Louisiana Sports Hall of Fame and Northwest Louisiana History Museum
Address: 800 Front Street, Natchitoches, LA 71457
Ambassador: Shane Rasmussen, Director of the Louisiana Folklife Center and Associate Professor of English, Northwestern State University
Partnering Organizations: The Louisiana Sports Hall of Fame and Northwest Louisiana History Museum, the Louisiana Folklife Center, and Northwestern State University
Tradition Bearer: John Oswald Colson has been making filé for over sixty years. Starting in the early summer months, the leaves of sassafras trees are gathered, although traditionally leaves were harvested only on the 8th of August. The leaves are laid out evenly to dry, and then de-stemmed by hand. Mr. Colson uses a traditional Native American pilon, similar to a large wooden mortar and pestle, to pound the dried leaves into a fine powder commonly known as filé. There are no added fillers, seasonings, or flavorings. The result is a pure, rich filé seasoning used as a thickening agent and flavoring in gumbo.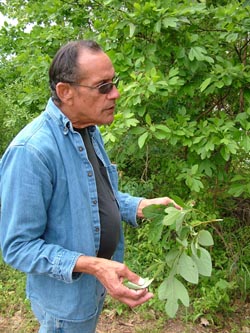 Colson's product, knowledge, and demonstration skills of creating gumbo filé have been sought by those throughout Louisiana and beyond. He has participated in the Natchitoches-NSU Folk Festival for many years. He had also contributed to projects and events for the Cane River Creole National Park, the Cane River National Heritage Area, Northwestern State University's Creole Heritage Center, the National Center for Preservation Technology and Training, the St. Augustine Society of Isle Brevelle, the Experience Louisiana Festival in Eunice, Creole Culture Day at Vermilionville, the Sassafras Festival in Texas, and summer workshops at the Tunica Biloxi Museum in Marksville. He has given numerous interviews with various educational institutions as well as televised presentations.
Colson is also a respected oral historian and cultural tour guide of the Cane River region. He was born and reared on Cane River and can readily provide accurate information about the history behind each land parcel, home, and family connected with the Isle Brevelle community.
The Event: Dr. Shane Rasmussen will interview Mr. Colson about his life and work as a traditional filé maker and oral historian of the Cane River region. The event will include a ceremony in which Mr. Colson will be honored as a Louisiana tradition bearer.

BACKSTREET CULTURAL MUSEUM'S 19TH ANNUAL ALL SAINTS' DAY TRIBUTE
with Sylvester Francis
Thursday, November 1, 4:30 pm, Backstreet Cultural Museum
Address:1116 Henriette Delille St., New Orleans, LA
Ambassador: Teresa Parker Farris, Chair, Louisiana Folklife Commission, Tulane University, with Rachel Breunlin and Bruce "Sunpie" Barnes
Partnering Organization: Backstreet Cultural Museum, Neighborhood Story Project, UNO Department of Anthropology & Sociology, with support from the Boebel Foundation
Tradition Bearer: Sylvester Francis has spent nearly a lifetime documenting the street culture of New Orleans' African-American community. Nicknamed "Hawk Mini" for the miniature videocamera he once used, Francis has recorded more than a thousand hours of the city's street celebrations, including jazz funerals, Mardi Gras parades, and second-lines.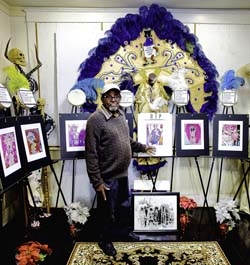 In the 1980s, he began showing his photographs, films, and memorabilia at Jazz Fest as well as from his two-car garage in the "back streets" of the historic Faubourg Tremé. These displays became the foundation of the Backstreet Cultural Museum, which Francis opened in the neighborhood's old Blandin Funeral in 1999.
Now nearly two decades later, Backstreet Cultural Museum is the city's premier institution dedicated to the preservation and promotion of the African-American community's traditional art forms. The non-profit venue displays Mardi Gras Indian suits, social aid & pleasure club adornments, memorial t-shirts, obituaries and funeral programs, and, of course, videotapes. Francis regularly hosts local, national, and even international visitors and each year hosts a Mardi Gras open house as well as an All Saints' Day Tribute,
The Event: Sylvester Francis will be honored in a brief ceremony to be held on the steps of the museum which he founded immediately following Backstreet's All Saints Day Parade. Now in its twentieth year, the procession winds through the historic Tremé neighborhood as a way to raise awareness of the cultural significance of jazz funerals as well as to remember community members who have passed in the previous year. Folklife Ambassador Teresa Parker Farris will present Francis with a certificate of recognition and Bruce "Sunpie" Barnes will make additional remarks in French Creole to coincide with the 50th anniversary of CODOFIL. Barnes and Rachel Breunlin were also co-organizers for the CD and book project, Le Kér Creole: Compositions from Louisiana.