ARTICLES & ESSAYS


"My Way To Show Baton Rouge I'm Here": Latino Music and Dance in Baton Rouge
By Dominic Bordelon
Introduction
Latinos form an increasingly sizable community in the Baton Rouge area. The majority have come to Louisiana in the last twenty years. The 2006 Louisiana Health and Population Survey identifies 16,222 individuals in East Baton Rouge Parish as being of Hispanic or Latino origin, an estimated 3.9% of the total population. Many have come to work, particularly in the area's active construction, landscaping, and service industries.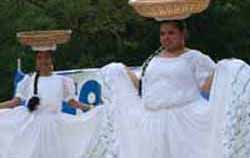 While "Latino" is a widely-used term, used interchangeably with "Hispanic," it is also somewhat problematic. It is not a strictly racial or ethnic category, as it includes people with European, Native American, and African ancestry; it is also quite distinct from race in Latin American cultures. Nor is it an entirely linguistic category, as it may include second- and third-generation immigrants in America who speak only English, or Native Americans of Latin American countries who do not speak Spanish as a first language or at all. Nevertheless, "Latino" and its synonyms have been useful terms to refer broadly to people and their descendents originating from the Spanish-speaking countries of the Western Hemisphere south of the United States. The term refers to more than geography: language, religion, and other cultural elements bring Latin American immigrants together into communities in the United States, despite the great variety in their national origins.
In the Baton Rouge area, the Latino community is primarily composed of Mexicans and Hondurans. The next-largest group is Cubans, followed by much smaller contingents from various other countries: Salvadorans, Panamanians, Colombians, Puerto Ricans, Peruvians, Nicaraguans, Ecuadorians, Venezuelans, Costa Ricans, and others. Because Mexicans and Hondurans greatly outnumber the other groups, most of the community's businesses cater to these two groups. The community's restaurants, for instance, serve mostly Mexican food.
This does not mean that only Mexicans and Hondurans frequent and work at these businesses, however. In fact, Baton Rouge's taquerías (Mexican restaurants, literally places that serve tacos) and tiendas (stores) serve not only as eateries and supply centers, but also as social spaces. They are places where one can meet with friends, where Spanish is predominantly spoken, where Spanish-language television and music are played, and where numerous visual reminders of home are displayed. For some, the connection to home is more tangible, since these stores also have phones for international calls, and they sell phone cards. Along with area churches that offer Spanish services, such as St. George Catholic Church, these businesses are cultural centers for a growing community.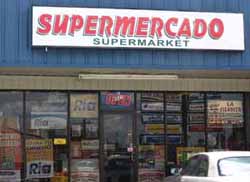 Latin American Music: Popular Contemporary Genres
The music of Latin America is as diverse as its geography and cultures. While there are numerous tastes, audiences, genres, and performers, there is a definite international market. The media in this market consists of particular genres that have become popular across Latin America, among Latinos in the United States, and occasionally in the Anglophone American culture. Broadly speaking, the most popular styles fall into three categories: island Caribbean, Mexican, and Colombian.
The popular Caribbean genres originate in Cuba, Puerto Rico, and the Dominican Republic. Undoubtedly the most well-known of these is salsa, a combination of styles originating in Cuba and popularized in the 1970s and 1980s. Salsa, perhaps more than some other forms, is closely associated with dancing. It is characterized by relatively quick, complex percussion rhythms based on a distinctive beat known as the clave (not to be confused with the instrument of the same name). The piano or keyboard plays an important role, following a rapid pattern of octave intervals and arpeggios called tumbao. Horns and vocals are featured as well. Another popular genre that originated in Cuba is the bolero, a slow, romantic style. The genre has long since spread to other Latin American countries, and become a truly pan-Latino form.
Other popular Caribbean styles are merengue and bachata, both originating in the Dominican Republic. Merengue, considered the national music of the Dominican Republic, is a fast, upbeat style featuring the tambora (a double-sided, medium-sized drum), the güira (a percussion instrument similar to the better-known guiro, but made from metal), and a button accordion. The bachata, on the other hand, is slower and usually features romantic lyrics. It also features bongos (rather than the tambora of merengue) and guitar.
Various regional genres of Mexican music are popular internationally and in Baton Rouge's Latino community. One of the most iconic sounds of contemporary Mexican music is that of norteña, which is played at a moderate pace with a strong downbeat. Its instruments include the bajo sexto (a special type of guitar) and a button accordion. A related style, known as banda, uses an all-brass band. Rancheras and corridos are long-running Mexican traditions; the former deal with patriotism, and the latter are ballads telling stories of individuals.
The well-liked cumbia is a contribution of Colombia. It is characterized by a distinctive 1-2-3 beat, where the first note is long and the last two are shorter. The percussion of this genre is similar to Caribbean styles, while the primary instrument is the button accordion. This internationally-popular genre has become an important part of the Latino music scene.
Status of Latin American Music In The Baton Rouge Area
Few Latino musicians are active in the Baton Rouge Latino community. Though many know how to play an instrument to some degree, few keep in practice or play regularly because jobs in the construction industry, which employs a large number of Latinos in the area, are very demanding, leaving little free time for activities such as music. In the Baton Rouge area, a Mexican band called Mestizo is the only currently active band in 2009.
A few other groups and artists who are Latino, play Latino music, and/or perform for the Latino community in Baton Rouge, but they live in LaPlace, Kenner, Metairie, and elsewhere in the greater New Orleans area. Examples of these are the groups Julio & César, La Rumba Buena, and the Latin Four. Their Baton Rouge audiences are often largely non-Latino, except when they perform for private parties. This seems to be the case because the bands are performing in Tex-Mex-style American restaurants, and there are few appropriate venues among the Latino restaurants and other businesses. One exception to this is the Latin Club, a night club with a relatively large dance floor, whose music is provided by DJs and touring international bands; however, local groups do not perform there. Another exception to this is Ahuua's Mexican Restaurant on Jones Creek Road, where the group Mestizo regularly performs.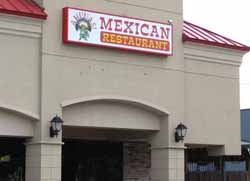 Mestizo
Mestizo, Baton Rouge's first Mexican band, started playing together in December 2008. The name of the band refers to mixed race or heritage, similar to English "creole." This is an apt name: Mestizo percussionist Lucas Gonzaga, in reference to the band members' origins, has said, "Por eso fue el nombre de Mestizo. Porque nos reunimos de varios estados." ("That's why it was the name 'Mestizo.' Because we came together from various states.") True to their diverse origins and their name, the band plays a mixture of genres from all over Mexico, such as ranchera, corrido, charanga, duranguense, and cumbia (originally a Colombian form, now popular in Mexico and throughout Latin America).
Mestizo has five members: Juan, organizer and vocalist; Marcos, guitarist; Arturo, keyboardist; Lucas, percussionist, and another percussionist. The band carries a strong beat, made for dancing, with the upbeats accented by the guitar. Smooth vocals trade off with the keyboard, which plays riffs and trills synthesized to sound like accordions, saxophones, flutes, or trumpets, depending on the song.
If Mestizo's music is made for dancing, then it is put to good use. Their audience is mostly Mexicans and Hondurans well-versed in the songs that the band plays. Though all of the music they play is Mexican, there are plenty of people of other nationalities who enjoy the music and dance to it as well. Recently, they are focusing more on duranguense, which is a genre originating in Durango, Mexico. It is a fast style, and Lucas says, "tiene bastante sabor la música" ("the music has a lot of flavor"). He adds that, importantly, "en una fiesta, la duranguense anima a la gente." ("at a party, duranguense livens people up.") The band plays regularly at Ahuua's Restaurant in Baton Rouge and many private parties. Ahuua's is a restaurant with primarily Latino patronage, but it receives some non-Latino customers, which broadens Mestizo's audience outside of the Spanish-speaking community.
The band's repertoire consists of probably two hundred songs, but they are aiming for around a thousand. The canons of the band's various genres are large, and the musicians want to be able to play what people request. This is difficult because it requires a great amount of learning and practice. Besides the classics, Lucas says, "tenemos que estar al día con la música" ("we have to be up-to-date with the music"); they are always trying to learn the songs they hear on the radio. In particular, corridos are a popular genre for requests, and the canon is very large. Additionally, Lucas notes that band members set high standards for themselves and constantly strive to improve.
In addition to these difficulties, the band struggles to make enough time to practice and play. They all work around 56 hours per week in construction, so it is hard enough to play gigs, much less get the necessary practice. This is the primary reason that there are so few publicly known musicians in Baton Rouge's Latino community--many know how to play, but few have the time to do so, or to practice, because they are employed in occupations that demand many hours per week. Lucas did not find any musicians he could play with his first two years here, and the band Mestizo did not start playing together until December 2008. The band's original plan was to be somewhat larger, with horns, but no available musicians could be found. Also, the band's practice space presents challenges since they practice in a cramped trailer. Despite these daunting obstacles of repertoire and time, the band pushes on with their music. According to Lucas, "Tenemos el gusto, porque nos gusta, eso nos inspira" ("We play because we have a liking for it. We like to play; that is what inspires us.")
Mestizo also finds that the English language is a barrier for them. In everyday life, it limits their activities and ability to communicate; Lucas has said that although he works with many English-speakers, he cannot communicate with them. The band has played at events where no one spoke Spanish. About English, Lucas has said, "Es algo que tenemos que agarrarlo, porque es muy importante tenerlo" ("It's something that we have to get a hold of, because it's very important to have it.") Despite its complexity, he is learning it "poco a poco" (little by little).
As the Baton Rouge area's first Mexican band--and more broadly its first Latino band--the group "has a responsibility" to play well, according to Lucas; "tenemos una responsibilidad. . . . tienes que presentarte bien" ("You have to present yourself well.") Since the band is still young, Lucas says that they don't yet have a distinct sound, and "para eso, les damos trabajo mucho, bastante en el grupo, para poder agarrar nuestro propio estilo" ("for that, we're working a lot, quite a bit in the group, to be able to get into our own style.") After doing this, and expanding their repertoire, the band may pursue original songs.
While the band may not consider their performances unique, they certainly have audience appeal, even outside of the Latino community. Lucas tells this story:
Un Cinco de Mayo, en un restaurante. . . estábamos muy nerviosos, porque había puro americano. . . tocando el rock bastante bien. Y nosotros, tocando música mexicana. . . nos sentíamos muy nerviosos, muy, muy nerviosos. Estamos al punto de ya no tocar. Pero estábamos tocando la canción de aquí "Jambalaya". . . [una versión] durangüense. . . . y bailó la gente más con nosotros que con el grupo de rock. (One Cinco de Mayo, in a restaurant. . . we were very nervous, because it was all American. . . [with a rock band] playing pretty well. And us, playing Mexican music. . . we felt very nervous, very, very nervous. We were at the point where we weren't going to play. But we were playing the song from here, "Jambalaya". . . [a] durangüense [version]. . . . And the people danced more with us than with the rock group.)
Clearly Mestizo has potential to play outside the Spanish-speaking community as well, and they may find some success in other venues in the future.
As a band playing diverse genres, having a broad appeal throughout the community, Mestizo can impart many meanings in their music. Lucas has said, "La música puede significar muchas cosas. Significa la alegría, significa a veces el dolor de un amor, significa que estás enamorado." ("The music can mean many things. It means happiness, sometimes it means heartbreak, it means that you're in love.") Most importantly, though, the music reminds its listeners, and its performers, of home: "Nos hace sentir que estamos allá." ("It makes us feel like we're there.")
Julio & César
Julio and César Herrera are brothers who have played guitar together for many years. Originally from Guatemala, they arrived in the United States as young men in 1967. Residents of Kenner, they perform in a variety of venues across southeast Louisiana: restaurants, clubs, private parties, concert halls, and charity events, including Baton Rouge. As skilled musicians established in the area for a long time, they have developed a following that knows them by their unique sound: deft, complex melodies produced on rich nylon-string classical guitars. César, the older brother, sings and plays the accompanying parts of the music, while Julio plays the lead. César's son Andrew, a bassist, plays with them, and the brothers hire other musicians as needed. They have had a band as large as twelve before, which included horns. However, Julio and César are always, in César's words, "the basics" of the band.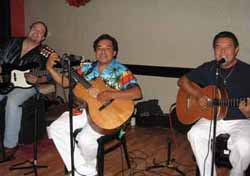 Their repertoire consists of a broad variety of music from Latin America, Spain, the United States, and Italy. César sings in Spanish, English, and Italian. The genre closest to their hearts is Guatemalan folk music, but since they realize that many audiences do not share that interest, they play salsa, merengue (a Caribbean style), boleros (romantic ballads), samba, flamenco, and country western. César says, "We try to play whatever the people like." No matter what they play, though, they infuse it with their own style; their performance of "Hotel California," for instance, is no straight cover. It has a distinctly Spanish flavor, accented by Julio's rapid guitar picking. "We try to put our own style," says César.
That style is influenced by Guatemalan folk music, which prominently features marimbas (wooden xylophone-type instruments). One characteristic of such instruments is that they cannot produce long, sustained notes; the tone quickly fades away after the bar is struck. Therefore a player must strike a bar repeatedly if they want a longer note, similar to a drum roll effect. César has observed that "Julio plays the guitar like he's playing a marimba." Julio imitates that effect with a technique called tremolo on stringed instruments, the rapid, repeated picking of a string.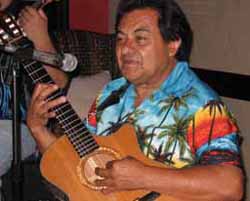 If Julio is imitating the marimba when he plays, it is not merely because he overheard it at some performance as a child. His and César's father was a marimba player, and in fact their whole family was influential in their development as musicians: Julio said, "We have relatives that are very talented in music and the arts. So they gave us the lift . . . to learn the music. We started playing marimba. In the house we had marimbas, guitars, drums, you name it." Schools and hospitals called the family to perform, and their mother was a dancer with a good ear for music. César tells this story with a laugh: "When we were practicing a song and we would have a bad note, she said, 'Hey! ¡Óyeme! (Listen to me!) That note, I don't like it. Wrong chord.' So we'd correct it. Then she'd say, 'That's better.' So she helped us a lot." Their fondness and love for their mother is expressed in their instrumental song "Angelina de Huehuetenango," which shares its name with their album.
Huehuetenango is the name of Julio and César's hometown, which they left as young men. Julio describes it as "full of culture." The town was a Mayan settlement before the arrival of Spanish conquistadores, and the ruins of it are still there. For the Herrera brothers, it is important that they never forget their origins, and that they serve as proud representatives of Huehuetenango: César has said, "The songs we're working on, they have been putting the name of the town high in other countries." In 2007, Huehuetenango recognized Julio and César for their artistry, bestowing plaques and medals and giving them a hero's welcome. They played to a packed theater of about 5000 people, by their estimate. Julio has said, "That's a really good feeling, to have your hometown give you a standing ovation. . . . We have received many awards, . . . but that one really touched our hearts."
Julio and César have produced an album, Angelina de Huehuetenango, recorded in 1997. Besides the original title composition, the album shows off a variety of styles, including driving, flamenco-infused pieces such as "Mi Barca," soulful love songs such as "Candado" and "Sabrá Dios," a samba called "Samba Di Magie," and the popular "Malagueña." The performers are comfortable both with and without vocals. "Spanish Eyes," which César sings in English, is probably best known as an Elvis Presley song, but here it features Julio's deft movements on guitar and a prominent marimba. Since "Angelina de Huehuetenango", the Herrera brothers have composed more original songs, and they would like to make another album. "Angelina," César says, is already over 10 years old, so "when we go back next year, we need to bring another one, with a few songs from Guatemala, for them to know we are thinking about them."
Julio and César are well-known in the New Orleans area. Mayor Marc Morial granted them a key to the city, they have played at the New Orleans Jazz and Heritage Festival, and they play numerous shows for charity. Within the Latin music community, and perhaps the music community as a whole, they are very highly regarded. Though they will always be Guatemalan, César says, "We feel like we belong here now." They have travelled to many cities in the United States, but none of them has the feeling of warmth that New Orleans does. For their next album, Julio has said that they would like to mix the traditional music of Guatemala with that of Louisiana, and "let's see what happens." César says that a song his father composed is appropriate for the Dixieland style. Julio makes the following promise: "As long as we live, we will keep trying to perform, trying to bring more culture, and cooperate for the enlargement of the culture of Louisiana. . . . We're going to leave something here."
La Rumba Buena
La Rumba Buena (meaning "The Good Rumba") is a band from the New Orleans area that regularly plays in Baton Rouge and specializes in Caribbean styles of music, especially salsa, merengue, and bachata. They also play some Mexican songs, and some American songs with a "Latin flair." Unlike most bands in the south Louisiana music scene today, the band is quite large: 11 members, as well as a person dedicated to sound engineering. The leader and founder of the band is Johnny Marcia, a native and resident of Kenner.
Like many professional musicians, Johnny grew up surrounded by music. His father was the leader of a Latin band called Los Sagitarios, a New Orleans-area group that played together for about 35 years. Johnny's father immigrated to the area from Honduras in 1968, and two years later Johnny was born. From early childhood, Johnny heard and watched his father, who played percussion, bass guitar, and piano, and his uncle, who played "almost anything." What he wasn't able to pick up by watching, his father taught him. Johnny started on a drum set, playing American music. However, when his father's drummer moved away, Johnny was invited into the band at 16 years old, the youngest member. About his father and music, Johnny has said, "It helped our relationship a lot. . . . That was the thing that we did together."
Johnny continued playing with his father's band; sometime around 2001, Johnny began gradually taking it over. About four years later, he decided to truly make it his own by changing the name and lineup. The band became La Rumba Buena, and new, enthusiastic members were recruited. "I needed to do something different. . . . I wanted to go to another level. . . . We had gotten to a plateau where, that was it, we couldn't go anywhere." Though this was not an easy decision, he felt it was necessary in order to continue improving as a musician and a band. He recruited new members by looking at various bands and picking the best musicians he could find. Before long, La Rumba Buena was playing more genres and larger venues than Los Sagitarios had.
La Rumba Buena's current lineup of about 11 members includes three singers (one woman, two men), keyboard, horns, bass guitar, and most importantly, percussion. The band's percussion instruments include snare drum, timbales (Johnny's favorite, shallow drums whose sides are also used to make sound), a block (which sounds like claves), cowbells, congas (tall drums), bongos (an attached pair of smaller drums), tambora (medium-sized drum), and a güira. The percussionists weave intricate patterns of sound, sometimes playing completely different rhythms with each hand. Meanwhile, the vocalists carry the melody, harmonizing with each other, and sometimes they play percussion such as the cowbell. The horns accent the vocals and share the melody during instrumental interludes. The keyboard races along in a tumbao (salsa pattern) or plays the careful arpeggios of bachata. Finally, the bass provides necessary backup, a melodic foundation for the music.
Unfortunately, the full band is not always able to perform in its various venues, particularly restaurants. The band's public venue in Baton Rouge is Fernando's Mexican Grill & Cantina on Coursey Boulevard, where a mix of Latino and others come to listen. There, they can only bring about seven members. Johnny has said, "If it were up to me, I would bring the whole band all the time. That's the sound that I like. . . . That's what makes us different from everybody else." This sound is one that he describes as "powerful."
Nevertheless, even the pared-down version of the band is a crowd-pleaser. At Fernando's, as many as a dozen couples manage to squeeze into the small area cleared for dancing. Large, garage-door style windows are opened, so that those sitting on the patio can hear the music almost as well as those inside. As Johnny has said, "We do a lot with the audience; we're there to entertain them." The singers often speak in Spanish, and many in the audience understand, and respond accordingly. As the night gets later, a singer might ask the crowd, "¿Seguimos?" (roughly: "Should we keep going?"), to which many will respond, "¡Sí!"
At some point towards the end of their last set, the band and audience perform a tradition known as punta. The band gets into a percussive jam with little other instrumentation, the people on the dance floor circle up, and individuals take turns dancing in the center. One of the singers calls out the names of various countries, and representatives of those countries (among which have been Puerto Rico, Colombia, Mexico, and Honduras) go to the center of the circle and dance. A singer and the crowd chant exhortations such as, "Pa' abajo, pa' abajo, pa' abajo" (roughly "down, down, down") while the dancer shows off their prowess and the percussion pounds away. This is perhaps the most popular part La Rumba Buena's performances.
For Johnny and La Rumba Buena, the audience's energy and their own role as entertainers are the most important aspects of performing. Whether he is playing for a Latino or non-Latino audience, "It's all about having fun, all about having a good time, putting on a good show. We like to entertain."
The Latin Four
The Latin Four, a band from the New Orleans area that also regularly plays in Baton Rouge, plays an eclectic mix of musical styles. In fact, this is the most defining feature of the band: they can play a salsa song or a cumbia, and immediately after play something from Frank Sinatra or Motown. Furthermore, they do so skillfully, without struggling to shift between such disparate musical styles. While such a method may sound odd, it is certain not to bore its listeners and has attracted its own following.
The band's eclecticism is better understood by considering its members. John Aleman is the band's singer of English lyrics, with a specialty in American classics such as those of Frank Sinatra and Tony Bennett. Richard Carrol, formerly a bassist who played jazz standards with John, plays bass parts on keyboard. The band's Spanish-language vocalist and percussionist is Giovanni Mejia, an accomplished singer of many Latin American standards. Finally, the band's guitarist, lead keyboardist, and manager, Hugo Mijangos, came to the band with a background in classical guitar and jazz. For some gigs, the band is also joined by a female vocalist who performs Motown songs.
The band's diverse membership led to their having a very broad repertoire and appeal. The band was formed about two years ago by Hugo and Richard. Richard knew John because they had played together, and so they invited him. Of John, Hugo has said, "Growing up, ever since he was 10 years old, he was singing Frank Sinatra and Tony Bennett. . . . I don't see how anybody remembers so many words." John also studied vocal music at the University of New Orleans. After trying a few Spanish-language singers, the group settled on Giovanni, who had been a lead singer for large Latin bands in the 1970s and 1980s. Hugo has said, "His knowledge of the Latin repertoire is really what got me excited."
Hugo himself began playing guitar seriously at the age of 11, around the time that he first moved to Metairie, and continued to do so until he studied jazz in his twenties. He did not play for several years, and couldn't figure out how to fit music back in his life. However, several years ago he found what he wanted in church bands. There he played keyboards, and filled in missing parts in the instrumentation, improving the sound of the band. Finally, about two years ago he organized the Latin Four with the help of his friends. As it turns out, he is learning the most of anyone in the group, because every song they decide to play is new to him, since his original repertoire was mainly classical. Despite his title of "manager," the atmosphere of the band is egalitarian; no one has authority of the band. The group plays as equals, and each member brings something that the rest of the band doesn't have.
The Latin Four's sound and instrumentation vary depending on what style of music they are playing. Giovanni has a flexible voice that can adapt to different styles of Latin American music, either crooning a standard bolero (love song) such as "Sabor a Mí," or letting out high-pitched gritos (shouts) while singing a Mexican ranchera. John's voice can have a full, mellow tone while singing Sinatra's "Fly Me to the Moon," or a more gritty timbre for Mack Rice's "Mustang Sally." Hugo can opt to play the salsa's tumbao (piano part), synthesize accordions for norteña music, or perform on electric guitar. Giovanni's electronic drums, too, can synthesize appropriate instrumentation for the chosen genre, whether it calls for bongos or a drum set.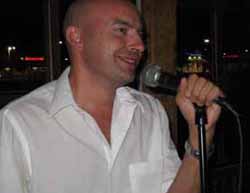 The Latin Four play at country clubs, Mardi Gras balls and dinners, corporate events, fundraising events, private events, and restaurants. In Baton Rouge, they play at the restaurant Los Gallos on Friday nights. There, and other places, they have attracted their own clientele, listeners who go to the restaurant whenever they play. The band's audience primarily consists of non-Latino Americans. Though the band could play in other venues for Latinos in the New Orleans area, they prefer not to take such late gigs--according to Hugo, such gigs typically don't end until early in the morning. For Hugo, it is important that the band plays music that the audience identifies with; oftentimes this means the music that they grew up with.
Speaking about their four-hour gig at Los Gallos, John proudly states, "We can go four hours in English, or we can go four hours in Spanish." But the band likes to mix it up--on the Latin side, they play merengue, bachata, salsa, boleros, cumbias, and rancheras; on the American side, popular music from the 1950s through the 1980s, Motown, blues, big band, and rock. This is what the performers seem to enjoy most about their band. Perhaps John, Richard, and Giovanni share Hugo's sentiment: "People ask me, 'What kind of music do you like?' and I wish I could tell you that, but I like everything."
Traditional Mexican Dance: Irma Farfán Cobb
Irma Farfán Cobb, originally from Mexico City, is a Baton Rouge resident and full professor of Spanish at Southern University. She is very proud of her Mexican heritage, and she expresses that pride through traditional dance. As a young woman, she learned the dances very well in order to be a physical education teacher; in Mexico, children learn various traditional folk dances in school. Irma came to the U.S. on a scholarship, and studied in Oklahoma, where she attended her first event with bailes folklóricos, or folkloric dances, in 1980. On that occasion she had to borrow a dress, because she didn't own an appropriate one--an important aspect of the dances. When she returned to Mexico later that year, she bought her first dress, which was the start of a very large collection.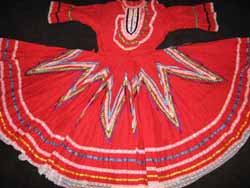 At that event in 1980, Irma danced the jarabe tapatío, her favorite dance and the one she had in mind when she bought her first dress. The dress is a striking shade of red and features a billowing, voluminous skirt. The dress is accented with lace and ribbons of various colors. The skirt's abundant fabric is an important characteristic of the dress, because the most noticeable feature of the dance consists of the skirt's movements. The dancer grasps the skirt near the hem and lifts it above her head, then she waves it back and forth, sometimes in a flurry, sometimes in wide arcs, matching the 8- or 16-count rhythm of the music while moving her feet. This creates a spectacle of graceful, undulating motion and color. Meanwhile, the dancer's feet step deftly and excitedly in time to the music, as the body turns from one direction to another.
This is Irma's favorite dance because it is the most popular form and one representative of Mexican nationality as a whole: "when you listen to a mariachi. . . the way they start playing is with that song." The renown of this music and dance is evident in its international presence as the "Mexican Hat Dance"--a name chosen for the action taken near the end, when the dancer removes their hat, places it on the floor, and dances around it.
In the years following her first festival, Irma collected more dresses of various styles, expanding her performance repertoire as well. Each state in Mexico has a specific song and jarabe (dance) associated with it, as well as accompanying attire. Irma said that "the music is very distinctive for each state. . . . Each state from Mexico has its own traditional music." She cites as an example the music and dance of Veracruz, which can be compared to Spanish flamenco. However, Irma did not have to travel to many places to acquire the dresses, as they are available in a large, well-known market in Mexico City called La Lagunilla. On a few occasions, she had dresses specially made since they were unavailable in the market, such as one that she owns that has an Aztec design.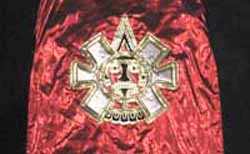 Irma's collection of dresses grew not only for her own dancing, but also for that of her daughter Carolina, who began dancing at a young age. Carolina continues to accompany her as her only partner in bailes folklóricos. In fact, her children have been an important part in expressing her Mexican pride. Once, in the early 1990s, they saw the Mexican booth at an Earth Day celebration empty, and so they decided as a family to start their own booth. According to Carolina, "It was sad to see all the different countries" but not Mexico, which prompted them to ask, "Why isn't anyone doing this?" So the Cobb family began collecting other Mexican crafts as well, such as statuettes, toys, dolls, clothing, and games. Now they host one of the largest and most popular booths at Baton Rouge's international festivals. Irma's proudest moment is during the procession of the countries' representatives: "So my children, Carolina and Stephen, carry the Mexican flag. . . which is a very big honor for me, to see my children in the United States, walking with the traditional charro [i.e. mariachi] custom. . . I don't think it's going to get any better than that."
Dance is not only important in its most traditional incarnation, but also in more contemporary and everyday forms. All of the popular musical forms previously described are associated with specific dance techniques and maneuvers. The joy of dancing is a pervasive feature in Latino culture: Carolina has said, "You dance everywhere, everywhere there's music, I think, in our culture, you can't help but dance if there's music on." Irma observed that "our kids grow up dancing," and furthermore described an atmosphere in which people of all ages dance together: "The kids are allowed to dance in the middle of the room, like everybody else. It's a family party, for sure they are going to dance. . . . There is no such thing that kids are not allowed." Lucas Gonzaga, too, mentioned the importance of music and dancing at parties to help one forget life's troubles.
In her 20 years in Baton Rouge, Irma has observed great changes in the Latino community. When she arrived, she could not find anyone who shared her language or culture, and she suffered incidents of discrimination. After a few years, she found a few other Mexican families and befriended them. Now she is happy to see a growing, friendly community. She has said, "Very slowly. . . I think we are becoming part of the American culture, just because we are here. And I think a lot of Americans love that we are here to work." For her, it is important that Americans know that last point:
We are here because we are looking for a better life. We are hard workers. If you give us a job, we will do it, as good as we can, as fast as we can. We are here to make life better for our families in Mexico. And we will not take advantage of anybody. . . . We're just not here to take anybody's job, but to do those jobs that nobody wants to do. And we take a lot of pride in that.
In this way, Irma takes on the role of a cultural liaison for her community.
When asked whether she thinks that the younger generation will carry on the traditions, she responded, "I think it has to do with the parents. I think you have to show your kids how proud you are, of who you are and what you have been doing, and where you are coming from. So if you can show that to your kids, I believe that's the same way they're going to. . . carry on, and pass it on to the next generation."
Festival Latino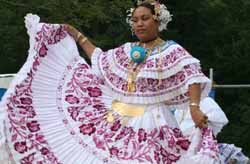 Another opportunity to see and hear Latin music and dance is at the annual Festival Latino produced by the Hispanic Apostolate Diocese of Baton Rouge in October. Each year they feature the various countries represented in Baton Rouge and have both local and touring musicians and dance troupes perform. Local families and community groups offer food booths featuring traditional foods from their country, including tacos, lechon (pork), ropa vieja (Cuban shredded flank steak in a tomato sauce base), congri (Cuban beans and rice), yuca al mojo (cassava), tamales, sweet fried plantains, and El Salvadoran pupusas, a corn flatbread stuffed with cheese.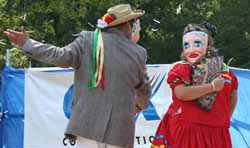 Conclusion
Latinos are likely to play increasingly important and visible roles in the economy and culture of Baton Rouge and of Louisiana as a whole. This interaction between the cultures of Louisiana and Latin America is not without historical precedent, as Louisiana was once a Spanish colony, and the port of New Orleans saw much interaction with the Caribbean. Two ways that the growing community will continue to express itself--both for its own sake and for outsiders--are through music and dance. These can serve as means of cultural negotiation, where the important work of learning coexistence and acceptance occurs. Irma Farfán Cobb summarizes this point in stating her reason for performing traditional dance, and perhaps it is a sentiment that the community's musicians would share as well: "It's my way to show Baton Rouge that I'm here. So they know that we are here, and we can do a lot of things, and we have a rich culture."