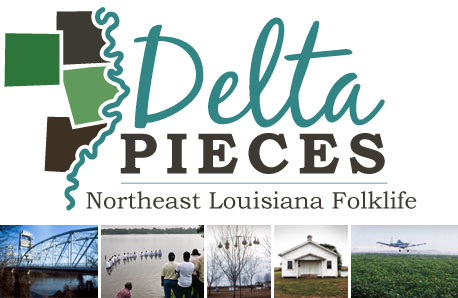 Educator's Guide for Delta Pieces: Northeast Louisiana Folklife
By Eileen Engel
The Educator's Guide for Delta Pieces contains 12 units. Each Guide unit relates to a unit within the Delta Pieces: Folklife in Northeast Louisiana essays. Together these essays offer an intensive look at this fascinating region of of 12 northeast Louisiana parishes running south down the Mississippi River from the Arkansas state line though Concordia Parish, Louisiana. The Educator's Guide units are correlated to the Common Core State Standards, particularly those in English Language Arts and are for grades 3-8. Links are provided to the award-winning Louisiana Voices Educator's Guide.
Delta Pieces Educator's Guide
For thousands of years, humans have lived in the Louisiana Delta region. This unit is designed to help students visualize the time context of the people and events of the region.
Delta Timeline with Dates Activity
Maps are another way to help students visualize information. This activity allows students to discover which parishes are located in the Louisiana Delta.
As the Mississippi River flows through the Louisiana Delta, it brings a rich and fertile soil, but it also brings many challenges. The Flood of 1927 is highlighted in the student activity.
The Louisiana Delta brings together many cultural groups to contribute their gifts to the region. The activity highlights their cultural contributions to the region.
Many occupations in the Louisiana Delta revolve around the water. The different types of boats used through the area are focus of the activity.
How do people keep their Delta homes running smoothly? Interviewing local tradition bearers helps students see the importance of the homemakers' role. This lesson includes the Homemaking Interview Activity.
Religious worship is as varied as everything else in the Louisiana Delta. Focusing on this important part of the region, students learn about different religious practices.
Check out the rich musical varieties of the Louisiana Delta with audio samples and an art activity for students. This lesson includes the Making Music Activity.
Music for the Making Music in the Delta Music Quilt Activity
Hunting and fishing are important to many in the Delta region. While some fish commericially, both hunting and fishing are often a sport. A graphic organizer is used to help students work along with a tradition bearer to make a hunting horn.
The art of storytelling is an important part of language development. Students learn the basics of telling stories about "the one that got away" through this activity.
This Word Search provides a review of many of the important Louisiana Delta words.
What better way to learn about the wonderful books and articles used to make Delta Pieces than through a crossword puzzle? Students use the Delta Pieces Bibliography to find the answers.