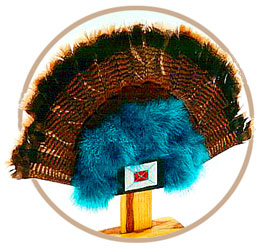 Decorative Folk Arts
Decorative folk arts are those traditional items that emphasize the aesthetic dimension. However, many of the items elsewhere in this exhibit, such as the Mardi Gras costumes, Holy Cards, etched accordion, quilts, and baskets also clearly have an artistic dimension. Likewise, a number of the decorative items here have functions in addition to their pleasing or unusual style and appearance.
For example, the Indian animal effigies at one time may have been used totemically. The walking sticks are still used for support as well as swagger. In fact, the Anglo canes seem primarily utilitarian or at least representative of spareness as an art style in carving.
The decorative duck decoys show how working decoys such as those in the Occupational Crafts area have evolved from a subsistence or sport activity to a highly technical art form that goes beyond folk tradition. As carver Charles Hutchison says, "In the old days we carved ducks to catch birds, now we carve them to catch men."
Finally, the individualistic untrained painter from a folk community such as Clementine Hunter documents his or her version of traditional life.
View or Search Decorative Folk Art Artifacts
of the Creole State Exhibit