PROJECTS
The Louisiana Storytelling Project and Swapping Stories
by Maida Owens, Louisiana Folklife Program
This article is adapted with permission from the book, Swapping Stories: Folktales from Louisiana, co-published by the University Press of Mississippi and the Louisiana Division of the Arts.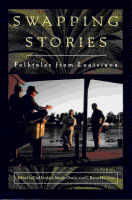 Swapping Stories: Folktales from Louisiana is the product of a ten-year project by the Louisiana Folklife Program which began as a collaboration with the Louisiana Office of Tourism's Open House 1990 Storytelling Program. As Folklife Program director, I worked with the Louisiana Office of Tourism to design and implement a public presentation program that for the first time made storytelling a major focus at Louisiana fairs and festivals. The 1990 Open House Storytelling Program provided two thirty-by-thirty-foot pavilions featured at seventy-one festivals. Local coordinators selected 1,051 storytellers to participate in 504 storytelling sessions in the pavilions. Regional coordinators for the Open House 1990 Storytelling Program -- Judith Barrow, Debi Bennett, Ellen Blue, Monty Brown, Cordelia Cale, Susan Eddington, Randall LaBry, Dayna Lee, Pat Mire, and Norris Rousse -- worked with community members and served as liaisons to identify the best storytellers in their regions (Owens 1992). Most storytelling sessions were recorded and the audio tapes became part of the Louisiana Folklife Program Collection at Louisiana State University Hill Memorial Library Special Collections. The dynamics of the storytelling sessions are also discussed in Carl Lindahl's essay, Louisiana's Folktale Traditions.
I then initiated the book project, and C. Renée Harvison joined the team to document individual storytellers more thoroughly. The original intent was to create a small publication featuring approximately ten storytellers from various Louisiana cultures. As the regional coordinators began providing contacts with many outstanding narrators, it became apparent that the publication project had the potential to be much more substantial. The call went out to folklorists and researchers throughout the state who had worked with storytelling, and many responded by contributing unpublished data or providing leads for others to document. We gathered so many good stories that we expanded our publication plans. Harvison spent hundreds of hours listening to and transcribing stories to be considered for this volume. Carl Lindahl then joined the team as a folk narrative specialist to introduce, annotate, and further edit the tales. The project took much longer than originally planned, but we feel it was worth it. It was co-published by the University Press of Mississippi and the Louisiana Division of the Arts in 1997.
The book includes more than two hundred oral tales from some of Louisiana's finest storytellers. In this comprehensive volume of great range are transcriptions of narratives in many genres (ghost stories, tall tales, political anecdotes, animal tales, myths, magic tales, buried-treasure tales, and reminisces of small-town life, from diverse voices (including Cajun, Creoles, Native Americans, African Americans, and Louisianans of Hungarian, Italian, and Vietnamese descent), and from all regions of the state.
Told in both intimate and public settings ranging from the front porch to the festival stage, these tales proclaim the great vitality and variety of Louisiana's oral narrative traditions. Given special focus are Harold Talbert, Lonnie Gray, Bel Abbey, Wilson "Ben Guiné" Mitchell, and Enola Matthews—whose wealth of imagination, memory, and artistry demonstrate the depth as well as the breadth of the storyteller's craft. For tales told in Cajun and Creole French, Koasati, and Spanish, both the original language and English translation are supplied.
After the book was well under way, it became apparent that the subject deserved an additional presentation format: a video program. I then collaborated with Pat Mire, an independent filmmaker who had also served as one of the regional coordinators for the Open House 1990 Storytelling Program. Together we designed a video documentation project, also entitled Swapping Stories, featuring some of the finest storytellers identified in the project. Louisiana Public Broadcasting co-produced the documentary in 1998 and also produced a Swapping Stories website for several years that was based on the video program. Finally, Swapping Stories serves as a resource for Louisiana Voices: An Educator's Guide to Exploring Our Traditions and Communities, especially Unit V on oral traditions. Thus, Swapping Stories surpassed the originators' hopes and became a vehicle not only for transmitting living storytelling traditions in Louisiana but for encouraging storytelling and engaging young people.
A list of all Swapping Stories Online Resources is available online as is The Louisiana Storytelling Program: An Analysis.