ARTICLES & ESSAYS



Fiddling in Louisiana
By Ron Yule
Louisiana fiddling had its birthroots in Europe, with fiddling being noted as early as the 1400s in Scotland. Besides the ballads sung and remembered by early immigrants, they brought their instruments to the new land and the fiddle was a first choice, in part, because of its compactness and mobility. The playing of traditional fiddle tunes was carried with these Old-World fiddlers across the sea to North America and was the basis for the quadrilles, jigs, hornpipes, reels, one-steps, two-steps, airs, mazurkas, schottisches, and waltzes played in the last few centuries.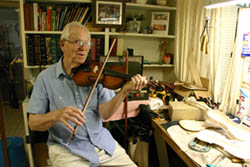 By the 1700s, the traditional music of the British Isles had spread from its birthplace and was being played throughout the colonies. John Utie, a 1620 immigrant, settled in the North and is credited as being the first known fiddler on American soil. Fiddler, Jeane Baptiste Burge, whose descendants eventually migrated to Louisiana and settled around Singer, entered the colonies at Jamestown in 1663.
As migrants moved into Louisiana they brought their instruments. The Acadians brought the fiddles into the southern end of the state in the latter 1700s. Others migrated from Texas and all over the eastern, midwestern, and southeastern United States. Fiddlers were playing at almost all country socials, parties, and celebrations including house dances and on plantations throughout Louisiana.
Just as the country and rural setting in Louisiana began to change in the late 1800s, so did the presence of the fiddle in this setting. Country music began a trek toward an ever-changing sound, influenced by numerous social and external forces. These changes continue today.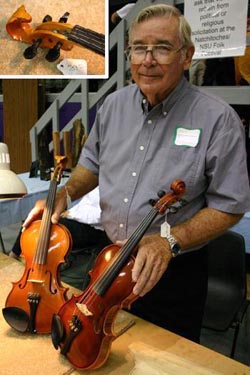 Louisiana has been a fiddling melting pot. The music of Louisiana has been one of originality with a unique blending of styles. The state has been honored to host the explosion of jazz from New Orleans, Cajun and zydeco music from the south, blues from both north and south, country music from the Louisiana Hayride, and rockabilly from throughout the state. These many styles have blended but still maintained their basic form, which makes them identifiable. Louisiana's fiddling styles too have followed this pattern.
Traditional fiddling in Louisiana has been influenced by migration and by modern methods of communication, becoming a melting pot of styles. Each style has its own general taste but each has been spiced with flavor from other styles.
Few records exist to document fiddling in early Louisiana, but after 1900, with increased communication and modernization, sources are available. Media reports, usually fiddle contests, increased even though the presence of the fiddle in everyday life was diminishing. Many accounts of these early years come to us through mentions in family legends, narratives, family records, and diaries. The uniqueness of the fiddle is that it can adapt and be fitted to almost any style of music. Early fiddling involved the country and house dances with a lone or multiple fiddles. Fiddlers played at socials, parties, minstrel shows, and medicine shows. With movement of the railroad and the massive scope of the forestry and petroleum industries, there was a large mass of migrants who moved to Louisiana in the post-Civil War Era bringing new stylistic nuances characteristic of their region. The late 1800s brought many other types of instruments such as the accordion, guitar, banjo, mandolin, bass fiddle, and harmonica, and the fiddle adapted. The fiddle styles adapted to every new change in the public's musical tastes, from stringband to Tin Pan Ally to swing to country and western to rock-and-roll. They all altered the "Louisiana fiddle sound."
Beginning in the 1920s, changes in Shreveport had an effect on nearly every fiddler in Louisiana until the 1960s. Country performers began broadcasting on all Shreveport radio stations and the trend moved throughout the state eventually gravitating to the small local stations. Stringbands and country bands of all types, with the automobile at their disposal, continued to play at celebrations, dances, school shows, on radio, at hillbilly shows, and social events, but farther from home. Nearly every country fiddler was given the opportunity to "show his stuff." Also affecting the local fiddler was the advent of recording in New Orleans. Many Cajun style Louisiana fiddlers, wanting to record, made the trek to New Orleans by the late 1920s. Fiddlers were moving to the populated areas to seek their musical fortune. They either wanted to go there and join the scene or join a look-alike in some other town. This trend continues today.
Old-timey fiddle styles, which were affected by blues, pop, jazz, and swing, have been continually bombarded with new sounds. New fiddle styles such as bluegrass and "contest" have emerged which shows the diversity and adaptability of the fiddle. The integration of swing and other styles along with instrumentation changes have given Cajun fiddling a new sound. Also, due to the popularity of the accordion, it has been noted that the fiddle, which had played intricate melodies before, soon was relegated to a secondary backup role. Louisiana Pineywoods fiddling has become a blending of these many distinct fiddle styles with a touch of one or the other in each fiddlers playing.
Several major changes in fiddle styles can be attributed to changes in communication and modernization. With the advent of radio broadcasting and the phonograph, fiddlers began to hear new sounds, which were integrated into their playing. Besides the new sounds, the 1930s brought amplification and the electric guitar into dancehalls and country bands.
A post-World War II boom and the establishment of the country music business brought many changes to the fiddler and country music. The introduction of more musical styles to the "open ears" of the country musician brought even further change. By the late 1950s, a major takeover by electric instruments changed the need for the country fiddler. He was replaced by keyboards, steel guitars, violin sections, and downsizing, especially in small local bands trying to make a little spending money at a Saturday night dance.
Contest Fiddling
Contest fiddling is believed to have existed in the 1800s in Louisiana, although no specific contests have been cited. Many of today's fiddlers have honed their skills to a high level, in many cases learning very difficult tunes to enter into competition. Media coverage of contests fiddling is first noted around 1912 at the Louisiana State Fair, in Shreveport. By the early 1920s, a few parish fairs held contests and with the 1930s came contests at nearly all parish fairs and many small local celebrations. The Beauregard Parish Fair Contest has run continuously for 75 years, except for a four-year break during World War II, and is one of the longest running contests in the country. Noted early contestants at these contests included John W. Daniel (Pineville), W. E. Caston (Coushatta), Sanford R. Patterson (Shreveport), Hood Family (Hilly), Henry Welch (Dodson), A. H. Brown (Colfax), Hiter Colvin (Dubach), Fleecy Philyaw (Shreveport), A. B. Richardson (Kinder), Theodosia Iles (Dry Creek), Elmer Hester (DeRidder), Cecil Burge (DeRidder), Albert Cavanaugh (Hornbeck), and Aud Lewing (Many).
A resurgence of contests in the 1970s and the formation of the Louisiana State Fiddler's Contest brought the "Contest Style" to the forefront. Over those years, Texas-style fiddlers like Ken Smith (Kinder), Fred Beavers (Simsboro), Ben Robinson (Choudrant), and Curry Perkins (Reeves) introduced and perpetuated the so-called "contest style" of fiddling.
Bluegrass Fiddling
Bluegrass fiddling arrived on the scene in the late 1940s and 1950s. By the mid-1950s bluegrass bands were forming and this new style of music was being played throughout Louisiana. Bluegrass festivals and Country shows featuring bluegrass groups were held all over the state.
Al Jordan (Downsville) was one of the first bluegrass fiddlers, playing with Buzz Busby before and during his Louisiana Hayride days. Al continues today as one of the premier Louisiana bluegrass and country fiddlers. Besides Jordan, several other notable bluegrass fiddlers include Buzz and Winston Salard (Chopin), Chuck and Jim Nation (Denham Springs), Bucky Woods (French Settlement), Dewey Edwards (Frost), Jack Youngblood (Florida Parishes), J.W. Fountain (Pineville), Jewel Lasyone (Verda), Dennis Elliott (Alexandria), and recently, Len Springer (Cade).
Western Swing Fiddling
Western swing fiddling style, once described by Pineville fiddler, Peanut Conn, as "hillbilly jazz," took off in the mid-1930s. Swing music was being played on the north end of the state around Shreveport, from bands working out of upper east Texas and the Dallas-Fort Worth area who moved in and out of Shreveport to appear on KWKH and other Shreveport radio stations. On the south end, along the "Highway 90 Swing Belt" that ran from east of Lake Charles to Houston, Texas, the sounds of Cliff Bruner's "hot fiddle" influenced many fiddlers.
Louisiana fiddlers who played this style were Harry Choates (Lake Charles), Preacher Harkness (Vivian), Abe Manuel, Sr. (Lake Charles), Troy Beavers (Homer), Pete Hardin (Haynesville), Peanut Conn (Pineville), Ralph Richardson (Choupique), and Lonnie Hall (Shreveport). Modern fiddlers, Johnny Carpenter (Ragley), Abe Manuel, Jr. (Grand Chenier), and John Johnson (Ball) have played this style on stage, as well as on Nashville recordings. Dennis Elliott (Alexandria) has taken this style to a new level playing new-age and jazz in New Orleans clubs.
Country fiddling was played by many of the great fiddlers of Louisiana. This was the main style perpetuated by the Louisiana Hayride and local dancehall bands. The country fiddler is a composite of all styles and usually plays in a band. He must be able to play all the styles: country backup, blues, a little swing, hoedowns, waltzes, Cajun, and pop.
Notable fiddlers who played in this style include Warren Ferrier (Montgomery), Jack Kay (Leesville), Hugh Johnson (Welsh), Mastern Brack (Evans), Ray Beebe (Lena), Eddie Raxdale (Alexandria), Joe Spivey (Shreveport), Cecil Burge (DeRidder), Elmer Hester (DeRidder), Bob Henderson (Gonzalez), Jack Paddie (Gorum), Clyde Thompson (Denham Springs), Slouch Holt (Leesville), Joe Suchanek (Fields), Elton Brindley (Starks), Tommy Melder (Elmer), and Dobber Johnson (Shreveport).
Cajun Fiddling
Cajun fiddling, of all the fiddle styles found in Louisiana, is the most well-known by the general public. With its roots in the music carried from Nova Scotia in the 1700s, it has a distinct danceable style. Early recordings of Cajun master fiddlers like Dennis McGee (Eunice), Sady Courville (Eunice), Wade Fruge (Eunice), Leo Soileau (Ville Platte), and J. B. Fuselier (Oberlin) have been popular learning tools for modern fiddle students. Cajun fiddling, like other styles, has been affected by the accordion, radio, country and western, and western swing. Cajun fiddling is modulating continually, while still maintaining a center for its own unique style. Still, the down-home, rhythmic sound of the Cajun fiddle is appealing and makes good dance music.
The list of notable Cajun fiddlers is long and is a testament to their strong fiddle tradition. Several more of the most notable Cajun fiddlers are Rufus Thibodeaux (Hayes), Michael Doucet (Lafayette), Floyd LeBlanc (Lake Charles), Robert Bertrand (Lake Charles), Doc Guidry (Lafayette), Dewey Balfa (Mamou), Hadley Castille (Opelousas), Harry Choates (Lake Charles), Tony Thibodeaux (Rayne), and Doug Kershaw (Lake Arthur).
Video Player
Excerpt, Zydeco. Music and Mardi Gras are at the heart of both Creole and Cajun rural culture in Louisiana. This clip presents a glimpse into this vibrant world, showing music performances and a Creole Mardi Gras traditional ritual. The music performances feature an elaborate fiddle tune and also display the pulsing rhythms of a live performance at a dance hall. The Mardi Gras gathering on the dusty roads culminates to the chasing of a chicken for the gumbo pot. Produced and directed by Nicholas R. Spitzer, 1981.
Irish and Old-Time Mountain Fiddling
Irish and old-time mountain fiddling styles are not popular with fiddlers in Louisiana. The most noted in the Irish style as well as the eastern old-timey style would be Curry Perkins (Reeves), Bill Bryant (Natchitoches), Richard Burgess (Arnaudville), Buddy McClure (Greenwell Springs), Buz Sibley (Hammond), Anya Schoenegge (Arnaudville), and Jim Spitzkiet (Lake Charles). Of note is that Ray Beebe (Lena), Eddie DeRamus (Quadrille), and Ross Foster (Big Woods) were three of the last old-time fiddlers that played and sang the old tunes learned from their ancestors.
Gospel Fiddling
Gospel fiddling is not known as a fiddle style, but has held a place of great importance among Louisiana's fiddlers. The fiddle, labeled in the old days as the "devil's instrument" for leading many fiddlers down the "wicked path of sin," is now readily accepted in worship sanctuaries throughout the area. The most noted was evangelist, Dallas Hayes, who traveled the area, holding revivals in the first half of the 20th century, and playing the fiddle with his troop of family musicians. Hector Stutes (Lake Charles), Mastern Brack (Evans), Eli Burr (Merryville), Murphy Sensat (Sulphur), and Jamesette Kile (Lena) all spent a major portion of their fiddling life playing for church services.
The Louisiana Fiddler
The Louisiana fiddler has to be a truly versatile musician. Today's fiddler must be a Jack-of-all-trades. Most play multiple instruments in the band setting from rhythm guitar and mandolin to saxophone. He must play nearly all types of music from old-time to swing to please an audience. Although the number of fiddlers has dwindled over the years, a truly country band must carry a fiddler. The fiddle is where it all began.